Has Anyone Ever Golfed While Pregnant?
Can you golf while you are pregnant? Read all about the answer and risks involved when golfing.
Last updated on September 12th, 2022 at 01:26 am
Pregnancy and Golfing
Golfing is such a fanciful and interesting game that attracts many followers around the world. It gets more fanciful and interesting when you see pregnant women participate in the sport. Even while bearing a growing baby, women can still enjoy the sport that they love, but they may need a few modifications to their game. Below are some tips every pregnant golfer needs to know!
Be sure to check out at the end to see the LPGA golfers who have played on tour while pregnant.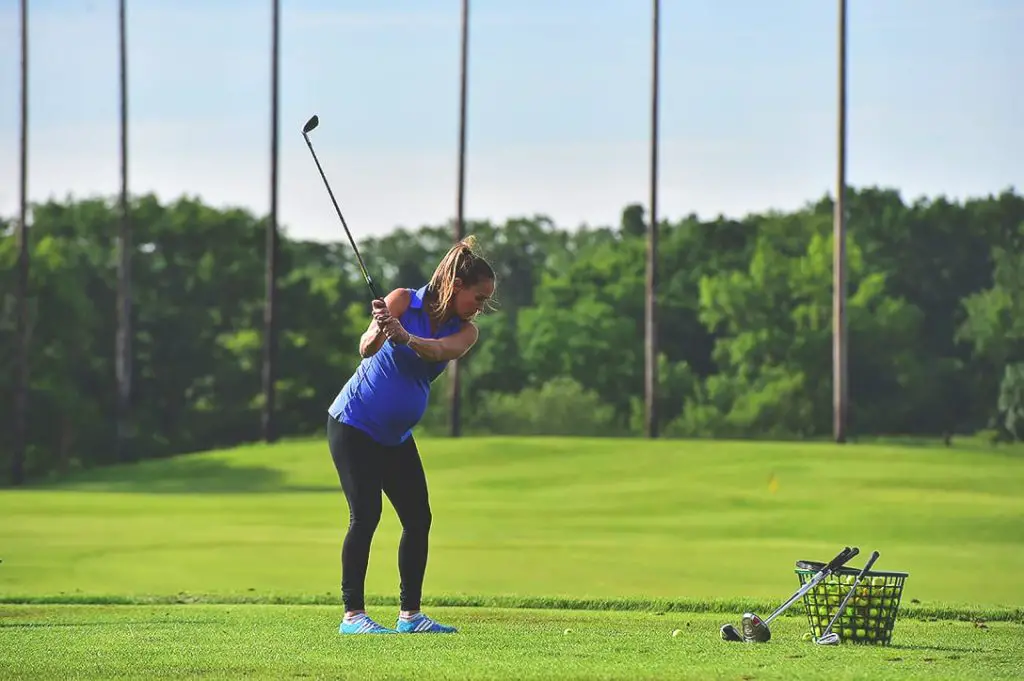 Can a Pregnant Woman Play Golf?
The answer is yes! Golfing while pregnant is not new, we have seen that a couple of times. The game is safe for pregnant women provided they are in good health and fit to play. You hardly find any sport that opens the door to pregnant women like Golf.
It is so much easier for pregnant women to participate in golf compared to other sports. This is evident as we have seen the Sporting body tweak its standard to accommodate nursing mothers and pregnant women.
LPGA Maternal Policy
For example, in the year 2019, the LPGA Tour approved a new maternal policy that permitted players to suspend the current status they attained for about 24 months so they could focus on their pregnancy, their first months with their child, and their physical and mental recoveries. This policy also permitted players to decide when they wish to stop playing in the events of pregnancy. It also places a limit on the number of times they could compete in the competition.
No sports in existence has such type of robust policies that aims to accommodate pregnant women and nursing mothers.
Golfing During Each Trimester
Each trimester represents its own challenges when playing as a pregnant golfer. Here's what you should expect during each trimester.
1st Trimester
Your first trimester represents the time in which your baby goes from a fertilized egg to a fully formed fetus. You may feel extra fatigued along with some weight gain during this period of time. Be prepared to account for these changes in your body when you plan a tee time.
Another symptom that relates to golf in your first trimester is frequent urination. Many golf courses are not fitted adequately for emergencies so before you tee off, have a good idea of where the bathrooms are located on the course!
2nd Trimester
Your second trimester represents the growth of the internal organs of your baby. As expected, your belly will grow more during this trimester.
The second trimester will be your most energetic so this may be the best time in your pregnancy to go golfing. Just be prepared for some possible limitations in your mobility range due to your growing child.
3rd Trimester
The third trimester may be the most difficult to play golf. This is the most likely period of time where you. may injure your muscles. Your swing will be difficult to get maximum power, so don't overdo it.
Another issue is the constant bending over and picking up your ball. Some suggestions are to have a partner assist you if you need to pick up your ball or use a ball retriever to get your ball without bending over.
After you sink your putt, you can eliminate the need to bend over and pick up your ball with a putter that has a retriever on the end. You can see an example of this here. At the tee box, you can also prevent bending over to tee your ball with a teeing device. You may want to use it even after your baby is born!
Safety Tips for Golfing While Pregnant
Every sport has risk associated with it. The risks associated with sports generally are in the form of injuries. There will always be injuries in sports, however, the chances of getting injured in sports can be minimized by following some laid down guidelines and rules associated with the sports.
Golfing while pregnant can impose some risks to not only you, but you're baby as well. As long as you follow the following safety tips, you and your baby will be just fine while enjoying your favorite sport.
Take Lots of Fluids
Because it is most likely the golfer would be in the sun or in an unpleasant environment, the golfer should take a lot of fluids before and after golfing. This helps to keep the golfer hydrated. Golfing as a sport can get the player dehydrated quickly. This means the golfer must take lots of fluid, especially non-alcoholic fluids.
A pregnant woman is suggested to drink around 8 to 12 cups of water a day. When you are golfing (especially in the heat), you are going to need more than the recommended amount to avoid dehydration. Also, a reminder that you are drinking water for two!
Avoid Bending Over
There are many instances where you may need to bend over on the course. When you are pregnant, this could be straining on your back when you have to do this over and over again.
Teeing off, finding your lost ball, picking up a ball in a shot path on the green, and picking up your ball after you have finished putting are instances where you may need to bend over to pick up your ball. You can easily eliminate bending over in each of these instances.
Teeing off: Use a teeing device to easily stake your ball and tee.
Finding lost balls: Bring a ball retriever. If it is in a dangerous location, just drop a new ball.
Your ball is in the way on the green: You can modify the rules and ask to go ahead and hit your ball first. Your group should be understanding and considerate.
After putting: Attaching a ball retriever to the end of your putter will let you take your ball out of the hole once you finish putting.
Get Adequate Warm-Up
Adequate warm-up is essential before any sports. This is not just about golf, every sport requires some level of warm-up before participation. This is because adequate warm-ups would help to prevent some injuries which are usually in the form of wear and tear of muscle tissue resulting from sudden use of such muscles during sporting activities. Warm-ups would also reduce the pain felt after golfing activities.
Pregnant golfers only need a quick warm-up. You won't necessarily have as much energy as you are used to. Your warm-up should consist of loosening up your muscles so that you are ready to go. Any more will deplete your energy.
Avoid Reaching Into Unsafe Areas
In the course of trying to retrieve the ball, the golfer might be tempted to reach into dangerous areas such as a creek, the woods, or slippery rocks. These areas are very easy to lose your footing and fall so if your ball is in an unsafe area, either take a drop or take your ball retriever to get easy access.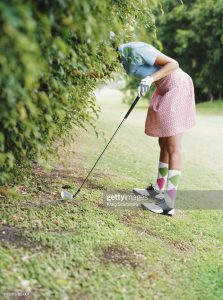 Locate The Bathrooms
Pregnant golfers may have a difficult time on the course due to infrequent bathroom locations. If you are prone to frequent urination as part of your pregnancy, be sure to check out where the bathrooms are on the course.
If you know where the bathrooms are, you can decipher if you are able to hold it till the next hole or make an emergency dash to the closest location.
Get Adequate Rest
This of course is a no-brainer. The player has to get adequate rest, especially after golfing activities. Being pregnant takes a lot of energy out of you, so getting all 8 hours of sleep the night before a round of golf is super important!
Use Golf Tools Appropriately
Golfing tools such as clubs, shoes, and other tools should be used in the appropriate manner.
Having golf shoes with cleats will help secure your footing. Make sure that you know how to golf with cleated golf shoes before you go golfing while pregnant.
Be Sun-Smart
Golfing is a type of sport that is mostly played under the sun, because of this, players have to factor in the effect of the sun in their participation. The effect of the sun could sometimes induce fatigue and cause a lot of discomfort for players, hence the need to wear sun-smart clothing.  Sun-smart clothing would reduce the impact of the sun on players. Also, other things like sunscreen, balm, shade, and a hat should be included.
Use Insect Repellent
Again this has to do with the location of the sport. Golf as a sport is mostly played in areas with grasses as a result players would be exposed to insects. This insect could somehow frustrate the players and make the sporting experience unpleasant, to avoid this, players must use insect repellent. Importantly, the player should keep the insect repellent close. However professional tournaments have a way of dealing with this issue.
Follow All Instructions and Guidelines Given
All instructions and guidelines given must be adhered to avoid disqualification or getting injured.
Common course guidelines include keeping a steady playing pace, Yelling "fore" when necessary, and don't stand in the way of a golf shot. It is also crucial that you watch the people in front of you. You shouldn't ever hit the ball when the group in front of you is within distance. Vice Versa, make sure that nobody behind you is hitting when you are on the fairway or green.
Always be ready for other golfers' stray shots!
Get Medical Clearance
You should always talk to your doctor to see if your body is ready for activity. It may be possible that golf may not be suitable for your individual pregnancy. Your doctor will welcome your spirit for activity but will always tell you if your body is ready or not. They will also be able to give you individualized tips to keep your body safe.
List of Pregnant Golfers
In golf, no rule prohibits pregnant golfers from golfing. Although some might intend to stop playing while pregnant and come back later after delivery. For example, Suzann Pettersen decided to opt out from playing till she delivered. While many others played during the period of pregnancy. Here are some names:
Nancy Lopez
She is one of the best golfers that ever existed in the history of the game. Lopez was born in 1957, she later became a member of the LPGA tour in 1977. She went on to win 48 LPGA tour events. During her career, she played golf while she was pregnant and was able to win an LPGA tour. During her career, she gave birth to about 3 children and still won the LPGA player of the year. One of the most memorable victories she had was in 1991 when she won the LPGA tour, she was 5-months-old pregnant with her 3rd child at that tournament.
Stacy Lewis
Stacy Lewis is an American-born professional golfer.  She was born in 1985 and she is one of the most successful pregnant golfers in the History of the game. In 2018, while pregnant, she participated in the LPGA Volvik Championship hosted in Michigan.
Catriona Matthew
Catriona Matthew is another greater golfer, she once played the game while pregnant during her career. She is from Scotland and was born in the year 1969. Matthew plays majorly in the US LPGA tour. She holds the record of being the last pregnant female golfer to win a major tour in 2009. She was 5 months pregnant when she won the Brazilian LPGA. Although some pundits considered the tour unofficial due to low participation.
Other Golfers Who Have Played While Pregnant
Laura Diza
Iben Tinning
Blair O'Neal
Michelle Wie
Final Thoughts
You can definitely golf while pregnant. Just make sure you are taking the risks into account and consulting with your doctor before you go out there!
Look out for instances where you may be exerting a lot of energy on your body such as bending over, a fast swing, or finding your ball. Also, remember that you now have a baby that you are providing nutrition for! Golfing while pregnant is a great way to exercise and enjoy what you love, but always remember to take care of your body.