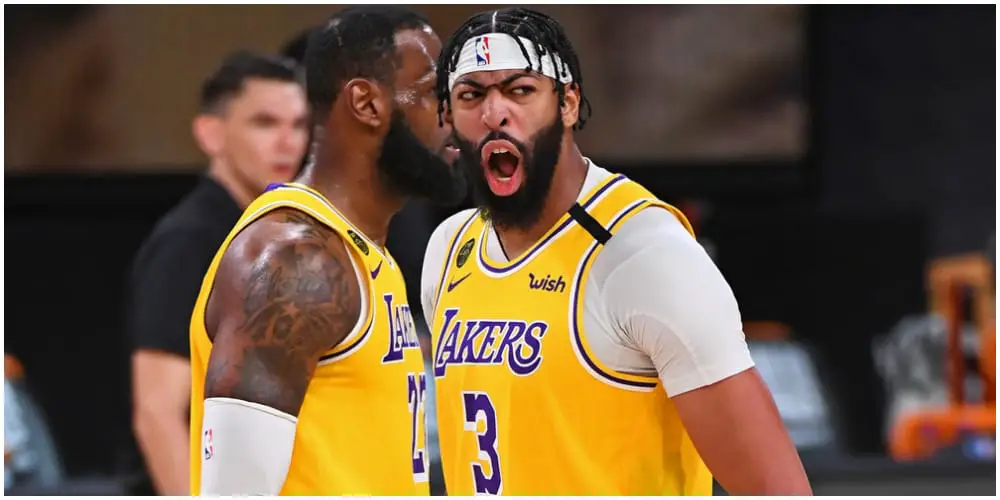 Anthony Davis Biography, Facts, Salary, Net Worth, Endorsements & Deals
Last updated on March 24th, 2022 at 08:17 am
Anthony Davis has managed to make a name for himself at a time when centres and conventional big men in the NBA have gone down the pecking order. His outstanding height, lethal mid-range shots, and massive wingspan have helped him become one of the best players in the NBA.
Despite having a slow start with the New Orleans Pelicans, Anthony Davis slowly transformed into the team's best player averaging 25+ points per season for more than 4 consecutive seasons. On top of that, his ability to guard the rim has seen him not only make into the League's defensive team of the year but also lead the league in total blocked shots.
Switching teams in 2019 has already proven to be one of the best decisions he has ever made as a player. Teaming up with Lebron James and the LA Lakers franchise saw Davis improve his game tremendously and also put forward one of the best playoff performances in recent years.
| | |
| --- | --- |
| Real Names | Anthony Marshall Davis |
| Nickname | The Brow |
| Current Team | L.A Lakers |
| Position | Center |
| Favourite Basketballer | Kobe Bryant |
| Spouse | Marlen P |
| Hobies | Playing Xbox |
Early Life
Antony Marshall Davis was born on 11th March 1993 to Erainer Davis and Anthony Davis Sr. Davis height can be attributed to both his parents, who are over 6 feet tall.
Antony Davis Basketball Career
High School Career
Antony Davis joined Perspectives Charter School, where he pursued his education until the 6th grade. While Antony Davis's love for basketball began at an early age, Perspective Charter School did not put much emphasis on sports but rather on academic excellence. In addition, the school did not have a gymnasium, and thus Davis and his teammates were forced to train in the court of one of the local churches.
During his high school years, Davis was lethal with his 3-point shots and thus came to be known as the little kid that could shoot 3's from the corner. By the end of his freshman year, Anthony Davis stood at 6 ft. One year down the line, Davis had gained an impressive 4 inches and now stood at 6'4.
After seeing their son's game improve Erainer and Anthony Davis Sr. considered transferring Davis from Perspectives to one of the leading schools in Chicago. However, after an intervention from Donni Kirksey, the head coach for Hyde Park Career Academy, Davis's parents agreed to let him at Perspectives.
By the end of the season, Perspectives's performance was dismal. Davis did not gain any local or national recognition within the remaining three years. In 2011, Scouts.com rated Antony Davis as the year's number 1 player.
College Career
Despite receiving numerous college offers from some of the leading colleges in the US, Anthony Davis committed to Kentucky. Under the tutelage of John Calipari, the Kentucky Wildcats were already a basketball powerhouse.
However, before beginning his college career, Antony Davis was mentioned as the first overall selection.
In early February 2012, Antony Davis was not only competing for the National Player of the year award but also for the Freshman Award of the year and the defensive player of the year awards. In his first season with the Kentucky Wildcats, Antony Davis averaged 14.2 points, 10.4 rebounds and 4.7 blocks per game.
Kentucky Wildcats went 38-2 that season with their only two losses coming from a last-minute three-pointer and a 7-point loss to Vanderbilt. In addition, the Kentucky Wildcats won the 2011-2012 national championship on an impressive 6-0 tournament record.
Professional/NBA Career
New Orleans Hornets/Pelicans
After an impressive season, the entire Kentucky Bobcats first-team declared for the 2012 NBA Draft. This meant that Coach John Calipari had to once again rebuild another winning team from scratch.
The Wildcats season was so impressive, that many media houses and pundits began to consider them as one of the best college teams ever.
All the first five were expected to make it into the first-round picks. Antony Davis was drafted as the number 1 overall pick by the New Orleans Pelicans while his team-mate, Michael Kidd-Gilchrist was drafted as the second overall pick by the Charlotte Bobcats. Doron Lamb, a member of that years Kentucky Bobcat was drafted at number 42 by the Milwaukee Bucks'
Notable names in that year's NBA Draft included Damian Lillard who was drafted at number 6, Andre Drummond at number 9, Austin Rivers as the 10th overall pick and Khris Middleton at number 39. After being drafted alongside Austin Rivers by the New Orleans Pelicans, Antony Davis officially joined the New Orleans Pelicans on a rookie contract.
With the New Orleans Pelicans, Davis averaged 13.5 points, 1 assist and 1.2 steals per game in 28.8 minutes of game time. After an impressive first season with the Pelicans, Anthony Davis was named into the All-Rookie first team. In his second season with the Pelicans, Davis's game slightly improved and was now averaging 20.8 points, 1.6 assists ad 1.3 steals per game.
By his third season, Davis had already become a well-established name in the NBA. After an impressive regular season, Davis ended up leading the league in blocks. He was also named into the All-Defensive second team and the All-NBA first team. In addition, Antony Davis was finally able to make his first playoff appearance after the New Orleans Pelicans qualified for the 2014-2015 NBA playoffs.
In the season-opening game against the Orlando Magic, Anthony Davis had one of the best opening performances with an impressive 26 points, 9 blocks and 17 rebounds. In November, Davis also had another breakthrough performance after dropping 27 points and 11 rebounds in a regular-season game against the Orland Magic.
His fourth and fifth seasons would be the same as he still managed to make it into the All-NBA first team once again and was also named into the All-NBA first team. On 9th July 2015, Anthony Davis would sign a 5-year contract extension with the Pelicans worth $145 million.
LA Lakers
After an outstanding 6-year stint with the Pelicans, Anthony Davis finally signed with the LA Lakers in a deal that included Josh Hart, Lonzo Ball, and Brandon Ingram as well as 3 first-round draft picks. In November, Anthony finally made his debut in purple and gold against the team's fiercest rivals, the Los Angeles Clippers.
Anthony Davis was once again impressive as he dropped 25 points, 5 assists, and 10 rebounds in 37 minutes of playtime. Although the Lakers lost to the Clippers, the inclusion of Davis into the team was finally beginning to show some efforts.
In October 2019, Davis was able to put a 5-star performance by dropping 40 points and 20 rebounds in a single game. In November, the LA Lakers squared off against the New Orleans Pelicans. Anthony Davis was once again able to drop 40 points and 9 rebounds making it the first time for a player to 40+ points against a former team.
After helping the Lakers clinch the no.1 seed, they advanced to the NBA Finals. Lebron and Davis would successfully lead the LA Lakers to its 17th champions title, which tied then with the Boston Celtics for most titles.
Antony Davis NBA Salary, Net Worth, Deals & Endorsements
NBA Salary
After signing a 5-year deal with the LA Lakers, Anthony Davis now earns an annual salary of $37 million, making him one of the highest-paid players in the NBA. With this new contract, Anthony Davis currently sits at number 40 on the World's highest-paid athletes list. After declining a $28.7 million option that would have seen him become a free agent, it was quite clear that Anthony Davis did not have any plans to leave the LA Lakers.
Many NBA observers expected Anthony Davis to go for a shorter deal with the aim of maximizing his mobility. However, Anthony Davis ended up taking the longest contract possible, with an option to opt-out in his fourth year with the team.
On December 2020, Anthony Davis agreed to a 5-year deal, worth $190 million. This deal came right after Lebron James agreed to a contract extension that will see him play with the LA Lakers up to the 2022-2023 season.
With the new deal in place, Anthony Davis will play for the Lakers up to the year 2025. In addition, Anthony Davis will earn $32.7 million this season, $35 million next season and $43 million in his fifth year with the LA Lakers.
Although the new deal gives room for early termination, it is quite clear that Anthony Davis will not leave the LA Lakers anytime soon. With the new contract in place, Anthony Davis and Lebron James have the opportunity of solidifying their place as LA Laker's all-time greats.
Net Worth
Anthony Davis has a net worth of $60 million with a bigger percentage of his income coming from his NBA salary while the rest from deals & endorsements. By February 2020, Antony Davis had earned more than $121 million from basketball alone.
Apart from his earnings from the NBA, Anthony Davis also generated a sizeable income from his deals with Nike, Beats Electronics, Footlocker, Credit Union Red Bull and ExxonMobil. According to Forbes magazine, Anthony Davis earned a whopping $10 million in 2020 from deals and endorsements alone.
Ruffles
While many of his deals may appear to be pretty standard, it's his deal with Ruffles that standards out. After relocating to the Lakers, Anthony Davis partnered with Ruffles, not to be a board member part to become part of the creative team.
Apart from helping bring the company's custom sneakers "Ruffles Ridge Top" to life, Anthony Davis was also going to get involved in the culinary side of things.
Prior to the 2020 All-Star games, Ruffles released the Jalapeno and lime chip (limited edition) with Anthony Davis image on the bags. While his earnings from the deal have never been made public, we can safely say that he has definitely earned a sizeable amount from the deal.
Nike
At the start of his basketball career, Anthony Davis agreed to a multi-year deal with Nike. Towards the start of the 2017 season, Anthony Davis once again renewed his deal with Nike. However, unlike most well-established athletes in the NBA, Anthony Davis is yet to receive his signature basketball shoes despite meeting all the qualifications needed.
For most of his career with the LA Lakers, Anthony Davis has been rocking the Kobe Protro. Apart from being the recipient of Player Exclusives, Nike also uses Anthony Davis to make sneaker debuts, with the big man in December 2020, debuting the Nike Cosmic Units for the first time.
The exterior of the shoe features a warped netting with wavy lines around the ankles of the shoes. Apart from all aesthetics of the shoes, it's safe to say that the shoes serve as a stability heel counter.