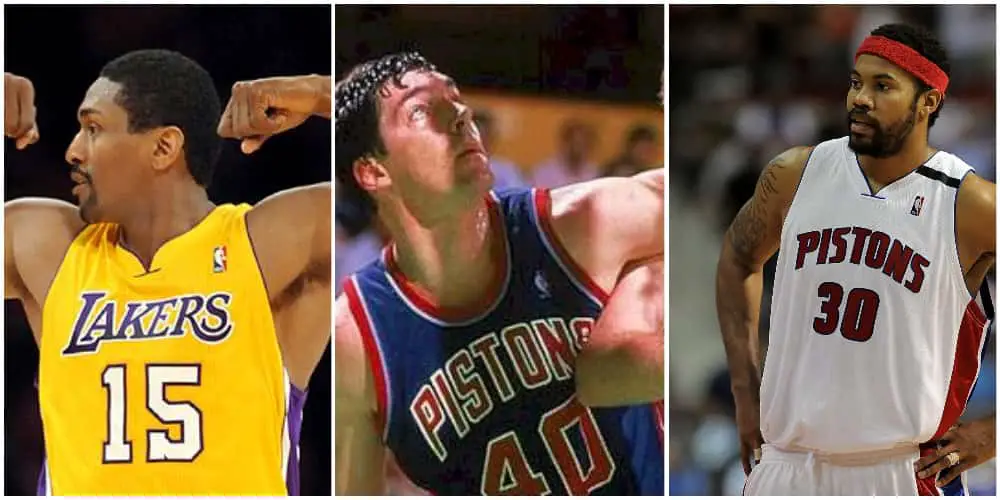 The 10 Most Dirtiest NBA Players of all Time
Last updated on May 8th, 2022 at 11:11 am
Way before players were handed out technicals for salsa dancing on the court, we had an era in the NBA where players could trade punches and kicks without any serious repercussions. From the 70s to the early 90s, ABA and NBA players were not only required to be physically tough but also mentally tough as the league was quite brutal.
From one of the dirtiest teams in the NBA, the Utah Jazz (Bad Boys of the NBA) to Malice in the Palace, the NBA was not a place for soft-hearted players. 
However, looking back at history many of the NBA players on this list had it quite rough growing up and thus were always in survival mode even when drafted into the NBA. Many of these players grew up in the projects and on other occasions were even subject to various kinds of prejudice.
It's the toughness of many of these players that saw them earn a spot in some of the best teams in the NBA. A bigger percentage of these players ultimately earned the role of the team's enforcer.
Due to the style of play, many of the teams during this period had a designated hitman and many of the players on this list fitted the profile. 
Although the main role as the enforcer of the team was not to trade punches with other players, in many instances the enforcers often found themselves in scuffles and altercations with the opposing team. Of course, this was after fulfilling their mission of getting into the opponent's head.
Moreover, many of the players considered to be dirty often found loopholes in NBA and ABA rule books and often at times ended up subverting the rules. Apart from grabbing jerseys, these players also soccer punched opponents and in some cases pushed other players from behind in a discreet and sometimes not very discreet manner.
In other instances, they would even slip their foot underneath other players when they were taking jump shots. 
10. Kevin Garnett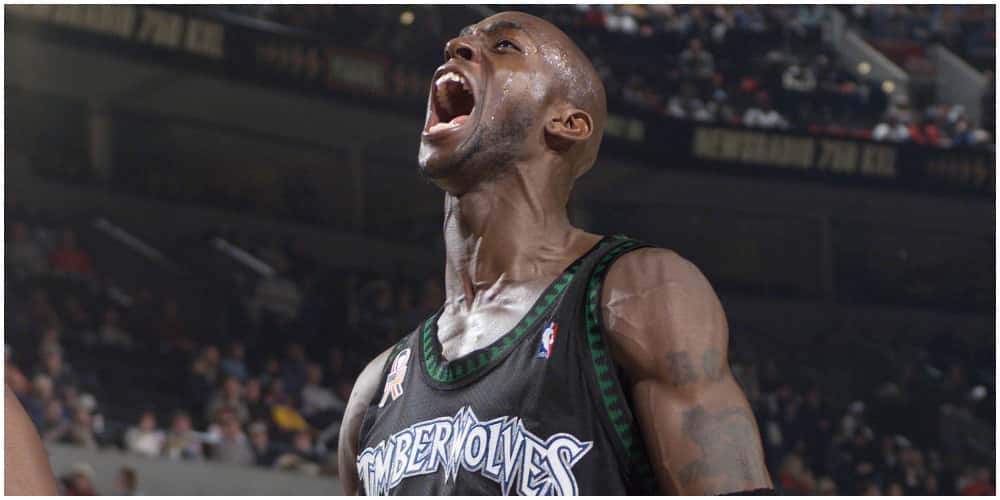 It's truly hard to imagine that Garnett would ultimately turn into one of the dirtiest players in the history of the NBA.
During his early years in the NBA, Kevin Garnett was undoubtedly one of the nicest players in the league. His charisma, personality, and smile made him the ideal choice for various endorsements and deals.
As time went by, Garnett slowly began to embrace aggression.
This could be widely attributed to the many seasons and games that he lost as a member of the Minnesota Timberwolves. Apart from adding intensity into his game, Garnett also began trash-talking opponents as a way of getting into their heads.
As a member of the Boston Celtics franchise, Kevin Garnett ultimately became their designated hitman, taking out opponents with elbows and unexpected swings. While he was technically a dirty player, it's Garnett's intensity and love for the game that would see him scoop an NBA MVP awards and Defensive Player of the Year in the same season.
9. Rasheed Wallace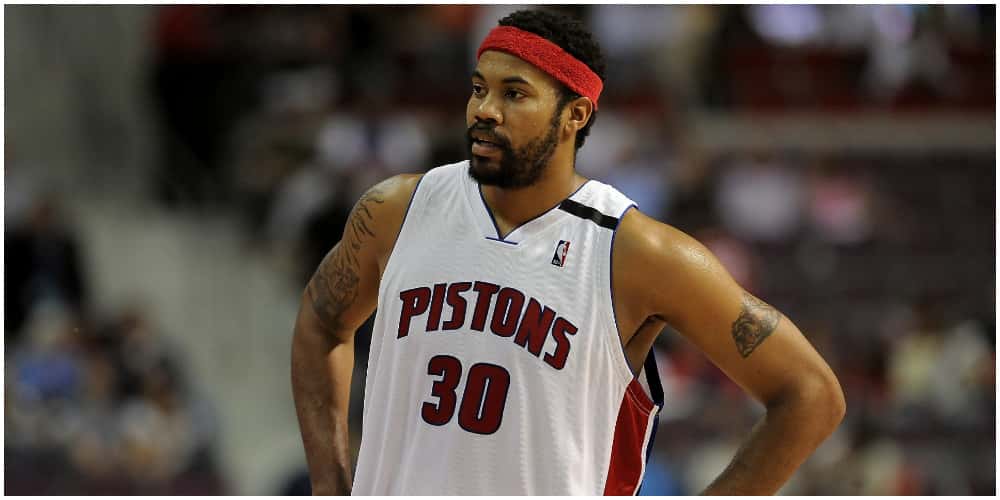 Widely remembered for coining the phrase Ball Don't Lie, Rasheed Wallace was undoubtedly one of the top names in the NBA during his playing days.
Like most players on this list, it's Rasheed Wallace's intensity and love for the game that often got him into trouble with both officials and opposing teams.
While some of these moments resulted in humor, others led to ejections and in other cases suspensions. During the 2000-2001 season, Rasheed Wallace made history by receiving a total of 41 technical fouls.
A record that's yet to be broken nor matched. Moreover, Rasheed Wallace also holds the record for the most career ejections, having received 29 of them during his illustrious NBA career.
8. Charles Oakley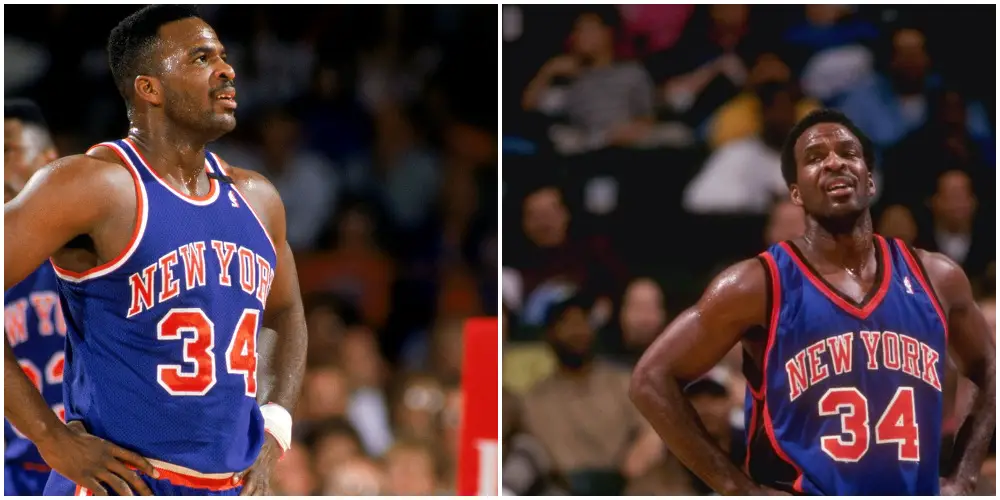 A member of the infamous New York Knicks, Charles Oakley was an outrightly dirty player. Unlike other players, Charles Oakley did very little to hide his ill intentions on the basketball court.
While he played for various teams in the NBA, it's with the New York Knicks that he truly developed as a player and as the team's enforcer. As the enforcer of the team, it was Oakley's duty to ensure that no player was able to complete an open dunk or layup.
Oakley was not afraid to stop players either legally or illegally. Apart from stopping players, Oakley also developed a habit of throwing punches and picking up fights with both players and security staff.
7. John Stockton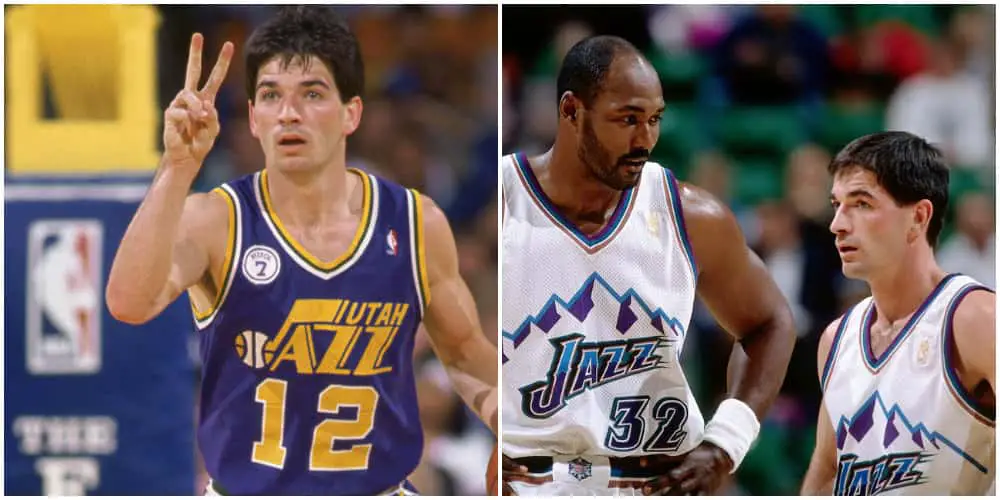 One of the best point guards of all time, John Stockton Not only build a reputation for himself as one of the greatest playmakers but also As a headhunter and a  booty shorts wearer. In his Lustrous 19 NBA career, John Stockton spent his entire stay in the NBA with the Utah Jazz Making the playoffs for 19 consecutive seasons.
In 1997 and 1998 John Stockton teamed up with Karl Malone leading the Utah Jazz to its only two-finals appearances in the franchise history before ultimately losing to the Chicago Bulls.
Despite being an effective player for the Utah Jazz and one of the best NBA players of all time, John Stockton is also considered to be one of the dirtiest players of all time.
John Stockton's tenacity and lack of respect for the opponent so he voted the second most that is player in the NBA behind Dennis Rodman in 1988. Despite being considered one of the dirtiest players of all time there are those who still argue that John Stockton who's a clean player who only retaliated when the opposing player took a cheap shot on him.
Apart from plastic in the warm John Stockton also on one occasion Body slams, San Antonio Spurs guard David Robinson's onto the hardwood floor.  John Stockton's dirty plays became the talk of the town and even on one occasion Chicago Bulls player Steve Kerr even referred to John Stockton as a dirty Player.
All-in-one looking back at John Stockton's NBA career one thing becomes clear,  John Stockton was a  highly competitive player who was willing to do whatever it takes To win his games.
6. John Brisker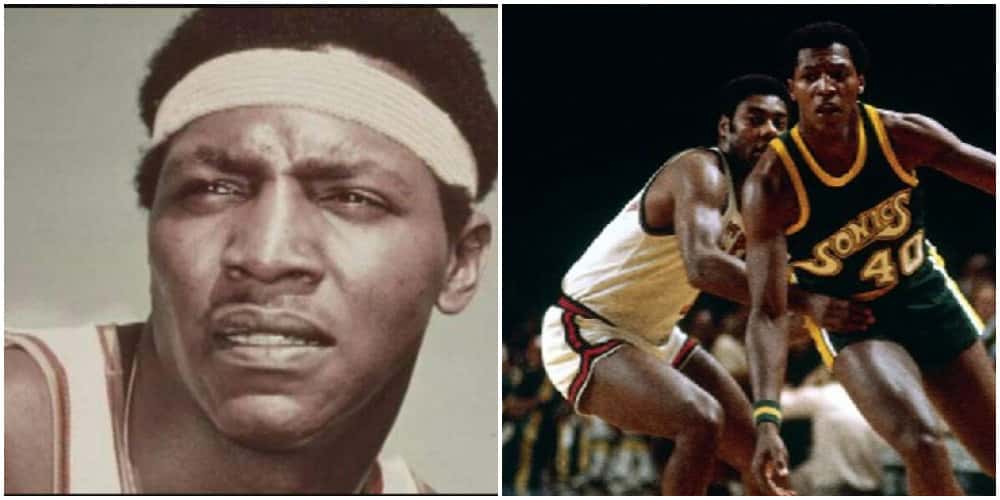 Despite the mystery that surrounds his disappearance back in the 90s after a short trip to Iddi Amin's Uganda, John brisker was considered to be the enforcer on anything that he was on. However, unlike most players on this list, John Brisker was a player who did not take s*** from anyone.
Born and raised in Detroit projects John brisker Had a rather controversial life and during his College year was even kicked from the university's team for insubordination.
In the 1970s John Brisker took the entire American Basketball Association by Storm when he began to insert fights And even on one occasion took a gun with him on courtside.
5. Karl Malone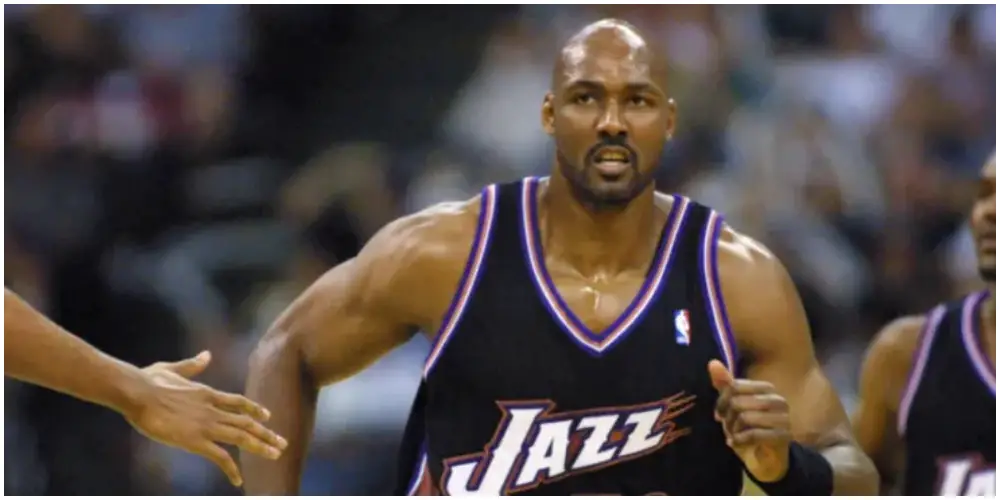 Popularly known as the mailman Karl Malone is undeniably one of the greatest NBA players of all time. In his 18-year NBA career, Karl Malone was a member off the Utah Jazz franchise,  since his rookie year 2 the end of his NBA career.
Alongside John Stockton, Karl Malone made one of the most formidable duos in the NBA.
Apart from being named the most valuable player in the NBA on two separate occasions, Karl Malone was also A 14 times all-star.  Like being an effective scorer and Elise Defender Karl Malone often at times Was at the center of dirty plays. Despite being a physical specimen Karl Malone had one Lethal Weapon in his Arsenal, his elbow.
Apart from kicking Tim Duncan on the face Karl Malone also ended up elbowing various players including Isaiah Thomas. In 1991 during a regular NBA season with the Detroit Pistons Karl Malone ended up knocking Isaiah Thomas with the head using his elbow which resulted in Thomas receiving more than 40 stitches.
However, despite the fact that Karl Malone ended up Saying that the heat was unintentional Bill Laimbeer did not believe the narrative and ultimately Got His Revenge by clubbing the big man on his face.
4. Bill Lambier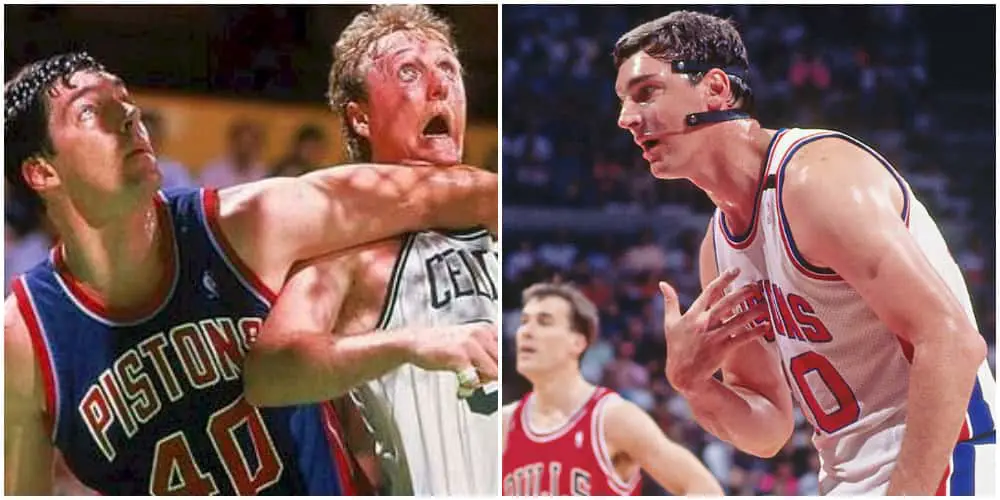 Considered to be the main catalyst behind the Detroit Pistons bad boy mentality, Bill Laimbeer was an extremely dirty player. Unlike all the other players on the team, Bill Lambier wore this title with Pride.
An elite NBA player Bill Laimbeer Average starting points and 10 rebounds per game throughout his NBA career.
However, despite being one of the best players on the Detroit Pistons, Bill Laimbeer would mostly be remembered As the leader of the dirtiest team in NBA history. Unlike today,  the NBA was less strict in the 90s and 80s and thus many of the antics used by the Detroit Pistons often went unpunished.
Apart from handing out aggressive fouls, Bill Lambier was also at the center of most flagrant splays at the time. Despite being an effective defensive player, Bill was also an efficient Outside scoring Centre.
Throughout his NBA career, Bill Lambier drilled over 200 Three-pointers.
Moreover, he was also effective in pick-and-pop plays alongside Joe Dumars and Isaiah Thomas. Building a reputation as one of the members of the Detroit Pistons bad boys saw him come close to inducting A 1991 video game That was to be named Bill a combat basketball by Super Nintendo.
3. Dennis Rodman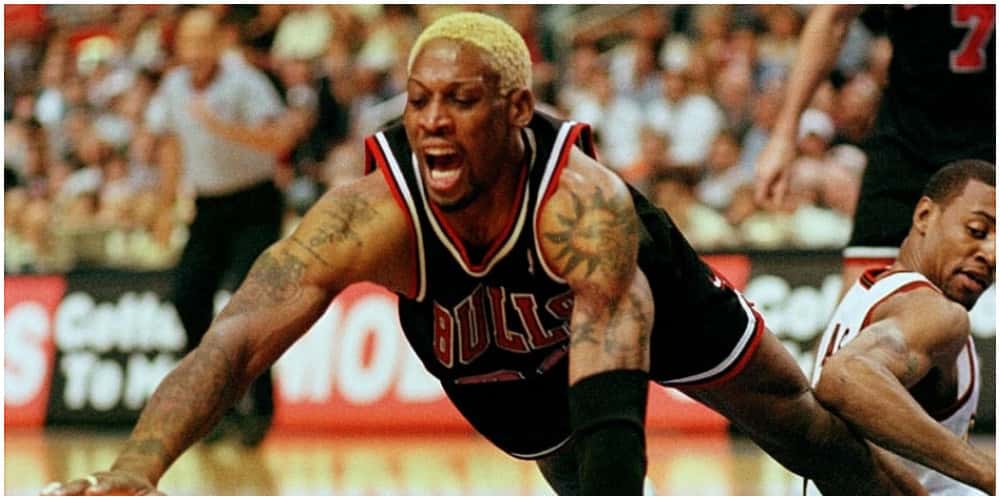 Popularly known as the worm, Dennis Rodman Is widely known for his extraordinary defensive and rebounding ability. During his NBA career, Dennis Rodman played for a number of teams including the Chicago Bulls, Detroit Pistons, LA Lakers Dallas Mavericks, and the San Antonio Spurs.
Prior to becoming a power forward, Dennis Rodman played as a small forward during his early years in the NBA. By the peak of his NBA career, Dennis Rodman was not only named Into the all-NBA defensive team but also received the NBA defensive Player of the Year award on two separate occasions.
Despite being an elite Defender Dennis Rodman in various locations did let his emotions get the best of him. As a member of the self-proclaimed Bad Boys of the NBA, the Detroit Pistons Dennis Rodman often embraced the team's Top style of play which included Stopping the opponent at all costs.
Alongside Isaiah Thomas, John Sailey, and Bill Lambier, The Detroit Pistons became one of the most feared teams in the NBA not only for their defensive prowess but also they're extremely dirty plays. 
2. Ron Artest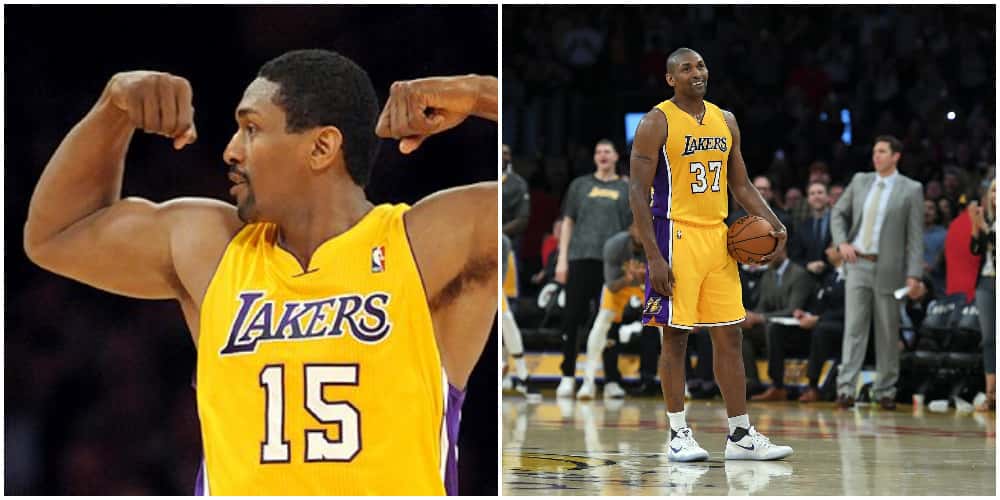 One of the most controversial players of all time, Metta World Peace is regarded to be one of the dirtiest players of all time in the NBA. Despite the fact that he was a defensive juggernaut, Ron Artest from time to time, was not only eccentric but at times was quite outspoken and in the process ended up rubbing shoulders with officials and other NBA players.
During his NBA career, Ron Artest played for six different teams and gained a reputation for his lockdown defense. From being named into the NBA All-Star team Ron Artest Bulls was also named The best defensive player in the NBA during the 2004 NBA season.
Despite being part of various controversial plays in the NBA Ron Artest will best be remembered for his part in the Malice at the Palace incidents. Metta World Peace was always at the center of controversy which led to disciplinary and legal issues. 
In 2003 artist destroyed a Television camera at Madison Square Which led him to receive a three-game suspension. In the same year, Ron Artest was also involved in an altercation with Pat Riley, The Miami Heat coach at the time leading to a four-game suspension. 
Apart from yanking other players' shorts, Ron Artest also at times was also quick to trade punches with other players after playing dirty. In 2012 Ron Artest came close to decapitating James Harden's head.
After the incident, Ron Artest would end up receiving a 7-day suspension from the NBA.
1. Bruce Bowen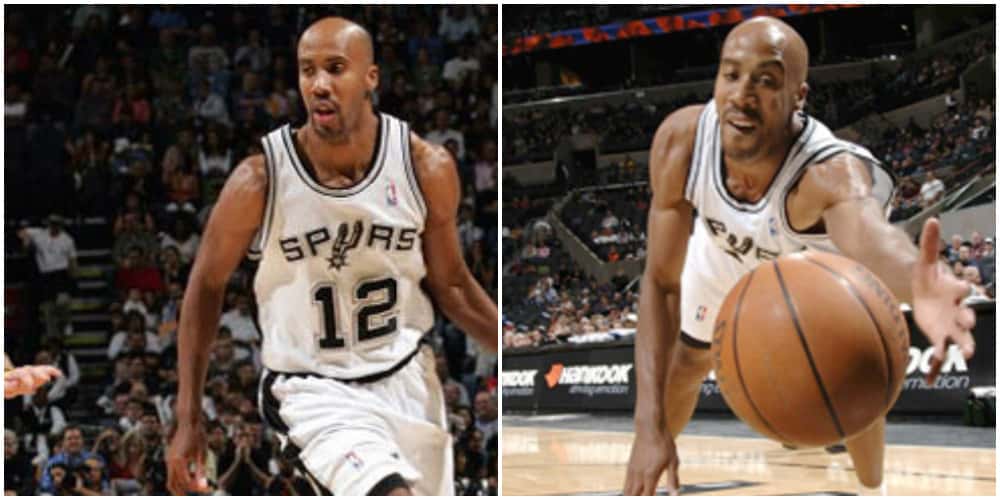 Regarded as one of the best lockdown perimeter defenders of all time, Bruce Bowen's ability to read plays hard-nosed playing Style made him an elite defender. During his illustrious NBA career, Bruce Bowen was selected eight times into the all-NBA defensive team.
Moreover, Bruce Bowen was part of the San Antonio Spurs that went ahead to win the 2003, 2005, and 2008 NBA championships.
Unlike most players on this list Bruce Bowen, despite being a highly talented athlete during his college years he was unable to secure a place in the NBA draft after his College career came to an end. Many people believe that Bruce Bowen was going to become a journeyman athlete.
Bruce Greenwood began his professional NBA career in France playing for various teams in the French League. As luck would have it both Boeing received a 10-day contract by the Miami Heat in 1997. Although he will only play for the Miami Heat for only one game Bruce Bowen's input would impress the Boston Celtics who will ultimately present him with a one-year contract.
During his first full year in the NBA Brooke Bowen played a total of 61 games Averaging 5.6 points and 2.9 assists per game in 24 minutes of game time. After playing for the Boston Celtics for one year Bruce Bowen will ultimately switch teams and join the Philadelphia 76ers before having a brief stint with the Chicago Bulls.
During the 2001 2002 Seasons, Bruce Bowen world received a contract from San Antonio spas in the process of joining our Championship-caliber team led by Tim Duncan and David Robinson. Due to his impressive defensive game, Bruce Bowen quickly established himself as a starter for the San Antonio Spurs.
Like most defensive-minded players Bruce Bowen was more than determined to do whatever it takes to stop a member of the opposite team from scoring including kicking the opponent in the face.
In his first year with the San Antonio Spurs, Bruce Bowen received a $7500 fine after kicking Wally Szczerbiak in the face.