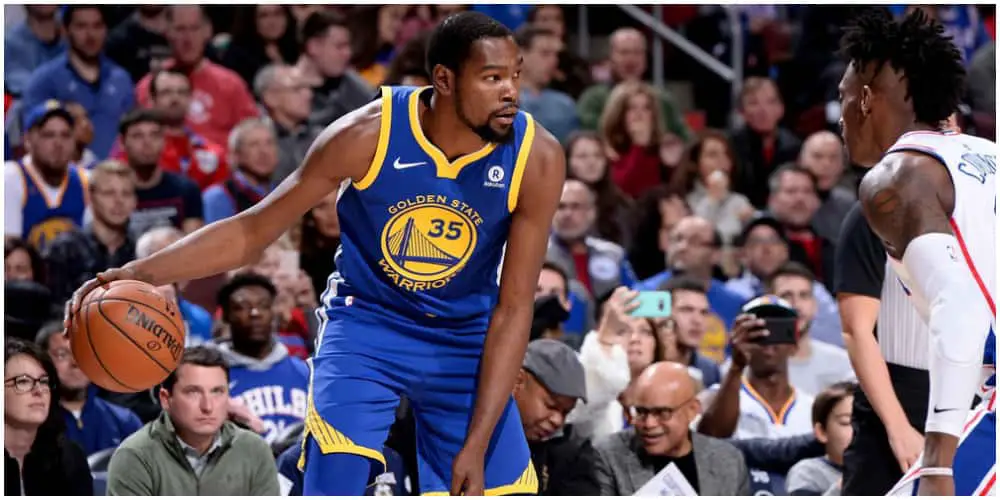 Kevin Durant Biography, NBA Salary, Net Worth, Deals & Endorsements
Last updated on May 8th, 2022 at 11:27 am
One of the most clutch players in recent times, Kevin Durant's ability to step-up when it matters the most has seen him win two Larry O'Brien trophies and two back-to-back finals MVP. Although Kevin Durant's stint with Oklahoma did not bear any fruits, he played a crucial leading role with the team leading the Thunders to 6 playoffs appearances while averaging at least 25 points and 7+ rebounds per game.
In 2016, Kevin Durant sent shockwaves across the NBA when he announced that he was joining an already star stacked Warriors team that included Steph Curry, Klay Thompson, and Draymond Green. This announcement came only a few days after he became an unrestricted free agent.
Durant agreed to a two-year deal with the Warriors that was worth $53.4 million. With the Warriors, KD would not only get his first NBA finals title but also his first finals MVP. The controversial switch from Thunder to the Warriors did not sit well with many people including his former teammate Russel Westbrook.
| | |
| --- | --- |
| Real Names | Kevin Wayne Durant |
| Nickname | KD |
| Position | Small Forward |
| Current Team | Brooklyn Nets |
| Favourite Basketballer | Michael Jordan, Tracy McGrady, Shaquille O'Neal |
| Spouse | Ex-Fiancee, Monica Wright |
| Hobbies | Shopping, Playing Video Games |
| NBA Salary | $39 Million |
| Networth | $180 Million |
Early Life
Kevin Wayne Durant was born on 29th September 1988 in Washington, DC to Wayne Pratt and Wanda. While he was still young, Wayne Pratt left the family, before an ultimate divorce between his parents. When Durant turned 13 years, his father came back and began traveling with a young Durant to various basketball tournaments.
Durant's love for basketball began at a very tender age as all the members of his family loved the game. Vince Carter was Kevin Durant's icon, which made a young Durant wish to play for the Toronto Raptors. By his middle school years, Kevin Durant was already 6 feet tall. Durant spent his early years playing as a small forward playing for various teams in the AAU before ultimately joining the PG Jaguars, a team with which he managed to win two national championships.
After the sudden death of Charles Craig his AAU coach, Kevin Durant decided to wear the number 35 since it signifies the age at which his favorite coach passed away. Durant would then go ahead and play for National Christian Academy before moving to Oak Hill Academy and finally, Montrose Christian School. After completing his high school education, Kevin Durant received many offers from different Division I schools, but ultimately settled for the University of Texas.
Basketball Career
College Career
With the University of Texas, Kevin Durant averaged 26 points, 1.3 assists, and 11 rebounds. Apart from receiving the College Player of the Year award, Kevin Durant was also the recipient of the highly coveted John R. Wooden Award. After averaging 28.9 points per game, Kevin Durant was named the tournament's scoring champion. In addition, he was also named the National Freshman of the year, and the Big 12 Player of the year.
In his only year with the team, Texas went on a 25-10 record and finished third in the big 12. Although he was miles away from the player that he is today, Kevin Durant's guard like offensive skills and great shooting ability saw him become the best player on his team. On four occasions, Kevin Durant managed to drop 37 points against Colorado, Oklahoma St. Texas Tech, and Kansas, which is quite impressive for a college student.
Professional Career
Seattle Supersonics
During the 2007 NBA Draft, the Seattle Supersonics selected Kevin Durant as the second overall pick. This was after the NBA finally allowed College Students to declare for the NBA draft. During his first season with the team, Kevin Durant averaged an impressive 20 points and 2.4 steals, and 4.4 rebounds per game.
This meant that he became the third teenager in NBA history to average 20 or more points per game in the entire season after Lebron James and Carmelo Antony. After an impressive first season in the NBA, he was named as the League's Rookie of the year.
Oklahoma City Thunder
After his first season, the Seattle Supersonics relocated to Oklahoma City where they became the Oklahoma City Thunder. The team also had to switch their kits from white and red to blue, yellow, and orange.
During their first season in Oklahoma City, The Thunder drafted Russel Westbrook, who would eventually become one of the team leaders alongside Kevin Durant. During the All-Star Weekend, Kevin Durant managed to drop 46 points, thereby setting a new rookie challenge record.
By the end of his second season, Kevin Durant averaged 25 points per game which automatically placed him into the Most Improved Player conversion. Despite his impressive second season with the team, Kevin Durant came in third.
Kevin Durant NBA Salary, Net Worth, Deals & Endorsement
Kevin Durant NBA Salary
One of the highest-paid athletes in the world, Kevin Durant earns a base salary of $39 million. In 2019, Kevin Durant agreed to a 4-year deal with the Brooklyn Nets that was worth $164 million. Currently, he sits at number 7 on the highest-paid NBA players list and number 24 on the 100 highest-paid athletes list by Forbes.
Kevin Durant Net Worth
Kevin Durant has a net worth of $180 million. Apart from his NBA salary, Kevin Durant also earns about $35 million from sponsorship deals. Being a savvy entrepreneur, Kevin Durant has invested in a couple of multi-million-dollar companies including Acorns, an investment app as well as Postmates.