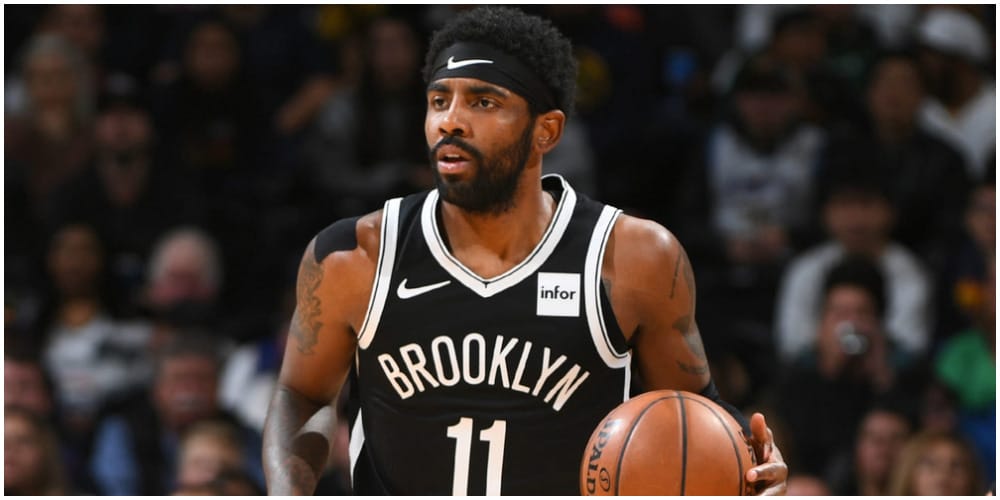 Kyrie Irving Biography, Salary, Net Worth, Deals & Endorsements
Last updated on May 8th, 2022 at 11:43 am
Regarded as one of the best ball handlers of all time, Kyrie Irving's impressive dribbling skills, quick crossovers, hesitation moves, and athletic reverse layups have seen him transcend into an unstoppable force in the NBA. While he does not possess elite athleticism as other point guards such as Russel Westbrook or John Wall, Kyrie Irving makes up for his shortcomings in a number of ways.
His impressive work ethic and work rate saw him shoot 40% from the 3 point line during his rookie year earning him the second slot in the league's 3 point shooting percentage that year behind Steph Curry. After an impressive college career, Kyrie Irving was named as the number 1 overall draft pick during the 2011 NBA Draft. 
From the onset, it was quite clear that the Cleveland Cavaliers had once again struck gold considering they had drafted Lebron James a few years earlier. However, as was the case, the expectations for Kyrie Irving were pretty high. Many people expected Kyrie Irving to come in and replace Lebron James as the best player in the NBA.
From previous years, we've seen players crumble when presented with the task of either turning around a team or re-energising a fan base. However, Kyrie managed to do a pretty decent job. An elite point guard, Kyrie Irving's inclusion into a team that clearly lacked offensive firepower helped put the Cleveland Cavaliers back on the map. 
Kyrie's complete offensive game helps him attack the defense in a number of ways. While he was not able to present the Cavaliers with a complete overhaul win-wise, Kyrie managed to add 7 more wins to the team. Although he landed at Cleveland Cavaliers in 2011, it took Kyrie Irving some time to properly settle in.
Pro-rated the entire debut season, Kyrie Irving clearly showed his killer instinct by taking over several games from the get-go and seeing them through to the end. When Lebron finally returned to the Cleveland Cavaliers after his brief hiatus with the Miami Heat, the two formed one of the most dominant duos in the NBA.
While Kyrie is widely known for his dribbling skills, his Uncle Drew commercials also became an instant hit. 
Early Life
Kyrie Andrew Irving was born on 23rd March 1992 in Melbourne, Australia to the late Elizabeth Irving and Drederick Irving. Irving's father is a former basketball player who played for Boston University from 1984 to 1988. After dropping an impressive 1,930 career points for the school, Drederick had his jersey hung by the school.
He would later join Bulleen Boomers, a well-established Australian Basketball team marking the start of his professional career.
Irving has two sisters, Asia who is the firstborn, and London who is the youngest. While Kyrie Irving grew up watching Michael Jordan, The Dream Team, and the 96 Bulls, his favorite basketballer is Chris Paul. Irving is both a US and Australian citizen.
Professional Career
High-School
In his freshman and sophomore years, Kyrie Irving played for Montclair Kimberly Academy, averaging 27 points, 10 assists, and 5 rebounds. With the school, Kyrie Irving also managed to be the second-ever player in the history of the school to score 1,000 points. During his sophomore year, Kyrie Irving steered the school to a State B title.
After some soul searching, Kyrie Irving decided to switch schools feeling that he needed a greater challenge. Kyrie Irving felt that St. Patrick would present him with a challenge and also the school had a rich basketball history.
Despite the transfer, Kyrie Irving was forced to sit out for more than 30 days due to issues resulting from his transfer. At St. Patrick, Kyrie Irving got the opportunity to play alongside Michael Kidd-Gilchrist, who was regarded as among the best players in the class of 2011.
Kyrie Irving's first season with the school was very impressed with the player averaging 17 points, 5 rebounds, and 6 assists per game. To cap his impressive first season, Kyrie Irving also played a crucial role in leading the school to its first-ever New Jersey Tournament in four years.
During the annual Nike Global Challenge, Kyrie Irving led USA East to victory and was also named the tournament's MVP. Kyrie Irving averaged 21.3 points and 4 assists per game.
The following year, things did not go as expected as St. Patrick's was slapped with a one-year ban from the state tournament after holding practice before the allowed time.
Junior National Team
After his impressive last season with St. Patrick's, Kyrie Irving drew the attention of national coaches and was selected for the National Junior Team. In the same year, Kyrie was also shortlisted to play at the All-American Game as well as the 2010 Jordan Brand Classic. Kyrie Irving's impressive performance at the Jordan Brand Classic saw him named MVP alongside Harrison Barnes.
Later in June, Kyrie Irving was once again named into the America's FIBA America's Under-18 team that won gold. With the team, kyrie Irving averaged 14 points, 5 rebounds and 4 assist per game. Kyrie also shot an impressive 50% from field and 80 per cent from the free throw line. During the final game against Brazil, Kyrie Irving dropped a team high of 21 points, 5 assists and 10 rebounds.
College Career
On a televised broadcast, Kyrie Irving verbally committed to Duke University. In his first year, Kyrie Irving only managed to play 11 games and missed 26 because of a toe injury. In all the 11 games he played, Kyrie Irving managed to score an impressive double figure. Irving dropped 20+ points in three of these games and 30 points in one of the games.
During the second round of NCAA tournament, Kyrie Irving returned to the school's game against Hampton and scored 14 points, 4 rebounds and one assists in only 20 minutes of play. Against Arizona, Kyrie Irving scored 28 points while in the school's game against Michigan, Kyrie Irving once again rose to the occasion, delivering 30 points. This marked the fourth time that a Duke freshman scored 30 points or more.
In addition, Kyrie's 13 free points proved to be more than enough for the young freshman to break one of the school's longest-standing records. Averaging 15 points, 4 rebounds, and 6 assists, Kyrie Irving became that year's CBE Classic MVP.
Professional Career
Cleveland Cavaliers
The Cleveland Cavaliers drafted Kyrie Irving as the number 1 overall pick in the 2011 NBA draft. Unlike the previous drafts, 2011 was a draft like no other when looking at the amount of talent within the class. During his rookie season, Kyrie Irving showed the entire league exactly why he was selected as the number 1 overall pick.
Apart from being faster, Kyrie Irving was also stronger than what many players and analysts predicted. In his first season with the Cleveland Cavaliers, it was quite clear that the team had made a great decision.
While Kyrie Irving was joining a team that did not have enough star power, he still went ahead and had a phenomenal first season. Kyrie Irving would have a breakout season with the team averaging 18.5 pts, 5.4 assists, and 3.7 rebs per game in just 30 minutes of playtime.
Although many critics argued that 5.4 assists per game were quite low for a point guard, Kyrie would still continue improving his game. During his second season with the team, Kyrie Irving began to settle in and was now averaging 22.5 points and 5.9 assists per game. By the end of the season, the Cleveland Cavaliers finished 2nd in the Western Conference.
NBA Finals
In 2014, Kyrie Irving agreed to a $90 million contract extension that would see him stay with the Cleveland Cavaliers for a few more years. During this time, there were signs that a new big 3 was about to be formed with the likelihood of Lebron James and Kevin Love joining the Cleveland Cavaliers. During the start of the season, the Cleveland Cavaliers struggled, winning 5 out of 12 games. The team continued to struggle, especially after the team's big three missed out on all of December's competitive games.
In January, all the big three were present and the team once again continued with the losing streak losing 6 games in a row. However, the team would begin to turn things around from 13th January 2015, going a 12 game winning streak in the process, reviving their hopes of qualifying for the NBA playoffs. During the team's winning streak, Kyrie Irving was averaging 28.8 points per game and even went ahead to have a career-high game, dropping 55 points against the Portland Trailblazers.
Contentious Issues
Just like Lebron James, Kyrie Irving is not new to controversies. His "Flat Earth Theory" while on a friend's podcast brought immense criticism towards the player. In addition, Kyrie Irving also went forward to point out that powerful organizations controlled the flow of information.
NBA Salary and Net Worth
Kyrie Irving Salary
Kyrie Irving currently earns an annual salary of $41.9 million after signing a 4-year deal with the Brooklyn Nets worth 136.5 million. In addition, for 2022-2023, Kyrie Irving has a player option that is worth $36.5 million. Currently, Kyrie Irving sits at number 24 on the world's highest-paid athletes list, a few slots behind Novak Djokovic and Tom Brady. 
During his rookie season with the Cleveland Cavaliers, Kyrie Irving earned an annual average salary of $5 million. Despite being under a rookie contract, Kyrie Irving was the fourth highest player on the roaster.
After his 4-year rookie contract came to an end, the Cleveland Cavaliers presented Kyrie Irving with a 5-year contract extension that saw him earn more than $18 million per year. 
The new deal was worth $90 million, which was the maximum accepted amount at the time under the league's bargaining agreement. During his first 4 seasons with the Cleveland Cavaliers, Kyrie Irving was impressive making 2 All-Star appearances winning the MVP honours during the 2015 NBA All-Star games in Orlando.
After an impressive rookie season, the Cleveland Cavaliers were interested in keeping their most impressive stars. However, two years into his 5 year contract, Kyrie Irving requested a trade from the Cleveland Cavaliers citing his lack of desire to play alongside Lebron James and the hunt for a more prominent role. 
In 2017, the Boston Celtics reached an agreement with the Cleveland Cavaliers that saw Kyrie Irving join the Celtics after becoming an unrestricted free agent. Despite having his own team, Kyrie Irvings time with the Celtics was greatly affected by a discord between Irving, the Boston fans and the organization in general.
After only one season Kyrie Irving would yet again sign with another team, the Brooklyn Nets. In 2019, Kyrie Irving would sign a 4-year deal with the Brooklyn Nets that was worth $141 million. With the new deal, Kyrie Irving is expected to stay with the Brooklyn Nets upto the 2022-2023 season. 
Kyrie Irving Net Worth
Kyrie Irving has an estimated net worth of $43.3 million according to Forbes magazine. In addition to his NBA annual salary, Kyrie Irving like most basketball athletes also generates a sizable income from brand deals and endorsements including percentages from shoe sales.
In addition, Kyrie Irving's "Uncle Drew" character has also proven to be a vital contributor to Kyrie Irving's net earnings with the character leading to the creation of a feature film. Apart from grossing more than $47 million dollars at the 2018 Box Office, Uncle Drew also led to a number of endorsement deals for Kyrie Irving including Aleve and General Mills.
Nike
In 2014, Kyrie Irving agreed to a shoe deal with Nike that's estimated to be worth $11 million. With the new deal, Kyrie Irving became the holder of seventh in the richest shoe deals in the NBA behind Lebron James ($32 million), Kevin Durant ($26 million), Stephen Curry($20 million) and James Harden ($14 million).
Ever since they were introduced into the market, Kyrie Irving's signature shoes have been one of the most marketable and best selling basketball shoes in recent years. More the shoes are also listed as one of the best basketball shoes for guards.
Like James Harden, Kyrie Irving is a player who is willing to go beyond the norm especially when it comes to marketing and branding. 
From a business perspective, Kyrie understands that to break through today's heap of sneakers, it's important to embrace something more bold. In 2019, Kyrie Irving convinced Nike to release several SpongeBob inspired shoe collections.
While to many people, the Spongebob line of shoes may appear to be somewhat far-fetched, however, this is not the first time that Kyrie is doing something unique with his sneakers. Previously, Kyrie and Nike released Third Eye Vision and Friends-themed sneakers.
From the look of things, Kyrie Irvings strange approach to sneakers has already paid off, with his shoe line emerging the second best selling sneakers in 2017, behind Lebron James. 
Pepsi Max
During his rookie year, Kyrie Irving signed an endorsement deal with Pepsi Max pro. With the new deal, Kyrie Irving appeared in various retail activation, branded videos, and extensive social media integrations.
While the deal was expected to run for one-year, Pepsi ended up extending Kyrie's contract after the perfect execution of the "Uncle Drew" character. The Uncle Drew character blew up and