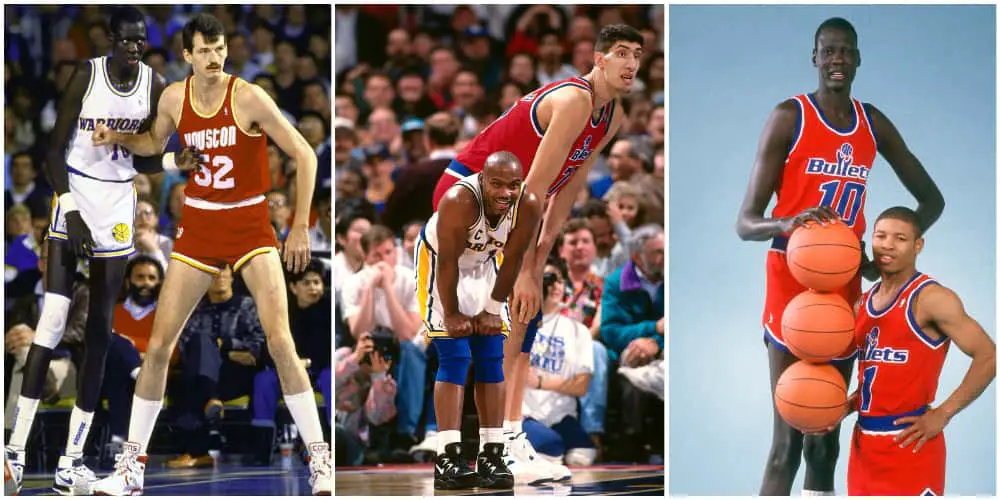 The 10 Tallest NBA Players of All Time
Last updated on May 8th, 2022 at 11:11 am
Although there is no height requirement in the NBA, players seeking to join the NBA often have to meet a certain height threshold in order to stand the flimsiest chances of making it to the NBA. From what we've seen over the years many basketball teams not only in the NBA but also in the European leagues often prefer taller players.
Numerous positions such as power forward and center require extreme height and thus any player below 6'5 is technically not cut out for these roles. 
On the other hand, players below 6'3 can perfectly execute the role of a guard, since minimal blocking of shots and rebounding are required from them. Over the years, we've seen many teams in the NBA simply sign players due to their extreme height and not their expertise on the basketball courts. 
While guards are usually the smallest players on the court, the minimum height requirement is usually at the  6'2 mark. Nonetheless, over the years we've seen some extremely short players such as Celtic's Isiah Thomas and Magsey Bogues make it into the NBA due to their impressive court vision and ball-handling skills.
On the other hand, we've also seen the NBA recruit players over 7 feet with minimal to no experience in the game of basketball.
Players like Manute Bol, Tacko Fall, and Gheorghe Mureșan were able to retain their positions due to their ability to easily flush dunk, block shots, crash rebound and even clog the lanes. While many of these players had an easy route of getting into the NBA, the physicality of the NBA including the pounding of the joints often took a toll on their bodies. 
Honorable mentions
Pavel Podkolzin: 7'5
Sim Bhullar: 7'6
10. Rik Smits: 7'4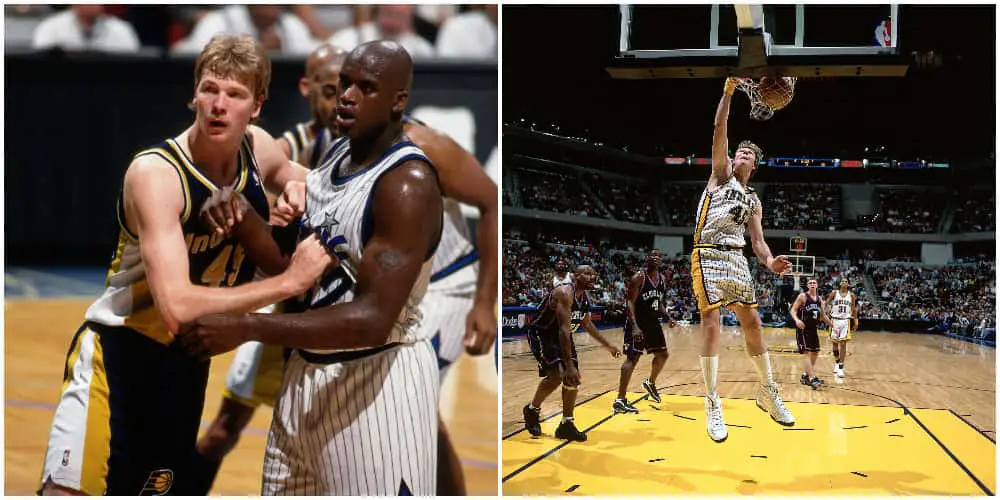 Popularly known as the dunking Dutchman, Rick Smits made history by becoming the first-ever Marist player to be drafted into the NBA. Just like Mark Eaton, Rick Smith spent his entire career with one NBA team, The Indiana Pacers.  . During his rookie season, Rick's Smits was mainly used as a backup for Steve Stefanovich. 
However, when Steve suffered a season-ending injury, Rick's Smits was called up to fill the spot and ended up appearing in a total of 71 games.
In 1988 Rick Smith game had developed in turn earning him a slot in the year's NBA All-Star games. Two years down the line, Smits his first-ever NBA finals appearance.
During his rookie season, Rick Smits ended up having a rather impressive season averaging 11 points and 6 rebounds per game. His outstanding debut performance resulted in first-team rookie honors. In the season that followed, Rick Smits continued with his impressive performance averaging double-digit points in all the three seasons that followed.
Despite putting up these impressive numbers Rik Smits had to wait until the 1993-1994 season to fully realize his full potential. 
Apart from putting up impressive numbers, Rick Smits or also ended up being a joint team leader in a star-packed Indiana Pacers. Throughout the mid-1990s, Rik Smits was considered to be the number two player on the entire Indiana Pacers roaster behind Reggie Miller.
During the 1995 1996 season, Rik Smits game had fully developed, as the 7-foot giant was now easily averaging 18.5 points per game.
Although at the time this was considered to be a modest performance, Rik Smits ended up having an impressive postseason with his most memorable performance coming in game 4 of the NBA finals where he sunk a game-winning buzzer-beater to tie the series. 
9. Ralph Sampson: 7'4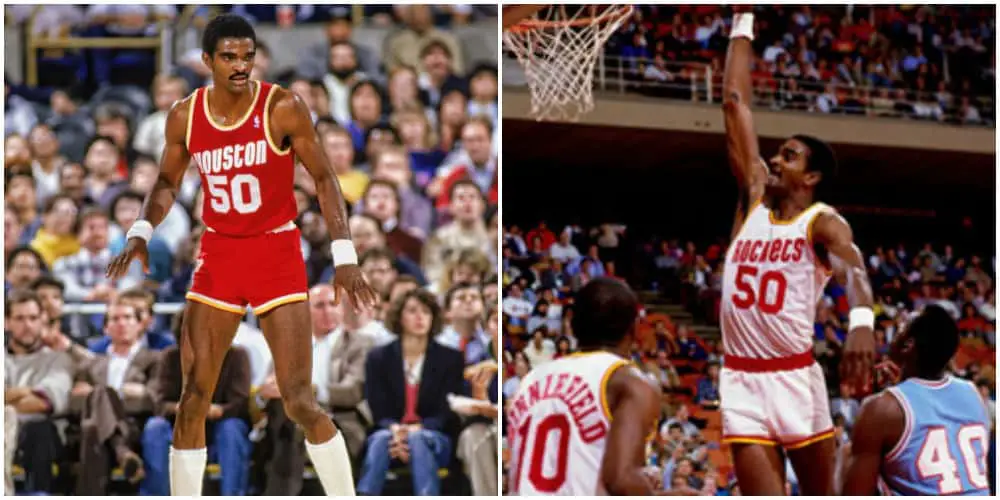 More than 40 years ago, Ralph Simpsons made history by becoming the number one draft pick from the University of Virginia. Due to his impressive college career, Ralph Simpson was pipped to be the next Bill Russell Or Wilt Chamberlain.
Simply put, many NBA analysts were more than optimistic that Ralph Simpsons was going to not only become a key player in the NBA but also help revolutionize the center position.
However, a string of injuries inhibited a very promising NBA career from fully developing.
During his high school years, Sampson led Harrisonburg high school team in 22 state championships. By the end of his high school career, Ralph Sampson was already the number one prospect in the entire country. Ralph's impressive performance ultimately resulted in a number of the top leading colleges wanting to bring the Big Man On Board.
Out of all the colleges that were in pursuit, Virginia University was more than determined to do whatever it takes to sign the 7-foot Giant.
Unlike many prospects at the time, Ralph Sampson was not only tall but was also quite agile for a man his size. Moreover, he was highly talented such that he could easily dribble on an open court and even sink in jump shots just like a guard. Like his High School career, Sampson's college career was equally if not more successful.
Apart from being named a three-time Naismith player of the year Ralph Sampson also became the first male player to secure The John R. Wooden Award on two separate occasions. Moreover, Ralph Sampson also ended up becoming a two-time ACC player of the year.
By the end of his college career, Ralph Sampson ended up with 2,000 points,  1,500 boards, and 400  blocked shots. 
8. Mark Eaton: 7'4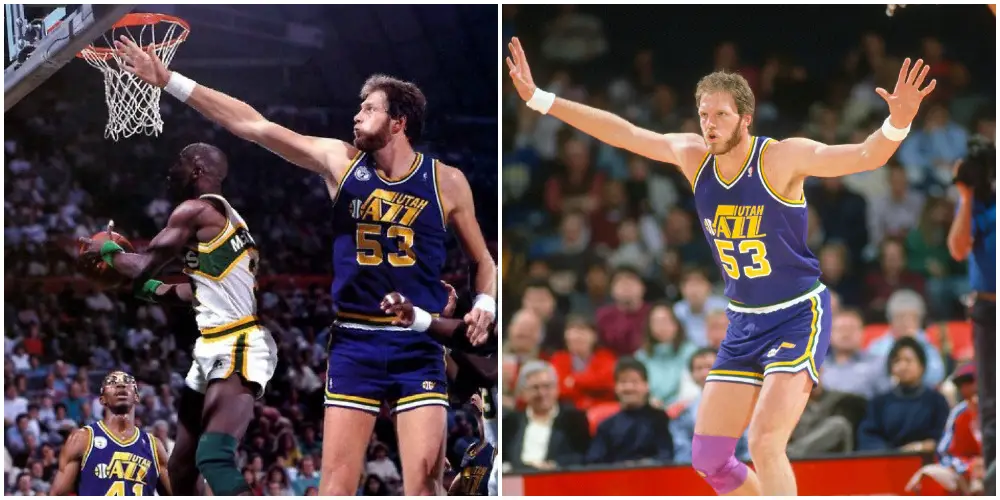 Considered to be one the best shot-blockers of all time, Mark Eaton was a defensive menace, especially during his prime years. Standing at 7'4 Mark Eaton earned NBA's defensive player of the year honors twice.
Unlike many players in the NBA, Eaton spent most of his NBA career with The Utah Jazz ultimately became an enduring figure in the franchise history. During his lustrous NBA career, the towering giant led the NBA in blocks per game on four separate  Seasons.
In the 1984-1985 season, Mark 18 managed to average 5.6 blocks per game which remains the highest blocks per game in NBA history. 
By the end of his NBA career, Mark Eaton averaged 3.6 blocks per game which also remains the highest in the NBA. Unlike most players on this list, Mark Eaton's NBA career was almost by accident.
After his high school career came to an end, Mark Eaton began working as an auto mechanic before being spotted by an assistant college coach.
Ultimately, the Cypress College assistant coach convinced Eaton to enroll at the community college and join the school's basketball team. Ultimately, Eaton would join UCLA before being drafted by the Utah Jazz. After retiring from the NBA, Mark Eaton became a restaurant owner and a motivational speaker.
Eaton would also become the mentor to Rudy Gobert who just like him, would also manage to win the NBA defensive player of the year award. 
7. Gheorghe Mureșan: 7'6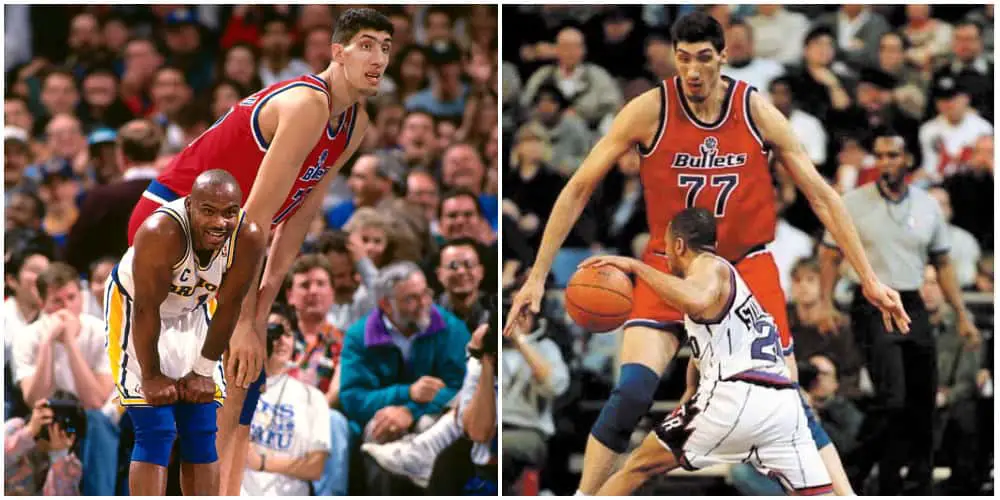 Unlike Manute, Bol Gheorghe was a more effective scorer and overall game player. in 1995 George George would have his most successful season averaging 14.5 points per game. As a result, he was named the most improved player during that season. Moreover, he also managed to collect 9.5 rebounds per game and 2.2 blocks.
In the same season, George also led in field goal percentage as well as the season that followed. After his stint with the LA Bullets, George will ultimately Sign with the New Jersey nets. 
Gheorge would play a total of 31 games for the New Jersey nets before his NBA career ultimately came to an end.  The 7 ft 6 giant would ultimately relocate to France joining Pau Orthez one of the leading teams in the French League.
As a professional basketball player, Gheorge wore the number 77 on his back which was a reference to his overall height.
After retiring from professional basketball, Gheorge founded his own basketball academy in Virginia where kids and teens were taken through the fundamentals of basketball. 
6. Slavko Vranes: 7'6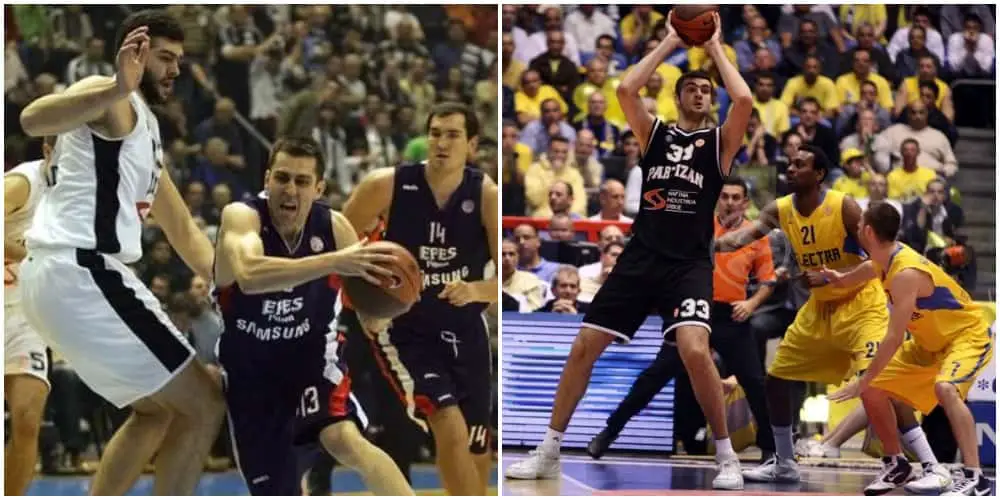 Although his stint in the NBA was rather short, Slavko Vranes is still considered to be one of the tallest NBA players of all time. During the 2003 NBA draught, the New York Knicks picked Vranes during the second round of the NBA drafts.
However, despite the fact that he was picked up by the Knicks, Vranes would ultimately be waived off.
In 2004, the Portland Trailblazers would present Slavo Vranes with a 10-day contract. Before his 10-day contract came to an end, Slavo Vranes would feature for only one game before ultimately relocating to Serbia. In Serbia, Slavo briefly played for Crevena Zvezda before returning to his first professional basketball team, Buducnost Podgorica.
In 2007, Slavko Vranes would join Partizan on a three-year contract.
5. Shawn Bradley: 7'6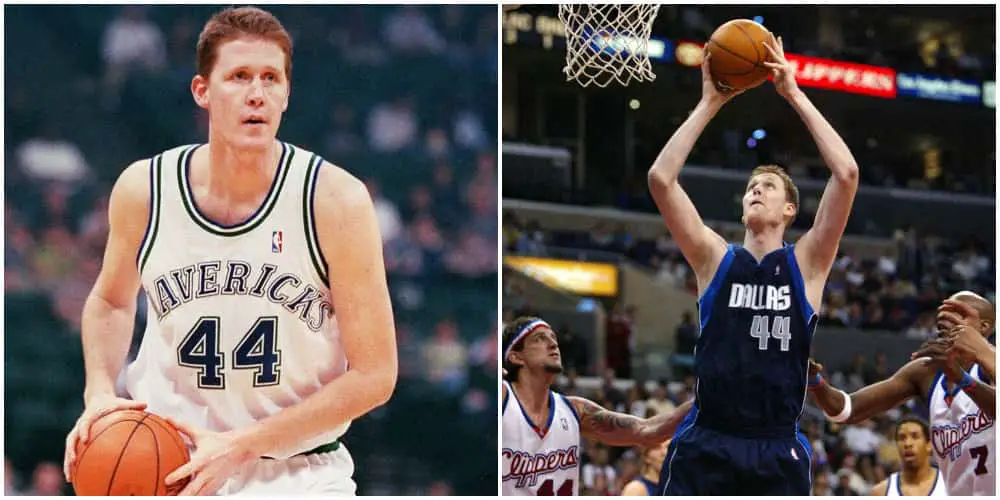 The Stormin Mormon was one of the most highly debatable prospects prior to joining the NBA. Many NBA analysts argued that because of his massive size, Shawn Bradley was definitely going to become a dominant player in the NBA.
On the other hand, they were those analysts who were skeptical of his adaptability to the NBA since he had a rather thin body frame. During the 1993 NBA draft, the Stormin Mormon was drafted by the Philadelphia 76ers as the second overall pick, ahead of NBA star Penny Hardaway and behind Chris Webber who took the number one slot.
Being a 7'6 giant, Shawn Bradley opted to play in the NBA with the number 76 on his back.
Although he was quite inconsistent in his rookie season, Bradley still managed to average an impressive 10.3 points per game, 6.2 rebounds, and 3 blocks. This result was more than enough to earn him and all NBA rookie 2nd team honors.
However, in the very same year, Shawn Bradley suffered a season-ending injury after he dislocated his knee cap.
In the season that followed, Shawn Bradley was able to fully recover and managed to play all 82 games for his team. In a game against the LA Clippers, Shawn Bradley gave out a breakout performance, dropping 22 points and picking up 22 boards in an impressive 97-83 win.
By the end of the season, Shawn Bradley managed to put up impressive numbers including 272 blocks. Nonetheless, due to his rather inconsistent performance, the 76ers ultimately had to let him go.
Shawn would feature briefly for the New Jersey Nets before having another short stint with the Dallas Mavericks.
4. Yao Ming: 7'6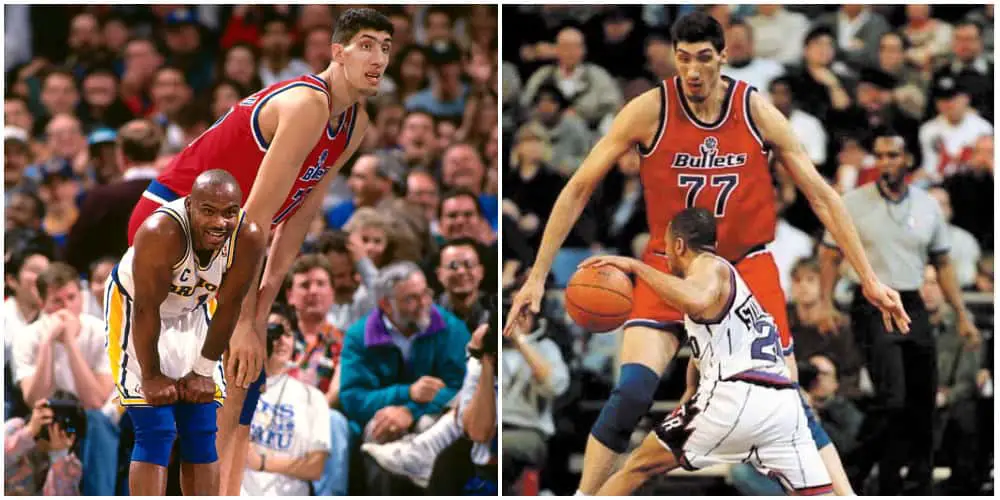 One of the most successful giants of all time, the towering behemoth was a force to be reckoned with. Despite having a rather tall body frame, Yao Ming had the mass to back it up unlike most players on this list. An all-around player, Ming was effective at both the defensive and offensive end of the floor.
After featuring for the Shanghai Sharks early on in his professional basketball career, Ming would ultimately request his team to release him with the hopes of joining the NBA. In 2002 the Houston Rockets selected Yao Ming as the first overall pick in the year's NBA draft.
In his first season for the Houston Rockets, the 7-foot giant performed dismally, especially in his first few games in the NBA. His first game in the NBA was against the Indiana Pacers.
Despite being on the floor for more than 20 minutes, Yao Ming did not score any points and only managed to grab two rebounds. After seven games in the NBA, Yao Ming was averaging a meager 4 points in 14 minutes of gameplay. However, Yao Ming would ultimately redeem himself in a game against the LA Lakers by scoring 20 points and 9 from the field.
3. Chuck Nevitt: 7'6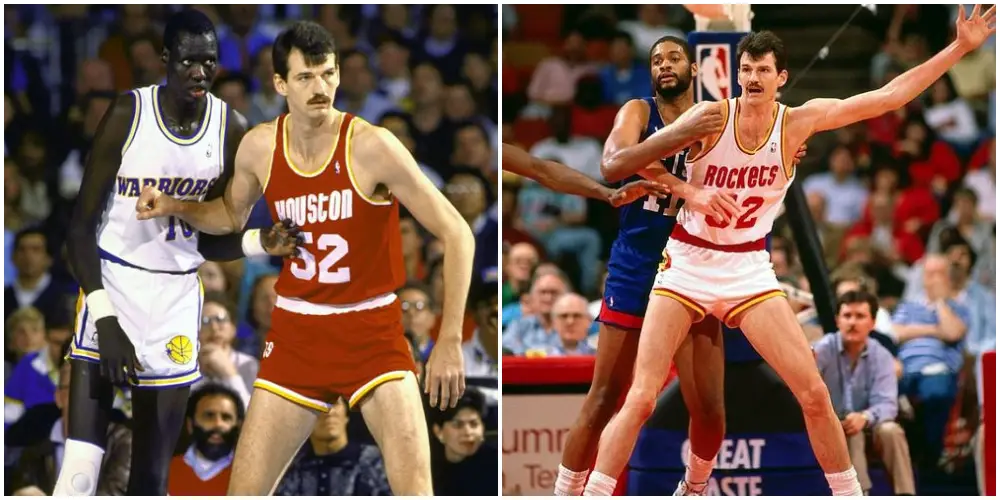 Regarded as the first-ever true big man of the NBA, Chuck Nevitt stood at 7 5 earlier in his career. Throughout his nine-year career Chuck, Nevitt featured for the Houston Rockets, Houston Pistons, Chicago Bulls, Los Angeles Lakers before his final appearance for the San Antonio Spurs.
In 1982 the LA Lakers would draft Chuck Nevitt. The big man would feature for the LA Lakers 44 total of 15 games in a span of two seasons.
Nevitt would ultimately leave the Lakers for the Detroit Pistons, ultimately meeting with his former team in the 1988 NBA finals. never it will ultimately return to the Houston Rockets before appearing for the Chicago Bulls during the 1991 1992 seasons on a 10-day contract.
Nevitt was ultimately released by the Chicago Bulls and would never appear in the NBA game. By the end of his NBA career, David had played a total of 9 Seasons and 155 games.
2. Tacko Fall: 7'6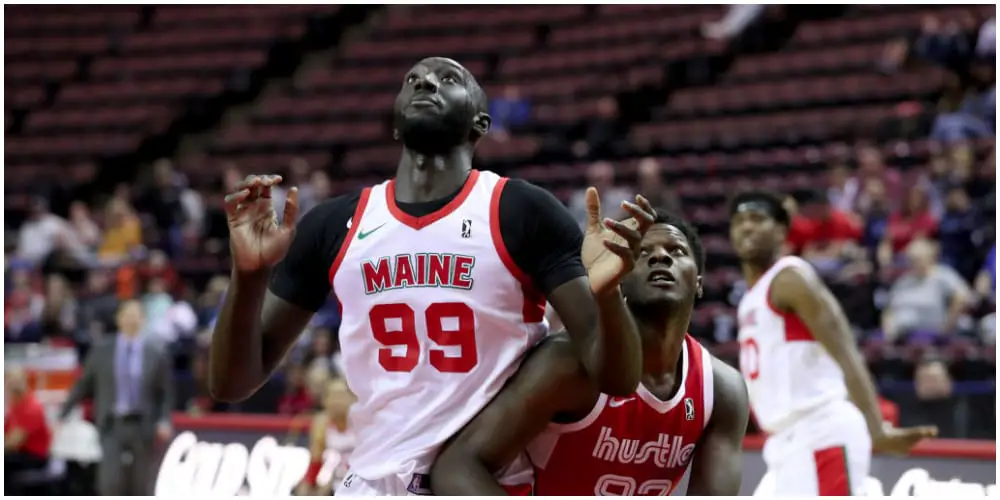 A two-way NBA player and fan favorite, Tacko Fall is the second-tallest NBA player of all time. Despite being one of the tallest bigmen in recent years, Tacko's fall performance in the NBA has been quite poor.
On many occasions, the Boston Celtics often brought Tacko Fall during the garbage minutes mainly in already decided games. In instances when Tacko Fall was brought out of desperation by the coaches, the player did not perform as expected.
Over the last two seasons, Tacko Fall has only managed to make a total of 20 points, 40 points, and 20 blocks in a total of 18 games. 
According to many NBA analysts, Tacko fall has been that project that Boston Celtic has not been so keen on working on. Moreover despite being on a two-way contract the Boston Celtics ultimately opted out of him during the 2020-2021 season.
This meant that Tacko Fall could not get the minutes that he truly needs to develop his game.
Thus Tacko fall has often been on the bench for the Boston Celtics throughout the entire season with no hopes of being called in the most critical games.
1. Manute Bol: 7'7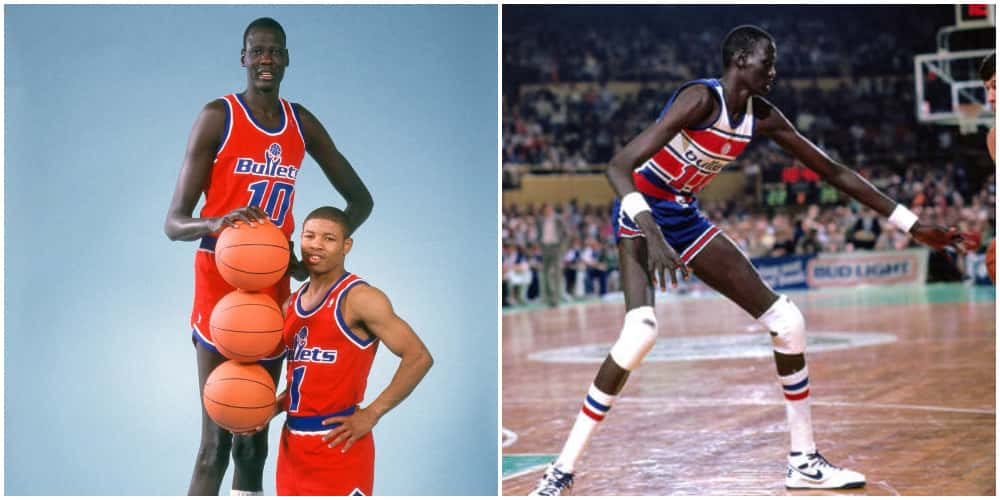 Standing at 7'7, Manute Bol is the tallest NBA player of all time. A South Sudanese native, Manute Bol was drafted into the NBA by the Washington Bullets in 1985. Over the course of this illustrious 10 year NBA career, Manute bol played for three other teams before ultimately hanging his boots in 1995.
Because of his massive height, Manute Bol was a menace on the defensive end mainly brought by his teams into games to block shots and intimidate opponents.
By the end of his NBA career, Manute Bol averaged 4 blocks per game which is the second-highest in NBA's history. 
Apart from his gigantic build, Manute Bol also made history by becoming the first-ever player in the NBA to retire with more blocks per game than shots per game made. A member of the Dinka community in South Sudan, Manute Bol began playing football at a very tender age.
However, after realizing that he was growing extremely tall, he ultimately made the decision to stop playing the game as he saw no future. By the age of 19, Manute bol stood at an impressive 7'6. 
Ultimately, Manute bol turned to the game of basketball, where he felt that his height would come in handy. Manute would feature for various local teams.
It is during this time that Manute Bol will meet with coach Finley while he conducted trial clinics with South Sudanese natives. Finley ultimately managed to convince Manute Bol to travel with him back to the United States.
In the United States Bol would join Cleveland University.
Due to the fact that Manute Bol could not communicate properly in English And was not able to provide his date of birth records the university listed him as a person who was born in 1962. Although Manute bol did not feature for Cleveland State University, he ultimately declared for the NBA draft in 1983.
The LA Clippers ultimately picked him as the 95 overall picks in the 1983 NBA draft.