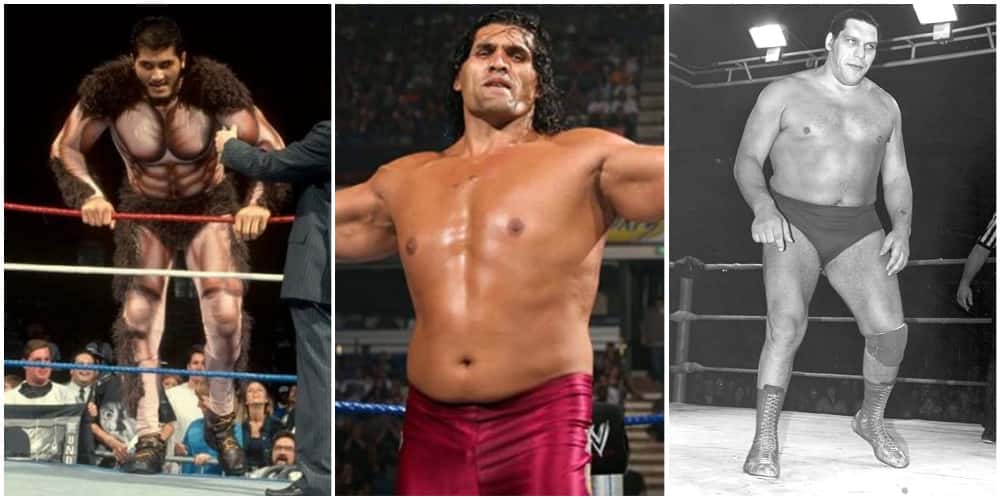 The 15 Biggest Wrestlers of All Time
Last updated on June 15th, 2022 at 05:17 pm
Towering behemoths and walking giants were the order of the day back in the '60s, '70s, '80s, and '90s. Fans loved these types of matches and wrestling franchises acted swiftly to make these dream matches come true.
From Andre the Giant to Giant Baba to Mountain Mike to the Great Khali, these wrestling behemoths easily pulled crowds.
While many of the biggest wrestlers in history lacked speed and impressive athletic abilities, their massive power always paid dividends, especially when facing smaller opponents. In addition, wrestling fans back in the '60s to the '80s were willing to spend money just to see these giants.
However, the evolution of pro wrestling saw wrestling promotions change their approach to pro wrestling by incorporating MMA in a bid to increase authenticity.
This new approach to wrestling saw many of these towering behemoths fail to get the spotlight and recognition they once did. Having a massive build is now not enough to guarantee success in pro wrestling. You need impressive skills, personality, and creativity.
Although many of the wrestlers in this list lacked impressive in-ring skills, personality, and overall creativity, they are still iconic in their own unique ways.
Many giants who came after the '90s had to have personality and that marketability element. While it is quite difficult to rank all these wrestlers, we did a little bit of research and ranked these giants as follows.
Sadly enough, some did not make the cut. That said, these are the 15 biggest wrestlers of all time.
15. Abyss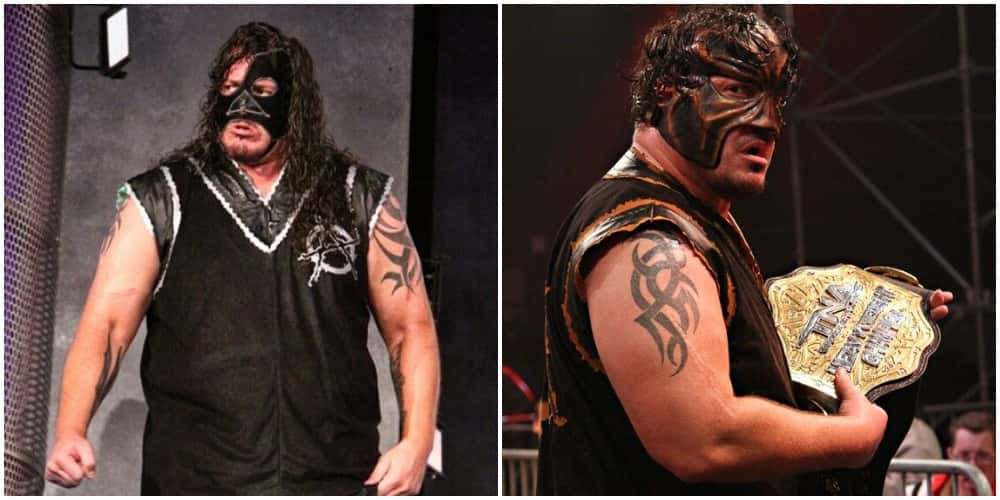 Height: 6'8
Weight: 350 lb
While he has used various monikers and gimmicks during his illustrious 17-year wrestling career, Abyss was undoubtedly one of the biggest stars in TNA. A force to reckon with, Abyss's sheer strength, marketability, and in-ring dominance saw him quickly rise through the ranks.
Apart from becoming an NWA world champion Abyss also held the NWA tag team title as well as the TNA tag team title with AJ Styles.
A real-life monster, Abyss currently holds the record for the longest reign by a TNA champion, 396 days. In his 17 year stint with TNA, Abyss took part in some of the most hardcore matches in the history of sports entertainment.
From broken glasses to barbed wires, Abyss not only portrayed sadistic tendencies but also got pleasure from punishing his opponents.
When the WWE came calling, Abyss turned down the offer and instead opted to remain with Impact wrestling. It would really have been great to see this giant feud with the Undertaker per the initial plans by the WWE.
Currently, Abyss, real name Joseph Parker currently works for WWE as a backstage producer.
14. Rikishi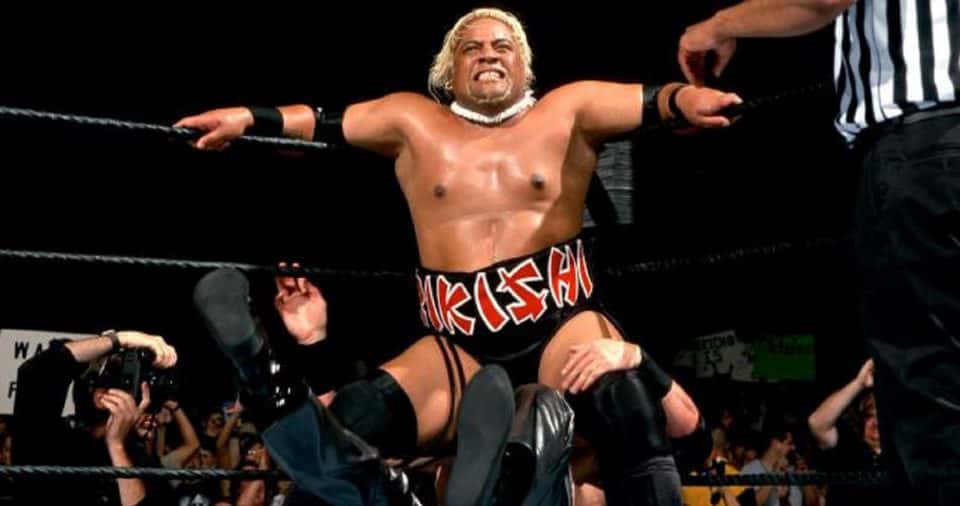 Height: 6'1
Weight: 425 lb
A 1-time Intercontinental champion, and a 2-time tag team champion, Rikishi Fatu was a household name back in the '90s thanks to his rather strange and unique in-ring gimmicks. While Rikishi joined WWE during the attitude era, it soon became clear that the wrestler with the most unimpressive tights needed more than just skill and speed to thrive in one of the most competitive industries.
Rikishi not only needed his gimmick but also needed something that the WWE fans could hold on to and remember him for long after his matches ended.
To stand out from the crowd, Rikishi had to get a pair of sunglasses as well as create some signature dance moves, which helped take him to greater heights.
Rikishi's signature move dubbed the Stinkface also became an instant hit with the WWE fans. After successfully reinventing his gimmick, it did not take long before Rikishi would capture the world-tag team championship titles as part of the stable Headshrinkers from the Quebecers on Monday Night Raw as well as the Intercontinental title.
13. The Undertaker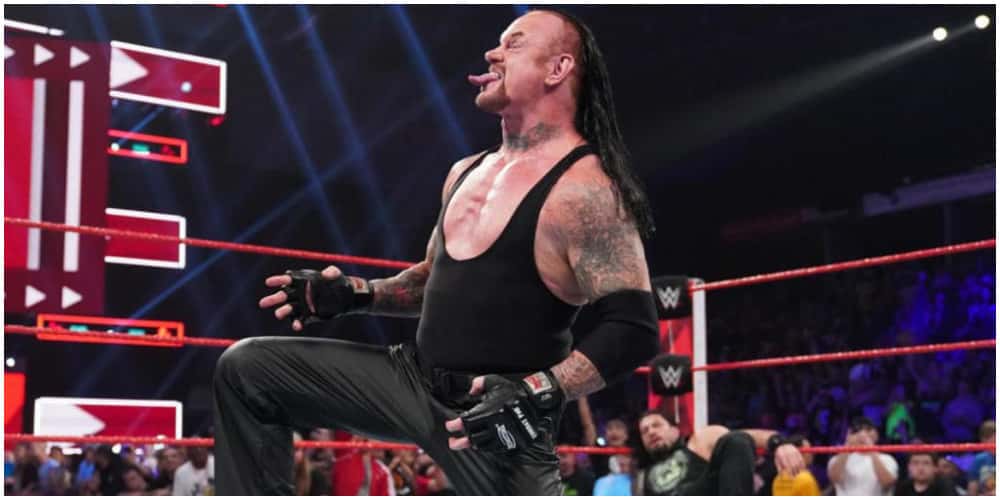 Height: 6'10
Weight: 309 lb
One of the most iconic figures in sports entertainment, The Undertaker is simply a man who needs no introduction. A 7-time world champion, The Undertaker has not only fought just about anybody in the business but also accomplished so much.
After his WWE debut back in 1990, many people did not expect Mark Callaway's gimmick to last for more than 5 years.
The Undertaker's sheer dedication, constant re-invention, and top-notch performances saw "The Phenom" become one of the most revered wrestlers in the world.
During his 17 year career with the WWE, The Undertaker became a household name and one of the most memorable superstars to ever grace the squared circle.
Like Kevin Nash, The Undertaker did not have any wrestling background in his early years. Instead, he was into basketball and hoped to go pro one day. However, as things did not go as expected, The Undertaker would join WCW.
Many wrestling fans will be more than happy to learn that The Undertaker's plan to become a pro basketball player did not work out.
12. Kevin Nash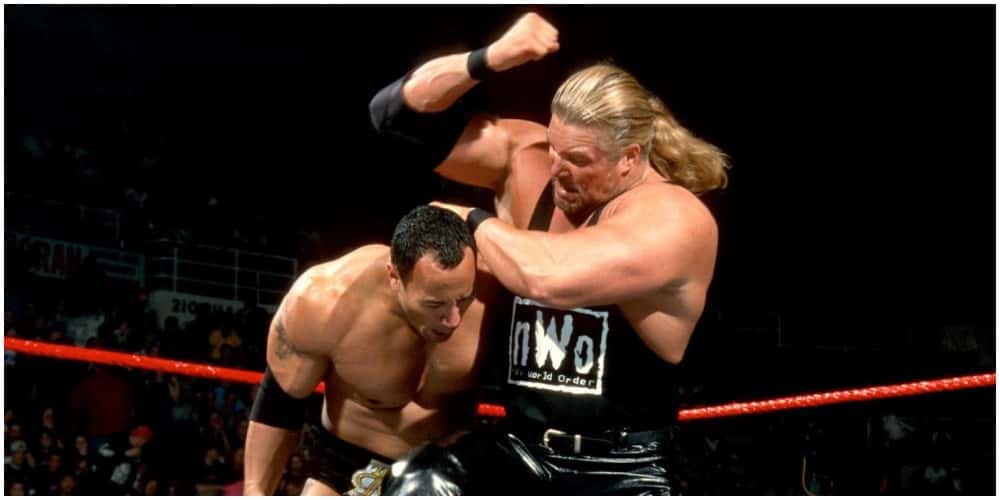 Height: 6'10
Weight: 328 lb
One of the most controversial wrestlers of all time, Kevin Nash's accomplishments at both WWE and WCW speaks volumes. With both promotions, Nash managed to lift the most prized belts, the World heavyweight titles.
Even when his age appeared to be catching up with him, Kevin Nash still managed to maintain relevance.
While many wrestling fans believe that it's his coolness that helped him remain relevant for so many years, we've come to learn that Nash was a political mastermind backstage. Prior to becoming a wrestler, Kevin Nash was a professional basketballer, thanks to his height and build.
Nash's basketball career came to a crashing end after the wrestler tore his cruciate ligament.
He would later try out a couple of jobs before joining WCW as a professional wrestler. Like many wrestlers in sports entertainment, Kevin Nash underwent a series of evolution before becoming the brand that he is today. In 1993, Kevin Nash joined the WWE as Diesel, all thanks to Shawn Michaels.
After a Shawn Michael's interference, Nash would win his first-ever title in the WWF, only a few months after his debut. In August the same year, Diesel and Nash would win the WWE Tag team titles.
11. Kamala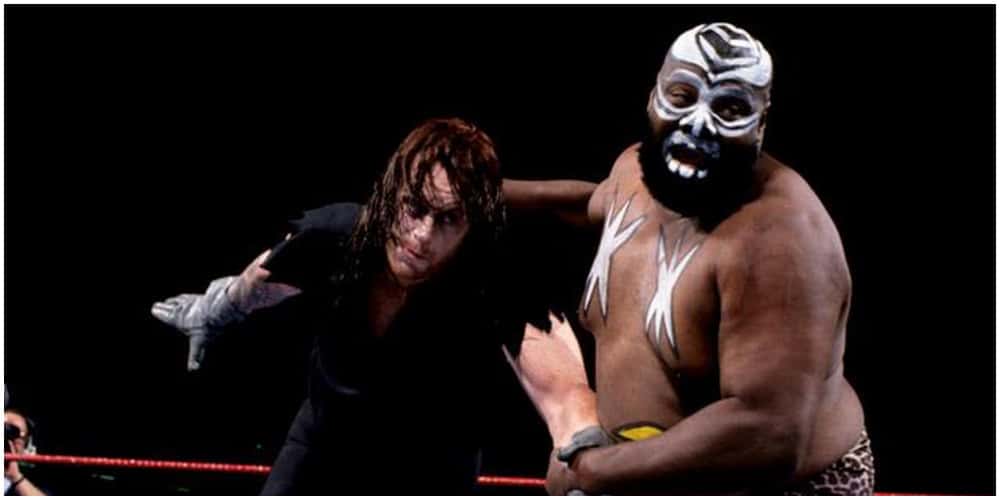 Height: 6'7
Weight: 380 lb
During his tenure in the WWE, The Ugandan Giant was among the few wrestlers who knew exactly how to invoke fear not only in his opponents but also fans alike. Considering he was with the company at a time when many people believed that kayfabe was real, he would often invoke fear into the hearts of young unsuspecting fans.
Looking back in time, it's clear to see that many of his stunts and that of other wrestlers especially the Wild Samoans were somewhat far-fetched. At one point in time, Kamala devoured a "live chicken" on TV.
You can only imagine the reaction that he got from young WWE fans. One of the most colorful wrestlers in WWE, Kamala was a wrestler whose strength, body, and size earned him a respected presence in the ring.
As was the case with the WWE and other promotions, Kamala was often placed in matches against fellow giants such as Andre The Giant and Yokozuna. In the early years, Andre the Giant and Kamala worked together in a number of matches in Mid-South wrestling.
Many of these matches attracted huge crowds thanks to their colossal size.
Thus, when Andre the Giant finally invited Kamala to WWE, it was all fireworks for the company.
10. Mark Henry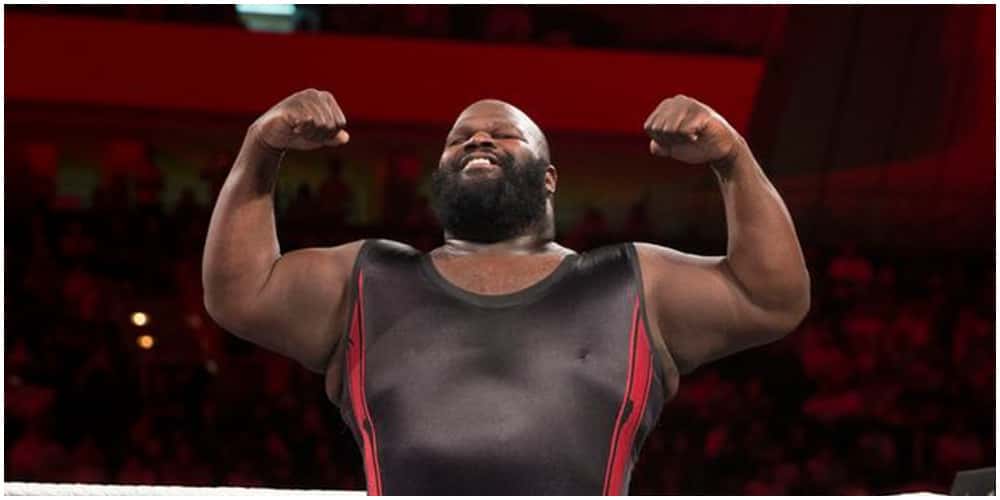 Height: 6'4
Weight: 414 lb
Dubbed "The World Strongest Man" Mark Henry is a wrestler who did not shy off from displaying his raw and pure strength when presented with the opportunity.
An Olympian and former professional powerlifter, Mark Henry was among the few wrestlers who were able to lift some of the heaviest wrestlers in the WWE including The Big Show during his tenure in the WWE.
Just like in the squared, Mark Henry was also able to achieve similar success as a powerlifter. Apart from becoming a two-time National Weightlifting champion, Mark Henry also holds the record for squats and deadlifts. He also won the American Open back in 1992.
In the WWE, Mark Henry went toe to toe to some of its brightest stars including Shawn Michaels, Kane, and the Big Show.
While his run in the WWE was quite impressive, injuries began to take a toll on him which led him to consider early retirement from pro wrestling. He soon took a new job backstage as a producer.
9. Yokozuna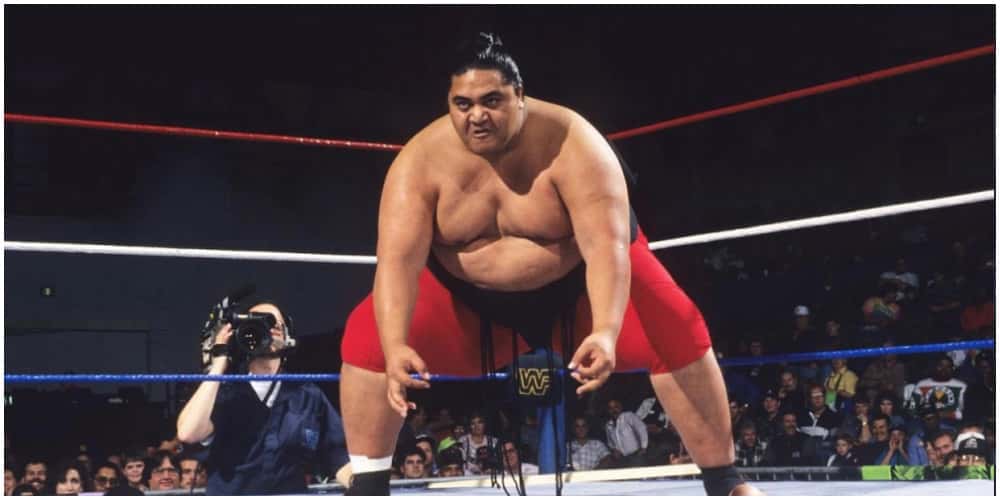 Height: 6'4
Weight: 589 lb
A renowned member of the Anoi'a family, Yokozuna was one of the most memorable wrestlers during the Attitude Era. A two-time world champion, Yokozuna climbed the ranks in the WWE pretty quickly and in no time found himself in the main event scene locking horns with well-established names like The Undertaker, Shawn Michaels, and many others.
Contrary to popular beliefs at the time, Yokozuna was not from Japan.
As a matter of fact, Yokozuna did not undergo any Sumo training. It was all part of his gimmick and boy did Yokozuna execute his role perfectly. Although his movement in the ring was somehow limited due to his massive size, Yokozuna relied heavily on his raw strength and massive size.
During his illustrious WWE career, Yokozuna managed to register impressive wins against highly talented superstars such as The Undertaker, Hulk Hogan, and Bret Hart.
When he seemed outwitted by the opponent, Mr. Fuji, Yokozuna's partner in crime would simply pour Salt into the opponents' eyes. Yokozuna had no issue playing the villain and by the time his career came to an end, he had established himself as a leader and one of the greatest wrestlers of all time.
In 2012, Yokozuna was finally inducted into the WWE Hall of Fame.
8. Man Mountain Mike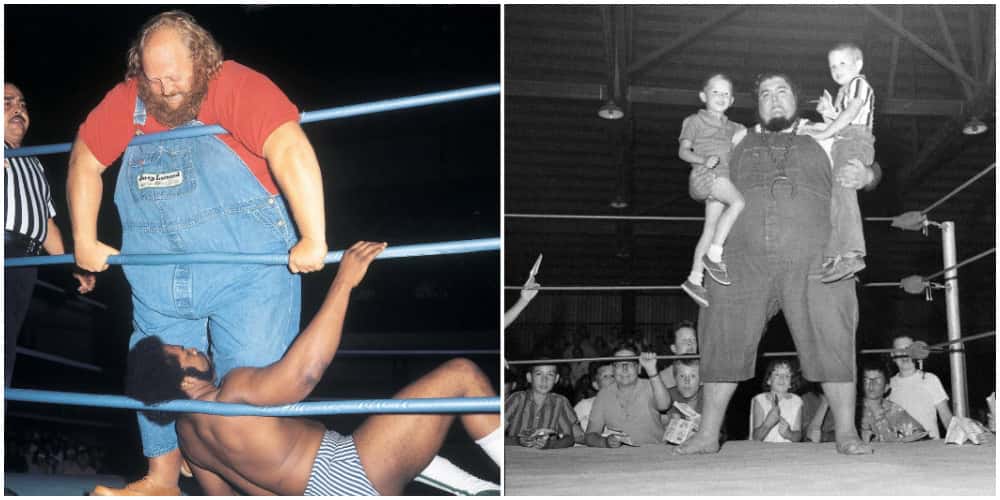 Height: 6'4
Weight: 623 lb
Billed at 623 pounds, Mountain Mike is the heaviest wrestler of all time. Discovered at an all-you-can-eat buffet in the state of California, Mountain Mike would begin his pro wrestling training under the tutelage of The Great Bollock. Man Mountain Mike finally made his wrestling debut in 1968.
On the West Coast, Mountain Mike would form a tag team with fellow wrestler, Haystacks Calhoun who weighed about 600 pounds.
Despite his huge size, Mountain Mike was fast and nifty when he needed to be. As a professional wrestler, Mountain Mike holds various titles under his name. At NWA, Mountain Mike won the Americas Tag Team championship with Butcher Brannigan as well as the Beat the Champ television championship title.
Because of his massive size, Man Mountain Mike took part in various battle royals. Many opponents had difficulties throwing the 623-pound giant over the top and thus, Man Mountain Mike ended up winning many of these battle royals. In 1972, Man Mountain Mike was named "The King of Battle Royals".
After his brief stint in the US, Man Mountain Mike embarked on a series of tours in Japan, where he wrestled with Antonio Inoki who took all the wins.
During this period in time, Man Mountain Mike would sign with the WWWF for only one year, before retiring in 1976.
7. Viscera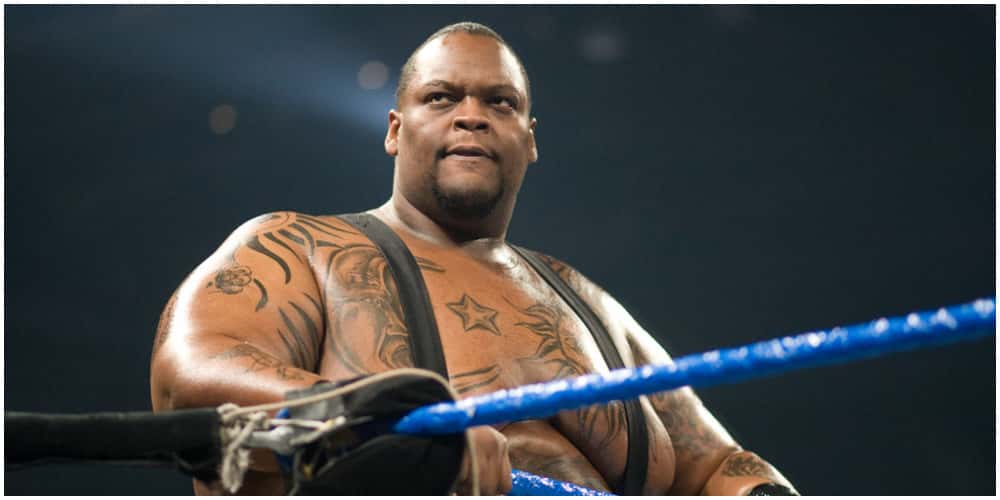 Height: 6'9
Weight: 487
Widely known for his gimmick of the World's Largest Love Making Machine, Viscera was a wrestler who was quite strange in his own unique ways. During his early years, Viscera used a different moniker, Mabel, and was mostly involved in WWE's tag team division as part of the duo, Men on a Mission.
With Mo and their manager Oscar, Men on a Mission always brought an infectious vibe with them anytime they stepped into the squared circle.
While entering the ring, wrestling fans would jam to their songs while throwing their hands back and forth. After losing the tag team titles after only being champions for two days, the stable would split up with Mabel turning heel. During the 1995 King of the Ring tourney, Mable managed to not only win the tournament but also defeat both the Undertaker and Shawn Michaels in the process.
After winning the tournament, it was quite clear that the WWE had greater plans for Mabel.
A few months down the line, Mabel would enter the main event scene, challenging Diesel for the grandest prize of all, the WWF World Heavyweight Championship. With everything set, Mabel gave his heart out in what's considered to be one of his greatest matches with the company.
However, Mabel ultimately came short and from this point onwards, his wrestling career took a decline.
6. Brodus Clay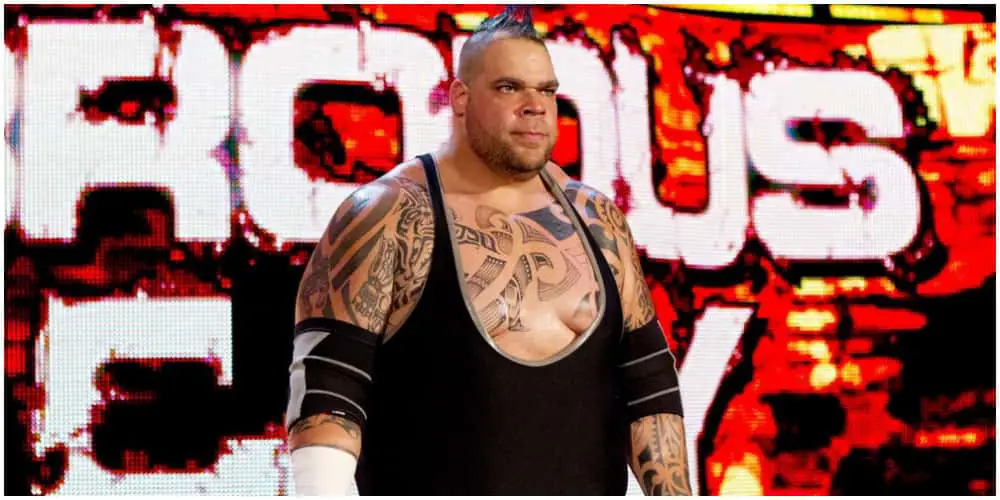 Height: 6'9
Weight: 375 lb
With Brodus Clay, it's always more than funk. Despite his WWE gimmick, the Funksaurus can get down to business when needed to. Widely known for his entrance "Somebody Call My Momma", Brodus Clay definitely knew how to bring the WWE universe onto its feet.
Together with the Funkadactyls, Brodus Clay would constantly hype crowds prior to matches. In the squared circle, Brodus displayed impressive strength with an outlandish attitude.
While the Fankasaurus was a serious wrestler when he needed to, the WWE creatives would push for a comedic angle thereby taking off more from a rather promising wrestler.
5. Kane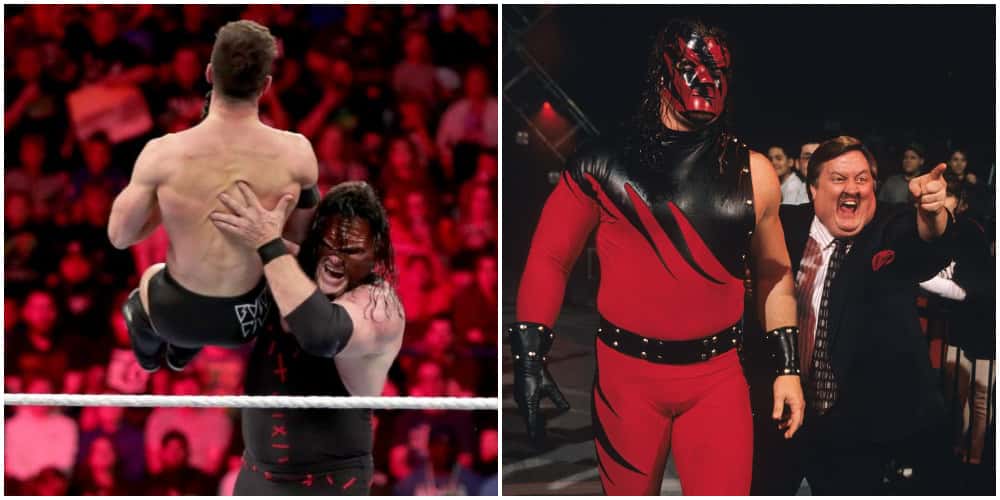 Height: 7'0
Weight: 320 lb
The Big Red Machine is undeniably one of the biggest wrestlers in the WWE. His monstrous size has seen him dominate many of the matches he featured in. While he's not the fastest wrestler in the WWE, Kane definitely knows how to work the ropes.
The Undertaker's on-screen brother, Kane's feud with The Undertaker remains one of the best feuds in the WWE.
Standing 7 feet tall and weighing approximately 300 pounds, Kane has gone head to head with some of the biggest superstars in the WWE including Edge, Shawn Michaels, Stone Cold, and The Undertaker.
Apart from lifting the WWE championship title, Kane is also an ECW Champion and a tag team champion.
5. The Big Show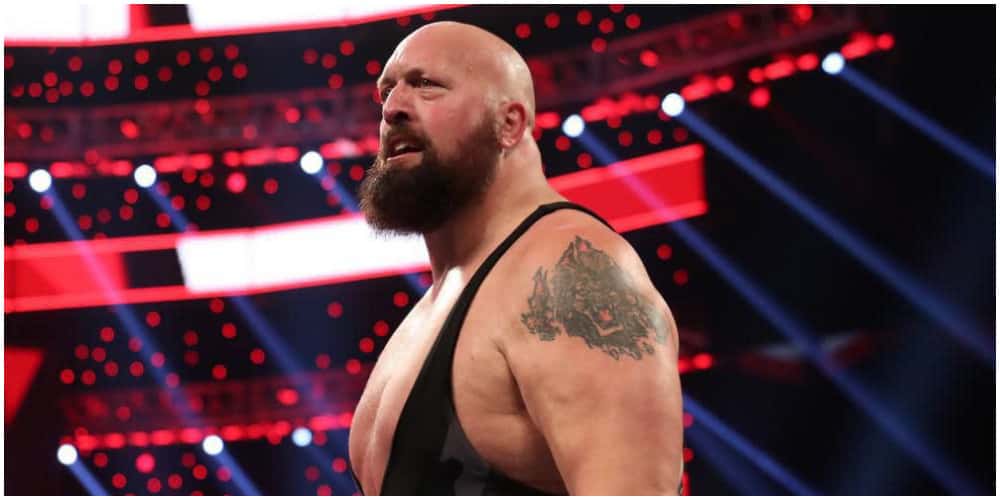 Height: 7'0
Weight: 383 lb
Just like Mark Henry, The Big Show worked as a professional bodybuilder and powerlifter prior to becoming a pro wrestler. A third generational superstar, The Big Show comes from a family that's heavily invested in the wrestling business.
On his first attempt to become a pro wrestler, The Big Show got rejected by WWE with the company citing his lack of wrestling experience as the main reason for the rejection.
However, the Big Show would, later on, sign a contract with WWE. This was after he had gained some wrestling experience working for WCW and ECW.
Although his gimmick revolved around a ruthless 7-foot giant, there were instances when we felt that the company's creative team placed The Big Show in some really weird storylines or situations.
For instance, the WWE creative team has always used the Big Show as a celebrity punching bag. From Floyd "Moneybag" Mayweather to Akenebo, The Big Show has always been on the receiving end whenever a celebrity decides to pay the WWE a brief visit.
In addition, Wrestlers like The Undertaker have constantly enjoyed impressive winning streaks at Wrestlemania.
On the other hand, the Big Show has always found himself on the losing end at nearly all Wrestlemania events that he took part in. Prior to his Wrestlemania match against Cody Rhodes at Wrestlemania 28, Cody Rhodes created a weekly segment called Embarrassing Big Show Wrestlemania Moments where he highlights the monster's failures at Wrestlemania.
We felt that this was uncalled for by WWE's creative team. In addition, why would they just rub a man's wound like that?
With WCW, the Big Show managed to lift the WCW heavyweight championship on two occasions, with the first title coming after an impressive victory on Hulk Hogan. With the WWE, the Big Show won the WWF World Championship title, the WWE tag team championship titles as well as the Giant Memorial Battle Royal.
This meant that the Big Show became the first man to win the ECW, WCW, and WWE championships.
4. Mike Shaw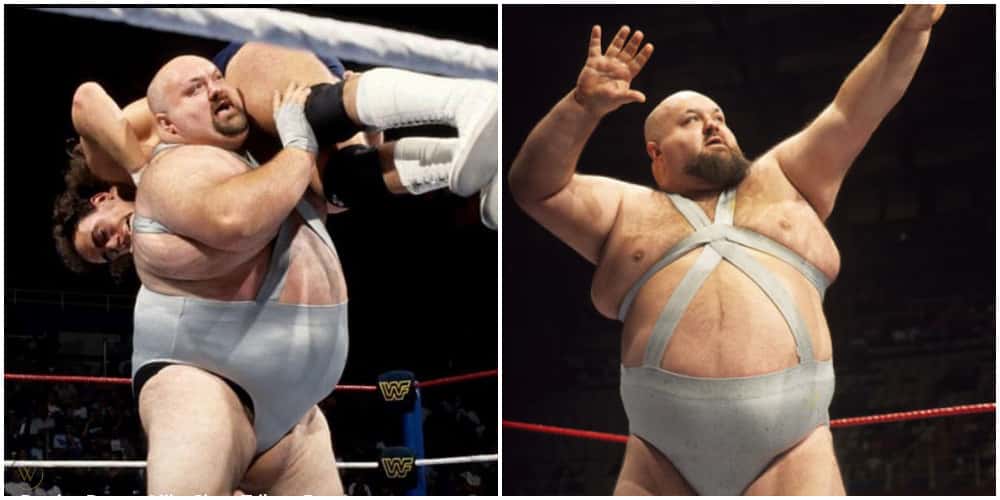 Height: 6'0
Weight: 405 lb
Also known by his monikers of Bastion Booger and Norman the Lunatic, Mike Shaw makes it to the biggest wrestlers ever list. While he may not be a household name, many wrestling fans will remember Mike Shaw for his feud with Bam Bam Bigelow.
This was right after Mike Shaw fell in love with Luna Vachon, Bigelow's valet.
The feud between the two would see them go head to head on a couple of matches in the WWF. As a wrestling star, Mike Shaw's success was marginal since he served as a jobber for the company's main stars.
Booger's biggest win came at the All-American Wrestling where he recorded a clean pinfall on Owen Hart.
3. Great Khali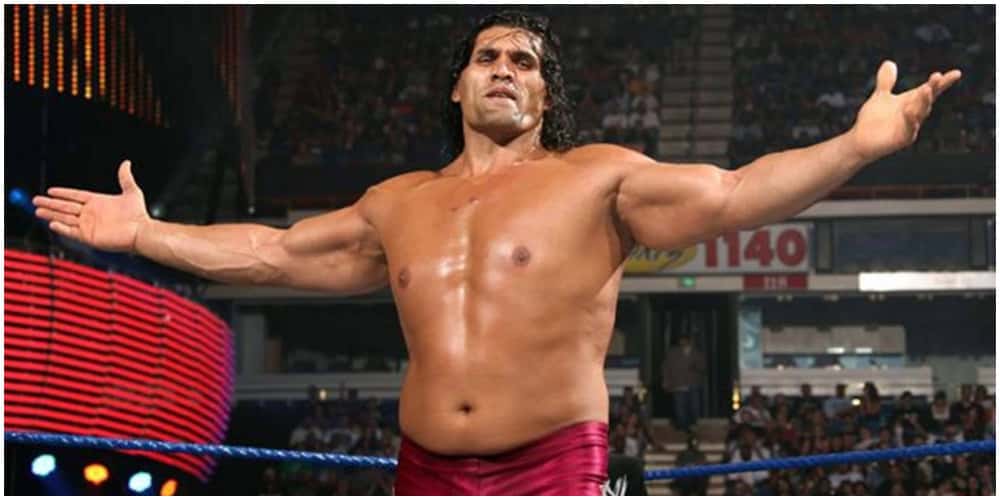 Height: 7'1
Weight: 347 lb
Born on 27th August 1972 to a Punjabi family, Great Khali always stood out from the rest during his early years. His overwhelming size saw The Great Khali turn heads whenever he went.
Prior to becoming a WW wrestler, Great Khali would work as a security guard in Shimla, India before eventually joining the local police force.
Being the first native Indian to join the WWE, Great Khali immediately became a cultural icon and one of the most loved athletes in his home country. Khali's overwhelming size and warrior spirit made him a threat to all wrestlers in the WWE.
In the WWE, Great Khali managed to register wins against renowned superstars such as The Undertaker, John Cena, Shawn Michaels, and Kane.
2. Giant Gonzalez
Height: 7'7
Weight: 460 lb
When it comes to size, there is no superstar in sports entertainment who came close to Giant Gonzalez. The 8-foot monster was a force to reckon with earning respect from the likes of Andre the Giant and The Great Khali and is one of the biggest wrestlers ever.
During his teen years, Gonzalez experienced a growth sprout. At 14 years, Giant Gonzalez stood an impressive 6'4. At the age of 16 years, Giant Gonzalez began his professional basketball career back in his home country of Argentina.
In 1988, Gonzalez was drafted by the Atalanta Hawks, making him the first Argentinian player to be drafted into the NBA. After a rather disappointing career in the NBA, Giant Gonzalez turned to pro-wrestling all thanks to Ted Turner. In May 1990, Gonzalez made his WCW debut as El Gigante.
During his stint with WCW, Giant Gonzalez was involved in one of the longest feuds with Ric Flair and Sid Vicious. Several years down the line, the WWE came calling.
Before signing with WWE, Giant Gonzalez briefly joined NJPW in 1993. During his debut, Giant Gonzalez attacked The Undertaker. In a recent interview, The Undertaker revealed that McMahon always asked him to face some of the biggest guys recently signed by WWE.
All this was done to not only help push them but also due to The Undertaker's status in the WWE.
1. Andre the Giant
Height: 7'4
Weight: 520 lb
Andre the Giant is the biggest wrestler of all time. Unlike many renowned superstars in the WWE such as Stone Cold and The Rock, Andre the Giant captivate the audience in a totally different way.
His gigantic build drove fans crazy back in the '80s and '90s as he developed a fan base throughout the world.
Despite his huge size, Andre the Giant was also gifted athletically. However, as time went by, his body slowly began to wear down due to injuries and surgeries. When it comes to giants, there will always be certain myths surrounding them.
For instance, with Andre the Giant, people came to believe that he chugged hundreds of beers in one sitting.