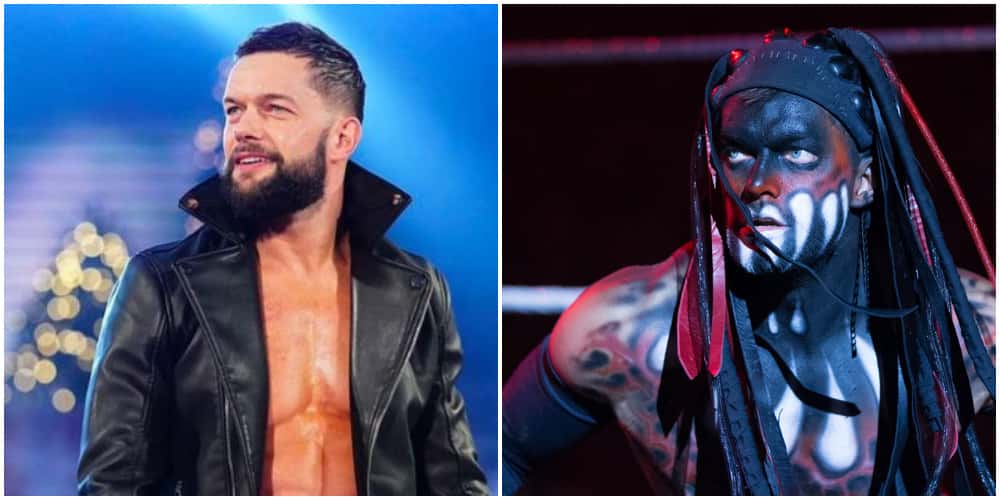 Finn Balor "Demon King": WWE Salary, Net Worth, Family
Last updated on May 8th, 2022 at 11:20 am
Fergal Devitt, popularly known as Finn Balor is one of the most captivating performers of recent years. With years of experience under his belt, Finn Balor's wrestling success can be attributed to his superb technical ability, microphone skills, wrestling experience, ability to connect with the fans and razor-sharp precision.
Prior to joining WWE's development program NXT, Finn Balor wrestled in the UK with NWA, Japan with NJPW and Mexico with CMLL. With NJPW, NWA and CMLL, Balor wrestled under the moniker, Prince Devitt. In 2014, Balor would sign a WWE contract and in the process joining it's a development program, NXT.
| | |
| --- | --- |
| Wrestling Name | Finn Balor |
| Real Names | Fergal Devitt |
| Nickname | Prince of Ireland, Irish Captor |
| Father | Fintan Devitt |
| Hobbies | Painting & Reading comic books |
| Favourite Wrestler | Shawn Michaeals |
| WWE Salary | $1 Million |
| Net Worth | $3 Million |
| Spouse | Veronica Redriguez |
| Finisher | Coupe de Grâce |
Early Life
Fergal Devitt was born on 25th July 1981, in a small Irish town of Bray. Devitt would join St. Cronan's School in his hometown for his primary school education. While growing up, Devitt loved wrestling and was a big fan of Rick Rude, Mr Perfect and British Bulldog. However, prior to pursuing a wrestling career, Devitt loved soccer and would play the game during his free time.
Professional Career
NWA/NJPW
When he finally turned 18 years, Balor would make one of the biggest decisions by joining NWA, marking his first-ever professional wrestling training. Two years later, Devitt would create his own wrestling promotion, NWA Ireland at the age of 20. With his new promotion, Devitt trained several professional wrestlers including WWE superstar, Becky Lynch. Moreover, his newly formed wrestling organization would be affiliated with several well-established wrestling franchises including NWA.
Devitt would eventually move to Japan where he formed Bullet Club, a wrestling stable that featured in NJPW. Renowned members of the Bullet Club included Karl Anderson, AJ Styles, Kenny Omega, Taiji Ishimori, Jeff Jarret and Doc Gallows.
NXT
On 5th May 2004, Finn Balor made his NXT debut as he came out to help Hideo Itami to take on The Ascension. Balor's NXT debut delayed due to unforeseen circumstances with his Visa. After his brief NXT debut, Balor would go ahead and team-up with Hideo Itami for the weeks to come. The duo would be involved in a feud with Ascension with the feud reaching the climax at NXT Takeover.
Hideo and Balor would register their first win against The Ascension at NXT Takeover, with Finn Balor bringing out his alter-ego, The Demon King for the first time. The match lived up to its hype, with Hideo and Balor dominating a bigger part of the match. While this was the first time Balor brought out his alter-ego, the crowd seemed to love it.
Finn Balor Salary & Net Worth
Finn Balor Salary
Being a top-tier wrestler, Finn Balor earns a minimum annual salary of $1 Million dollars. Apart from the minimum wage, Balor also makes extra cash through PPVs appearances and commissions from merch sales. While his commissions from merch sales remain the same, we are still not so sure about his PPVs appearance earnings. In his first year with the company, Finn Balor was earning about $100,000 considering he was one of the top faces on NXT at the time.
Forall NXT wrestlers including Finn Balor, the company could not afford to pay out bonuses as it did with top-tier wrestlers mainly due to the operations costs of the WWE performance centre and the salaries of backstage personnel. While Finn Balor did not receive these bonuses, he still had all the road expenses such as food, accommodation and car hire all catered for by the WWE.
All NXT talent received similar treatment from the company. As of 2017, Finn Balor signed a two-year performance contract which saw him earn $185,000 per year. Despite moving back to the NXT, Finn Balor still retained his minimum guarantee making him the highest-earning NXT wrestler of all time. Balor's lucrative contract is nowhere close to that of other NXT wrestlers, with many talents on the developmental program earning between $50,000 and $150,000.
However, while his salary remains the same, Finn Balor continues to miss out on the bonuses paid out to wrestlers during main events such as Royal Rumble and Wrestlemania. All in all, his fixture at NXT remains pretty decent with the wrestler doing select live events and weekly shows.
Finn Balor Net Worth
While he might not be the richest wrestler in the world, Finn Balor is still among the richest wrestlers in the world with a net worth of $3 million. Like many WWE wrestlers, Finn Balor owns a fleet of high-end cars including a Ferrari, 2015 Lamborghini Gallardo, Mercedes Benz AMG, Mini Coopers, Corvette and a truck. Both his Ferrari and truck feature his iconic Demon King's trademark artwork/war painting. The WWE wrestler currently resides in Orlando, Florida in a house that's valued at $468,000.
FAQs
Who is Finn Balor Married to?
Veronica Rodriguez. Several months after Seth Rollins and Becky Lynch's wedding, Finn Balor and Veronica Rodriguez would tie the note in an exclusive wedding. While many people prefer to exchange their vows at the beach or at the church, Finn and Veronica decided to wed in the jungle.
For quite some time, the relationship was kept away from the public until June 2019, when Finn Balor made the relationship public. This was right after their engagement.
During this period, Finn Balor requested the WWE for a two-months off to fully recharge with his last match against Bray Wyatt ending in a loss. Veronica Rodriguez is a renowned sports reporter who currently works for Fox Sports, Mexico.
Who is Finn Balor's Brother?
Jordan Devlin is Finn Balor's younger brother who is currently signed with WWE's development program, NXT. Like his elder brother Finn Balor, Jordan is a highly skilled wrestler whose technical abilities has seen him become an NXT cruiserweight champion.
Jordan began his pro-wrestling training at the age of 12, under the guidance of his elder brother, Finn Balor. While he previously hoped to become an amateur wrestler, Jordan eventually changed his mind and began pursuing a career in professional wrestling.
Jordan would later head over to Japan, to not only improve his wrestling skills but to also gain more experience in pro wrestling. His eventual trips to Japan ultimately saw the young promising talent add more moves to his arsenal and gain more wrestling experience in the long-run.
What is Finn Balor's Finisher?
Coupe de Grace. While he initially used the "Bloody Sunday" as his finishing move during his early days with the WWE, Finn Balor would once again bring back the Coupe de Grâce. Finn Balor's iconic two-foot stomp finisher has seen the wrestler register impressive wins against some of the biggest names in the WWE.
Although many pundits argued that Balor's finishing move is not as lethal as Bloody Sunday, many WWE fans seem to like the move more. Finn Balor began using his trademark finishing move, Coupe de Grâce back in the days when he wrestled in Japan and Mexico.
Fun fact: Coupe de Grâce is an English word which means to give a final shot or blow.
What is Finn Balor's Favorite Sport?
A native of Ireland, Finn Balor is a sucker for soccer considering it is the biggest sports not only in the UK but in Europe. During his frequent trips to Europe, Finn Balor made various stops to some of the leading football clubs in the world including Bayern Munich, AS Roma. However, Finn Balor is a big supporter of Tottenham Hotspur a top-four club in Europe.
As a matter of fact, Finn Balor began supporting Tottenham Hotspurs at a very tender age. Tottenham featured the WWE sensation in a couple of their videos with the most famous one involving the Demon King and Tottenham Hotspur star, Ousmane Dembele going head to head in a game "guess who?". He has even been featured by Fox Sports crew during a live MLS match to talk about his favourite team, Tottenham Hotspur.
Finn Balor's Diet: What Does Finn Balor Eat?
To maintain his amazing physique, Finn Balor's diet consists of low carbs which mean that the wrestler mostly eats fresh fruits, raw foods, nuts. Since he does not like processed food, Finn Balor restricts himself to fish, buts, steak, chicken meat, fish to get his protein going. During his cheat days, Finn Balor prefers one giant pizza with various toppings and an enormous base.
Who is Finn Balor ex-Girlfriend?
Prior to dating his current partner, Finn Balor was linked to WWE broadcaster and social media analyst, Cathy Kelley. While the duo never went public with their relationship, they still turned up in a number of WWE events together including the 2017 Hall of Fame event which took place in Amway Center, Orlando.
The relationship would later be confirmed in a podcast by Sean Waltman. While it's still not clear as to when the couple broke up, it's believed to be around spring in 2018. Kelley would later receive a promotion in the WWE and would begin working as an interviewer backstage.
What Brand is Finn Balor On?
While he has appeared several times on both Raw and Smackdown, Finn Balor is currently signed to NXT. His return to the developmental territory was a move initiated by WWE producers with the hopes of improving the show's ratings. Despite moving to NXT, Finn Balor's base salary remains the same.
However, he is not going to earn the extra cash that comes with being on the main roaster including PPVs. Upon his first arrival on NXT, it was quite clear that Finn Balor was made for the grandest stage. With a well-ripped body, good looks and impressive mic skills, Finn Balor was not only able to engage impressively with other wrestlers but also became a star.
However, injuries became a part of his journey in the WWE. Apart from having to undergo an endurance test, being a WWE wrestler also requires numerous appearances, rehearsals and house shows making it one of the most demanding careers ever.