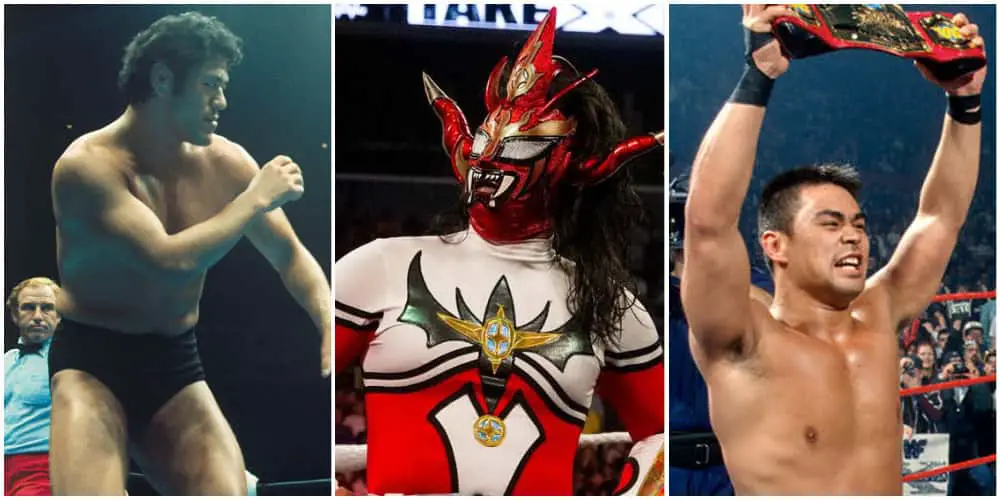 The 15 Greatest Japanese Wrestlers of All Time
Last updated on May 8th, 2022 at 11:19 am
Apart from churning out some of the biggest names in sports entertainment, Japan also serves as a training ground for many wrestlers to hone their skills. Wrestlers like Evan Bourne, Chris Jericho and Bret Hart spent the early years of their wrestling careers in Japan honing and crafting their wrestling skills.
While Japan continues to produce bright and promising wrestlers, the lack of towering behemoths somehow puts them at a great disadvantage.
Moreover, language barriers have seen many of these superstars struggle to communicate with the wider English-speaking audience. So, who are the greatest Japanese WWE wrestlers of all time?
This list ranks wrestlers based on their accomplishments, longevity, and popularity in the US. We have excluded any title that the wrestlers might have earned with lesser-known promotions.
That said, these are the biggest and the brightest Japanese Wrestlers of all time.
15. Kenta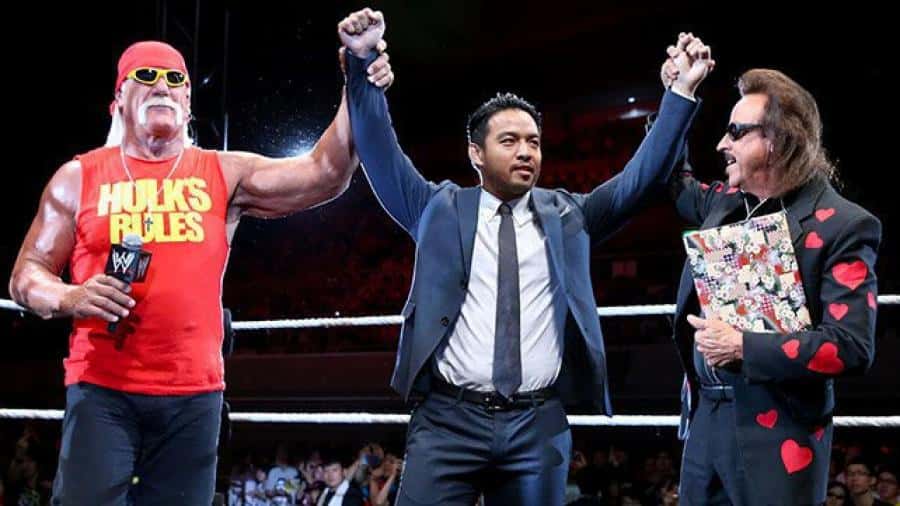 A well-known member of the Bullet Club stable, Kenta is currently signed with NJPW. While Kenta arrived at a rather great fanfare in the WWE, the wrestler failed to attain the levels that many people expected during his 5-year stint with the company.
After his stint with the WWE on NXT and C205 Live, Kenta would eventually leave the company and join NJPW.
A heavyweight champion, three-time GHC and a tag team champion, Kenta's speed and agility saw him take the likes of Buddy Murphy, Mustafa Ali and The Miz. With the WWE, Kenta had to use his other moniker, Hideo Itami, which loosely translates to Hero of Pain.
A promotion to the Cruiserweight division would see Hideo Itami team up with "The Demon" Finn Balor, turning face.
14. Kenzo Suzuki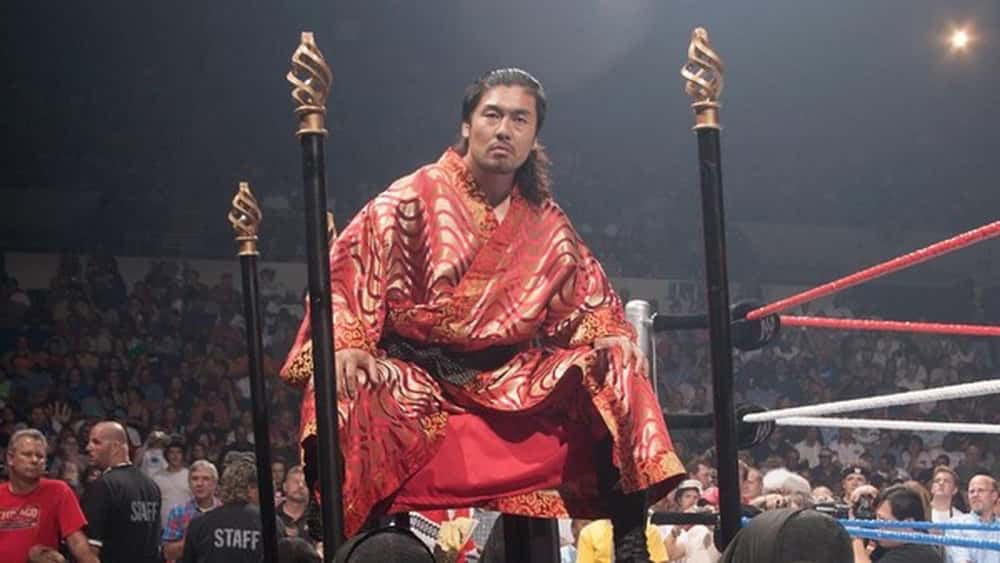 Kenzo Suzuki's tenure as tag team partner with Rene Dupree attracted mixed reactions. Many argued that Dupree was a much better champ when he was with the La Resistance. However, with Kenzo, the duo was probably the worst tag team ever.
Despite this shortcoming, Kenzo Suzuki was a pretty decent wrestler.
His looks, demeanor, and execution made him one of the most lethal wrestlers. That said, Kenzo Suzuki somehow reminds us of Shinsuke Nakamura, with both wrestlers sharing a few traits.
However, unlike Shinsuke who received some hand-holding from the WWE, Kenzo was left on his own. This contributed to the downfall of such an amazing and promising talent.
13. Jushin Liger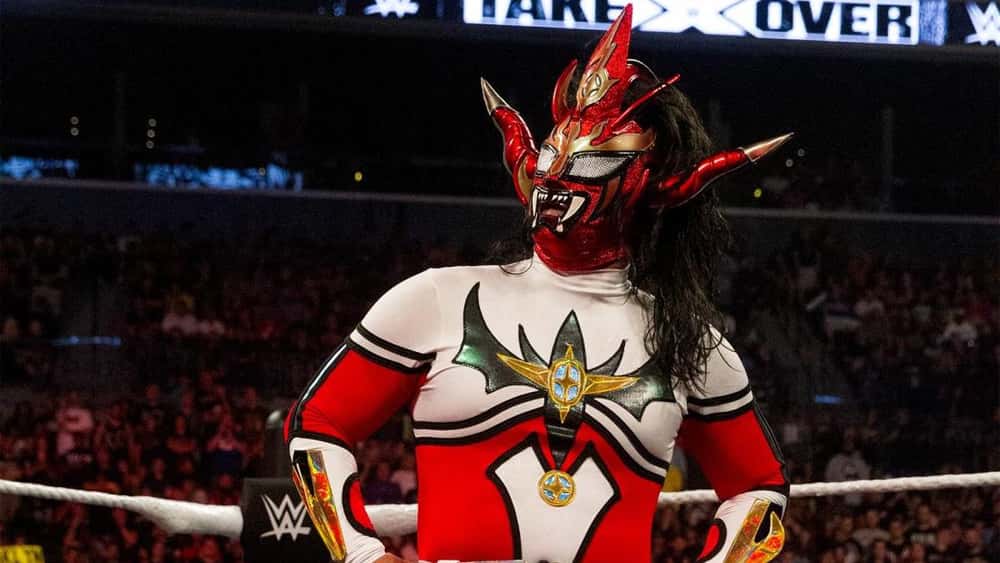 Arguably the longest-tenured member of NJPW, Jushin Liger's contributions to sports entertainment saw him become an iconic wrestling figure. An innovator, Liger's hard-hitting and high-flying style, continues to influence wrestling generations.
Liger is accredited as the inventor of the widely adopted technique, "shooting star press".
A year after his professional debut, Liger won the IWGP Junior heavyweight title. He then went to win the same title 11 times while setting the second longest title reign ever.
Though the WWE never officially signed Liger, Liger featured in several promotions, including the 1990 Wrestling Summit and NXT Takeover. With WCW, Liger won the WCW Light Heavyweight title.
12. Kairi Sane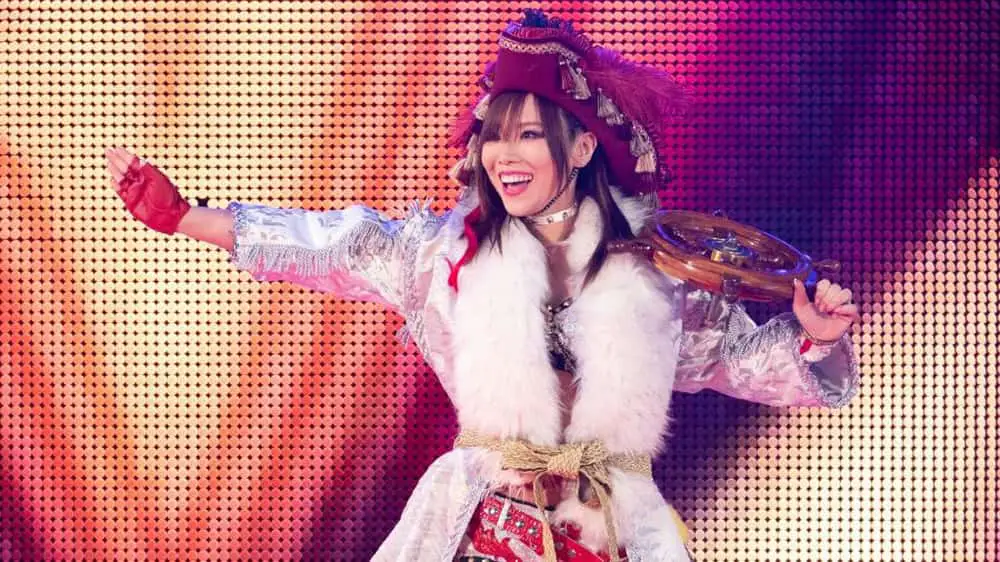 Ever since making her professional wrestler in Japan's Ring Stardom promotions, Kairi Sane's career took off from the get-go. With the promotion, she became a 4-time, Goddess of Stardom, and a 1-time World Stardom champion.
Kairi Sane would later, in 2017, sign with the WWE, joining its developmental program, NXT.
With NXT, Kairi Sane became the NXT Women's champion. Her success with NXT would see her earn a promotion to its main roaster. In the same year, Kairi Sane, together with Asuka, become the new Women's tag team champions.
After a series of injuries, Kairi Sane had no option but to leave the WWE and return to her home country, Japan.
11. Yoshi Tatsu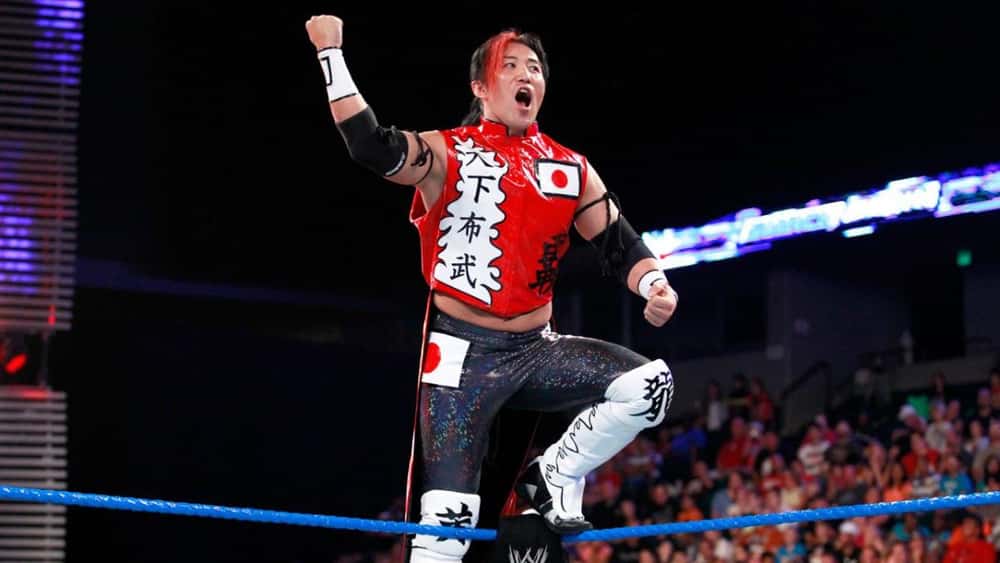 Tatsu's first appearance for the WWE was for the defunct ECW franchise. With ECW, Tatsu was an energetic baby face who stepped into the arena to highly captivating Japanese music. While he had a great in-ring ability, WWE's unwillingness to give the wrestler the push he desperately needed to be prevented Tatsu from blowing up.
After joining NXT, the producers would take Tatsu off the screen for some time after receiving a beat-down from Tyson Kidd.
This time off would allow the Japanese wrestler to re-invent himself and reflect on what was not going right for him. When Tatsu came back, he was not only hell-bent on getting revenge, but he also donned a fresh look and attitude.
While this new look and attitude were quite promising, Tatsu's success with the WWE would be in his early years with ECW, when he failed to capture the title against Christian.
10. Io Shirai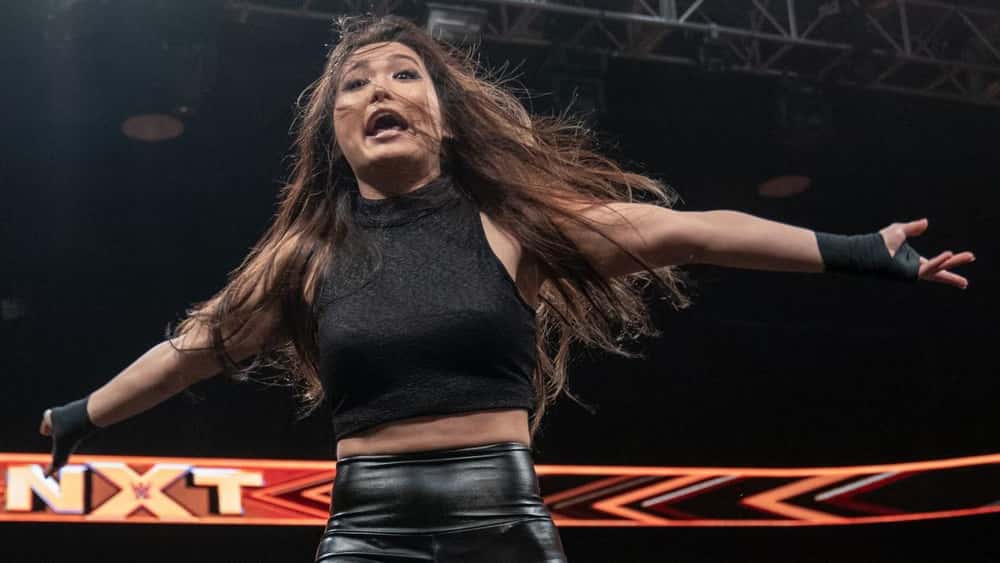 Just like Kairi Sane, Io Shirai began her trade with Stardom where she managed to become the High-Speed champion and the franchise's inaugural World Champion. In 2018, she signed with the WWE, in joining its developmental program, NXT.
After signing with the WWE, a medical examination discovered that Shairi had a serious neck injury that would put her at monumental risk.
While the doctors in Japan might clear her for matches, WWE has a strict policy against injuries and this meant that only wrestlers who were 100% fit could compete. This meant that WWE would have to delay her debut for a few months until she fully recovered from the injury.
Once cleared, Io Shirai joined NXT and it did not take long before she teamed up with fellow Japanese wrestler Kairi Sane to create the Sky Pirates. With the WWE, Io Shirai would go ahead and with the NXT's Women's Championship as well the NXT Year-End Award.
9. Tiger Mask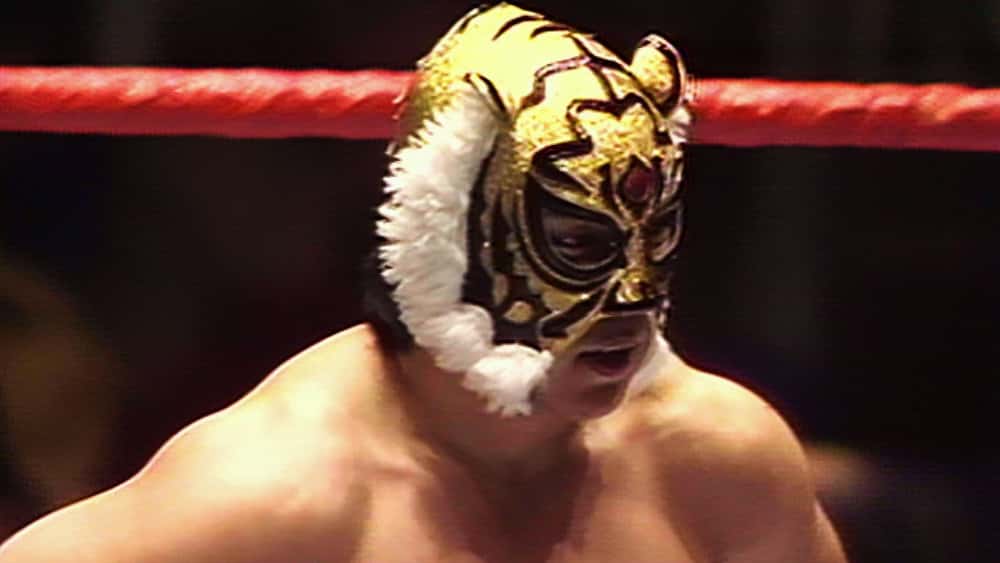 When it came to wrestling, Tiger Mask was way ahead of other 80s wrestlers, all thanks to his unique and high-flying wrestling style. While other wrestlers perfected submission moves and groundwork, Tiger Mask would take a unique approach that was like Mexico's Lucha Libre.
His style involved flying on opponents from top corners with twisting moonsault and space Flying Drops.
During his early years, Tiger Mask wrestled in England and Mexico before relocating to the United States. In Mexico and England, Tiger mask wrestled using a different moniker, Sammy Lee.
During his debut match, Tiger Mask donned his iconic mask and made the night memorable by registering a win against Dynamite Kid. In 1982, Tiger Mask became the new WWE World Junior Heavyweight.
8. Ultimo Dragon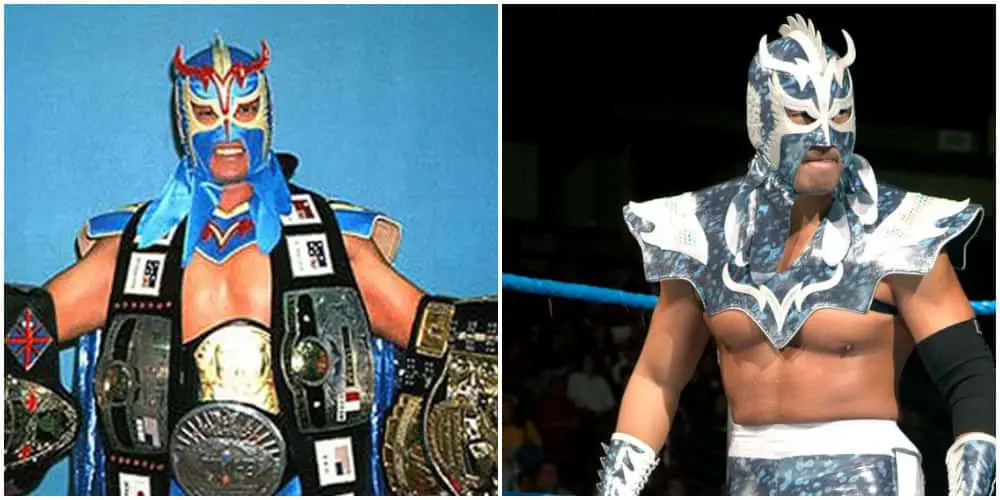 One of the most decorated wrestlers of all time, Ultimo Dragon's list of accolades cannot be matched. His impressive run as a professional wrestler saw Ultimo amass a whooping 34 titles and a number 12 spot on PWI world rankings.
Before migrating to the United States, Ultimo Dragon wrestled in Japan and Mexico, where he became a fan favorite.
In his wrestling career, Ultimo Dragon won 10 different titles synonymously. This historic feat is yet to be matched or broken. Despite having an impressive professional career in Mexico and Japan, Ultimo's career in the WWE did not turn out as many expected.
The WWE decided not to push Ultimo, even though they had a pretty solid cruiserweight division at the time.
7. Tatsumi Fujinami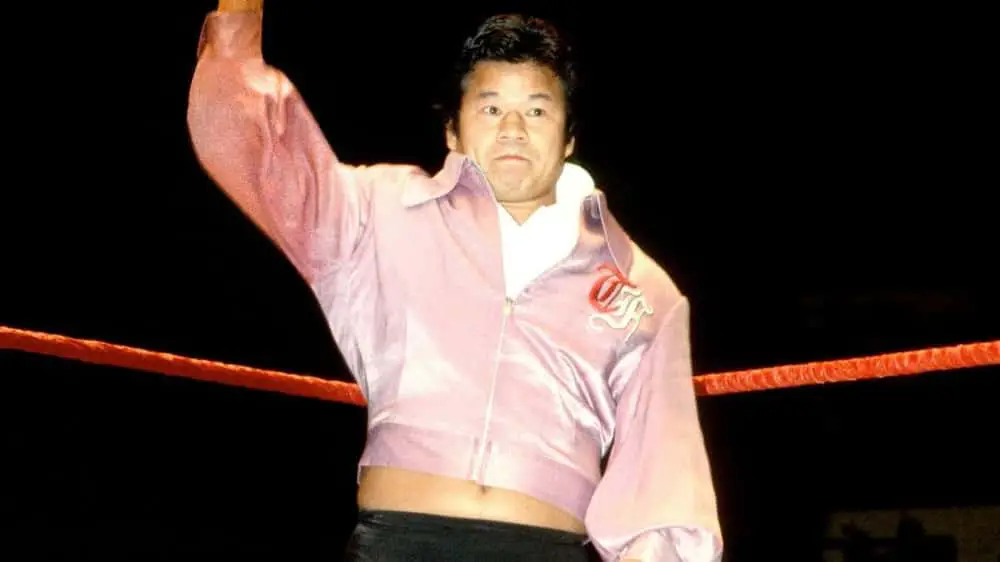 The architect of the dragon suplex and dragon sleeper, Tatsumi Fujinami, is a celebrated Japanese wrestler widely remembered for his stints with the WWWF, JWA and NJPW. A highly talented wrestler, Fujinami started his professional wrestling career at the tender age of 17 under the wings of renowned wrestler Antonio Inoki.
After a brief stint with JWA, Tatsumi together with three others; Antonio Inoki, Yamamoto, and Osamu Kido would join the newly established NJPW.
Because of their contributions towards NJPW, the four are regarded as the founding fathers of NJPW. The 1970s would see Fujinami move to the West, where he would join UWA in Mexico before moving to Jim Crockett Promotions.
However, it is with the WWE that Tatsumi's wrestling career would take off. In 1978, Tatsumi won his first world title with the company, the WWF Junior Heavyweight title.
6. Taka Michinoku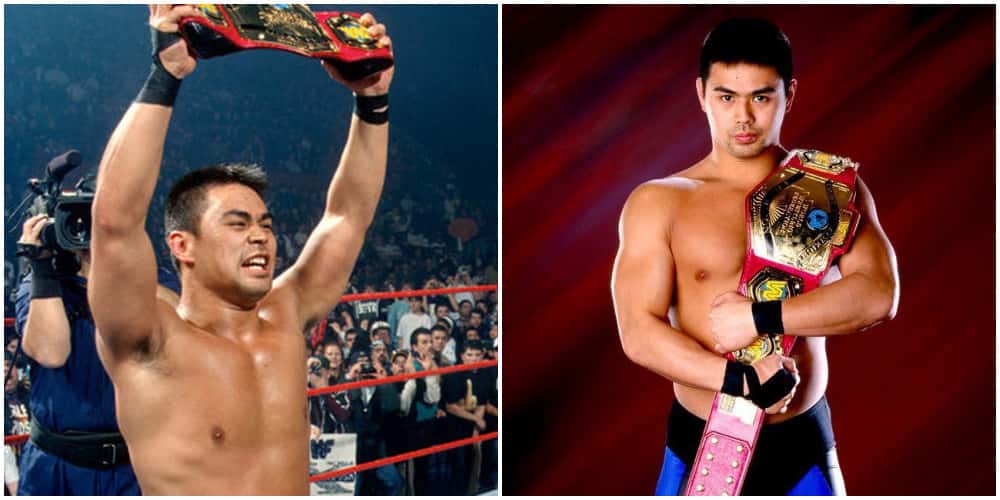 Prior to his training, Taka Michinoku showed so much promise and potential. Thus, when The Great Sasuke took him under his wings, the young Japanese wrestler ended up becoming one of the greatest Japanese wrestlers.
In 1997, Taka earned his first-ever world title, the WWF Lightweight title, which he held for 315 days. While Taka Michinoku enjoyed one of the longest title reigns, his downfall would begin after dropping the Lightweight championship title.
As it is the case with many Japanese wrestlers including Shinsuke Nakamura, Taka Michinoku had one of the best theme songs in the WWE. While Taka is quite skilled as a wrestler, his role as a jobber restricted the wrestler from reaching new heights.
In April 2000, Taka had his last match with the WWE and ultimately returned to where it all began, his home country, Japan.
5. Tajiri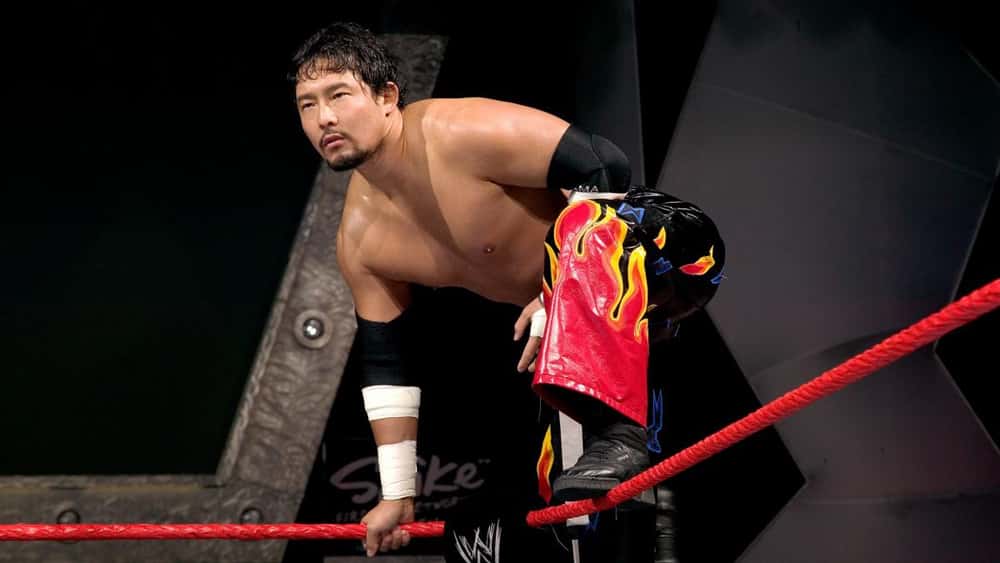 During his early years as a professional wrestler, Tajiri stood out thanks to his exceptional in-ring ability. Tajiri's backstage segment with William Regal really helped him get on good terms with the crowd.
As the years went by, Tajiri became a crucial piece in WWE's attempt to make the cruiserweight division successful.
While Tajiri became a popular figure with the fans, WWE's creative teams' unwillingness to push a young Tajiri over other bigger wrestlers killed any momentum that the young lad had created.
Despite all these shortcomings, Tajiri still made a name for himself and attain a great deal of success.
4. Asuka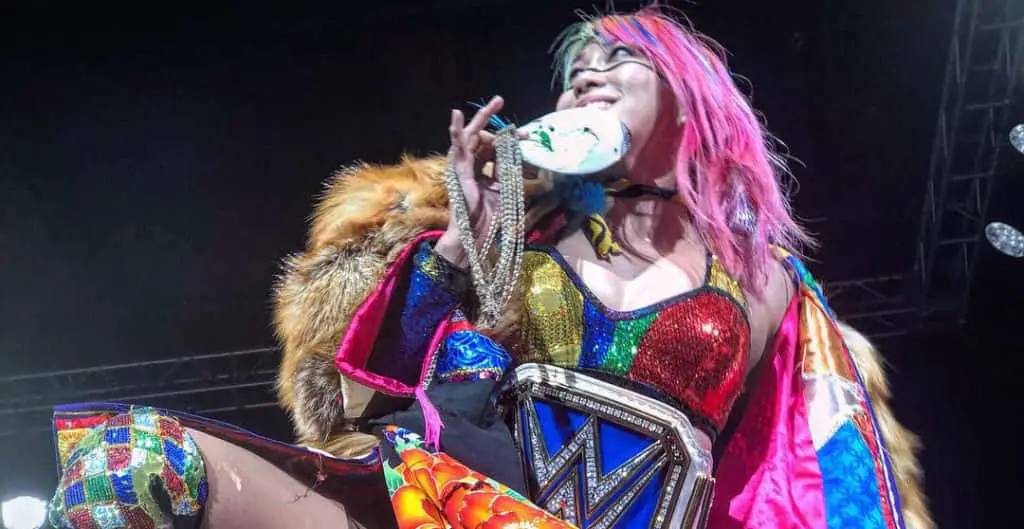 The Empress of Tomorrow is undoubtedly one of the greatest female Japanese wrestlers of all time. An immensely talented wrestler, Asuka overcame both professional and creative frustrations to become one of the best wrestlers in the women's division.
While she made her NXT debut in 2015, Asuka managed to achieve the impossible in such a short time.
In just four years, the Empress of Tomorrow managed to not only win several titles but also register wins against the biggest names in the women's division. Apart from Bayley, Asuka also registered impressive wins against Becky Lynch's "The Man" and Sasha Banks.
Throughout her matches, Asuka wears a rather intimidating smile. While she is great on her own, Asuka has also proved that she can work quite well with other wrestlers.
With Miz, Asuka won the first season of the Mixed Match Challenge.
3. The Great Sasuke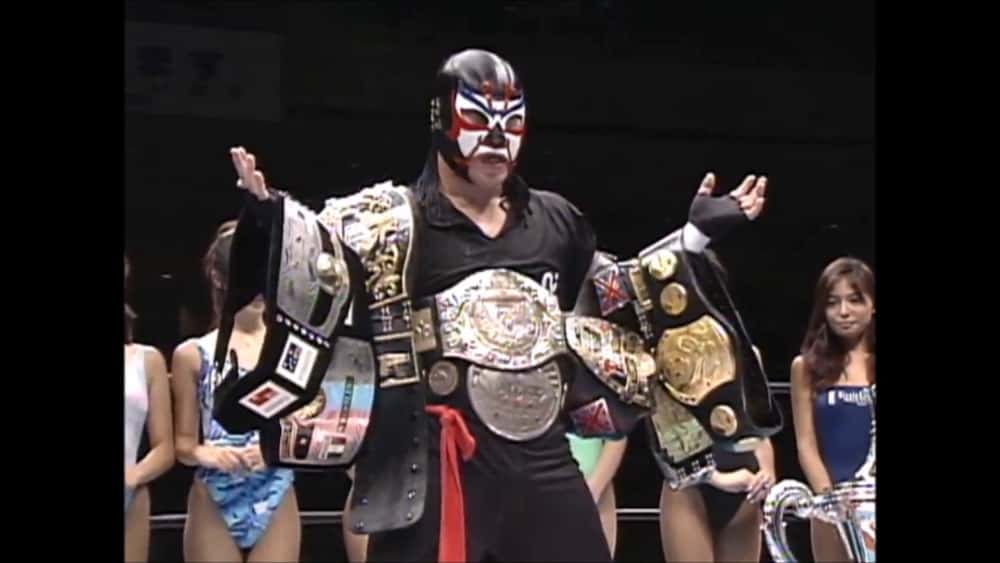 Known for his outstanding tolerance for pain, The Great Sasuke is undeniably one of the biggest names in Japan's wrestling history. Despite cracking his skull more than once, The Great Sasuke continued with his wrestling career, taking on more and more renowned wrestlers, including Taka Michinoku.
A 2-time World Lightweight champion, Sasuke began his professional wrestling career in Japan before relocating to the US.
In the US, Sasuke will be involved in a long-running feud with Tiger Mask against clones. In the later years of his wrestling career, Sasuke would turn heel before being subjected to an exorcism session by Jinsei Shinzaki.
In 2003, The Great Sasuke would hang his wrestling boots and embark on a political journey that would earn see him become a prominent politician in Japan.
2. Shinsuke Nakamura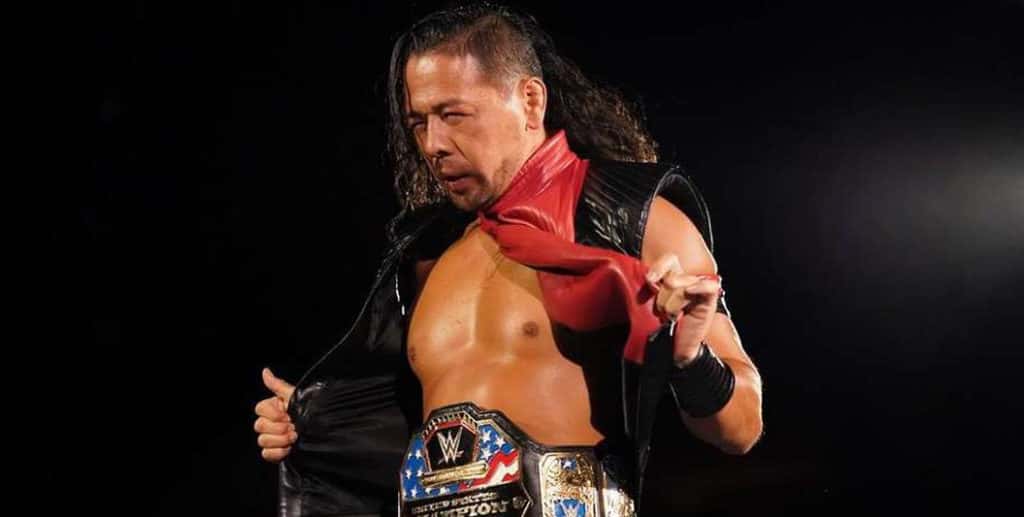 His magnetic charisma and clear-cut speed make Shinsuke one of the most lethal wrestlers in the WWE. Thanks to his arduous armory of moves and submission maneuvers, Shinsuke is undeniably one of the greatest Japanese wrestlers.
Born and raised in the small town of Mineyema, Kyoto, Shinsuke began practicing martial arts at a very early age. He would later join New Japan Pro-Wrestling where he quickly rose through the ranks.
His first year with NJPW was quite impressive, such that officials and fans alike referred to him as the "Super Rookie". In 2006, Nakamura left NJPW on an excursion whose aim was to broaden his wrestling skills. The excursion saw him travel to different countries, including Brazil, Russia, and Mexico.
During this period, he also trained with Brock Lesnar at his personal gym with the hopes of not only refining his skills but also gaining more mass.
Who is the greatest Japanese Wrestler of all-time?
1. Antonio Inoki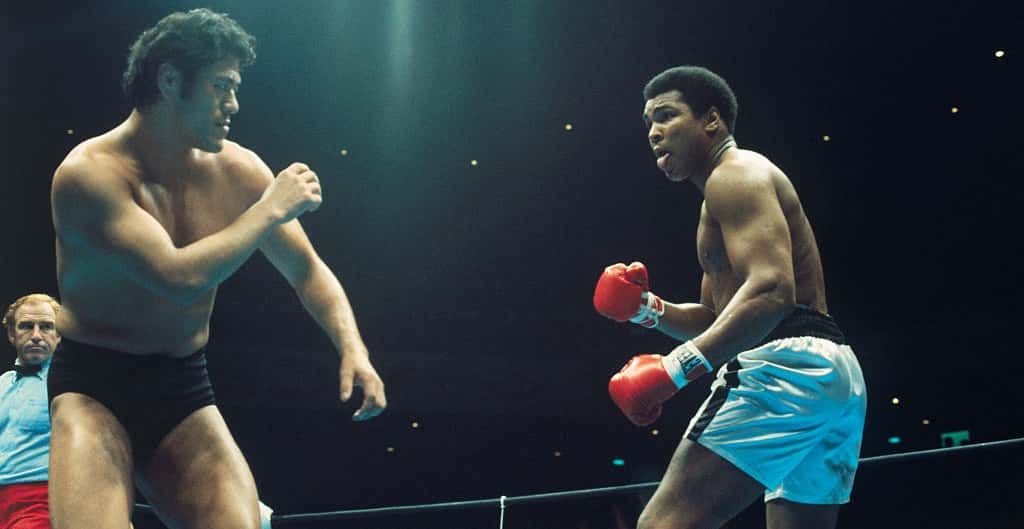 A 14-time world champion, Antonio Inoki is the greatest Japanese wrestler of all time. Like many Japanese wrestlers, Inoki began his trade in his home country of Japan with JWP.
While Inoki won the WWF Championship title, the WWE did not officially recognize the title.
By the end of his wrestling career, Antonio Inoki had become a force to reckon with and one of the brightest stars in Japan's professional wrestling history.
Though Inoki would have many outstanding matches as a professional wrestler, Inoki's most memorable match would come against one of the greatest boxers of all time. In 1976, Antonio Inoki went head to head with the then World Heavyweight Boxing Champion, Muhammad Ali, in what has been described as the match of the decade.
The match between Muhammad Ali and Antonio Inoki would serve as a precursor to today's mixed martial arts. Apart from this historical match against Muhammad Ali, Inoki's match against Ric Flair is also considered being one of Inoki's greatest matches.