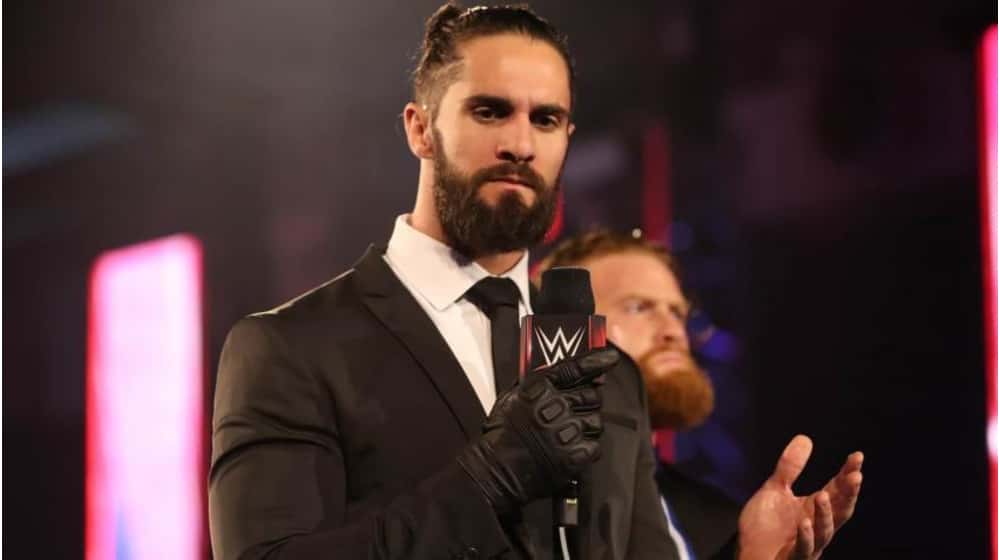 Seth Rollins: WWE Salary, Net Worth, Early Life, Family
Last updated on May 10th, 2022 at 09:32 am
Seth Rollins Net Worth
One of the richest wrestlers in the world, Seth Rollins has a net worth of $9 million, with the wrestler generating almost two-thirds of this amount from wrestling. The remaining portion of Rollins net worth came from Movie/TV appearances and brand endorsements.
Like many other WWE wrestlers, Seth Rollins is a big fan of cars, with the superstar owning more than 10 luxurious vehicles. Some of the cars in his collection include a Chevrolet Impala, a Chrysler 300c, a Lamborghini Aventador Roadster, a Ford Kuga, Chevrolet Suburban and a Jeep Wrangler.
Seth Rollins WWE Salary
With an annual base salary "downside guarantee" of $4 Million, Seth Rollins is the fourth highest wrestler in the WWE. In addition to the downside guarantee, Seth Rollins also generates a sizeable income from merchandise sales since he happens to be one of the top merchandise movers in the WWE.
Rollins also receives performance fees which vary depending on either the size of the event or the nature/profile of the match. High profile matches tend to pay much more in comparison to low profile matches.
Considering Seth Rollins is one of the biggest names in WWE, we can safely say that he earns a ton of money from his PPVs as well. In addition to the amount he generates from WWE, Seth Rollins also generates a sizeable income from movies and television appearances.
Biography
A 4-time WWE champion, Seth Rollins is undeniably one of the most talented wrestlers on the WWE roster. A former member of wrestling stable, The Shield, Seth Rollins' superb in-ring abilities, microphone skills and abilities to cut promos saw him become one of the fastest rising stars in the WWE.
Regardless of who he faced, he went toe to toe with, Seth Rollins always delivered.
From the get to it was evidently clear that Seth Rollins was a superstar destined for the big time. Together with the other two Shield Members, the stable would become a dominant force in WWE.
In the years that followed the duo would launch a series of surprising attacks on some of the company's biggest stars including John Cena, The Rock, Kane and many others.
It did not take long before The Shield professional wrestling career took off. They would later become the future faces of the WWE marking a new era in pro wrestling. Graduates of WWE development program NXT, all these three wrestlers would eventually lift the WWE World Championship titles.
Early Life
Colby Lopez was born on 28th May 1986 in the small town of Buffalo, Iowa. During his teenage years, Lopez led a straight edge lifestyle and was a big fan of rock and roll music. In 2004, Lopez completed his high school education.
Before becoming a worldwide success, Seth Rollins began his trade in the midwest wrestling scene wrestling under the moniker, Tyler Black. He would later join NWA Midwest where he would win the tag team championship title alongside Marek Brave. Later on, he would briefly appear on TNA in 2006 before joining ROH (Ring of Honor) in 2007.
Who is Seth Rollins Wife?
WWE superstar Becky Lynch is the wife to Seth Rollins. While the duo began going out in early 2019, Becky and Seth were close friends for many years. Because wrestlers in the WWE are always expected to maintain kayfabe so as not to affect their in-ring characters, the two wrestlers had to abide by the rules of sports entertainment.
The two wrestlers kept their relationship away from the public and WWE fans for several months. In August 2019, Seth and Becky got officially engaged with their marriage scheduled for late 2020. In May, Becky got pregnant and thus had to give up her WWE women's championship title, with Asuka becoming the new women's champion.
Why Did Seth Rollins Stop Using the Stomp?
Seth Rollins stopped using the stomp, after an intervention from WWE chair, Vince McMahon who believed that the move was too vicious for his champion. While many WWE creatives and producers including Tyson, Kidd had no issue with the move, Vince believed that it was not an appropriate move for a WWE universal champion.
There were also fears that WWE fans, especially kids might begin using the move on each other. However, despite everything, Seth Rollins was determined to bring back his finishing move. Thus, he decided to talk with the WWE chair one day after finding him in a great mode. After a brief meet, Vince finally agreed to bring back The Stomp.
How did Seth Rollins Meet Becky Lynch?
Prior to dating, Becky and Seth were the closest of friends. However, things eventually began to change when the two wrestlers began hanging out together. In one of WWE's 365 Documentary, Seth Rollins discusses little known facts about their relationship.
In the documentary, Seth points out that he began going out with Becky Lynch in January 2019 and the first time they kissed was at the Royal Rumble. Seth Rollins also goes ahead to point out in the documentary that the two wrestlers were reluctant to go ahead with their relationship as they were not sure how it was going to affect their careers in WWE.
Is Seth Rollins Related to Roman Reigns?
Seth Rollins and Roman Reigns are not related. However, even though they do not have any blood ties, Seth Rollins and Roman Reigns still enjoy a close relationship out of the squared circle. As a matter of fact, Seth Rollins and Roman Reigns are the closest of friends, with the two wrestlers continuously hanging out together during their off days from the WWE.
Seth and Roman's relationship began during the early years of the Shield and eventually grew into something solid. When Roman Reigns was battling with Leukemia, Seth Rollins was among the first people to reach out to Roman Reigns and even continued to stay in touch with Roman Reigns.
Despite having a busy schedule in the WWE, Seth Rollins made an effort to call Roman Reigns every week to see how he was fairing on. Even though Seth and Roman have totally different personalities, they managed to mesh up quite well off and on the screen.
Who is Seth Rollins Brother?
Brandon Lopez. Unlike Seth Rollins whose life is out in the public, his brother Brandon Lopez likes to keep his life somewhat private. However, if there is one thing that they share in common with Seth Rollins is working out. While they are half brothers, Brandon and Colby Lopez are pretty close. As a matter of fact, Brandon is one of the biggest Seth Rollins fans in the world.
What Movies and TV Programs has Seth Rollins Appeared in?
While his film and movie career are not as successful as that of John Cena and The Rock, Seth Rollins still managed to make a name for himself in the film industry. Rollins first film appearance was back in 2016 when he appeared in Sharknado, a horror/science fiction film that revolves around Fin and his family. In this film, Seth Rollins plays Astrotech Lopez alongside other renowned names in the film industry including Jaason Simmons, Tara Reid and Ian Zering.
While the movie did not sit well with many film critics, it's performance in the box office was exceptional. In 2017, the film became the most successful film franchise surpassing both Dixie's Pixar and Star Wars. Seth would later on go ahead and appear in several other films including The Jetsons & The WWE, Armed Response and Like A Boss.
Year
Film
Role
2016
Sharknardo:
Astrotech Lopez
2017

The Jetsons & WWE
Armed Response
Seth Rollins
Brett
2019
Trouble
Norm
2020
Like a Boss
Byron
Seth Rollins Foundations and Charities
Seth Rollins is one of the celebrity sponsors of Kids Wish Network, a charity organization that's dedicated to helping improve the lives of children, especially those with life-altering experiences. Apart from Kids Wish Network, Seth Rollins is also an active participant of Conor's Cure, a WWE sponsored charity.
| | | |
| --- | --- | --- |
| Wresling Name | Seth Rollins | |
| Real Name | Colby Lopez | |
| Nickname | The Architect, The Man, The Aerialist | |
| Favourite Wrestler | Bret Hart | |
| Hobbies | Listening to music, playing football, video games | |
| Favourite wrestler | Shawn Micheals | |
| WWE Salary | $4 Million | |
| Net Worth | $9 Million | |
| Spouse | Becky Lynch | |
| Finisher | Curb-Stomp | |
| Charities | Kids Wish Network, Conor's Cure | |