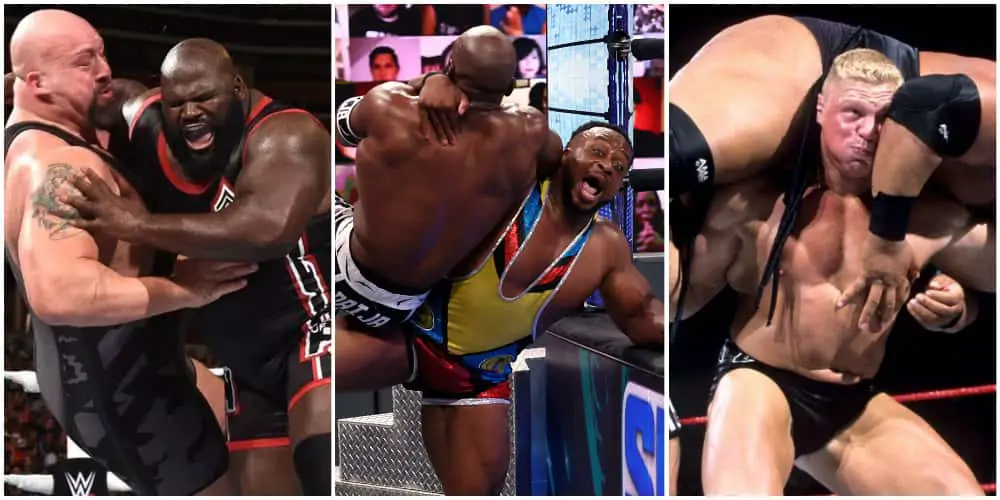 The 10 Strongest Wrestlers of All Time
Last updated on May 8th, 2022 at 11:27 am
In a world characterized by kayfabe and gimmicks, it can be difficult to tell what's real and what's not. Whether wrestlers are sticking to the script or are technically off shooting, the world of professional wrestling guarantees wrestling fans lots of entertainment.
Over the years, we've seen some incredibly talented wrestlers in various wrestling promotions. From the now-defunct ECW to TNA to the WWE, many of the wrestlers in these promotions have been outstanding in their own unique ways.
We've gotten to see great mic workers like Superstar Bill Graham and in other instances, we've got to see exceptional mat workers like Kurt Angle do their thing. Many of these pro wrestlers who have gone through these promotions not only possessed outstanding in-ring skills but also superhuman strength.
While the 60s, 70s, and '80s were mainly characterized by towering behemoths, the later years would see bodybuilders regain their rightful position in professional wrestling.
From the 90s onwards, professional wrestling began to embrace masculine athletes while still paying attention to the behemoths.
Ever since the creation of the WWF, we've had some well-built athletes who stood out from the crowd due to their immense strength. From Bill Kazmaier to Mark Henry to Hulk Hogan to John Cena, all these wrestlers stood out from the crowd mainly due to their superhuman strengths.
The pure strength of these wrestlers made them the perfect monster heels.
10. Superstar Billy Graham
A close friend and training partner to Arnold Schwarzenegger, Superstar Billy Graham is a highly accomplished wrestler, widely remembered for his tenure as WWF champion in 1978. Like Arnold, Billy Graham started out as a professional bodybuilder.
Graham's entry into the professional wrestling scene played a crucial role in revolutionizing the physique and interview aspect of the industry.
In the process, Billy Graham ended up influencing various wrestlers such as Hulk Hogan, Jesse Ventura, and Rick Flair. Graham's promos were so iconic and original that many wrestles who would come after him would copy his style of delivery and charisma.
There have been numerous claims that Hulk Hogan and Scott Steiner copied Billy Graham's style and promo deliveries.
In the squared circle, Billy Graham proved to be a beast of a man who could annihilate anyone regardless of their size.
His massive arms and upper body strength made him a force to reckon with.
9. Ken Patera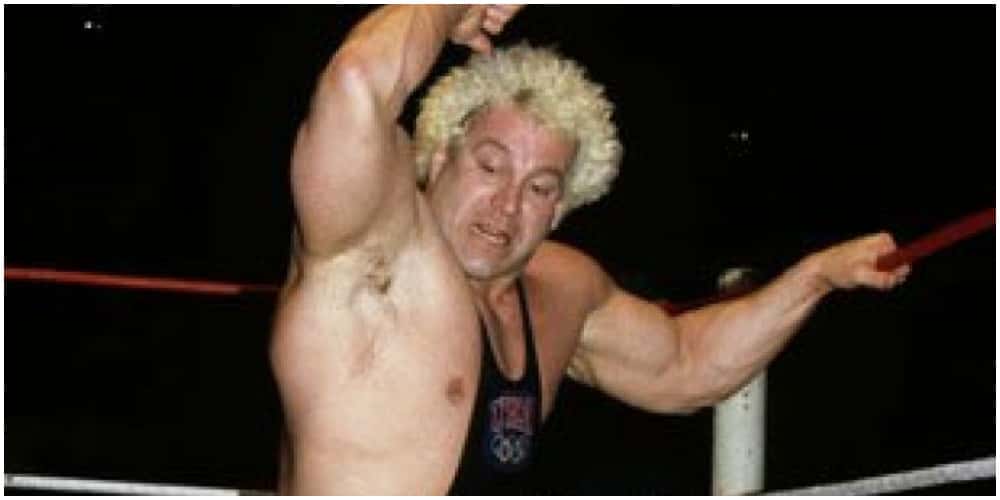 The first-ever American to lift 500 pounds, Ken Patera was a renowned Olympic weightlifter who won several medals at the Pan American games including gold. After failing to scoop any medals at the 1972 Olympics, Ken Patera would retire from weightlifting and instead focus on a pro wrestling career.
During the 1970s and 1980s, Ken Patera worked with various wrestling promotions including AWA, NWA, and WWF.
Patera mainly worked as a heel, who employed various unorthodox and violent moves to injure babyfaces. This in turn made him one of the most hated heels during his era, such that he ended up winning the Most Hated Wrestler by Pro Illustrated in 1977.
Many wrestling fans did not know anything about kayfabe during this period and genuinely believed everything that was going on in the squared circle.
At his peak in the 1980s, Patera proved to be one of the biggest draws in the company. Patera managed to win two of the biggest titles of the era simultaneously, the WWF Intercontinental Heavyweight Championship title and the Missouri Heavyweight Championship.
During his second stint with the WWF, Ken requested the company to package him as a babyface.
However, things would not work out for the wrestler as he not only injured his triceps but also his performance greatly declined. After suffering a series of losses during the 1988 period, Ken decided to leave the promotion. In 1989, Ken Patera would return to AWA where he unsuccessfully challenged for the promotions World Championship title.
After a rather brief stint with AWA, Patera ultimately decided to retire.
8. Dino Bravo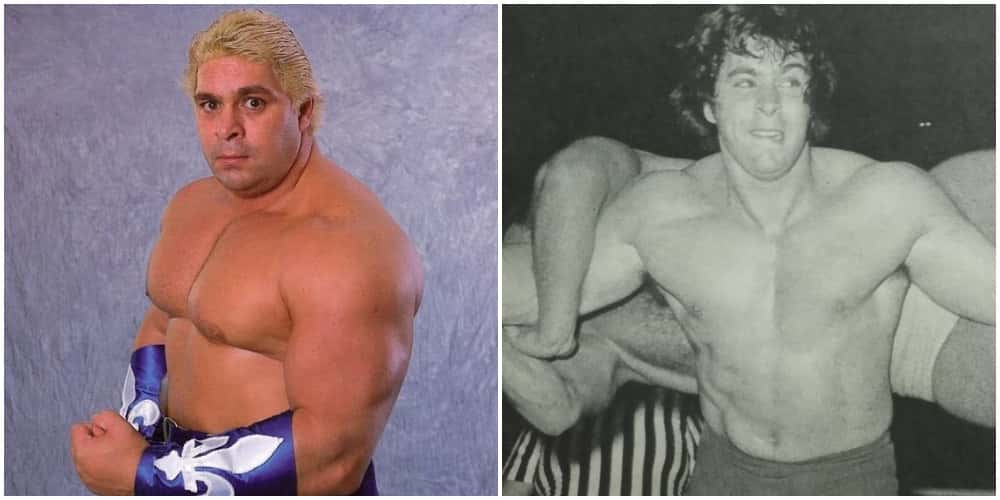 A highly talented professional wrestler, Dino Bravo was one of the first few Italian-born wrestlers to make it into the WWWF. While Dino's career with the WWF lasted for only 6 years, the Italian-Canadian professional wrestler managed to make a name for himself by winning the World Tag Team Championship titles and the WWWF Canadian Championship title.
A fitness buff, Dino Bravo donned a well-ripped muscular body and immense strength that made him outpower his opponents with ease.
Nonetheless, despite dominating many of his matches, Dino Bravo always fell short when he faced well-renowned superstars such as Hulk Hogan.
Despite his massive build, Dino Bravo was a technically gifted wrestler who could make many of the greats seem like amateurs.
After joining the WWWF, Dino Bravo had to embrace a strongman gimmick and thus forced to push aside his technical approach to matches. Instead, the WWWF encouraged Dino to use power brawling moves like clotheslines, powerbombs, kicks, and punches.
During the 1988 Royal Rumble, Dino Bravo attempted to lift 750 pounds on live television which would have become a world record.
Even though Dino Bravo was successful in lifting the weight, the assistance that he received from Jesse "the body" Ventura meant that there was some sort of outside interference and thus the attempt did not qualify for a world record.
After a highly successful career, Dino Bravo's past life and gang involvement would later come to haunt him.
A documentary released by Vice Tv, Dark Side of the Ring, details Dino's involvement in illicit cigarette smuggling and his untimely death.
7. Brock Lesnar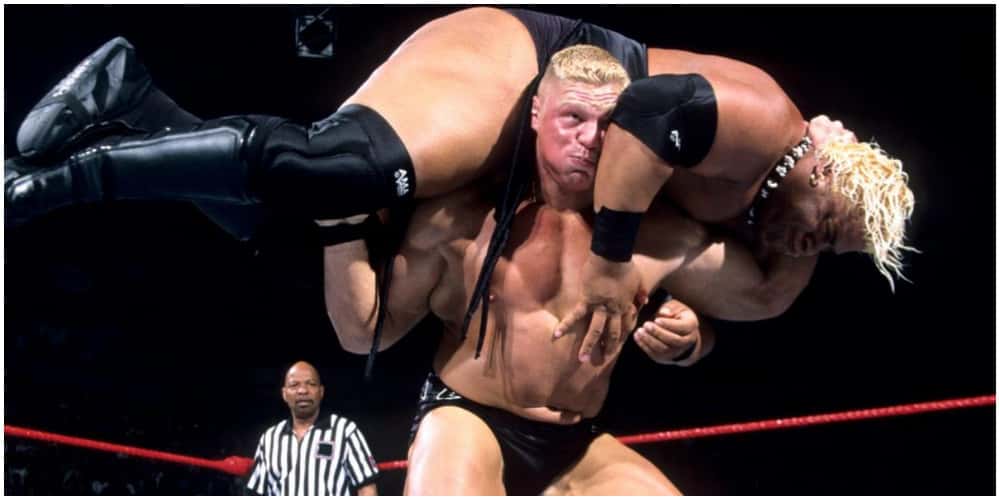 One of the most dominant forces in the WWE, The Beast is a wrestler who relishes dominating and annihilating his opponents. Simply put, Lesnar does not show mercy to any of his opponents, sending them a couple of times to Suplex city.
A freak of nature, Lesnar does not simply back out from any challenge and always brings his A-game day in day out.
Even though Lesnar has been a part-timer for most of his professional wrestling career, Lesnar still remains one of the most valuable professional wrestlers in sports entertainment.
Due to his monstrous size, Lesnar is quite limited in the ring in terms of moves. Nonetheless, Lesnar still possesses a couple of moves in his arsenal that mainly relies on brute force. Apart from using awe-inspiring power moves, Lesnar also uses limb and arm tearing submission maneuvers.
If there is a wrestler whose moves appear to be devastating then it must be Brock Lesnar. Lesnar's finishing move F5 has earned him a couple of world titles including the World Heavyweight title and Universal title.
The F5 is a simple but exquisitely violent move that requires plenty of upper body strength for perfect execution. Throughout his illustrious wrestling career, we've seen Brock Lesnar use this finishing maneuverer on various wrestlers such as Mark Henry, The Big Show, and even John Cena.
Regardless of the size or weight, no wrestler is immune to Lesnar's F5.
A fitness enthusiast, there are plenty of videos online showing Brock Lesnar benching 315 pounds or more with ease.
His incredible powerful build as well as his outstanding body type simply makes him a force to reckon with.
6. The Big Show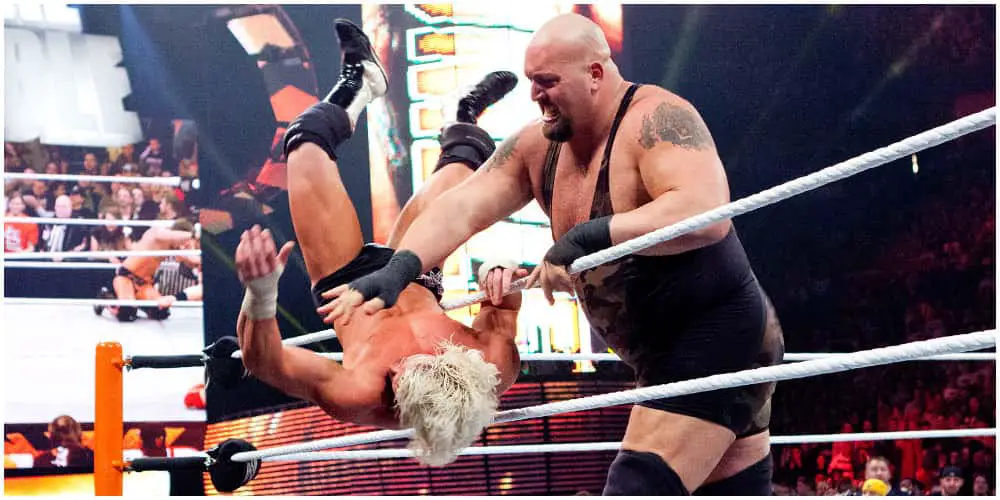 While the Big Show recently ended up his 22-year stint with the WWE after signing with AEW, his contribution to the company and legacy remain intact. Despite his lack of athleticism and speed, the 7-foot giant often relied on his strength and stamina during matches.
For many wrestlers, it was simply too difficult to knock this behemoth down.
During the Attitude Era, the Big Show was a dominant force in the WWE who did not back down from any challenge and often ran through opponents with ease.
As a matter of fact, Big Show's first-ever major contribution to the WWE was throwing the Texas Rattlesnake who was the biggest name at the time over a steel cage. What a great way to announce your entry into the WWF.
Big Show's dominance and impressive run saw him become the muscle man for Vince McMahon. Nonetheless, as time went by, it became apparently clear that the monster once feared was nothing but a shell of himself.
Although Big Show played a big role in this, many of his shortcomings could be greatly attributed to WWE's creative team. Instead of taking down the big names in the company at the time, The Big Show often annihilated comedic characters such as Zach Ryder and Santino Marella.
All these sideshows did nothing to elevate Big Shows's image as a dominant force in the WWE.
From this point onwards Big Shows's career took a turn for the worst, with the wrestler being involved in ridiculous storylines.
Whether it was an attempt by the WWE to make Big Show more family-friendly, this approach simply ended up destroying a rather impressive gimmick.
5. John Cena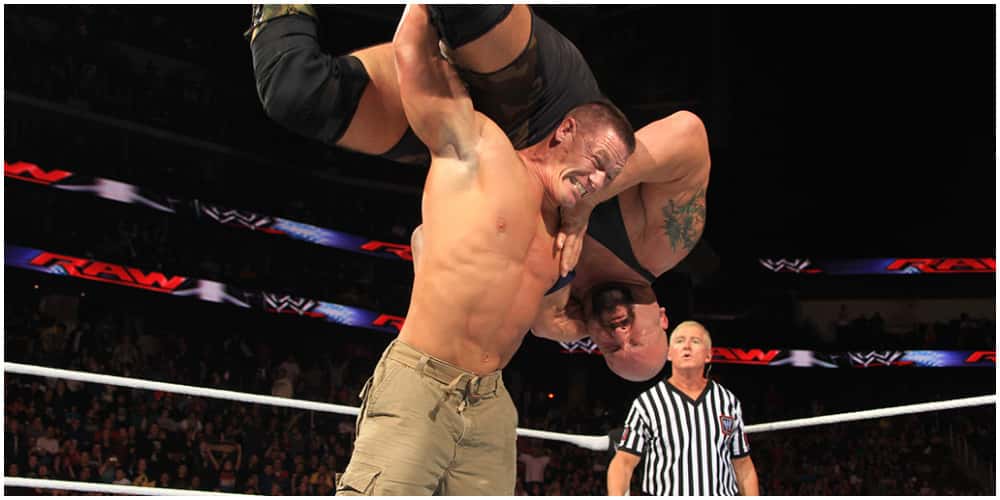 Initially known as The Professor of Thuganomics, John Cena is a wrestler whose upper body strength, resilience, and mental toughness saw him become one of the most decorated wrestlers of all time.
A first-generation superstar, John Cena began his professional career first as a bodybuilder before transitioning later as a professional wrestler.
A 16-time world champion and a 5-time United States champion, John Cena is simply a wrestler who carried an entire franchise on his shoulder for several years. Despite always giving his blood and sweat for the company, John Cena often found himself on the receiving end of harsh criticism from a fraction of the WWE Universe.
While there are those fans who often praised him for his work ethic and promotion skills, there are those fans who criticized the wrestler for favoritism by the back office and for killing many wrestling careers.
Thus, many wrestling fans and critics often regard Cena as one of the most polarizing wrestlers of all time. Nonetheless, while Cena's massive body often restricted his athleticism, the superstar often relied on his massive body strength to display dominance and annihilate opponents.
As a matter of fact, his finishing maneuver, Attitude Adjustment, or the fireman carry slam requires plenty of upper body strength.
Throughout his wrestling career, we've seen John Cena use this maneuverer on various opponents, many of whom weighed twice his weight.
4. Andre the Giant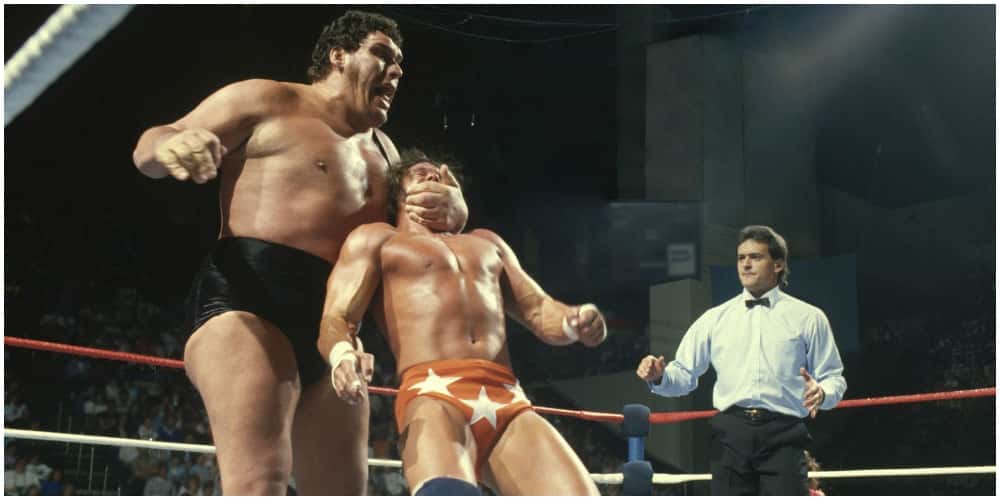 One of the biggest wrestlers of all time, Andre the Giant was a towering behemoth who pulled the crowd with ease due to his massive size. While he was quite slow in the ring, Andre the Giant's pure strength and massive body size paid dividends in matches.
Andre the Giant not only dominated matches but went on a rampant winning streak that lasted for nearly two decades.
This towering behemoth was simply no match for his opponents.
As a professional wrestler, many promoters often ran out of ideas when it came to Andre the Giant. Finding an opponent to face this giant of a man who possessed an unwavering strength was no easy feat.
Nonetheless, there was one man who not only saw Andre the Giant's potential to become a global icon but also one of the most successful wrestlers of all time. That man was none other than Vince McMahon Sr.
During his childhood years, Andre the Giant suffered from Acromegaly, which resulted in the over secretion of growth hormones. Apart from growing extremely tall in size, his hands and legs also grew massively in the process.
Andre the Giants hands and fingers grew so big that he often experienced difficulties when dialing the phone or use a pencil. After failing to follow his love for music or serve his country, Andre the Giant first settled for sports before ultimately turning to professional wrestling.
A dominant wrestler, Andre the Giant did not shy off from manhandling wrestlers in the squared circle.
Wrestlers like King Kong Bundy were often forced to step out from the ring when facing the 8th wonder of the world.
3. Big E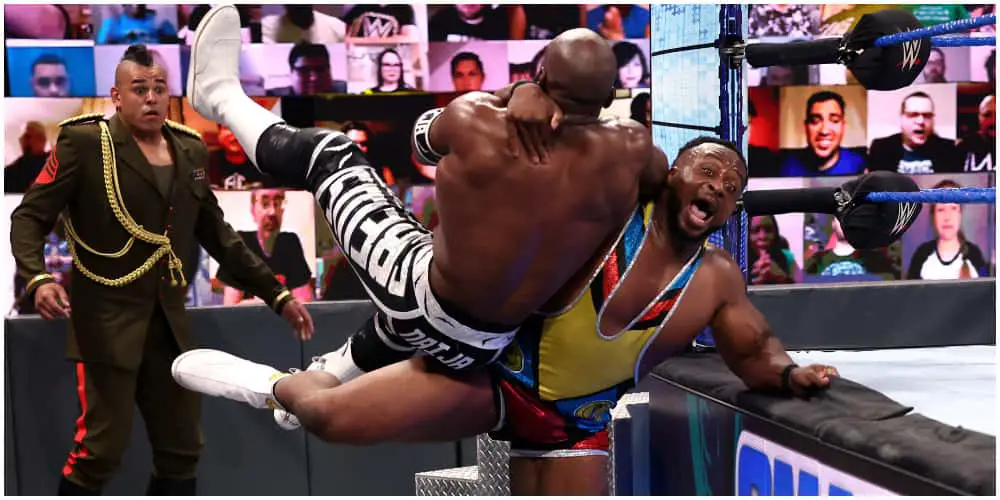 Like most wrestlers on this list, Big E started out as a professional powerlifter before turning to professional wrestling. Big E's background in powerlifting and love for working out saw him become one of the strongest wrestlers to ever step into the squared circle.
A muscle man and enforcer for the New Day, Big E's main role is to crush opponents.
Although Big E remains a significant member in the tag team division, he still participates in singles matches from time to time. Ever since he was young, Big E had a more muscular and lean body, which made him quite successful in sports, specifically football.
Upon graduating from college, Big E turned to powerlifting. As a powerlifter, Big E managed to perform a bench press of 529lbs, a deadlift of 799lbs, and a squat of 711lbs.
In July 2010, Big E took part in his first competitive powerlifting competition at the United States Open Championship.
At the event, Big E was quite dominant such that he managed to break all the four Florida Powerlifting Records at the time and even equal the national deadlift and total records. The following year, Big E managed to win the USPAL Raw nationals breaking the raw national and American deadlift records.
In 2009, the WWE signed Big E and sent him to its development program, FCW, which later rebranded to NXT. At NXT, Big E made history by becoming the second NXT champion.
After an impressive run on NXT, Big E ultimately received a promotion to WWE's main roaster where he managed to win the Intercontinental Championship title.
With the New Day, Big E and the two other members currently hold the longest championship reign at 483 days as Tag Team champions.
2. Bill Kazmaier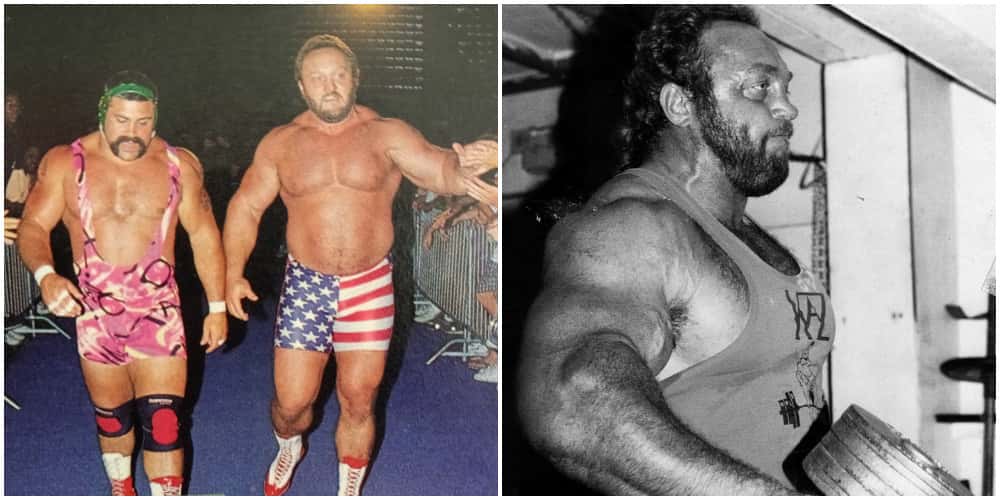 Widely known for his mantra, "I am the strongest man to ever live", Bill Kazmier is the second strongest wrestler of all time. Just like Mark Henry, Bill Kazmier had a successful powerlifting career prior to joining pro wrestling.
Apart from winning 3 World's Strongest Man titles, Bill Kazmaier also equaled/surpassed various feats of records set by strongmen who came before him.
Bill Kazmaier's dominance in the strongman competition was quite impressive such that promoters saw no need to invite him back to the competition in the years that followed winning three successive titles.
Although Bill Kazmier competed briefly for the WWF and Stampede wrestling, his professional wrestling ultimately took off when he signed with WCW.
Apart from his dominant physical display, Bill Kazmier also proved to be a tough nut to crack mentally. His mental toughness and impressive strength saw him lift various wrestlers such as Cactus Jack, Abdallah the Butcher, and many others with so much ease.
Although Bill Kazmaier failed to achieve pro wrestling immortality, he will still be considered to be one of the greats. At WCW, Bill Kazmaier received various shots at Lex Luger's World Heavyweight Championship but failed to make the most of these opportunities.
After a rather brief stint in the main event scene, Bill Kazmaier would later drop to the tag team division teaming up with Rick Steiner. The newly formed tag team would receive a shot at the WCW Tag Team Championship titles, only to fall short once again to The Enforcers.
After retiring from pro wrestling later in the 1990s, ESPN would hire Bill Kazmaier as a co-commentator for the World Strongest Man tourney.
1. Mark Henry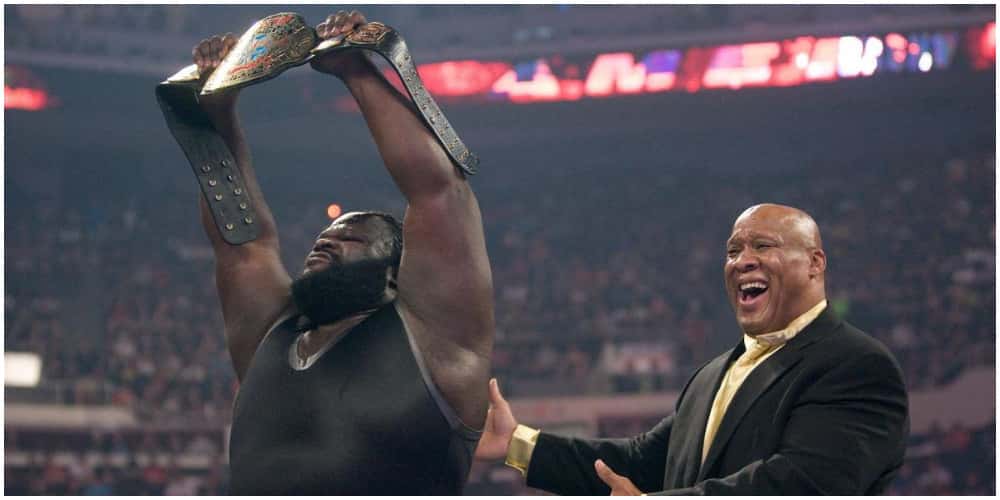 A two-time WWE world heavyweight champion and one of the greatest African American wrestlers, Mark Henry is the strongest wrestler of all time. Mark Henry's sheer strength, resilience, and determination saw him dominate the weightlifting and powerlifting scene from a very tender age.
By fourth grade, Mark Henry stood at 5'5 and weighed more than 200 pounds. When Henry turned 10 years, his mother saw his potential and got him a set of weights.
By his freshman year, Mark Henry had already developed his upper body strength and could squat up to 600 pounds easily. During the early 1990s, Mark Henry made history by not only winning the National High School Powerlifting championship but also set the record for teenage lifting record.
While the WWE failed to capitalize on Mark Henry's powerlifting/Olympic career, his massive upper body strength made him a force to reckon with in sports entertainment.
Although the WWE creative team continued to shy from using his professional weight lifting career, they sure made it quite clear that Mark Henry possessed massive strength.
Apart from putting Henry in several tugs of wars where he took on up to five wrestlers, the WWE also packaged Henry in a manner that favored his physical strength. Some of these scenarios including setting the World Record for bench presses, pulling a 9000-tonne trailer, and even suplexing The Big Show in front of the WWE Universe.
Even though Henry had a successful wrestling career, a string of injuries prevented him from really capitalizing on his massive strength and talent.