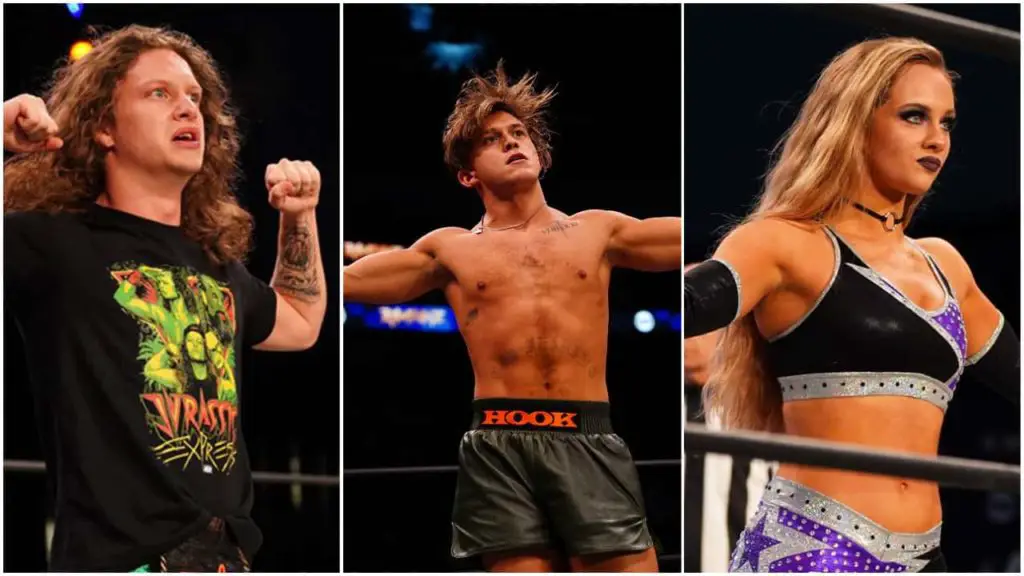 The 10 Youngest AEW Wrestlers
Last updated on May 8th, 2022 at 11:13 am
The entry of AEW into the pro-wrestling scene saw saw many highly talented wrestlers finally get the recognition that they truly deserve. Despite being highly talented, many of these wrestlers were either overlooked by other promotions, such as the WWE, or subjected to sub-par bookings.
Apart from putting many pro-wrestlers on the world map, AEW also paved the way for many young and green talents to gain the much-needed experience. Most of these budding wrestlers had little to no pro-wrestling experience prior to signing with AEW.
One of the most notable case is Anna-Jay's, who had competed in less than 5 pro matches prior to getting signed with AEW. Currently, she is one of the best female wrestlers on the roaster.
Could this be an indication that AEW's approach yield's better results, especially when dealing with green talent than the WWE?
Unlike the WWE, which places its wrestlers solely on the promotion's developmental program, AEW takes a different approach by introducing many of these budding wrestlers to highly competitive and demanding bookings earlier on.
On the other hand, one could also argue that WWE's developmental program has also produced some of the biggest wrestling stars today, such as Roman Reigns, John Cena, Randy Orton, Brock Lesnar who are widely known as the OVW4.
In recent years, we've also seen a string of wrestlers, graduate from NXT and then excel at the world stage. Some of the most notable names include Roman Reigns, Daniel Bryan, Seth Rollins and the iconic four horsewomen just to name but a few.
That said, here are the 10 youngest AEW wrestlers.
10. AQA-25 years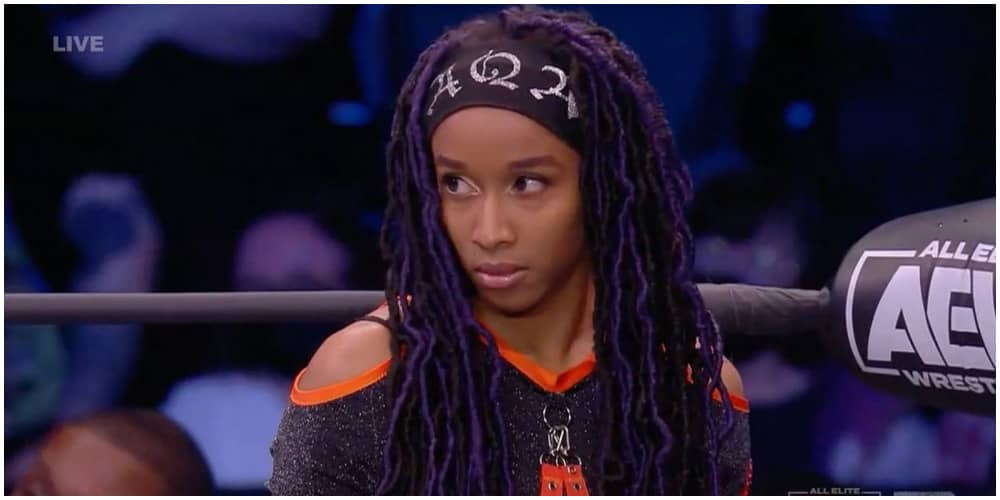 At just 25 years of age, AQA is undeniably one of the youngest AEW wrestlers. After making her in-ring debut with WWE NXT, AQA ultimately signed with AEW earlier in 2022. 
Trained by Booker T, AQA is highly skilled in the ring and continues to show so much promise. AQA's debut match on NXT came against Jade Cargill for the highly coveted TBS championship title. 
AQA's signing with AEW came as a shock to many, considering she had just made only 5 appearances for the black and gold brand. With little wrestling experience, AQA not only knows her way around the ring but also how to put forth a classic match.
In addition, she's got an array of moves in her arsenal, such as the shooting star press, sling blade, DDT and many others. If AQA continues to put in the work, then she's definitely going to be one of the biggest stars in AEW's women's division. 
Despite having a rather impressive start for the NXT brand, the WWE ultimately released AQA as part of the company's budget cuts and an undisclosed health issue in 2021. 
9. Leyla Hirsch-25 years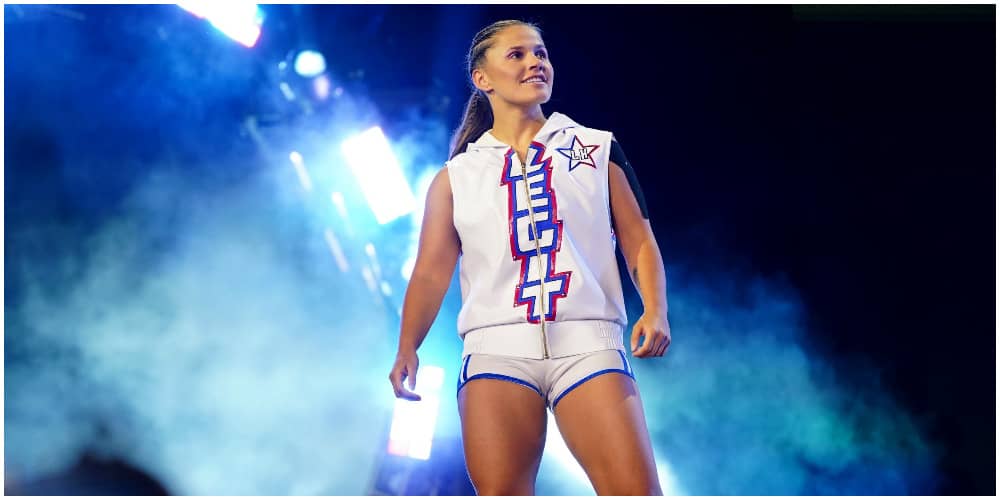 Prior to signing with AEW, Leyla Hirsh was a mainstay in the indie scenes where she worked with various promotions, such as CZW and WXW. Leyla also had a brief run with the Japanese-based World Wonder Ring Stardom.
With World Wonder Ring Stardom, Leyla Hirsh was part of the stable Tokyo Cyber Squad alongside Jungle Kyona, Konami and Hana Kimura.
 In 2020, Leyla Hirst ultimately made her AEW debut against Hikaru Shida on AEW Dark. On the following day, Leyla challenged Serena Deeb for one of the most sought-after titles, the NWA women's World Championship title on Dynamite.
Although she put forth an impressive display, Leyla Hirsch still fell short. At 25 years of age, Leyla Hirsh is undeniably one of the youngest wrestlers on AEW.
8. Brock Anderson-25 years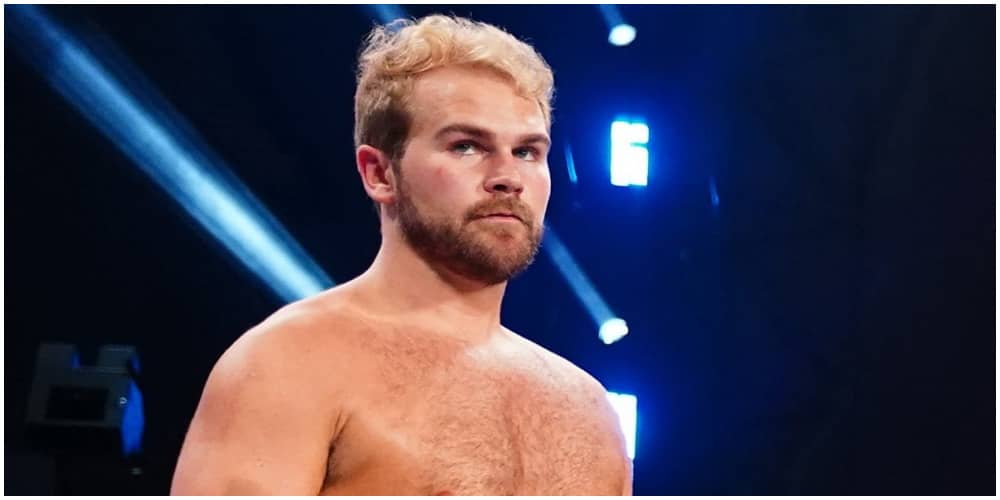 Trained at the Nightmare Factory by Glacier and QT Marshall, Brock Anderson made his first AEW appearance in June 2021 at AEW Dynamite. Prior to signing with AEW, Brock Anderson had little to no pro-wrestling experience.
Brock Anderson is the son of the highly experienced pro-wrestler and finest tag team members of all time, Arn Anderson. While he looked somewhat green in his debut match, Brock Anderson showed much promise and gave us glimpses of what was to come.
From what we've seen so far, Brock Anderson uses an old-school, southern style of wrestling, an approach that any wrestling fan will definitely appreciate. Ever since making his debut back in 2021, Brock Anderson has continued to not only build confidence but also improve his in-ring skills. 
Like many other pro-wrestlers, Brock Anderson was into sports and played football during his high-school years. By the end of his high-school career in 2015, Brock Anderson was ranked 94th in the state of North Carolina and an impressive 904 in the US. 
7. Marko Stunt-25 years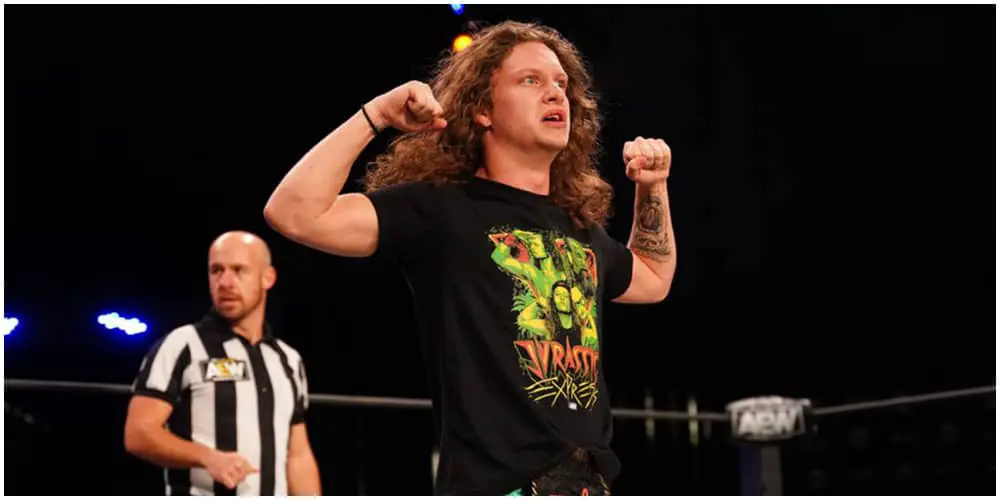 One-third of one of the best AEW tag teams, Jurassic Express, Marko Stunt's high-flying abilities and swiftness have seen him become a fan favourite. Despite lacking size, Marko Stunt compensates for his shortcoming in the ring with speed and skills. 
While Stunt is super skilled, his lack of size has often worked against him, especially when facing bigger wrestlers such as Jack Hagger. 
An ardent wrestling fan, Marko Stunt began his pro-wrestling training at the tender age of 18. 
Prior to signing with AEW, Marko Stunt spent his early wrestling career in the independent circuit making appearances on Game Changer Wrestling and IWA Mid-South. At GCW's Lost in New York, Stunt went head to head against KTB. 
While Stunt lost the match, he became quite popular among online wrestling fans. It's this very performance that drew the attention of The Young Bucks and Cody Rhodes. 
6. Jungle Boy-24 years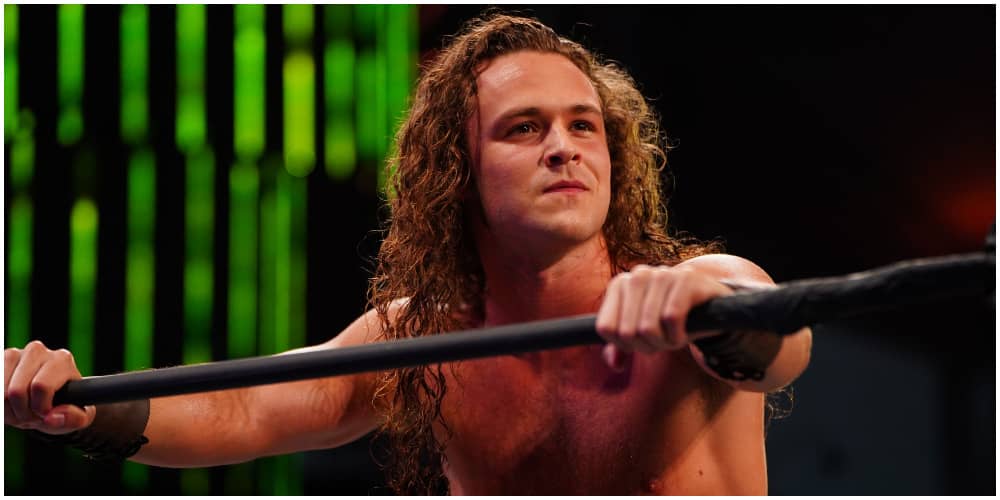 Just like Marko Stunt, Jungle Boy is one-third of the onetime AEW world tag team champions, Jurassic Express. Born in 1997, Marko Stunt began his pro-wrestling career in 2015, plying his trade for Underground Empire Wrestling under the moniker Nate Coy.
Because of his close resemblance to Tarzan, the crowd would often chant "Jungle Boy" in many of his singles and tag team matches. Three years down the line, Jungle Boy won his first-ever pro-wrestling championship, the All-Pro Wrestling Junior Heavyweight title. 
In 2019, Jungle Boy teamed up with Luchasaurus to form "A Boy and His Dinosaur". In the same year, Jungle Boy would sign with the newly formed promotion AEW, making his debut at the first-ever Double or Nothing event.
After a string of losses in singles competition, Jungle Boy became allies with Luchasaurus and Marko Stunt to form Jurassic Express. Despite being a mainstay in AEW's tag team division, Jungle Boy has also had his fair share of success in singles competition.
At Double or Nothing, Jungle Boy won the event's Casino Battle Royal, which earned him a shot for the AEW World title. Jungle Boy ultimately faced the AEW world champion, Kenny Omega, on an episode of Dynamite, a match that he lost. 
5. Lee Johnson-24 years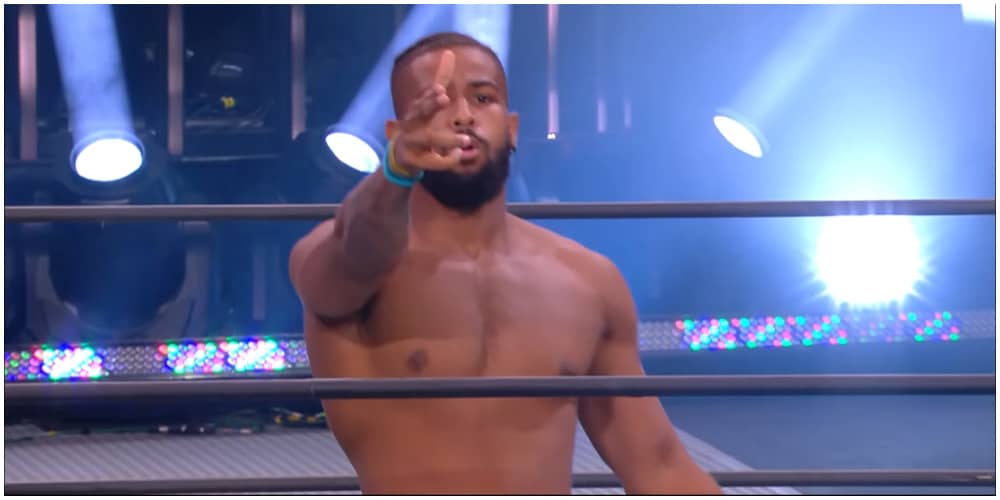 A member of the Nightmare Family Stable, Lee Johnson began his pro-wrestling career back in 2017. After undergoing a series of training at World Wrestling Alliance 4, Lee Johnson finally made his debut in November 2017.
In his rather short stint with WWA4, Lee Johnson won a WWA4 Tag Team title alongside Liam Gray. Johnson would ultimately leave the company and make appearances for various promotions in the United States.
Despite being 24 years, Lee Johnson has already shown that he has what it takes to be a main event wrestler. His high-flying ability and technicality in the ring speaks volume about a wrestler who has been in the business for only four years. 
Although Lee began working with AEW back in 2020, it took the company more than a year to present the young talent with an AEW contract. 
4. Riho-24 years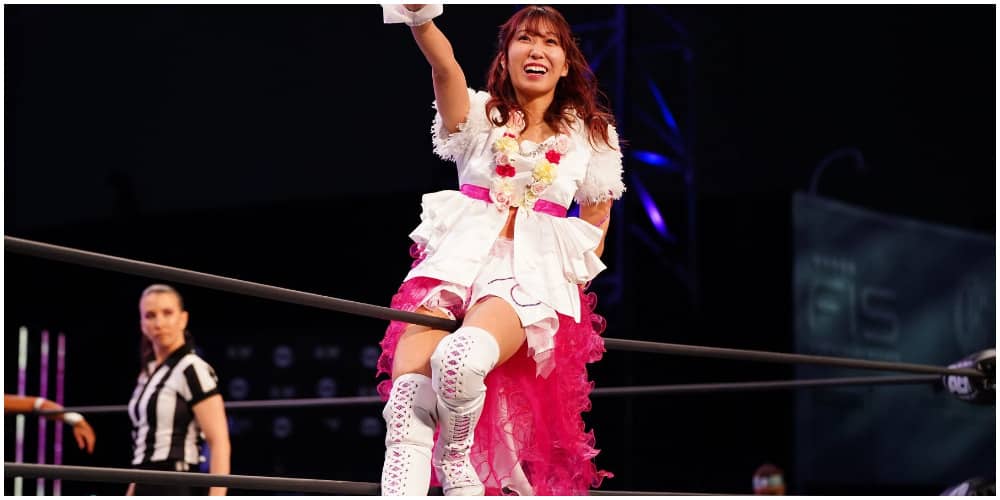 Standing at 5'1, Riho is undeniably one of the shortest AEW wrestlers. Despite her lack of size and power, Riho has a deep understanding of wrestling psychology and often uses it when she needs to. 
A highly experienced wrestler, Riho began her pro-wrestling career back in 2006 when she was still in elementary school. Riho would go ahead and make her pro-wrestling debut in the same year during an exhibition match in Tokyo against Nanae Takahashi.
After her rather long stint with Ice Ribbon ended, Riho would sign with various promotions, such as DDT Pro-Wrestling, Union Pro Wrestling and Gato Move Pro Wrestling promotions. 
Throughout her pro-wrestling career, Riho has been quite impressive, such that she's considered by many wrestling fans as one of the top female wrestlers in the world. 
While she was quite successful and impressive in Japan, many wrestling purists have been quick to point out that her matches with AEW have not been up "standard". This could due to the fact that many at times she's often out-sized by majority of the female wrestlers on AEW women's division.
Considering she is only 23 years of age, Riho has more than enough time to mature as a wrestler and fully adapt to AEW. 
3. Anna Jay-23 years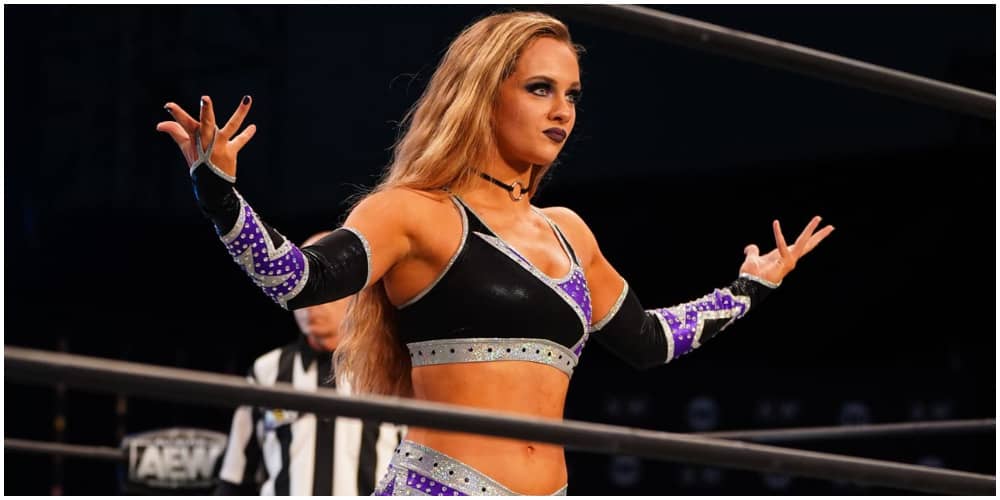 Despite being only 23 years of age, Anna Jay's wrestling ability is of somehow beyond her years. Even though she signed with AEW with only five pro-wrestling matches under her belt, Anna Jay has been quite impressive so far.
After signing with AEW in 2020, Anna Jay made her debut against Hikaru Shida. Anna Jay was quite impressive in her debut match, such that you could hardly tell she had little to no wrestling experience. 
Jay would eventually join the Dark Order Stable and that is where her wrestling career took off. In November 2020, Anna Jay challenged Hikaru Shida for the AEW Women's World title.
Even though she fell short, Anna Jay was quite impressive in her first-ever title match. 
2. Hook-22 years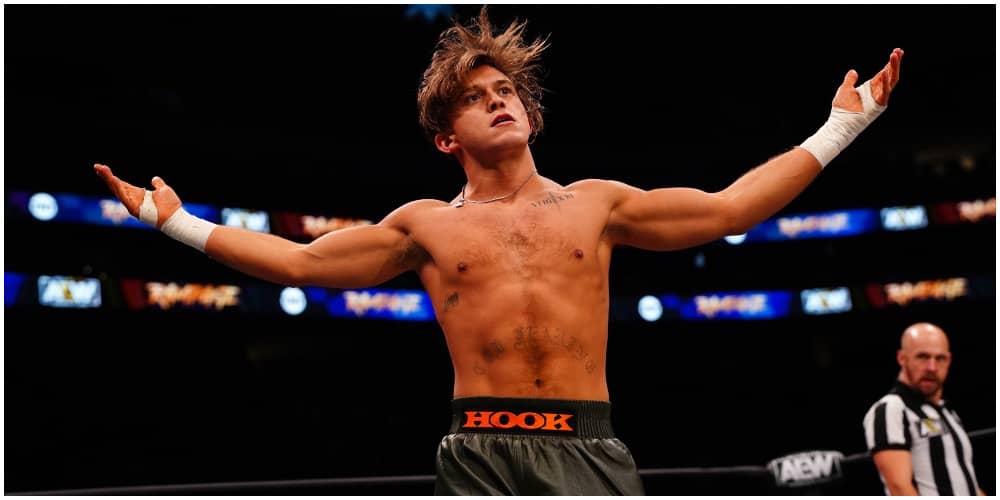 If you are an ardent pro-wrestling fan, then you have definitely heard of Hook. One of the most popular AEW wrestlers, it's clear to see why Hook became one of the most talked-about wrestlers in the world with only two matches under his belt. 
Despite never giving a promo or having no more than 10 minutes in the ring, Hook instantly became a worldwide sensation. While everyone knew Hook to be Taz's son, many wrestling fans were curious to know whether he could live up to his father's legacy.
In the early months, Hook was part of Team Taz, not as a wrestler but more of a mascot. This approach by AEW fueled the curiosity that was slowly building among the wrestling fans, as the young wrestler never spoke a word.
When CM Punk entered the equation, he asked Taz to "Send Hook". It's this simple phrase that sent social media abuzz, in turn making the young wrestler go viral. In December 2020, Hook finally made his in-ring debut in a televised match, picking up a victory against Fuego Del Sol decisively. 
1. Dante Martin-20 years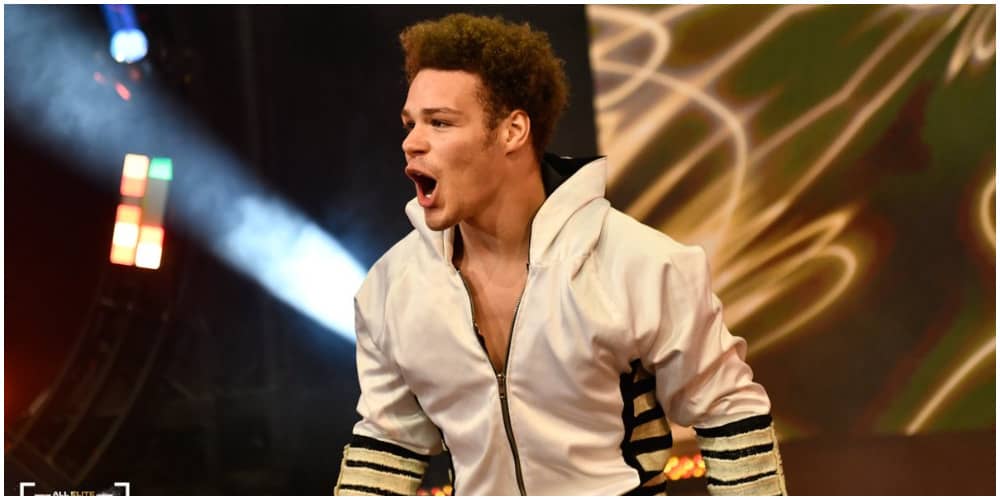 At the age of 21, Dante Martin is undeniably the youngest AEW wrestler. Despite being so young, Dante Martin began his pro-wrestling career back in 2016 alongside his brother, Darius Martin.
Martin would then wrestle for various promotions, such as AAW Wrestling, Game Changer Wrestling, Black Label Pro and Over the Top Wrestling.
In October 2020, Dante Martin would make his AEW debut alongside his brother in a losing effort against Dark Order's Stu Grayson and Evil Uno. The duo would once again make another appearance in a losing effort against the more experienced Young Bucks.
After his brother was sidelined due to a torn ACL, Dante Martin would find himself in the promotions singles division. Despite being so young, Dante Martin would receive a significant push from the company, squaring it off against some of the biggest names in the promotion, such as Malakai Black and Kenny Omega.
Dante Martin would ultimately challenge Hangman Page for the World Championship. Despite coming short, Dante Martin could still put in a solid effort, earning the respect of Hangman Page, who labelled him as a future world champion.