This is How Many Golfers Can hit A Ball 300 Yards. (Hint) It's Lower Than You Think.
Last updated on October 30th, 2022 at 03:18 am
If you are an average golfer, you might see people teeing off at the professional level and wishing that you hit the ball as far as they did. In reality, only a very small percentage of golfers will ever hit a golf ball 300 yards or more in their lifetime.
What percentage of golfers can hit the ball 300 yards or more? Read along to see where you rank in driving distance.
Distribution of Driver Distances
Your driver should be the furthest club that you hit. This is due to the size of the club head, the length of the shaft, and the loft of the head. Each work in a combination to outdrive any other club (as long as you hit it properly). Below are the statistics of driver distances.
Out of the 66.6 million people who are playing golf worldwide, the average distance that people are driving the golf ball is 219 yards. So don't worry if you aren't hitting 300 yards!
While the average is 219 yards, many different groups of people are hitting different distances.
Believe it or not, the average drive distance of a PGA professional golfer isn't even 300 yards! The average PGA golfer hits around 290 yards from the tee box. 
Of course, they have to account for where they want to hit to set up their next shot. Playing professionally accounts for much more than just driver distance. Nobody wins a trophy for hitting their first shot the longest!
An amateur golfer should be proud to say that they hit their ball around 215 yards. Of course, different skill levels will hit their ball different distances. 
Naturally, your driving distance will decrease as you age. For example, a person in their 20's will have an average drive distance of 240 yards. Meanwhile, somebody in their 70's+ will have a drive distance of only 200 yards. 
Look at the figure below to see the average numbers of different handicaps and how far they can hit a golf ball. 
Anybody who has a handicap under 9 tees off for around 240 yards. Average golfers with a handicap of 10-17 hits for 240 yards. A beginning amateur golfer with a handicap of 18-28 can hit a golf ball 210 yards on average.
Tip for high handicap golfers. Use low spin golf balls. Here you can find out why and see which are the best low spin golf balls to hit further.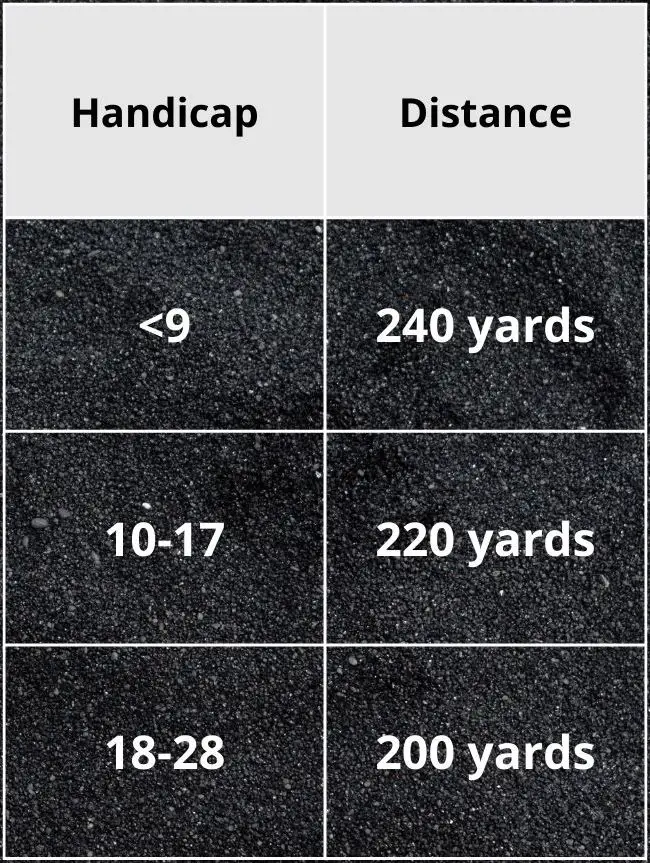 Women have been hitting the ball further than ever. More and more women have been entering the game of golf. As a results, women are receiving better training to be able to increase their distance. The average distance of LPGA golfers is now 250-260 yards. 
The golfer who hits the furthest on average in LPGA is Emily Pederson who hits around 280 yards on average. 
Percentiles of Driver Distance
What percentage of golfers can hit the ball 300 yards? Well, don't be disappointed if you are not part of the group because it is only 4%. Below are the percentages of how many people can drive each distance. Let us know where you fall in these percentages! We'd love to know how far our readers can hit!
Professional Golf Players Who Can Hit 300 Yards
Many of the top golfers on the PGA tour have the ability to hit the ball more than 300 yards since the average is around 290 yards. However, there are fewer people that can hit farther than 300 yards consistently. 
Even more interesting is that there are women on the LPGA who are also hitting drives 300+ yards! 
Take a look below to see the golfers that are able to hit 300+ yards. 
In 2020 and 2021, Bryson DeChambeau (who is considered to be one of the most disliked golfers) had the highest distance average at 322 and 323 yards. DeChambeau is able to hit the ball consistently far using his powerful swing, which can reach speeds of 132 mph. This long drive is able to give him an advantage of being closer to the hole than his competitors, but in golf you still have to have a great short game if you want to be competitve!
While DeChambeau has impressed many fans of golf, there are other golfers who are able to hit 300 yards. In fact, a total of 61 golfers averaged over 300 yards on their drive distance! Below are the top golfers and their drive distance (per PGA).
| Golfer | Average Driving Distance |
| --- | --- |
| Bryson DeChambeau | 323.7 |
| Rory McIlroy | 319.3 |
| Cameron Champ | 317.1 |
| Matthew Wolff | 315.9 |
| Will Gordon | 315.0 |
| Wyndham Clark | 314.6 |
| Dustin Johnson | 312.9 |
| Luke List | 312.7 |
| Jhonatthan Vegas | 312.1 |
| Brandon Hagy | 311.6 |
While no one in the LPGA has ever averaged 300 yards as a drive distance, there are plenty of instances where women have hit this far. 
Bianca Pagdanganan is know as the most powerful driver in the LPGA. She has been very close to averaging 300 yards on her first shot (288.8). She has had many shots that have gone over 300 yard, and even has averaged more than 300 yards per drive for a round. 
Pagdanganan has competition and is not the only heavy hitter in the LPGA. Emily Pederson, Nanna Madsen, and Maude-Aimee Leblanc have been close to her driving distance. 
History of 400+ Yard Drives
There has to be a little bit of elemental help to be able to hit 400 yard golf shots, but they have been recorded in history. 
Recently, in the 2021-2022 season, Scott Stallings hit a drive that was recorded at 460 yards. Rickie Fowler also challenged this distance in 2018 by hitting 458 yards at the Scottish Open in Scotland. Below is a video of his eye-popping drive. Not even the spectators saw it coming. 
Dustin Johnson hit the fifth longest recorded drive in history by hitting 489 yards in 2018. In order to do this, he was helped by 18 mph tail winds, a downward sloping fairway, and a lucky cart path bounce led to this 489 drive at the WGC Dell Technologies Match Play.
Yes, Tiger Woods is also on the list of the longest drives in history. He is number 4 on the list with a 498 yard drive at the Mercedes Championship in 2002. 
This is a great course for hitting your personal best in drives with its downward slope and occasional tailwinds giving your ball an added boost. These were the exact conditions that allowed Tiger Woods to set his personal best.
The Longest Drive in PGA History
The longest drive in PGA history belongs to Carl Cooper who hit 787 yards off the tee box. Ironically, he was only playing a hole that was 456 yards long, meaning he was out of position by around 300 yards! 
This was more of an unfortunate series of events rather than an accomplishment. His ball found a maintenance path that rolled all the way to the 787 yard mark. He finished at a double bogey on the hole.
While he may have set this mark, he Cooper may not be proud of the mark that he set.
How to Hit Longer Golf Drives
Don't be discouraged, but it will take a lot to be able to drive consistently at 300 yards. As a beginner, I always ended up behind everybody else on my second shot, but I always ended up to the green in the same amount of shots.
The secret to hitting longer shots is changing the angle of which you hit the ball. When you are hitting the ball with your driver, most people end up hitting the ball on the downswing of their drive. 
To fix this, change where you are placing the ball in your stance. Line the ball up with your left heel (assuming you are right-handed). This will make you hit the ball on the "upswing" of your drive. You will hit the ball as your clubhead is moving away from the ground.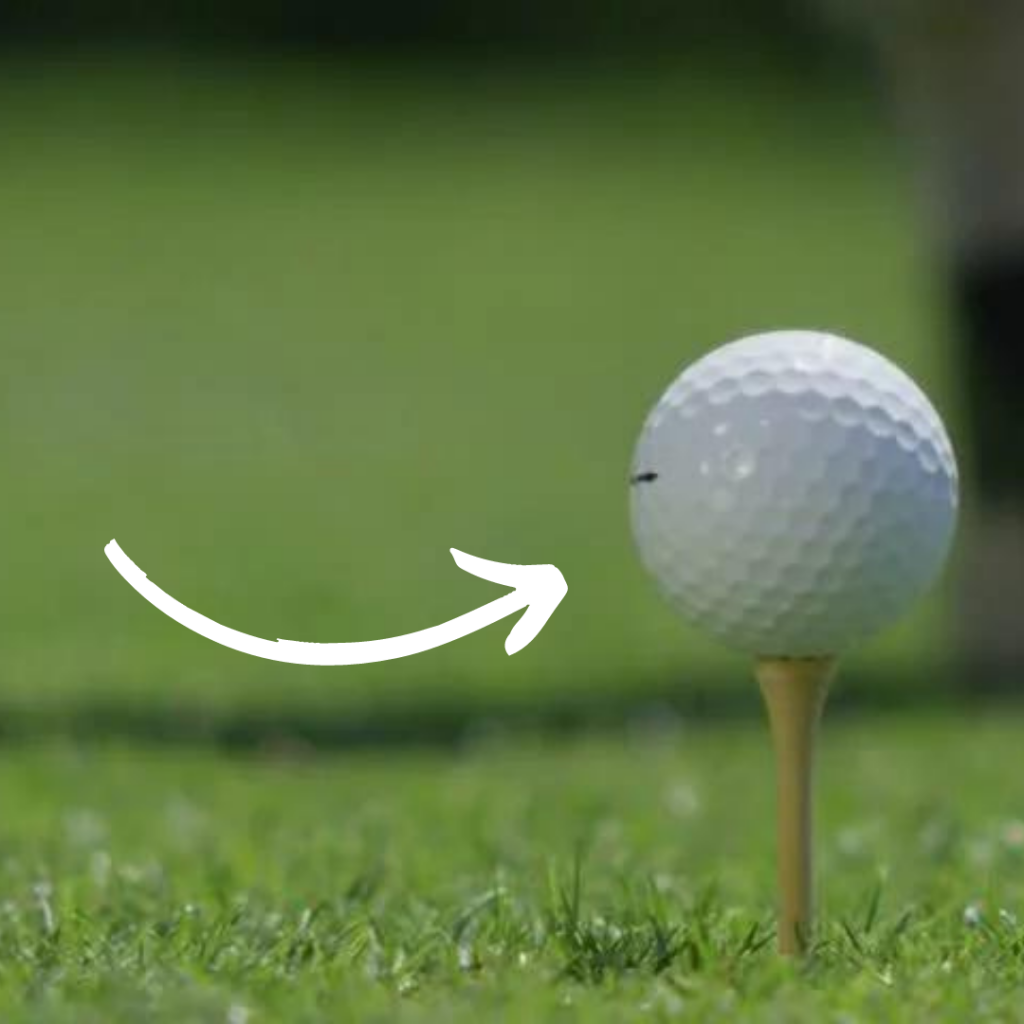 Another way to put more power into your driving distance is to increase your swing speed. Many beginners mistake this with trying to hit the ball as hard as you can. In order to swing fast, you must be able to swing correctly.
If you are just starting to play golf, slow down your swing so that you can feel exactly how to hit a golf ball correctly.
When I first started golfing, I tried to muscle out the furthest drives possible. I took a lesson and was told to slow down my swing. When I did I couldn't believe how much further the ball was traveling! The club does all the work for you, but will only take you so far with minimum club speed.
Once you master a nice and easy swing, you will be able to incrementally swing fast and drive further.
If you want more tips from the best golf teachers, the makers of the "Stress-Free Golf Swing" can teach you what you need to know at any level. This program helped me finally break 90 and to stop embarrassing myself around my family and friends when playing 18. 
It's okay to not be able to match the power of professionals, since only 4% of golfers are eventually able to hit more than 300 yards on average on their drives. With plenty of practice, you may also be able to reach this level. If you are an amateur, celebrate it when it happens, but don't expect. it.
Remember that hitting the ball as far as possible is not everything. If you can combine a powerful tee shot with a precise short game, you will lower your score tremendously!