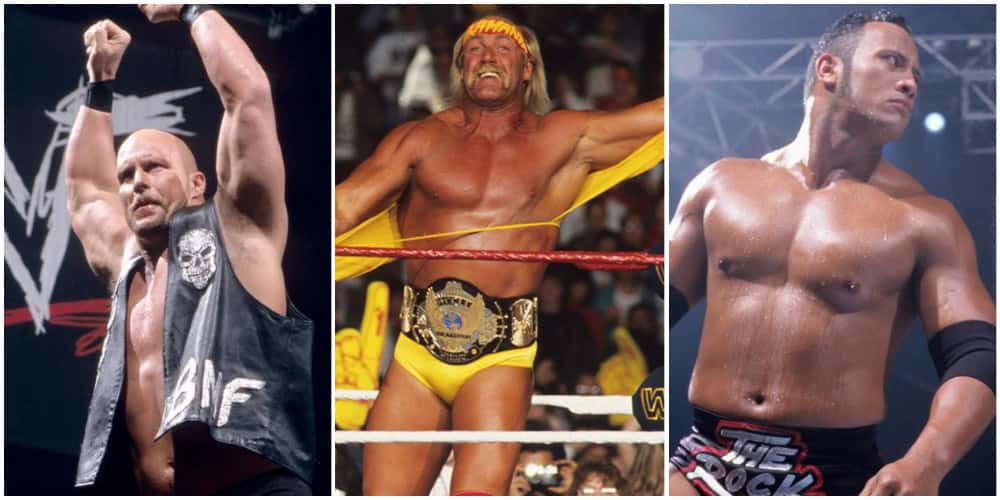 The 25 Greatest WWE Wrestlers of All Time
Last updated on June 15th, 2022 at 05:19 pm
The evolution of pro wrestling has seen wrestling morph into one of the most-watched shows in the world. Professional wrestling began in the 1800s after the civil war to be precise. Created as a form of entertainment, wrestling mainly took place during carnivals or traveling acts.
Many of the wrestlers who took part during this period were mainly college students who were in to make some quick bucks. As time went by, pro wrestling grew into a popular event and its popularity could be compared to that of baseball and wrestling.
In the WWE, we've seen some amazing wrestlers over the years from the 1960s and 1970s to the Attitude era all the way to the New era. While many wrestlers have not only put their blood and sweat into the industry, very few have also emerged as the creme de la creme of pro wrestling.
Those that stood out stood out mainly because of their wrestling styles, microphone skills, look and marketability From Hulk Hogan to Shawn Michaels to Stone Cold Steve Austin, all these 25 wrestlers have helped put WWE on the map.
That said, these are the 25 greatest WWE wrestlers of all time.
25. The Big Show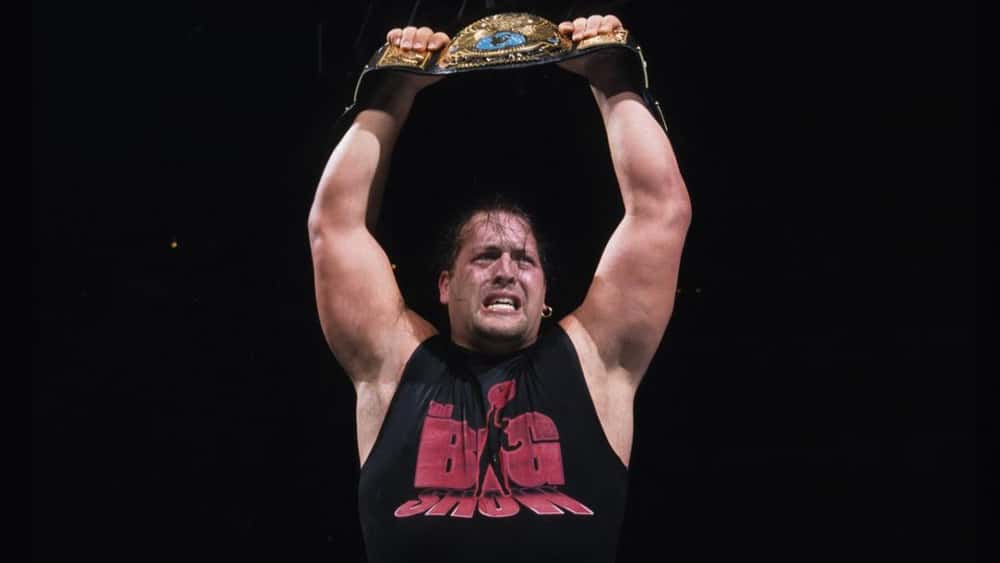 One of the biggest wrestlers of all time, The Big Show's colossal size and sheer strength saw him easily dominate matches. Like many renowned WWE wrestlers, The Big Show began his wrestling career with WCW before ultimately signing with the WWE in 1999.
Although he had some memorable matches in WCW, Big Show's career-defining match in WCW came when he faced Hulk Hogan for the coveted WCW World Championship title, a match that he convincingly won.
However, there are instances when his colossal size often played against him, especially when facing smaller, cunning, and swifter athletes such as Rey Mysterio.
Nonetheless, Big Show's career with the WWE has been quite impressive with the 7-foot giant winning several titles including the World Championship title.
24. Rey Mysterio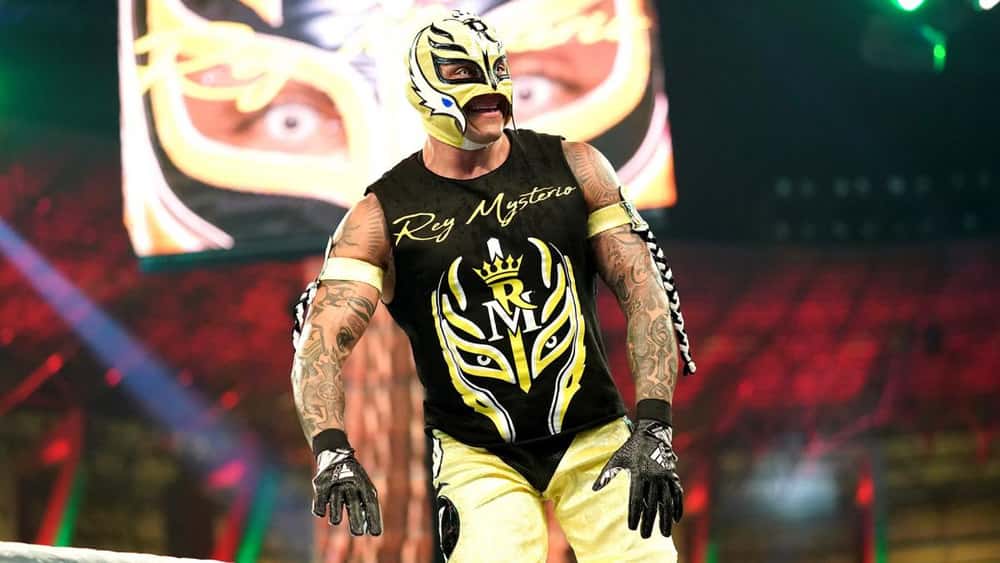 One of the greatest Mexican wrestlers of all time, Rey Mysterio is a wrestler who defied all odds to become one of the greatest WWE wrestlers of all time. In a world dominated by towering mammoths and well-built athletes, Rey Mysterio's small size meant that he not only had to work harder but also had to work smart in his matches by trying to outwit his opponents.
Apart from his solid wrestling abilities, Rey Mysterio also has the ability to win the crowd over, which ensured that he was an asset to the company.
Rey Mysterio's high-flying style, popularly known as Lucha Libre gave him that competitive edge in matches Before joining the WWE, Rey Mysterio wrestled in Mexico, WCW, and ECW.
23. Brock Lesnar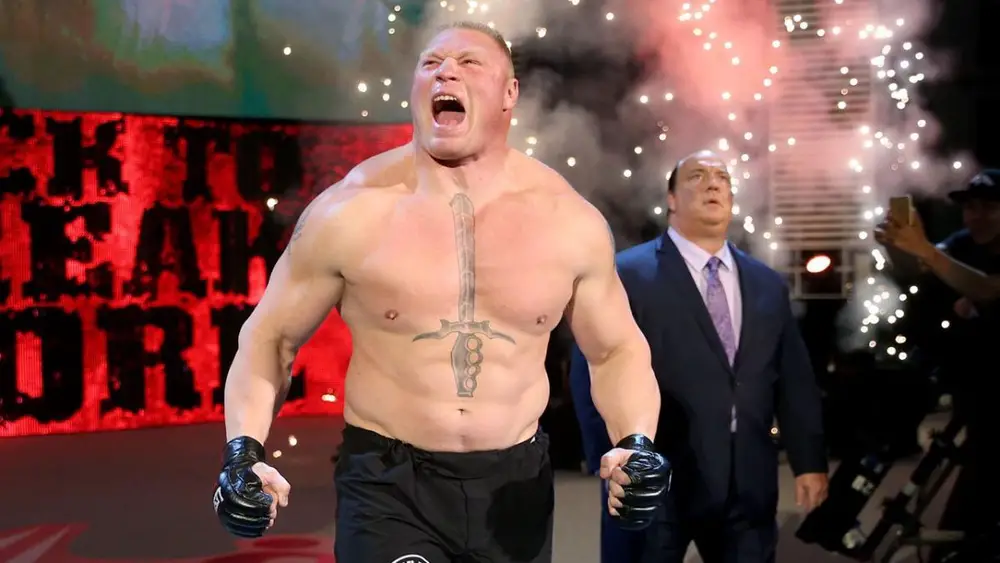 Although many people were not sure about Brock Lesnar's exodus from the world of MMA would pan out, the superstar not only settled in well but also became one of the most dominant forces in the WWE.
Being a wrestler who clearly understands his strengths and weaknesses, Brock's approach in recent years has been quite simple.
Wear out the opponent during the early minutes of the match by delivering a myriad of German Suplexes. Like The Undertaker, Brock rarely talks in the squared circle but chooses to communicate through his manager and legal representative Paul Heyman.
Brock's impressive in-ring performance has seen him lift both the WWE World-Heavyweight title and the Universal titles.
22. Christian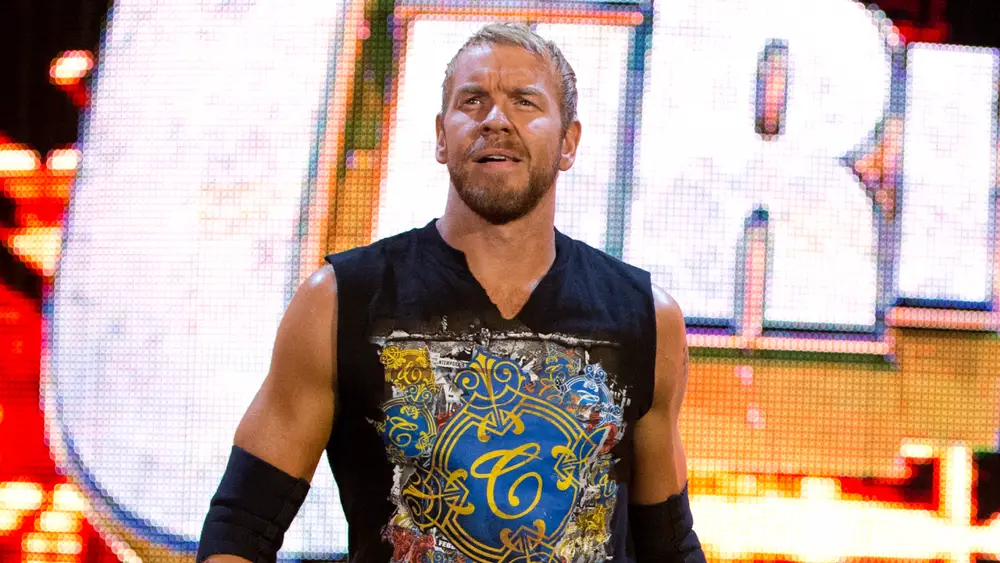 One of WWE's most over heels in the WWE, Christian is a wrestler who was not only a perfectionist but also a tag-team specialist. Christian knew exactly how to get a reaction from the WWE Universe.
With Edge, Christian developed an obsession with steel objects including steel chairs and cages.
Christian's high-impact and innovative maneuvers gave him an edge over many wrestlers. For quite a long time, wrestling fans were vocal in pointing out that Christian was not receiving the right opportunities to take his career to the next level.
Although it took Christian more than 17 years to claim the World Heavyweight title, Christian's superstar status cannot be overlooked. A tag team specialist, Christian's diversity saw him portray a cocky heel and a beloved babyface.
Regardless of the character he portrayed, Christian was still able to get a reaction from the WWE universe.
21. Randy Orton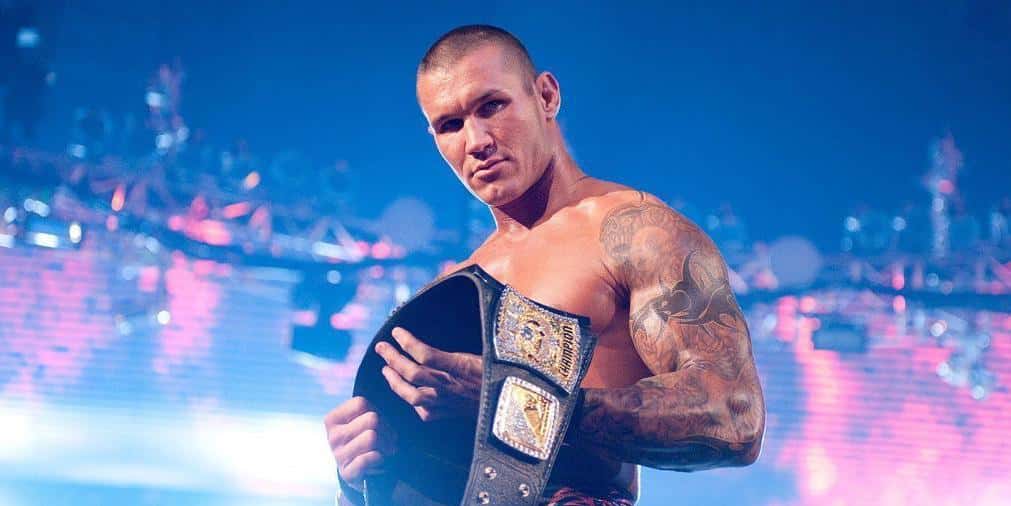 Although Randy Orton has been involved in some mediocre bookings in recent years, he still managed to become one of the best wrestlers of all time and true heels that the company and the WWE Universe have witnessed ever since the Attitude Era came to an end.
Orton's sadistic tendencies and predatory instincts saw him climb through the ranks and become one of the most memorable wrestlers in recent years.
What made Orton such a memorable character was his ability to get under the viewer's skin. He was simply a wrestler who you wanted beaten day in day out. As a Babyface, Orton's role involved taking a backseat behind Stephanie McMahon and Triple H's storylines.
Despite all these, Randy Orton still managed to rise through everything and establish himself as one of the best heels in WWE's history.
A 6-time World Heavyweight Champion, Randy Orton has definitely proven that he deserves a seat with the best of the best in pro wrestling history.
In addition, while we've seen some amazing storylines in recent years, Orton's feud with John Cena remains one of the most convincing feuds we've witnessed in years.
With his impressive reign as a WWE champion, over the top mic skills and his ability to sell matches, it's clear to see why Randy Orton is one of the greatest WWE wrestlers of all time.
20. AJ Styles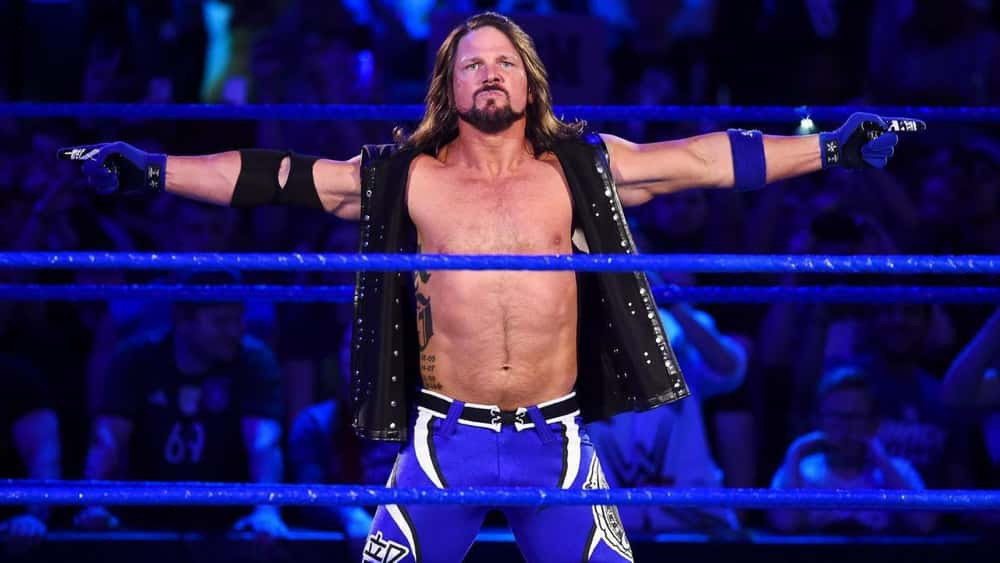 When he made his WWE debut, AJ Style brought a sense of excitement and freshness, at a time when the WWE was characterized by staleness and repetitive bookings.
While many WWE fans came to know him after his WWE debut, The Phenomenal One was already a renowned world star, thanks to his contributions to TNA Wrestling and NJPW.
Hardcore wrestling fans not only knew who AJ Styles was but also his impressive in-ring ability. After making his WWE debut during the 2016 Royal Rumble, AJ Styles has grown into one of the biggest superstars in pro wrestling.
Apart from going head to head with some of the best in the business, AJ Styles has managed to register some impressive wins against the likes of John Cena, Shane, and John Cena.
He also went ahead to capture the WWE Heavyweight title twice while registering one of the most impressive reigns in the title's history that lasted for 371 days.
19. CM Punk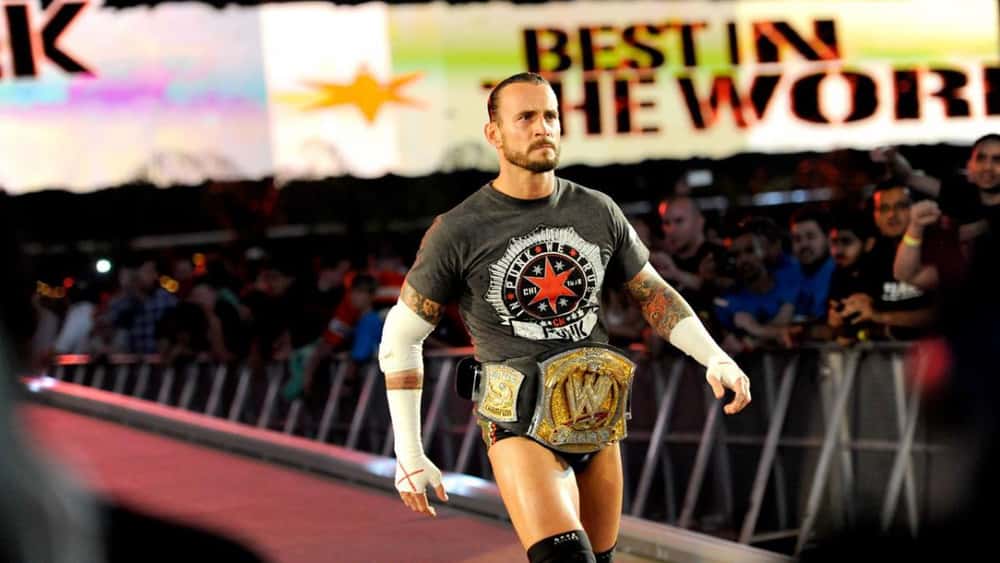 CM Punk's unconventional microphone antics and unique wrestling style made him one of of the greatest WWE wrestlers of all time. Although many did not expect CM Punk to succeed when he made his debut in 2006 for the ECW brand, he quickly managed to become the brand's top name and even captured the ECW championship in just one year.
While capturing the ECW Championship would be one of the greatest moments in CM Punk's wrestling career, the pinnacle of his career would come at Wrestlemania XXIV when he won the Money in the Bank ladder match.
Punk would later cash in the briefcase several months down the line to win his first-ever WWE World Championship gold.
The formation of The Straight Edge Society which consisted of Serena, Joey Mercury, and Luke Gallows was also another significant highlight in CM Punk's WWE career.
Apart from getting the most out of the Rock, CM Punk also came close to breaking Undertaker's undefeated streak, a feat that very few wrestlers have managed to achieve.
Before his sudden departure from the WWE, it was quite clear that CM Punk's love for wrestling had slowly fizzled out. However, despite all this, CM Punk still managed to give wrestling fans some breathtaking matches in his final year as a pro-wrestler.
18. Batista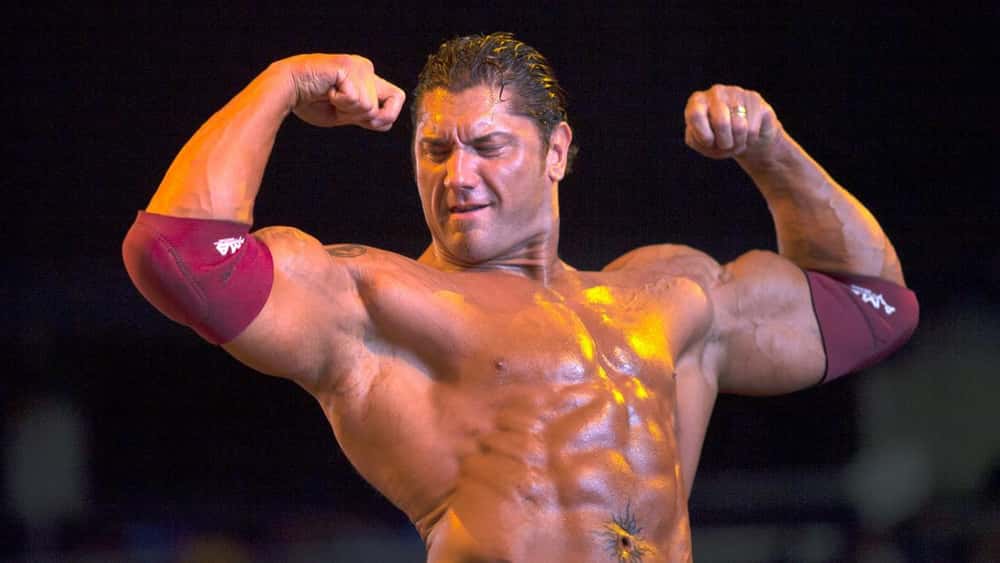 A 6-time world champion, "The Animal" is a wrestler who was simply too good during his prime years. Under the guidance of Evolution members, Ric Flair and Triple H, Batista transformed from an inexperienced wrestler into a title-worthy contender.
At Wrestlemania 21, Batista would win his first World Heavyweight title defeating his mentor, Triple H in one of the most exciting clashes the WWE has ever seen. Batista would go ahead and hold the title for an impressive 282 days.
Apart from winning the WWE Championship, Batista's impressive WWE career includes 2 Royal Rumble match wins, as well as wins over Randy Orton, John Cena, and The Undertaker.
On top of that, Batista also became the first man to defeat a dominant Triple H in a Hell in a Cell match.
17. Edge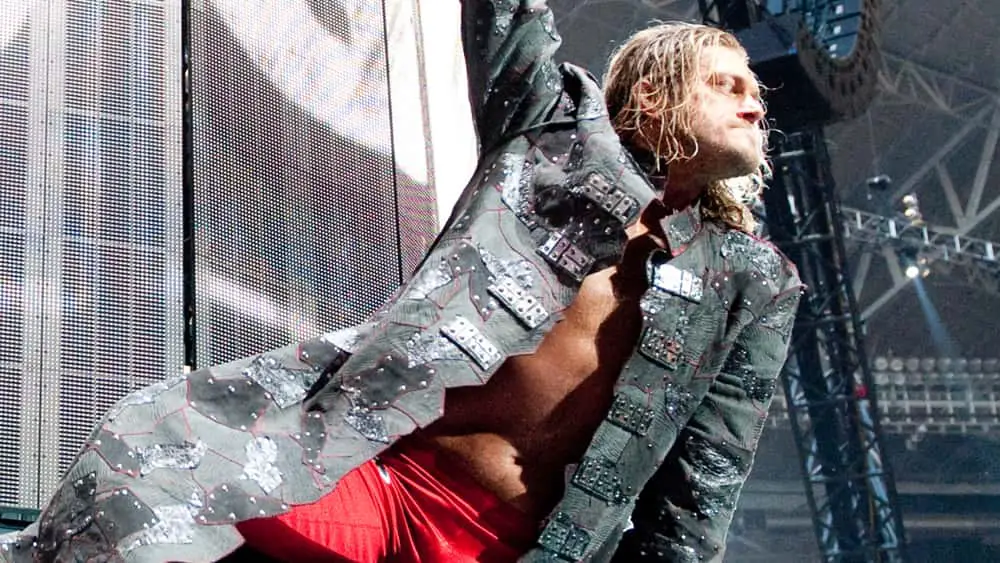 Apart from being one of the most talented wrestlers in the WWE, The R-Rated Superstar's accomplishment speaks volumes, considering he has held every single title in the WWE. During his early years, Edge joined the group The Brood, which included Gangrel and Christian
The Broods would later join The Undertaker's Ministry of Darkness, before ultimately breaking away. Christian, Edge, and the Hardy Boyz would ultimately play a crucial role in WWE's evolution as they invented different types of matches including TLC and Ladder matches.
Although Edge would dominate WWE's tag team division, he would ultimately be an iconic figure once he moved away from the tag team division.
16. Roddy Piper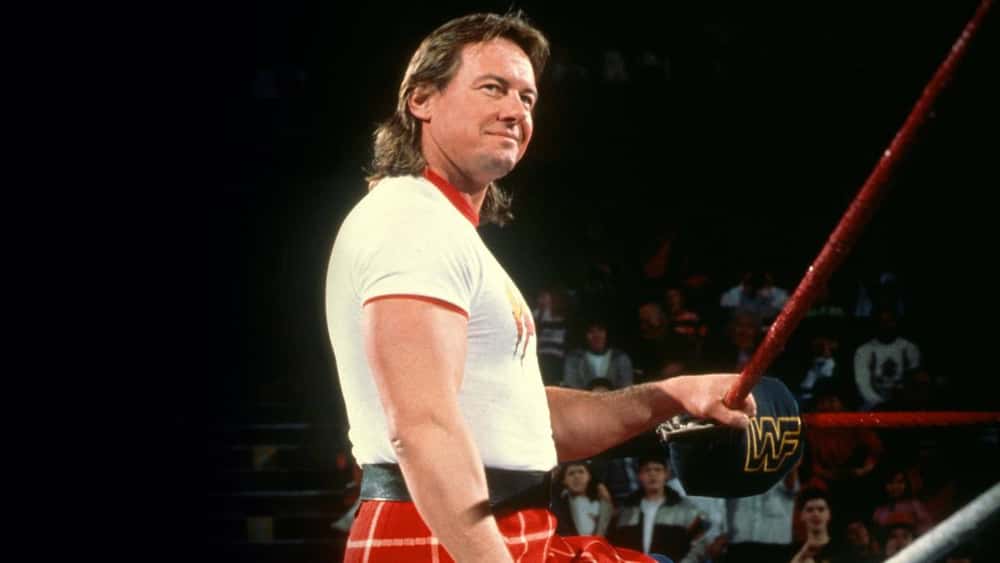 Before he became one of the greatest wrestling personalities and most hated heels in the WWE, Roddy Piper began as an amateur wrestler and boxer. Apart from being a great heel, Roddy Piper was a passionate, fiery, and scrappy babyface that the WWE Universe had no issue supporting.
What many wrestling fans did not understand was that Roddy Piper's great understanding of psychology and ability to get the crowds to react the way they helped him become the wrestler and personality eventually became.
Although he was not the greatest technical wrestler, Roddy Piper relied heavily on brawling, body language, facial expressions, and promos.
Piper's feuds with Ric Flair, Greg Valentine, Rick Rude, Adrian Adonis, Mr. T, and Eddie Guerrero remain one of the greatest feuds in WWE's history.
15. Chris Benoit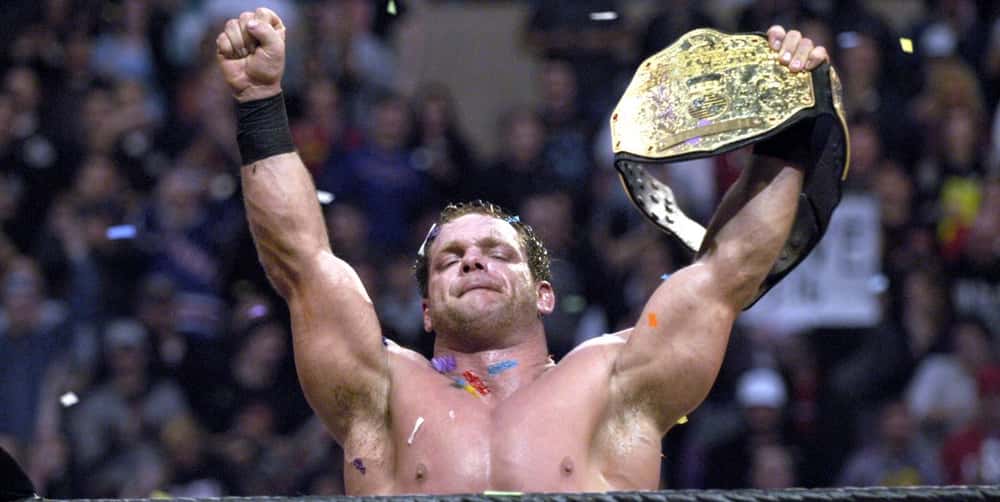 One of WWE's most technical wrestlers, Chris Benoit's wrestling abilities saw him become a member of the iconic Four Horsemen. With the WWE, Chris Benoit would quickly ascend to the main event winning the tag team, United States and tag team championships as well.
Chris Benoit would hold all these titles, it is his win at Wrestlemania 20 against the then WWE Champion, Triple that would cement his name in the annals of history.
Although Chris Benoit's illustrious pro wrestling career would be cut short by one of the biggest controversies in sports entertainment, he definitely left a mark in the industry.
14. Jeff Hardy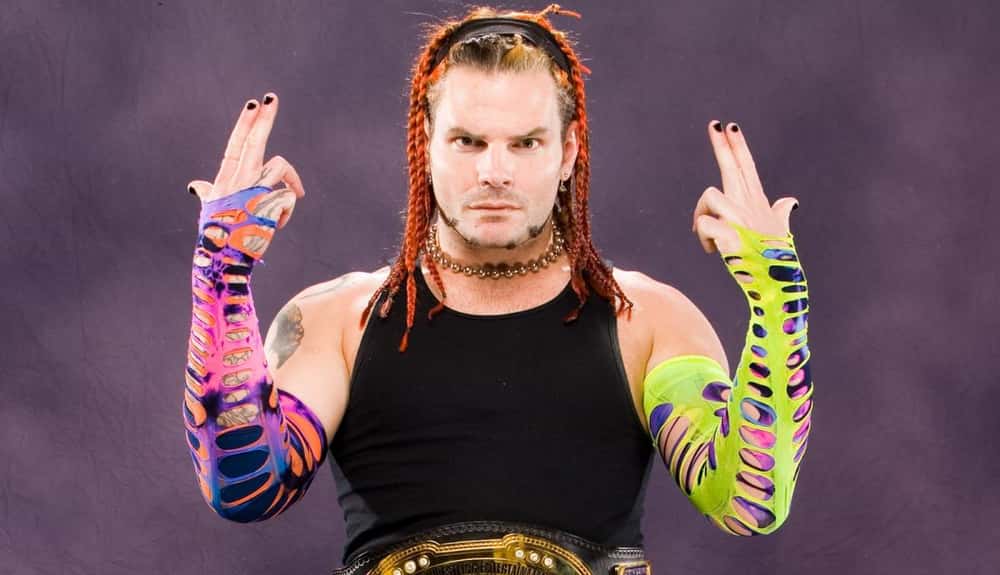 Jeff Hardy's recklessness, innovativeness, and risk-taking abilities saw him become one of the most loved wrestlers of all time. The Charismatic Enigma's no-die attitude saw him receive beatings which would only make the WWE Universe cringe.
Matt and Jeff Hardy began wrestling for the WWE during their teen years and would later on become household names. With Christian, Matt, and Edge, these four wrestlers would play a key role in WWE's history by bringing forth new and exciting match types.
In his illustrious wrestling career, Jeff Hardy would be involved in what many have termed the greatest ladder matches of all time. A daredevil of his own caliber, Jeff Hardy does not shy away from stunts that would simply end his career if anything was to go wrong.
13. Bill Goldberg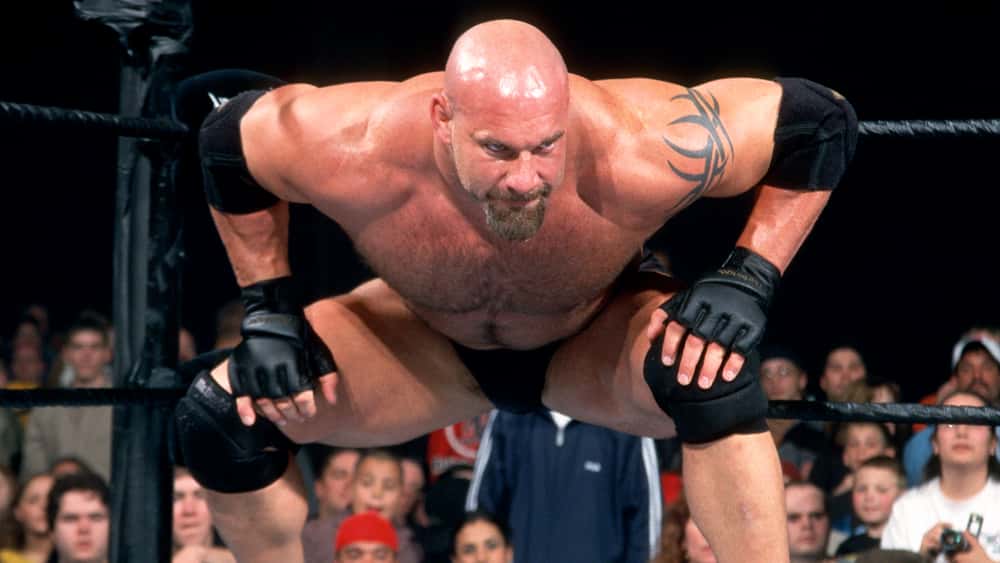 Before signing with the WWE, Bill Goldberg was already a renowned wrestling superstar with WCW. Goldberg was not only among the few people to cleanly defeat Hulk Hogan but he also debuted with an inconceivable undefeated streak.
However, due to poor decision-making with WCW's creative team, the company ultimately fell apart forcing many of its main stars to sign up with other promotions.
After WWF finally acquired WCW, WWF fans had to wait for nearly two years before Bill Goldberg made his official debut with the company.
Goldberg's brief stint with the WWE led to some amazing matches. However, Bill Goldberg would ultimately depart from the company before returning 12 years later declaring that he still had one more match left in him.
12. "Macho Man" Randy Savage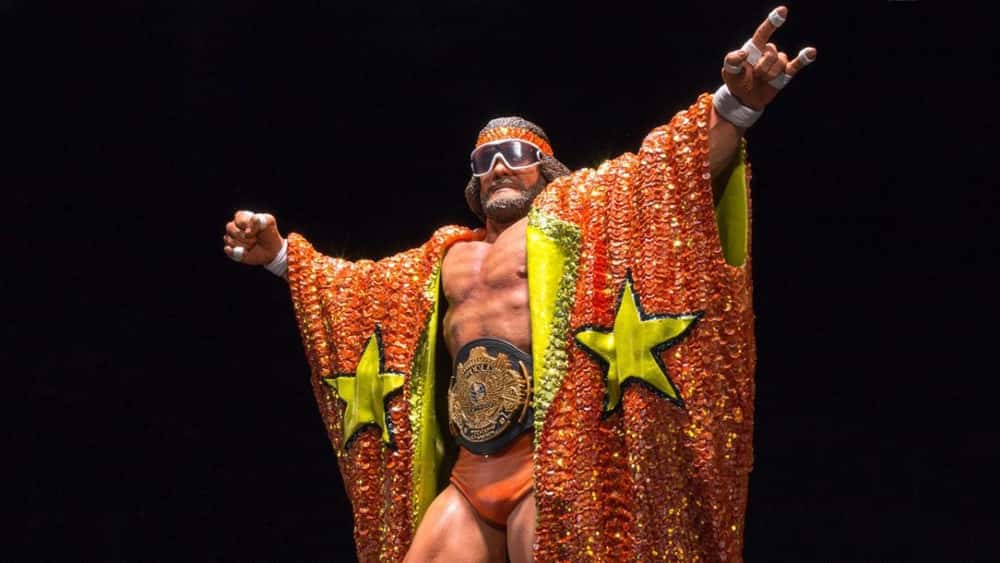 A 2015 Hall of Fam inductee, Macho Man Randy Savage is a wrestler who shortly after his debut proved that he could not only go toe to toe with WWF's biggest stars such as Hulk Hogan but also excel as well. Apart from his larger-than-life personality, Macho Man possessed an in-ring ability that very few wrestlers could match.
Like Hulk Hogan and many other household names at the time, Macho Man's feud and rivalries played a key role in establishing the company as the top dog in Wrestling Promotions.
A king of the ring winner and a 6-time world champion, Macho Man's superstar appeal, and in-ring abilities could only be rivaled by very few wrestlers at the time.
Although he spent a bigger part of his career as a heel, Macho Man also played face when he needed to and Oooh Yeaah, he pulled it so well.
11. Triple H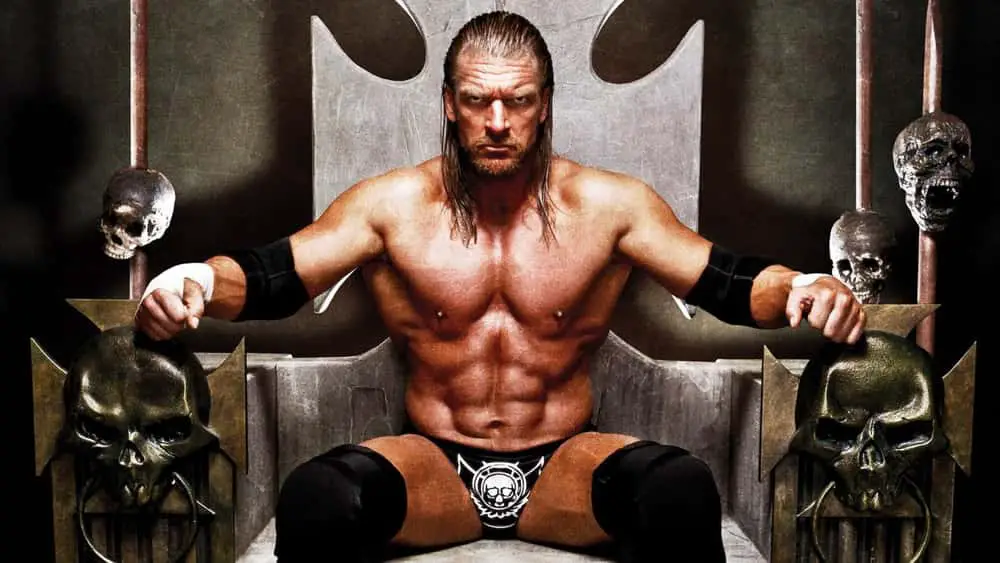 The Cerebral Assassin is undeniably one of the most decorated wrestlers to ever step into the squared circle. For more than 15 years, Triple H has been quite consistent with only a few wrestlers such as Shawn Michaels and The Undertaker overshadowing the longevity of his WWE career.
An all-around talent, Triple H's promo work has always been solid while his in-ring abilities have always been exceptional.
His early days with DX saw a young and promising Triple H heavily featured in the mid-card before ultimately to the main scene.
Like Stone Cold, The Undertaker, Mankind, and The Rock, Triple H played a crucial role in leading the company during a new and exciting era, the Attitude Era, an era that many wrestling fans would hope to experience all over.
Although Triple H's affiliation with the McMahon family has always been a highly contentious issue, it will be unfair to say that all of Triple H's world titles were not deservedly won.
10. Eddie Guerrero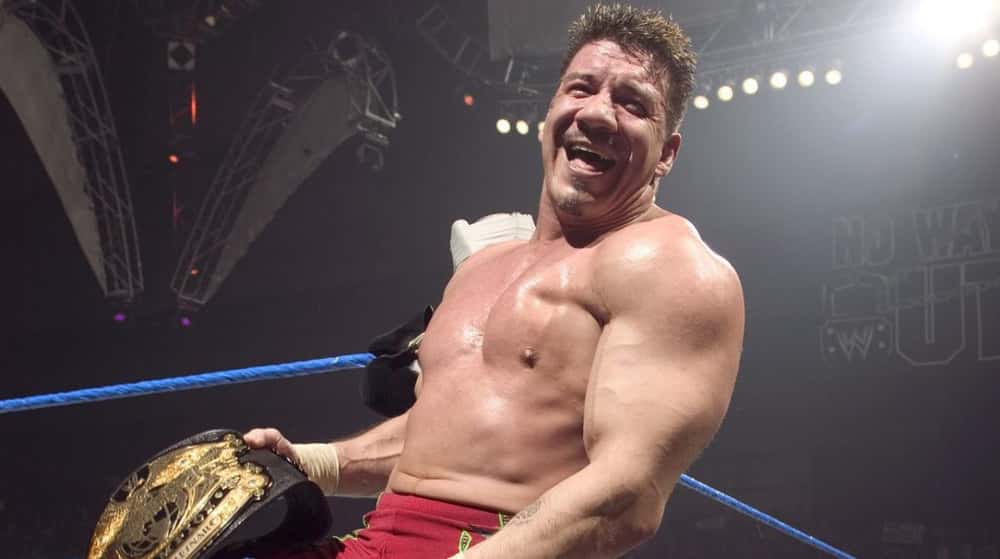 With a larger-than-life persona, The Latino Heat was a wrestler whose mantra of lie, steal and cheat made him an improbable fan favorite. Despite his unacceptable approach to wrestling, Eddie Guerrero still managed to become one of the company's top wrestlers.
Unlike most wrestlers, Eddie Guerrero did not need a push from the WWE. His storytelling mixed with some crisp and quick wrestling speeds was unmatched in the WWE.
Although Eddie Guerrero possessed superb in-ring abilities, it is his personality and charisma that would propel him to become one of the best wrestlers of all time.
Throughout his career in the WWE, Eddie Guerrero was involved in some amazing and memorable bouts against seasoned wrestlers such as Kurt Angle, Rey Mysterio, Chris Benoit, and Rey Mysterio.
9. Mick Foley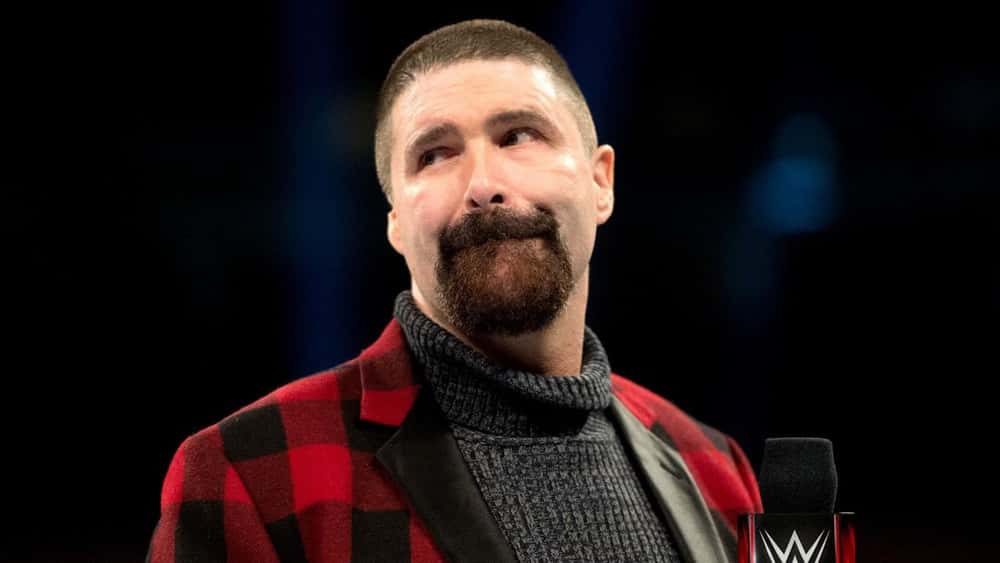 If there is a wrestler who perfected the art of creating personas then it has to be Mick Foley. From Man Kind to Mick Foley to Dude Love to Cactus Jack, Mick Foley definitely had a plethora of personas to keep the fans entertained.
Mankind's gimmick revolved around an unstable, boiler-living freak with whom Mick Foley infused some comedic element to make sure that the fans could relate to him.
With the WWE, Mick Foley had some memorable moments including jumping off a Hell-in-a-Cell structure to feuding with The Undertaker.
Mick Foley's feud with The Undertaker remains one of the most entertaining feuds of all time, considering the two wrestlers had some amazing chemistry.
While the Mankind gimmick remains one of Mick Foley's best gimmicks, it is his Cactus Jack persona that always stole the show. Cactus Jack was a disturbed individual who was quite obsessed with thumbtacks and barbed wires.
On top of that, Cactus Jack always got satisfaction when his opponent was not able to stand up due to the pain inflicted on them. This obsession with pain and disabling the opponent ultimately turned Cactus Jack into one of the sadistic wrestlers of all time.
8. Shawn Michaels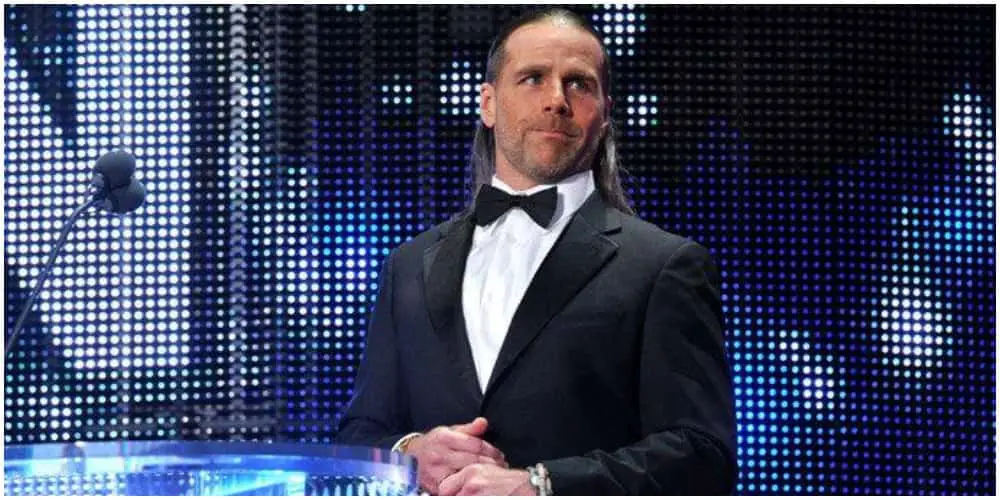 One of the greatest in-ring performers the world has ever seen, Shawn Michaels is an amalgamation of different things; actor, comedian, acrobat, and wrestler. One of the rarest breeds of wrestlers, The Heartbreak Kid knew exactly how to captivate audiences, especially when it came to cutting promos.
Michael's fusion of the Lucha Libre style of wrestling with captivating storylines was one of the few things which ensured that Michaels's name was engraved on Mount Rushmore of wrestling.
In just 25 years, Shawn Michaels managed to become the first-ever Grand Slam champion.
He also became the first-ever wrestler to compete in a ladders match and the first wrestler to compete in a Hell in a Cell wrestling match. During the early years, seeing Shawn Michaels's name on the match card meant that you were going to get nothing short of a 5-star performance.
7. Ric Flair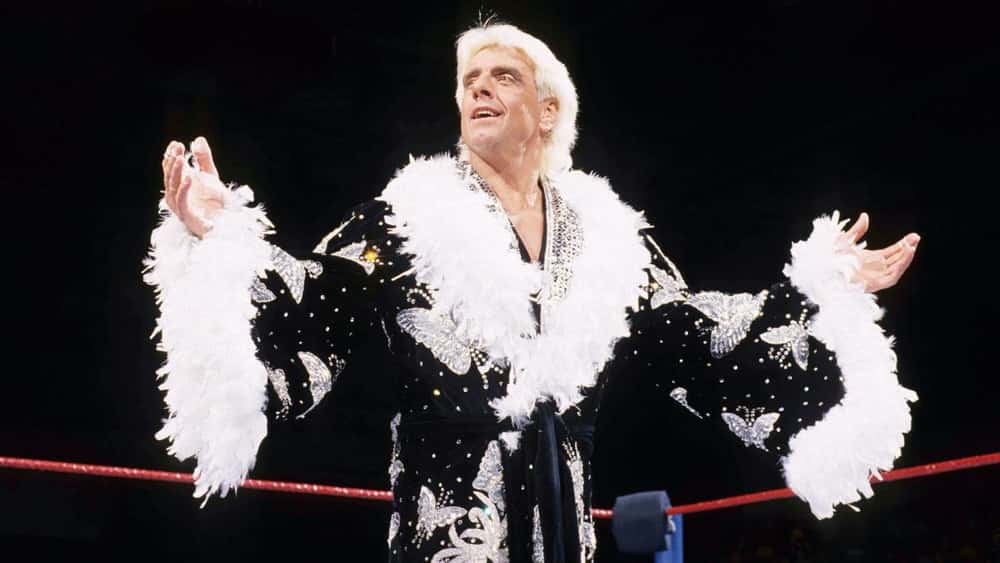 Ric Flair's charisma, mic skills, and ability to cut promos made him one of the top superstars in the WWE. Although Ric Flair spent his early years with AWA and NWA, it's with the WWE that the Nature Boy would realize his full potential.
After surviving a plane crash and a broken neck, Ric Flair returned to the Mid-Atlantic Championship Wrestling within a year and became a main-draw with the promotion battling it out with the likes of Andre the giant, McDaniel, Dusty Rhodes, and Ricky Steamboat.
By the mid-'80s Ric Flair had already become a dominant force in the world of professional wrestling such that he even received his own faction dubbed "The Four Horsemen".
In the year 1991, Ric Flair was forced to jump ship terming the main cause for his switch of alliance to be caused by a lack of respect and bad ideas.
In the WWE, Flair brought the NWA Gold and proclaimed himself to be the real-world champion in front of the WWE fans. Although Flair's stay with the WWE was quite short, he indeed proved to be a wrestling royalty.
7. John Cena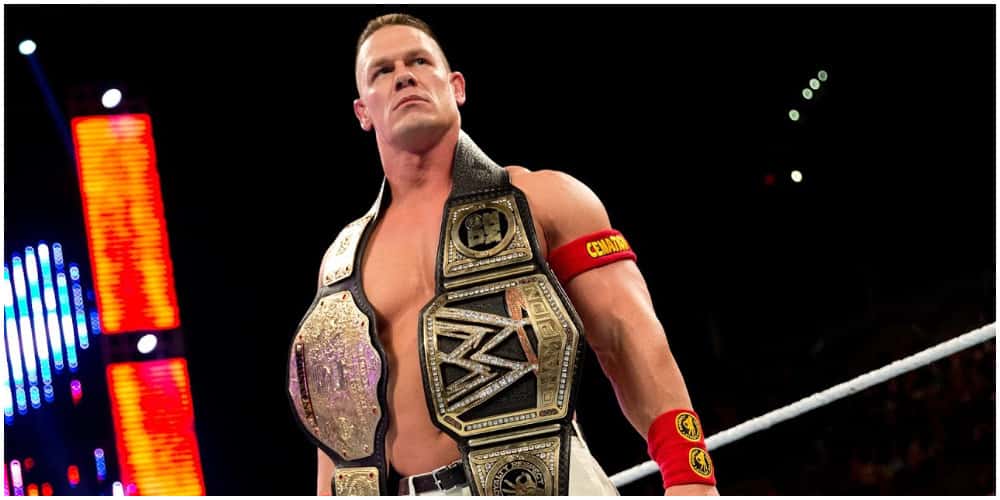 Arguably one of the greatest WWE champions of all time, John Cena's meteoric rise in the WWE saw him win multiple titles. By the end of his WWE, John Cena had managed to win a whooping 17 world titles, making him the most decorated wrestler in the history of the WWE.
Despite his impressive run with the promotion, John Cena remains one of the most criticized stars. Apart from his somewhat minimal arsenal, many wrestling purists were also quick to point out that the Cena was a board room project due to the massive push the wrestler received earlier on his wrestling career.
Moreover, there were those fans and purists who also argued that Cena was not a solid ring worker. Thus, many at times he often relied on his impressive mic skills and ability to sell matches with his unique and captivating promos.
However, after his successful transition to making movies, more and more wrestling fans continue to show appreciation to John Cena's contribution to pro-wrestling. Like all the other wrestlers who excelled during the Attitude Era, Cena was a graduate of WWE's development program, Ohio Valley Wrestling.
Unlike most wrestlers, Cena has an innate ability to get the most out of a lesser opponent. Cena's ability to get the most out of any wrestlers, in turn resulted in so many classic matches.
For instance, on 23rd April 2007, John Cena took on Shawn Michaels in a match that is now considered to be one of the greatest WWE matches of all time.
Other wrestlers who graduated alongside Cena include Randy Orton, Brock Lesnar and Dave Batista. The Class of 2002 is considered to be OVW's most successful class as all these wrestlers went ahead to become world champions.
6. Hulk Hogan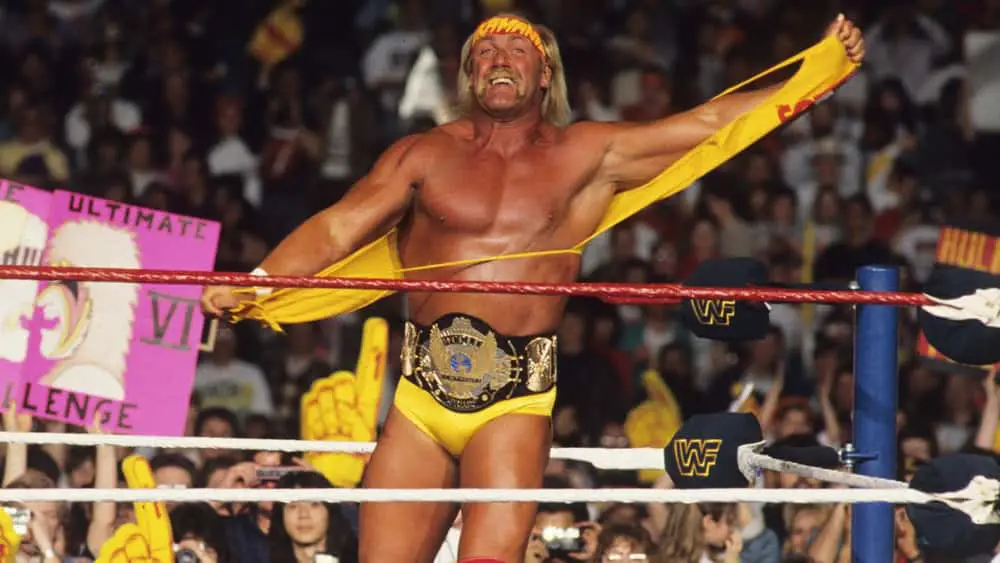 The Hulkmania's superstar appeal and mic skills made him one of the most memorable superstars in the WWE. At a time when Vince McMahon was more than determined to go national, Hulk Hogan played a vital role in helping the company reach new heights.
The biggest superstar the WWE has ever seen, Hulk Hogan headlined against various renowned superstars at the time including Roddy Piper and Big John Studd.
By combining mainstream celebrity and professional wrestling, Wrestlemania became the biggest event of the year while Hogan became the biggest star in the industry.
Although he would ultimately pass the torch to The Ultimate Warrior, Hogan's influence in shaping the WWE into what is today is definitely something to be admired.
5. Kurt Angle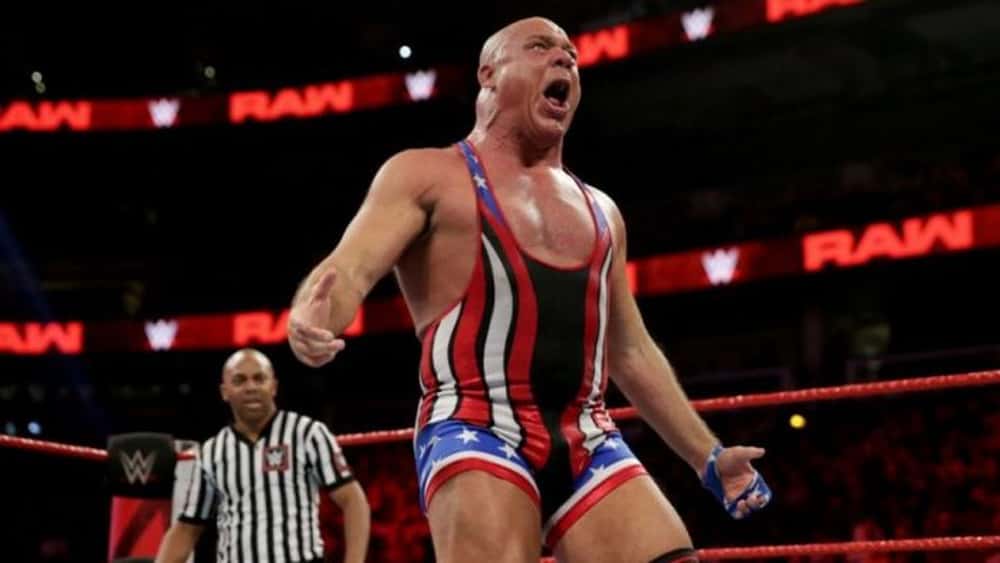 Widely known as the "Olympic Champion" Kurt Angle's mat work and submission spoke volumes about Angle's wrestling skills and experience. An amateur wrestler, Kurt Angle's debut into the world of pro-wrestling in 1999 marked as the starting point of what would eventually become one of the most impressive wrestling careers.
Kurt Angle's work ethic and determination as an amateur wrestler, saw him compete in the 1996 World Olympics with a broken neck.
A year after his debut, Kurt Angle struck gold by defeating Chris Jericho for the Intercontinental Champion.
The Olympic Champion would then go ahead and become the European Champion by defeating Chris Benoit, marking his reign as both The European Champion and the Intercontinental Champion. In 2000, Kurt Angle went head to head with The Rock for the WWE World title.
Kurt would put a final nail in what many have termed as the "Greatest Rookie Year" by defeating The Rock and becoming The World Champion within his first twelve months with the company.
4. The Undertaker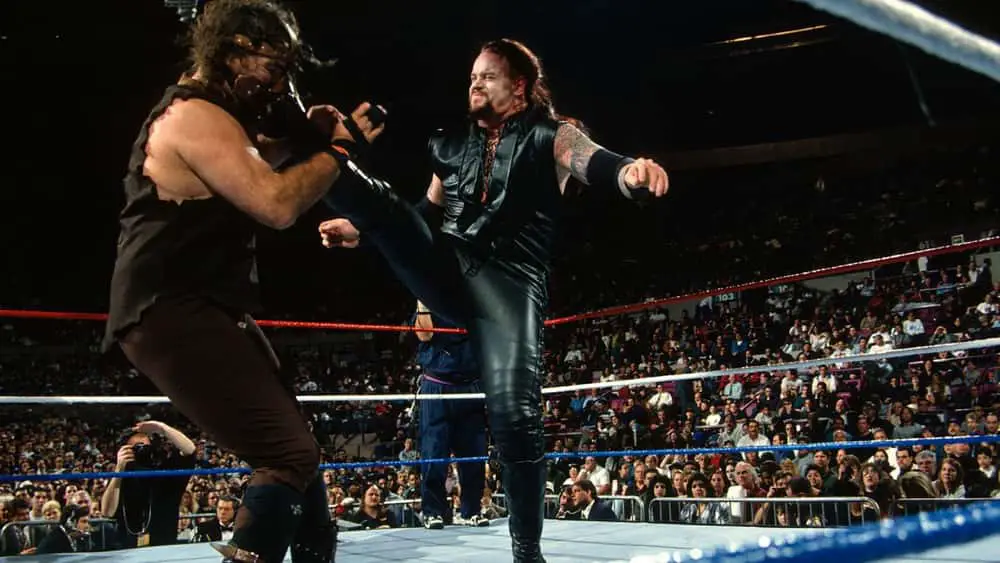 One of the most iconic figures in the WWE, The Deadman Undertaker's ability to dominate matches and commanding presence, and intimidating aura made him one of the most revered men in sports entertainment.
Throughout his 40 year career, The Undertaker has portrayed a variety of gimmicks.
From The Deadman to The Lord of Darkness to The American Bad Ass to The Phenom, The Undertaker has been nothing short of impressive.
For more than four decades, Undertaker's gimmick has been a fan favorite outliving some of the most memorable characters such as Jake "The Snake" Roberts and Hulk Hogan.
3. Bruno Sammartino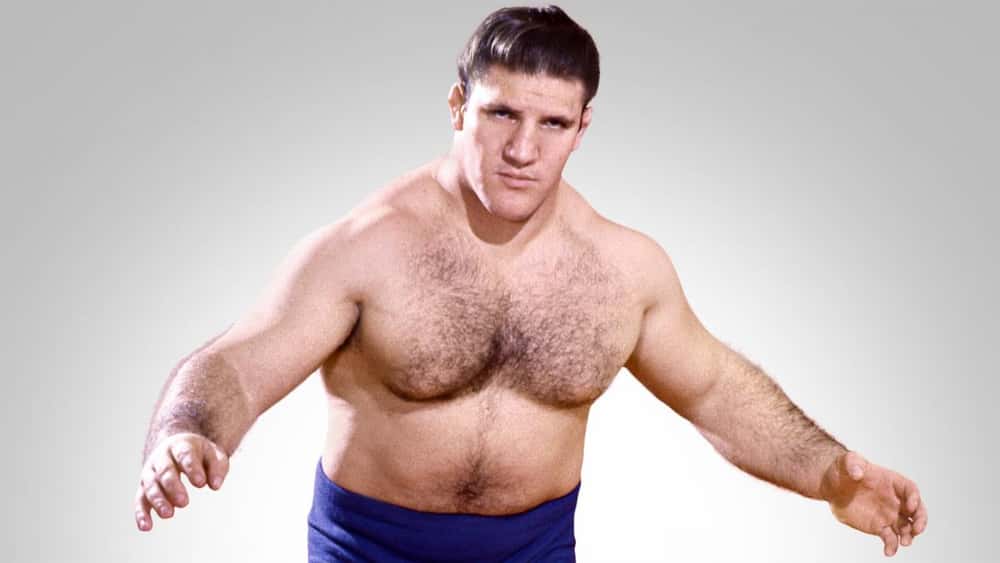 One of the greatest WWE wrestlers the world of wrestling has ever seen, Bruno's was a quite impressive reign as champion lasted for 4,040. Bruno was the biggest name in wrestling, at a time when wrestlers donned simpler ring wear, the line between the heels and faces was quite distinct.
After winning the WWWF World Championship gold in 1971, Bruno Sammartino would go ahead and hold the title for 8 good years. Sammartino's unimaginable title reign speaks volumes of his staying power and durability.
During his impressive title reigns, other promotions would send their best wrestlers to face Sammartino.
As expected, all these wrestlers would fall at the hands of the Italian Superman. However, the champion would later come to detest the company such that he no longer wanted to have any sort of association with a company that he once called home.
According to Bruno, wrestling had changed so much that he even failed to recognize it. Apart from encouraging the use of vulgar language, wrestling had also become a den for drug users.
Despite the politics that later came into play, Bruno Sammartino remains the greatest WWE champion and also the biggest wrestler in the 60's and 70's.
2. The Rock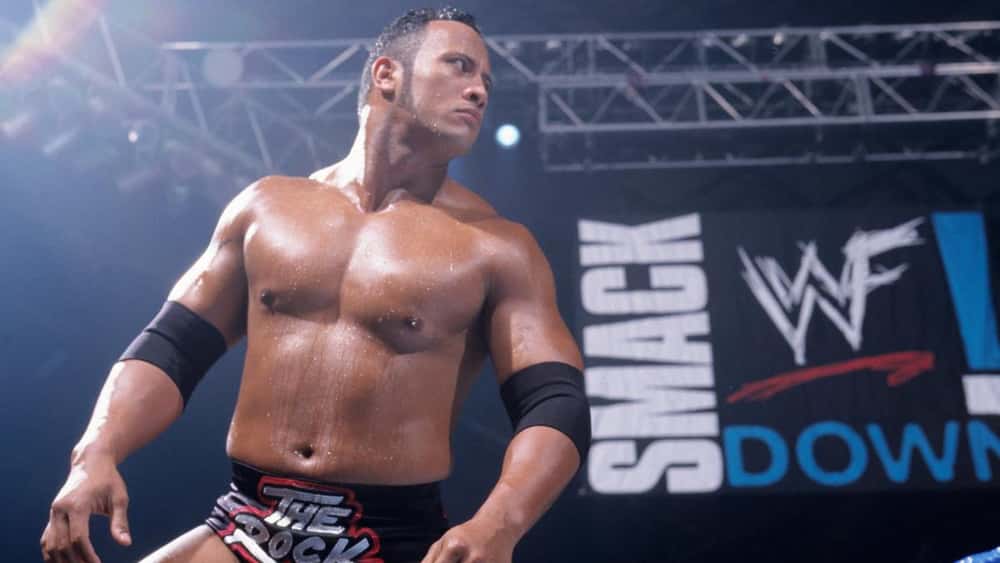 The most electrifying wrestler of all time, The Rock's ability to cut promos especially with his verbal smackdown made him one of the most recognizable faces and best wrestlers in the WWE. The fan's favorite bully, The Rock would make fun of just about anyone from the WWE Chair, Vince McMahon to the interviewers such as Mark Lloyd.
The great thing about The Rock was the fact that he could back his words in the squared circle. One of the most decorated wrestlers of all time, The Rock is a 10-time world champion, a one-time Royal Rumble match winner, and a 5-time, WWE tag team championship winner.
His feud with Stone Cold Steve Austin remains one of the most memorable feuds of all time. As expected, the feud involved some back and forth between the Rock and Stone Cold including some ridiculous takes on Stone Cold.
While the attitude era produced some of the biggest wrestlers of all time, The Rock is one of the biggest stars of the time.
1. Stone Cold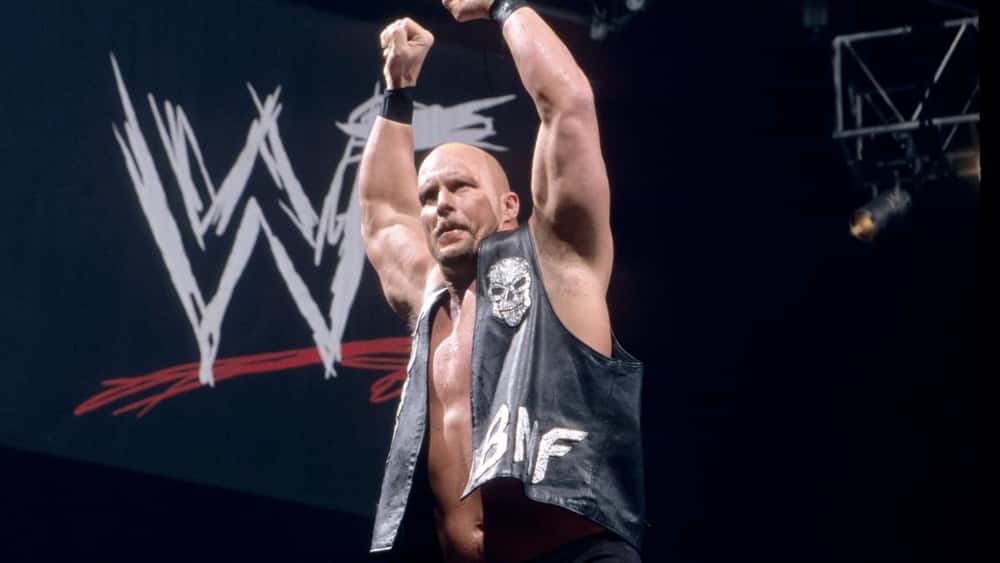 Stone Cold Steve Austin is the greatest wrestler of all time. Although it's difficult to compare between The Rock and Stone Cold, considering that both men are outstanding in their own unique ways, Stone Cold tops this list mainly because of the crucial role in saving the company and also for laying the foundation for many wrestlers who would later come into the company.
Without Stone Cold, it is quite hard to simply tell what would have happened to the WWE. At a time, when WCW was slowly gaining ground to the WWE, The Texas Rattlesnake was among the crucial players who sealed WWE's eventual triumph over WCW.
Like The Rock, Stone Cold was a wrestler who knew exactly how to captivate the audience. Throughout his illustrious 15-year WWE career, Stone Cold delivered some exciting moments including his Wrestlemania 13 match against Bret "The Hitman" Hart and his last match with "The Rock.
An anti-authority hell-raiser, Stone Cold is a wrestler who could not hesitate driving a beer truck into the ring just to piss off The WWE Chair, Vince McMahon.
He would even go further and orchestrate a series of unprecedented attacks on the WWE chair including the famous "Paging Dr. Austin" scene, where he attacked the chairman while he was recuperating in the hospital.