5 Best Golf Ball Retrievers in 2022 to Recover Your Lost Ball
Over 300 million golf balls are lost every year. Equip your golf bag with one of the best golf ball retrievers, suggested by SportLister!
Last updated on July 29th, 2022 at 02:33 am
The Best Golf Ball Retrievers
Losing a golf ball is probably the most frustrating thing that can happen on the course, but it does happen. Every year, over 300 million golf balls are lost in the United States alone. Finding the best golf ball retrievers can allow you to find your ball and finally stop throwing money away. Whether you're a pro or just enjoy playing golf, you've probably lost your ball a few times. It's undeniably part of the game.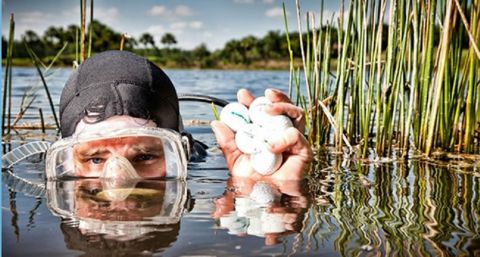 If you're a pro, you already know that a golf ball retriever is one of the most important pieces of equipment on the course. If you're a beginner, you're probably already learning this. Having a golf ball retriever on hand is comparable to hiking with a hiking pole. You can survive without it, but it is a smart piece of equipment that is incredibly useful. It not only saves you money, but it also makes you some.
One option to stop losing your golf balls is to stop them from slicing. Check out our review on the best low-spin golf balls to stop having to retrieve them in the first place!
Choosing the best golf ball retriever is not as simple as it sounds, which is why we did all the work for you and compiled a list of some of the best ball retrievers on the market this year.
The Top 5 Best Golf Ball Retrievers
There are various types of golf ball retrievers, each with its own set of features, benefits, and drawbacks. Listed below are my top 5 best golf ball retrievers.
Key Features
The shaft is made of stainless steel
The head is constructed of plastic.
Enclosure mechanism with a spring release
There are three length options.
This ultra-compact retriever from IGotcha is at the top of our list. The spring release on this retriever makes it simple to pick up the ball. The spring secures the ball so there is no worry about it falling out. It reaches a length of about 14 feet and collapses to just 21 inches. Its attractive design and versatility—it is simple to use for both professionals and beginners alike—make it the best golf ball retriever on the market.
Pros
Outstanding ball security
When retractable, it is small enough to fit into small spaces in your bag.
It is lightweight
Allows for quick retrieval
Cons
Does not work well on soft turfs, such as mud.
The material is not as strong as some other alternatives.
Key Features
This premium golf ball retriever from Callaway is the next item on this list. It is unquestionably superior to the IGotcha in terms of overall quality, and it only missed out on the top spot due to its weight and price. It is the most costly item on this list. This retriever is well-made, with an ergonomic handle that allows you to reach your ball from any angle. It is available in a 6-foot short length and a 15-foot long length.
Pros
The grip is ergonomically designed for easy handling.
Highly durable
Superior design and materials
Beautiful bag cover
Cons
The spring release unit may become clogged.
Heavier than most alternatives
Key Features
If you frequently play golf in the mud and require a high-quality golf ball retriever, this retriever will certainly be very useful. The Prowithlin retriever is a popular choice on the course. This retriever's automatic closure scoop design is an excellent feature, allowing golfers to pick up and secure their lost ball in the blink of an eye. It is admittedly difficult to use, so it is better suited to professionals than beginners. However, once mastered, it becomes second nature and quickly becomes your favorite retriever.
Pros
Spare grabbers with a simple coupling
Anti-rust stainless steel material
When collapsed, it easily fits into a pocket.
Ideal for golfers with back issues.
Cons
Relatively short
Not too suitable for beginners.
Key Features
If the length of your golf ball retriever is important to you, the JP Lann retriever is by far the best option. The retriever has four length options that extend up to a maximum length of 18 feet. The JP Lann has two cup types: pressure and hinge. Both use a unique rotating cup system to scoop up the ball and secure it until it reaches the golfer.
Pros
180⁰ cup rotation
Nonslip rubber grip
The shaft is made of aluminum
Excellent locking mechanism.
Key Features
IGotcha's second product on this list. The most desirable feature of a golf ball retriever is most probably its compactness when collapsed, and the IGotcha Jawz excels in this regard. Despite reaching a maximum length of 18 feet, the stainless steel lightweight collapses to a compact 20 inches.
The cup is another feature of this retriever. Jawz, as its name suggests, has a rough, rubberized inside that secures the ball when picked and prevents it from slipping off on its way up.
Pros
Compact and lightweight design
There are three length options.
Durable shaft.
Cons
The handle does not support a two-handed grip.
Buying the right Golf Ball Retriever
Now that you've learned about the best golf ball retrievers on the market, let's look at the features and specifications that go into making one. It is best to be aware of these characteristics before deciding which one to purchase.
Maximum Length
The maximum length to which the golf ball retriever can stretch out is the first important feature to look for. Retrievers range in length from short, sturdy six-foot-long retrievers to long, retractable 18-foot-long retrievers.
The length is important to choosing a retriever. Short retrievers are ideal for picking up a ball from a short distance, ideally on flat, desert turf. They will, however, constrain you. Longer retrievers are better suited for playing on muddy grass or on turf with shrubs and/or ponds, where you frequently have to reach the ball in deeper locations.
Also, the length of your golf ball retriever will determine how much space it takes up in your bag, so keep that in mind.
Ball Security
A golf ball retriever's goal is to grab the ball and successfully return it to the golfer. This is why a retriever's ball enclosure mechanism is the second most important feature to look for. The enclosure secures the ball so it will not fall out when picked up.
Golf ball retrievers are typically made of two enclosure designs: the cup design, which scoops the ball into the safety, and the spring release, which has a spring that snaps tight to the ball and holds it in place. This enclosure type provides better ball security than the cup but requires more pressure from the moment the ball is trapped and is more expensive.
Ease of use
Aside from losing your ball, one of the most frustrating things that can happen on the course is finding it, successfully picking it up, only to lose it again on the way up. You should purchase a retriever that is simple to use, has an effective scoop design, and is lightweight, particularly if it is long.
Handle
Another consideration when purchasing a golf ball retriever is the handle. Some retrievers have standard golf stick handles with firm grips to keep the retriever firmly in your hand. Others have ergonomically designed handles that allow for a custom fit and a firm grip when held.
You'll want to get one with a solid handle that won't slip off your hands when you're using it. The majority of handles are made of materials that are easy to grip, tacky, and flexible, usually rubber. Also, keep in mind that a good golf ball retriever should work in all weather conditions.
Stability and strength
The stability of your golf ball retriever is critical to how much use you will have with it. Consider the strength of your retriever. You don't want to break your retriever on top of losing your ball. Having strong retriever material will lessen the likelihood of it breaking.
For obvious reasons, the stability of a golf ball retriever is directly proportional to its length. Short retrievers are more stable than long retrievers. Longer ones, on the other hand, lose stability as they stretch. Most golf ball retrievers are telescopic, which means that at maximum length, the retriever is less dense and thus less stable.
Choose the right material for your retriever. It can determine the strength. The majority are made of aluminum, but they can also be made of wood. While this is unimportant for short retrievers, it is a disadvantage for longer retrievers because aluminum is not as strong as wood.
Conclusion
By and large, your needs and budget determine the best golf ball retrievers. Chances are you'll try quite a few before settling on a favorite. However, with this list, you already know what to buy and it also serves as a reliable guide for what to look for and avoid.