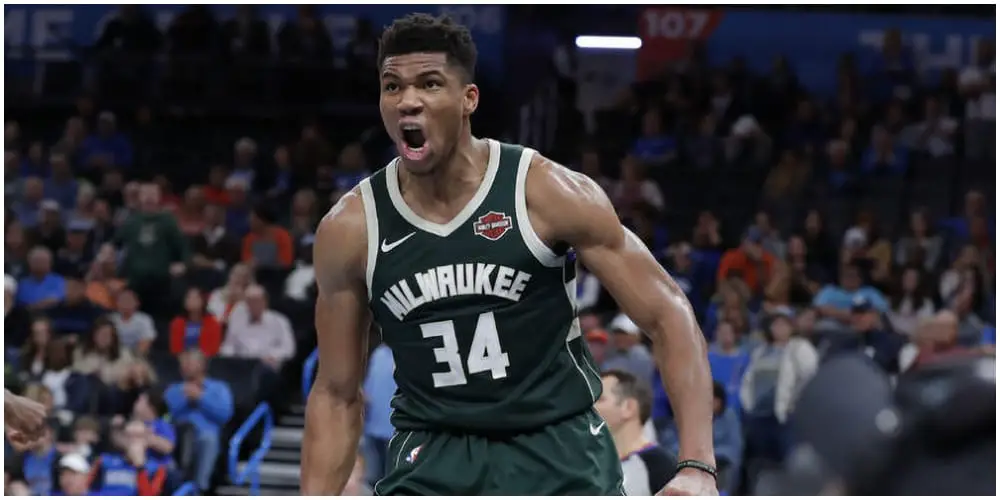 Giannis Antetokounmpo Biography, Facts, NBA Salary, Net Worth, Endorsements & Deals
Last updated on May 8th, 2022 at 11:21 am
The Greek Freak's exceptional athleticism and ability to close out matches has made him a well-established powerhouse in the NBA. Despite making his NBA debut in 2015, Giannis' rise to stardom has been nothing short of spectacular. In just four seasons in the NBA, Giannis Antentounmpo has already become a two-time NBA league MVP, winning the highly coveted price back to back in 2019 and 2020.
Although he is yet to make an appearance in the NBA finals, Giannis's future looks quite promising as he is within his late 20's. Looking at Giannis's career in the NBA so far, there is a striking resemblance between his and that of Kobe Bryant. Like Kobe, Giannis never went to college and was drafted at number 13 in the NBA draft.
Also, neither did Bryant nor Atentokoumpo do well in their rookie year with both players averaging about 7 points per game. Both players competed in the NBA dunk challenge during their early years in the NBA and failed to win the title. Although Atentekoumpo is yet to win an NBA title like Kobe, it's quite clear that his career is on an upward trajectory considering he's still in his mid-twenties and also on the right track.
| | |
| --- | --- |
| Real Name | Giannis Antentekoumpo |
| Nicknames | The Greek Freak |
| Father | Charles Antentekounmpo |
| Hobies | Guitar Playing |
| Favourite Basketballers | Magic Johnson, Kobe Bryant, Kevin Garnet |
| NBA Salary | $47 Million |
| Networth | $60 Million |
| | |
Early Life
Giannis Sina Ugo Antetokounmpo was born on 6th December 1994 in Greece to two Nigerian immigrants. Three years after Giannis's birthday, his family relocated back to Lagos, Nigeria leaving behind Francis, their eldest son with his grandfather and grandmother. Despite the fact Giannis and his brothers were born in Greece, they could not receive full citizenship due to the jus sanguinis law.
The far-right nationalists in Greece played a key role in fueling the country's economic problems and in making immigrants target of abuse. All these factors made life extremely difficult for the Antetokounmpo's.
For about 18 years, Giannis was neither a Greece nor Nigerian citizen. However, in 2013, Giannis ultimately received his Greece citizenship, while their family had to change their surnames from Adetokunbo in a bid to follow the country's spelling rules. Because his parents could not legally work in Greece, their old brother became the family's breadwinner by hawking sunglasses, handbags and watches.
Basketball Career
Filathlitikos
In the year 2007, Giannis began playing basketball and two years later Filathlitikos signed Giannis. While he played for the team, the entire team management knew what Giannis and his family were going through and thus from time to time the coaches gave Giannis some cash to take back to his family.
In addition, the team also played a crucial role in helping out Giannis's mother in finding work. After seeing the potential that Giannis had, coach Sprisos Velliniatis managed to convince the other two Antetokounmpo brothers to join the game. In his late teen years, Antetokounmpo was already a well-established name as NBA scouts traveled from the US to Greece to see him play.
Many scouts and coaches were talking about Antetokounmpo's ball-handling, decision making and court vision. Thus, renowned basketball heads including The Rockets and Thunder general managers all travelled from the US just to see Antetokounmpo play. By 2011, Giannis joined the club's senior men's team who were participating in the Greek Basket league. After turning 18 years, Giannis signed for CAI Zaragoza, a well-established Spanish club. Antetokounmpo signed a 3-year deal with the club worth $325,000.
Apart from the inclusion of a four-year option, the contract also included a buyout clause in case any of the teams in the NBA or Euro league came in calling.
Milwaukee Bucks
The following year, Antetokounmpo availed himself for the 2013 draft. The Milwaukee Bucks selected him as the 15th overall pick. Giannis would make his NBA debut on 13th October 2013.
In his rookie season, Giannis Antetokounmpo averaged 6.8 points and 1.9 assists in 77 appearances for the club. Giannis was ranked number 11 in the rookie's leading scoring board and 4th in rebounds. On 22 occasions, Giannis led the Milwaukee Bucks in blocks.
By the end of his first season with the club, Giannis finished with 61 blocks. After his impressive rookie season with the club, Giannis was selected for the Rising Star Challenge during that year's NBA All-Stars in New Orleans. At the game, The Greek Freak tallied 9 points, 2 rebounds, and 2 assists in just 17 minutes of playtime.
During his second season with the club, Giannis averaged 19.5 points, 11 rebounds, and 3.3 assists per game. In addition, Giannis dropped 10 double-doubles and delivered a career-high of 29 points against the New Orleans Pelicans. Just like his first season, Giannis' second season was also quite impressive such that he became the second-youngest player after Lebron James to drop such numbers.
In his third season with the team, Giannis averaged 35.3 points, 16.9 rebounds and 8 assists per game. The Greek Freak was also able to drop his first triple double in the NBA. In his game against the Los Angeles Lakers, Giannis dropped 27 points, 12.0 rebounds and 10.0 assists. Also, Giannis was also able to drop 5 tripe doubles and a career high of 34 points, which came against the Chicago Bulls.
During the 2016-2017 season, Giannis made a total of 80 appearances and averaged an impressive 22.9 points, 8.9 rebounds and a career high 5.4 assists. This historic season saw the Greek Freak become the first player in the NBA to appear in the league's top 20 list in total points, assists, rebounds, steals and blocks per game.
Giannis also tied with Karim Abdul Jabari in the Buck's all time triple double list. During this season, Giannis also won the game for his team by hitting the game winner against The New York Knicks in the final seconds of the game. In his game against the Los Angeles Lakers, Giannis made history by dropping a career high 41 points, which saw him become the second player in Bucks history to hit 40+ points in a game.
Giannis Antetokounmpo Salary, Net Worth, Endorsements & Deals
Giannis Antetokounmpo Salary
With an annual salary of $47.6 million, Giannis Antetokounmpo is undeniably one of the highest-paid athletes in the world. In the year 2016, Giannis Atentekounmpo signed a $100 million contract extension with the Milwaukee Bucks which was expected to the run-up to the 2020-2021 season. Currently, Giannis sits at number 44 on the Forbes world's highest-paid athletes list.
In his rookie season with the Milwaukee Bucks, Giannis Antentekounmpo earned $1.8 million. Although his earnings were below the $2 million mark, Giannis was still the 10th highest-paid player on the team, earning more than Khris Middleton, Tyler Ennis, and Miles Plumlee. In the 2016-17 season, Giannis Antentekounmpo agreed to a 4 year deal with the Milwaukee Bucks which meant that he finally got off his rookie contract.
The 4-year deal was expected to run-up to the 2020/21 season and was worth $100 million. Under the new deal, Giannis Atentekounmpo would earn $3 million in the 2016-2017 season. In the season that followed, Giannis became the team's highest-paid player earning $22.5 million per year ahead of fellow teammates Eric Bledsoe and Khris Middleton.
Giannis Antetokounmpo Net Worth
A two-time league MVP, Giannis Antetokounmpo has a net worth of $60 million. Being one of the best players in the league, Giannis has entered deals with some of the leading brands in the US including NIKE. According to Forbes magazine, Giannis Antentokounmpo generated a whopping $28 million from endorsement deals. When these earnings are combined with his NBA salary, then he ends up becoming the 18th highest-paid athlete in the world.
Nike
After agreeing to a multi-year deal with Nike, Giannis Antentokounmpo now earns $10 million from shoe sales. The Nike deal places him third behind Kevin Durant and Lebron James who make $26 million and $32 million annually respectively from shoe sales. Like Giannis, Durant and James are on a multi-year deal with Nike. During his rookie year, Giannis's deal with Nike was only $200,000.
In 2017, Giannis Antentokounmpo resigned with Nike, this time around receiving a more lucrative offer thanks to his tremendous growth as a player and a brand. In 2019, Zoom Freak 1 was officially released, making it the largest signature shoe launch in Nike's history. The release of the shoe also made Giannis the 22nd player to receive his signature shoes from Nike.
Hulu
In February 2019, Giannis Antetokounmpo, Joel Embid and Damian Lillard signed endorsement deals with Hulu. While the details of the deal were not disclosed to the public, the deal mainly involved the players selling out, in an effort to promote the company's live sports content. The approach to be taken was slightly different from what many established brands were doing in the past which was mainly the influencer style marketing approach.