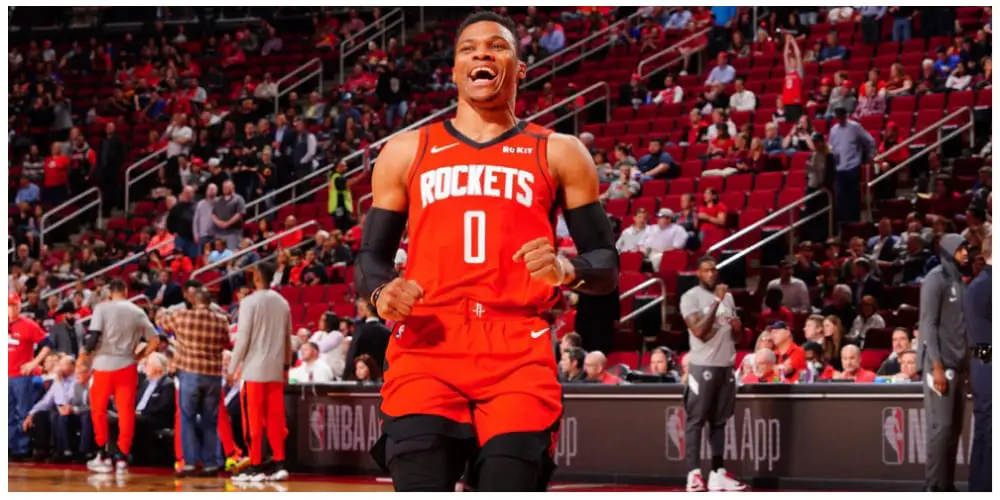 Russel Westbrook Biography, NBA Salary, Net Worth, Deals & Endorsements
Last updated on May 8th, 2022 at 11:21 am
A triple-double king, Russel Westbrook's explosiveness, toughness, and meanness has made him one of the most revered players in the NBA. Westbrook's impressive MVP season saw the highly skilled player break the triple-double record that has been in existence ever since memorial.
In 2016, Russel Westbrook became the first-ever NBA player after the legendary Oscar Robinson to average a triple-double the entire season. In addition, Russel Westbrook also set the record for the most triple-doubles in a season, after registering 42 triple-doubles.
| | |
| --- | --- |
| Real Names | Russel Westbrook III |
| Nickname(s) | Beastbrook |
| Current Team | Washington Wizards |
| Position | Point Guard |
| Spouse | Nina Earl |
| Favourite Basketballers | Magic Johnson |
| Hobbies | Bowling |
| Salary | $32.50 Million |
| Net Worth | $54 Million |
| | |
Early Life
Russel Westbrook III was born on 12th November 1988 in Long Beach, California to Shannon Horton and Russel Westbrook Jr. Ever since he was young, Russel Westbrook loved the game of basketball and even hoped that one day he will have the opportunity of playing for UCLA.
Basketball Career
High School Career
After becoming an honor student, a young Westbrook joined Leuzinger High School. During his high school years as a freshman, Russel Westbrook began to experience a sudden sprout in growth. Although he gained significant growth, Russel Westbrook failed to attract any attention during his freshman year.
As a junior, Westbrook began to improve certain aspects of his game and slowly morphed into a college prospect. During his senior year, Russel Westbrook not only averaged 25 points per game but was also able to dunk effortlessly.
College Career
After his impressive final year at Leuzinger High School, Russel Westbrook was drafted to play for UCLA. At UCLA, Russel Westbrook played a crucial role in helping the team qualify for the final four teams. For all the two years that he was with the team, Russel Westbrook donned the number 0, a number that he later came to wear with both the Oklahoma City Thunder and the Houston rockets.
In his freshman year, Westbrook played a total of 36 games making only one start. Westbrook averaged 3.4 points, 0.8 rebounds, and 0.7 assists per game. Against Long Beach State and Oregon State, Russel Westbrook scored a season-high of 11 points. After Darren Collison was injured, Russel Westbrook got the chance to make his first start for UCLA. In the game, Russel Westbrook averaged 10 points.
In his final season as a Sophomore, Russel Westbrook featured all 39 games earning an impressive 34 starts. He averaged 12.7 points, 4.3 assists, and 3.9 rebounds per game. Westbrook was named into the year's All-Pac-10 Conference team selection. Russel Westbrook also became the Defensive Player of the Year. With UCLA, Russel Westbrook played a total of 75 games, averaging 8.3 points, 2.5 rebounds, and 1 assist per game.
With two years remaining, Russel Westbrook decided to forego his college education and instead opted for the 2008 NBA draft.
Professional Career
Seattle Sonics/Oklahoma City Thunder
In the 2008 NBA draft, the Seattle Supersonics selected Russel Westbrook as the fourth overall pick. 6 days after drafting Russel Westbrook, the Supersonics relocated to Oklahoma City. During his rookie season with the Oklahoma City Thunder, Westbrook featured in 82 games for the team and averaged 15.3 points, 4.9 rebounds, and 5.3 assists per game. After an impressive start into the NBA, Russel Westbrook was named into the All-Rookie first team.
In his second, third, and fourth season with Oklahoma City Thunders, Russel Westbrook averaged 16.1 points, 21.9 points, and 23.6 points per game. Westbrook's impressive display during the 3 regular seasons earned him a spot on the All-NBA second team.
Averaging 28.1 points per game during the 2014-2015 seasons, Russel Westbrook was named the season's scoring leader. The following season, Russel Westbrook finally earned a slot into the ALL-NBA first team.
MVP Season
2016-2017 was Russel Westbrook was an impressive season as a basketball player. Apart from averaging a triple-double the entire season, Russel Westbrook also managed to average an impressive 31.6 points per game. This outstanding performance was more than enough to see Westbrook run away as the season's MVP.
Houston Rockets
After his remarkable season as the league's MVP, Russel Westbrook stayed with the Oklahoma City Thunders for two more seasons. In 2019, Russel Westbrook would switch allegiance to the Houston Rockets after agreeing to a three-year deal with the team. With the Houston Rockets, Russel Westbrook averaged 27.7 points, 7.0 assists, and 7.9 assists, helping them earn a playoff spot.
Russel Westbrook not only earned a slot in the All-Star games but also made it into the All-NBA third team which came as a shocker. With the Houston Rockets, Russel Westbrook's game has not been explosive as it was with the Thunder. Westbrook also struggled with a quad injury in Orlando during the playoff games. His 3 point shooting also plummeted to 24.2%.
Washington Wizards
In December 2020, the Washington Wizards announced that they had acquired Russel Westbrook from the Houston Rockets. The deal that saw Westbrook join the Wizards involved John Wall as well as a first-round pick in the 2023 NBA draft. Russel Westbrook has now teamed up with his former team coach Scott Brooks.
After the deal was made public, Tommy Shepperd , Washington Wizards GM had nothing but praise for Westbrook and was quick to point out that Russel Westbrook was not only part of the immidiate but also future team plan.
Russel Westbrook NBA Salary & Net Worth
Russel Westbrook Salary
One of the highest-paid athletes in the world, Russel Westbrook earns an annual salary of $41.50 million and currently sits at number 12 on the highest-paid list. Westbrook's impressive NBA salary made him the highest-paid player on the Houston Rockets roaster with James Harden coming in at second. However, after Westbrook's recent switch to the Washington Wizards, James Harden became the team's highest player.
On the other hand, his new contract with the Washington Wizards will see him earn $41 million per year making him the highest-paid player on the team, alongside Bradley Beal. By the end of his 3-year deal, Russel Westbrook will be earning $47 million.
Russel Westbrook Net Worth
According to Forbes, Russel Westbrook has a net worth of $54 million. Like many top-rated athletes, Russel Westbrook has multiple streams of income including commissions from shoe sales and brand endorsements. A year after his impressive MVP season, Russel Westbrook signed a deal with footwear giant, Nike that saw Russell Westbrook become an extension of the Jordan brand deal. As of 2019, Russel Westbrook was number 7 in the NBA in terms of income generated from endorsement and deals, with the player generating more than $19 million from endorsements.
Jordan Brand Deal
From the previous years, it has been quite difficult to get athletes to join the already well-established Jordan brand with players like Ray Allen, Dwayne Wade, and Carmelo Antony all failing. In 2017, Russel Westbrook signed a 10-year deal that will likely see him through to his retirement. The 10 year extension will see Russel Westbrook earn a sizeable amount all the way to the 2025-2026 season.
The deal involved both on the court and off-court merchandise. With Westbrook's eccentric and fashion acumen, many people believed that Russel Westbrook will add more zass to the brand. Moreover, the deal also included an ambassador clause, which will ensure that Russel Westbrook receives legacy promotions and appearance opportunities way after his NBA career comes to an end.
The Jordan brand has for quite a long time struggled with other releases as only the retro sneakers were the most profitable shoe category. The Jordan brand believed that Russel Westbrook is the right athlete to give the brand some much-needed momentum.
Samsung
Apart from his deal with the Jordan brand, Russel Westbrook also entered into a deal with electronics giant Samsung. Although details of this deal were kept hidden from the public, Russel Westbrook still generates a sizeable amount of income from the deal. After his impressive NBA season that saw him named the league's MVP, Samsung created a new advertisement that revolved around Russel Westbrook's early years in LA. While the advertisement features details about Russel Westbrook's early years, it also included a variety of Samsung products
Mountain Dew
In February 2015, Mountain Dew announced a multi-year deal with Russel Westbrook. The new deal marked the company's first-ever national deal with a basketball player. After agreeing to the deal, Russel Westbrook became the face of Mtn Dew Kickstart which included two new bold flavors the Strawberry Kiwi and the Pineapple Orange.
While Mountain Dew was launched back in 2013, it has slowly grown into one of PepsiCos most succeful product in the past 15 years. In it's secind year in the market, Mountain Dew grew by more than 50 per cent, generating an annual revenue of $300 million.