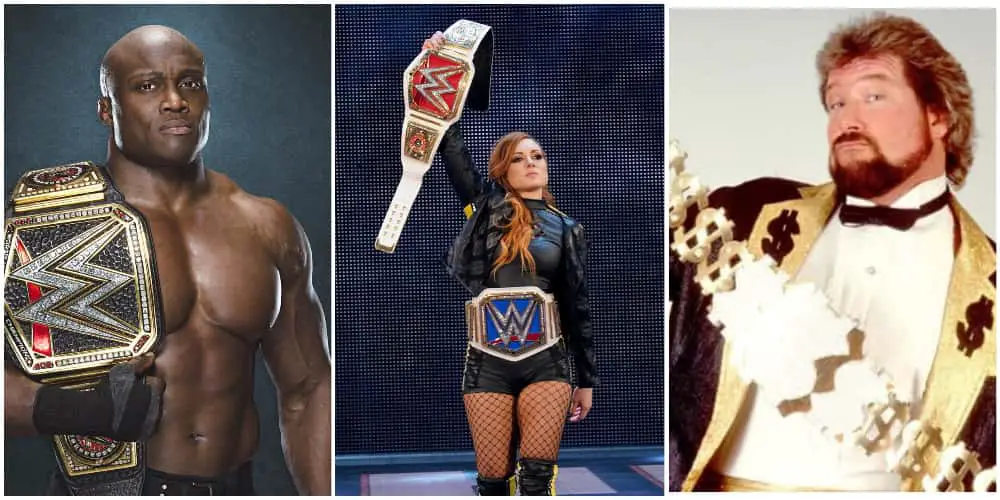 WWE Championship/Title Belts: Biggest Titles, List of Belts
Last updated on May 8th, 2022 at 11:45 am
In the NBA and American Football, we have championship rings and championship trophies, while in professional wrestling we have championship titles. For quite a long time, titles have been a significant part of sports entertainment and it's clear to see why.
Apart from being the face of the company, WWE titles also give wrestlers the chance to earn a spot in the promotions main event card, especially during PPVs.
As discussed in this article on WWE Salaries that we recently did, main event wrestlers do earn a much higher commission in comparison to other wrestlers. There are also other rewards and benefits that come with being a main eventer.
WWE title belts are the most coveted assets that many wrestlers aspire to have. Simply put, they are a clear indication of who the crème de la crème of the business is. Moreover, there is some sort of prestige that comes with these titles and thus, most wrestlers dream of a title opportunity and even in some cases go at loggerheads with the management.
While we have seen scripted storylines regarding most of the titles in the WWE, there were instances when wrestlers have been sincere about these issues. Over the years, we have seen wrestlers criticize the company for the lack of title opportunities and in some cases favoritism.
Regardless of the politics that goes on backstage, WWE titles remain one of the most prestigious titles in sports entertainment.
10 Most Decorated Wrestlers in the WWE
| | | |
| --- | --- | --- |
| Wrestler | Total Number of Titles | Titles |
| 1. Raven | 32 | 27 hardcore titles, 2 ECW Championship, 1 US Championship titles, 1 WCW World Championship, 1 WCW Light Heavyweight Championship |
| 2. Edge | 31 | 12 World tag team titles, 7 World heavyweight titles, 4 WWE Championships, 5 Intercontinental Championships, 2 WWE Tag team titles, 1 US Championship title |
| 3. Ric "The Nature Boy" Flair | 29 | 14 WCW World Championships, 5 US Championships, 3 WCW Tag Team titles, 2 WWE Championships, 2 World Tag Team titles, 2 WCW World Heavyweight championships, 1 Intercontinental Championship |
| 4. Chris Jericho | 28 | 9 Intercontinental Championships, 5 World Tag Team Championships, 4 Cruiserweight titles, 2 WWE Tag Team titles, 2 WCW World Championship titles, 1 WWE Championship, 1 Hardcore Championship, 1 European Championship |
| 5. Booker T | 27 | 11 WCW Tag Team Championship, 5 WCW World Championship, 4 United States Championship title, 3 World Tag Team titles, 2 Hardcore Championships, 1 World Heavyweight Championships, 1 Intercontinental Championship |
| 6. Crash Holly | 25 | 22 Hardcore Championships, 1 European Championship, 1 World Tag team Championship, 1 Light Heavyweight Championship |
| 7. JBL | 24 | 17 Hardcore Championships, 3 World Tag Team Championships, 1 WWE World Championship, 1 Intercontinental Championship, 1 United States Championship, 1 European Championship |
| 8. Triple H | 23 | 8 WWE Championships, 5 World Heavyweight Championships, 5 Intercontinental Championships, 2 European Championships, 2 World Tag Team Championships, 1 WWE Tag Team Championship |
| 9. Big Show | 23 | 5 World Tag Team Championships, 3 WWE Tag Team Championships, 3 Hardcore Championships, 3 WCW Tag Team Championships, 2 WWE Championships, 2 World Heavyweight Championships, 2 WCW World Championships, 1 Intercontinental Championship, 1 United States Championship, 1 ECW Championship |
| 10. John Cena | 23 | 12 WWE World Heavyweight titles, 4 United States Championships, 3 World World Heavyweight Championships, 2 WWE Tag Team Championships, 2 World Tag Team Championships |
Do WWE Wrestlers Keep Their Belts?
Upon relinquishing titles, WWE wrestlers do not get to keep their respective belts. Instead, they might either receive or purchase replicas that they can then take it home with them. WWE takes pride in its titles and thus, instead of creating new belts, WWE passes the existing belts to the new champions with new custom plates.
On the other hand, during championship reigns, WWE wrestlers get to not only take the belts home but also walk with them to interviews, airports, etc.
WWE considers championship belts to be part of marketing and thus, what better way to market a wrestler or the company than using these titles during television appearances, interviews, and signings.
However, there have been certain exceptions where wrestlers got the chance to keep the real championship titles with them. In these instances, the titles were either over customized or had features that did not sit well with the incoming champion.
Moreover, there were also other instances when the belts were totally worn out and thus WWE chose to create new titles. In such instances, the wrestlers also got to keep the championship titles for themselves.
When the WWE converted to HD, it started to create 2 to 3 sets of a given title. Thus, there are always 2 to 3 sets of belts at any time.
Best condition/HD Belt-The WWE always keeps this belt in the best condition and thus its rarely used. Prior to matches, wrestlers will pick up this belt at Gorilla and once the match is over will hand the belt back.
2nd belt: This belt is usually the one that the champion gets to walk around with, whether its during interviews, meeting fans or house shows. For instance, there was a time when Dolph Ziggler lost his luggage at the airport with the 2nd belt inside. Considering the wrestler was heading to a match, the WWE used the HD belt. Many at times, the WWE ensures that it has several belts to prevent such issues from happening.
3rd belt: In some instances, there is usually a third belt. This third belt often stays in Stamford and is mainly used by the WWE for media and promotional shoots.
Ever since 2010, the WWE began to keep a detailed track record of the belts and where each of the belts ended up. By doing this, the WWE ensures that it not only has belts to display at the Hall of Fame but also during events such as Wrestlemania Axxess.
When not taken to HOF or Wrestlemania Axxess, many of these belts tend to be on display inside Triple Hs office. There have been instances when the WWE traded the new belts for older belts.
Many of these belts were those that were lost in the '80s and 90s or sold privately.
In addition, some of these titles were simply no longer in use and the last champion ended up keeping it or the WWF did not care and lost track of the title. In other promotions, when the company goes out of business, the last champion with the belt always gets to keep the belt.
This is one of the main reasons why most of the belts ended up in the market.
What is the Value of a WWE Belt?
The value of the WWE belt varies from $10,000 all the way to $100,000. When coming up with the price of a belt, many collectors often look at who the belt belonged to. In addition, they will also compare the price of an item to other similar items or items within the same category on the market.
According to many collectors, the WWE Heavyweight title is a highly unique item.
Thus many times, the World Heavyweight title will often go for a higher price in comparison to other belts/titles. In previous years, we have seen wrestling titles go for up to $40,000 on the secondary market. In 2019, The Fiends Limited Edition Universal belt went for $6444.
However, unlike most belts, this belt was not sold in the secondary market but rather by the WWE on WWEshop.com.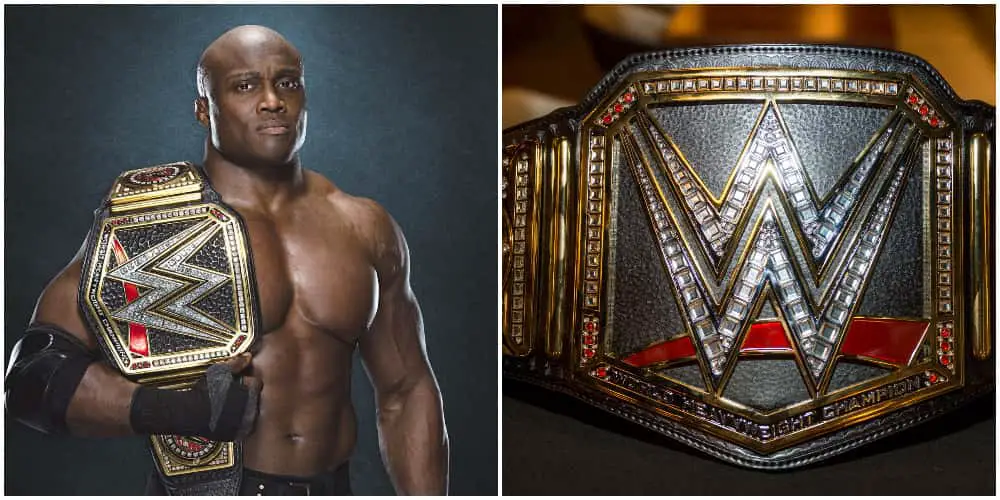 Are There Real Diamonds in The WWE Belt?
WWE titles do not have real diamonds, but instead, come with Swarovski crystals that look and resemble a real diamond. Considering the WWE uses the belts as props, it would not make sense to have actual diamonds on the belt. Moreover, using real diamonds on the belt will increase the production costs of these belts.
The John Cena-inspired design became a mainstay in the WWE as it not only made the title flashier but also became quite popular among the fans.
The production cost for an actual HD WWE belt is about $5,000 and when you bring in real diamonds into the equation, then the cost would not be realistic for a prop. Swarovski crystals look and resemble real diamonds and, it is not noticeable through the TV screen.
For the plates and a bigger part of the belt, WWE uses sterling silver.
What is the Biggest Title in WWE?
The WWE Championship title and the Universal Championship title are the biggest titles in the WWE. Even though the WWE Heavyweight title has been around for way longer, the Universal Title is still as important as the WWE Heavyweight title.
In terms of weight, both titles are equally important as the Universal title mainly appears on WWE's flagship program Raw and the WWE title on Smackdown.
While many people might argue that Brock Lesnar affected the credibility of the Universal title by only defending it three times in a year, the title still plays an integral role in the company.
List of Belts/Championships in the WWE
Smackdown
Universal Championship title
Smackdown Women's Championship title
Smackdown Tag team championship title
Intercontinental Championship title
Raw
WWE Championship title
Raw Women's Championship title
United States Championship title
Raw Tag Team Titles
NXT
NXT Championship title
NXT Women's Championship title
NXT Tag Team title
NXT North-America Championship title
NXT UK
NXT UK Championship title
NXT UK Women's Championship title
NXT UK Heritage Cup
NXT UK Tag Team Titles (Men's)
Tertiary Titles
WWE 24/7 Championship
NXT Cruiserweight Championship title (205 Live)
Million Dollar Championship title (Non-official title)
Women's Tag Team titles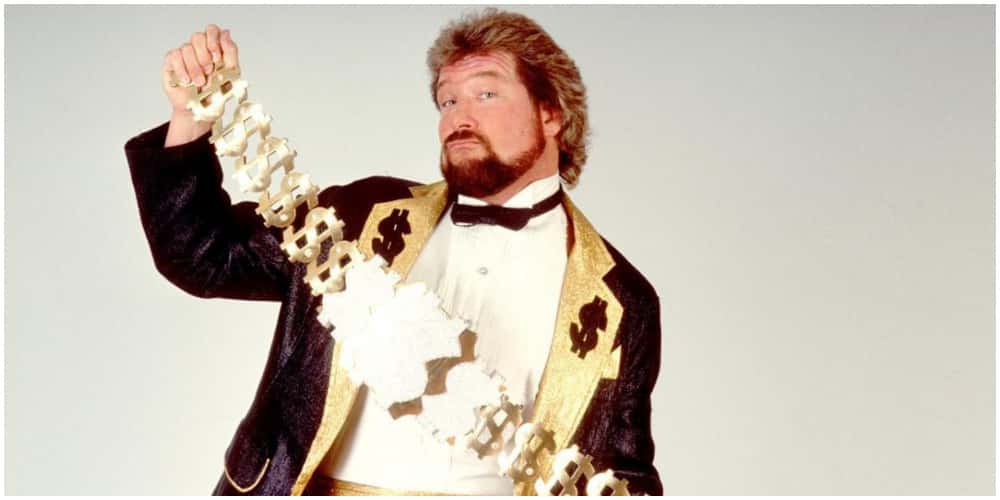 Million Dollar Championship Belt
Unlike most belts in the WWE, the million Dollar belt is an unsanctioned belt, that the WWE does not recognize as an official belt. Nonetheless, wrestlers still get to fight for and defend the championship title as a real title.
Ted Dibiase first introduced the Million Dollar belt back in 1968, after he was unable to secure the WWF Heavyweight title, through a win or by purchasing the same.
During this period, Ted Dibiase rarely defended the title. In 1992, Ted Dibiase and Irvin Schuster won the WWF tag team title and thus Dibiase had no option but to abandon the Million Dollar title.
For the years that followed the Million, Dollar Championship was not present in the WWE. In 1992, the WWE revived the title for the Ring Master, who later became known as Stonecold Steve Austin.
Once again, the belt disappeared only to resurface once again in 2010, in a storyline involving Ted Dibiase Jr. Goldust would steal the title after a long-running feud with Ted Dibiase Jr, over the title and return it to Ted Dibiase Sr.
In 2021, the Million Dollar Championship made its comeback within the NXT brand in a storyline that involved Ted Dibiase Jr., LA Knight, and Cameron Grives.
Throughout history, five wrestlers have lifted the Million Dollar Championship belt. Ted Dibiase Sr. holds the record for the longest reign, as he went an impressive 922 days with the title before ultimately dropping it.