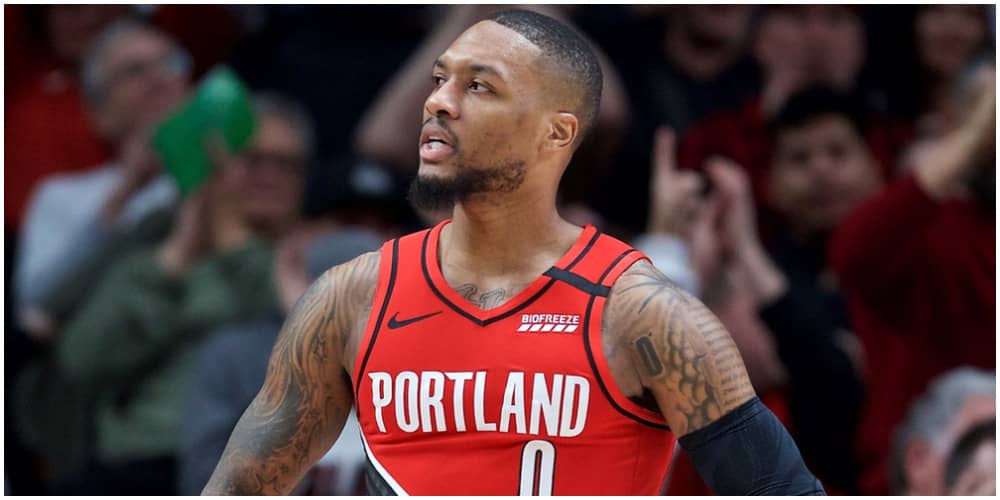 Damian Lillard Biography, Salary, Networth, Endorsements & Deals
Last updated on May 8th, 2022 at 11:45 am
Considered to be one of the most clutch players in the league, Damian Lillard's leadership skills and never-say-die mentality has seen him transcend into one of the most lethal players in the NBA. Despite his rather small body frame, Lillard has managed to become one of the best players in the NBA. His impressive court vision handles, and scotch hot shooting has seen him earn 4 All-NBA selections and 5 All-Star appearances. After a 51-point game with the Sixers, Lillard joined an exclusive club, which consists of players who have scored 50+ points in 10 or more games. Notable names on this list include Lebron James, James Harden, Michael Jordan, and Wilt Chamberlain. In his outstanding 8-year NBA career, Damian Lillard has led the Portland Trailblazers to 7 consecutive playoff berths, with the team missing only one in his rookie year.
Unlike most rookies who need time to get acclimatized to the league, Damian Lillard settled in pretty quickly, with the player averaging 19 points and 3.1 assists in his first year in the league. Lillard also made history by finishing his season opener with 23 points and an impressive 11 assists. Within the same year, Lillard also became the first rookie in the NBA to reach 38 points in their rookie season. During the playoffs, Damian Lillard often steps up during big moments. Lillard's most memorable moments in recent years, saw the 6-foot 3 guard sink one of the most ruthless dagger shots in the league's history while being guarded by one of the best defensive players in the NBA, Paul George. Like Lebron James, Lillard does not shy off from taking stands or addressing contentious social or political issues. Lillard is quite an outspoken player and that is what makes him a natural leader.
Early Life
Damian Lamonte Ollie Lillard Sr. was born in Oakland, California to Gina Johnson and Houston Lillard. Lillard's love for the game of basketball did not begin at an early age but rather during his teen years. While starting out, Damian was not that great and thus he was forced to switch schools to get some more playing time.
Damian Lillard Basketball Career
High-School
Upon joining Oakland High School, Damian Lillard was able to see a significant improvement in his game averaging about 22 points per game. By the end of his high-school education, Rivals.com a leading news network that focuses on college football and basketball rated Lillard as a two-star college prospect.
College
Weber State University was impressed with a young Damian Lillard and offered the young promising player a scholarship. In his freshman year, Damian Lillard averaged 11.5 points per game. After an impressive freshman year, Damian Lillard was named the freshman of the year. He also earned All-Big Sky honors. During his sophomore year, Damian Lillard was averaging 19.7 points per game before which was more than enough to help win a Player of the Year Award. With Weber University, Lillard managed to become it is the second-highest scorer of all time. In 2012, Damian Lillard decided to skip his final year in college for a 2012 draft entry.
Professional Career
Portland Trailblazers
After a rather impressive college career, Damian Lillard's stock soared up such that he gained the attention of various teams in the NBA including the Portland Trailblazers. RIP City desperately needed a point guard, and thus were more than determined to sign the young prospect. Unlike most players who get drafted into the NBA during their late teen years, Lillard was drafted at 21 years of age. This meant that he was going to have lesser seasons in the NBA, unlike most players such as Lebron James and Kevin Durant. In June, the Portland Trailblazers picked Damian Lillard as the year's 6th overall pick. During his first NBA game, Damian Lillard showed his explosiveness dropping 23 points and 11 assists. 
This outstanding performance by the rookie made him the first player to register these numbers after Lebron James's explosive debut. Moreover, he also became the third player in the history of the league to record 20+ points. By the end of his rookie season, Damian Lillard averaged 17.8 points and 6.0 assists. In his second season in the NBA, Damian Lillard improved his game and was averaging 20.8 points per game. By the end of the season, the Portland Trailblazers finished 5th in the Western Conference, which meant that they qualified for the NBA playoffs. During the first round of the 2013 NBA playoffs, the Portland Trailblazers went head to head with the Houston Rockets. After an intense playoff series, the Portland Trailblazers finally got the best of the Houston Rockets, thanks to a game-winning shot by Damian Lillard. 
By progressing to the second round of the NBA playoffs, the Portland Trailblazers finally broke a 14-year drought. As the years went by, Damian Lillard continued to transgress into one of the most lethal point guards in the NBA. Apart from taking a leading role in the court, Damian Lillard continued to put forward impressive numbers, with many outstanding highlights. While he has been in the NBA for only 8 seasons, Damian Lillard has already made more than 1700 3 pointers and a career average of 24.3 points per game which has earned him a spot in a list that consists of Hall of Famers. Depending on his health, Damian Lillard can slowly move up on this list by the end of his NBA career. 
NBA Salary & Net Worth
Damian Lillard Salary
After signing a 5-year deal with the Portland Trail Blazers worth $140 million, Damian Lillard is one of the highest-paid players in the NBA with an annual base salary of $31 million. Thanks to his superstar caliber, Damian Lillard is currently the highest-paid player on his team and the 18th best-paid player in the NBA. The former Weber State player was drafted at number 6 by the Portland Trailblazers. Like most players in the NBA, Damian Lillard was placed under a rookie contract which saw him earn $3 million. During the last year of his rookie contract, Damian Lillard's annual salary was way beyond the $4 million marks. 
After an impressive first four years in the NBA, the Portland Trailblazers became determined to keep the young Lillard. In just 4 years, Lillard had managed to not only post impressive numbers but also make several All-Star appearances. During his 5th year with the team, Damian Lillard agreed to a 5 year rookie extension contract that was worth $140 million. The 5 year deal saw him earn $24 million during the first year of the deal. During the 2017-2018 season, Damian Lillard earned $26 million while averaging 27 points per game. However, despite posting impressive numbers during the regular season, the Portland Trailblazers failed to get past Anthony Davis and the New Orleans Pelicans during the 1st rounds of the playoffs. 
During the 2019-2020 season, Damian Lillard qualified for a Veteran Player Extension deal which ensured that that the player earned more than $29 million. However, the season was cut short due to an outbreak of Covid-19. 
Damian Lillard Net Worth
According to Forbes, Damian Lillard has a net worth of $41 million. Like Kyrie Irving, Damian Lillard currently has a deal with one of the leading shoe producers in the world, Adidas. Lillard's Adidas shoe line is currently one of Adidas's best-selling shoes. Dame 6 is the most recent signature release and is currently going for about $110 per pair. Apart from shoe sales and the NBA, Damian Lillard also generates revenue from music sales. Currently, Damian Lillard has released 3 studio albums using his rap name, Dame D.O.L.L.A. In 2019, 2K Sports reached an agreement with Dame D.O.L.L.A to feature his song, "Moneyball", in their latest installment.
Adidas
Damian Lillard's branding and impressive marketing skills saw him reach the third-largest deal with Adidas. In 2014, Lillard agreed to an extension deal with Adidas estimated to be worth more than $100 million. The deal included apparel and signature shoes as well as reachable incentives. While many people questioned the deal at the time, it was quite clear as to why Adidas had settled for Lillard. During his early years, Lillard showed that he was more polished than seasoned players like Derrick Rose. Lillard also managed to establish himself as a community leader, leading the Portland Trailblazers to numerous wins and playoffs berths. 
JBL
In 2015, Lillard agreed to a multi-year deal with JBL for an undisclosed amount of money. The multi-year deal came after JBL and the NBA entered into a partnership agreement that made JBL the league's official headphones. The deal became the first move by the company to gain some sports credibility in a market that was dominated mostly by Beats. Although JBL had already entered into a deal, Harman was quick to point out that Lillard's deal with the company was quite different from the initial deal with the NBA. With the new deal, Herman will use Lillard for various marketing events such as business to business gatherings and in-store appearances as well as TV advertisements. 
Gatorade
For several years, Damian Lillard has been earning a significant amount from his endorsement deal with Pepsi-Co's, Gatorade. While details of the deal were not disclosed the deal gave Gatorade exclusive rights to use the Lillard's image, likeness as well as his social media accounts to market the Bolt 24 product. The new deal meant that Lillard joined several other NBA players including Zion Williamson and Jason Tatum. Unlike the other two players, Damian Lillard brought something more to the table considering he's already an established artist recording under D.A.M.E Dollar.  Considering the fact that Damian Lillard continues to collaborate with other well-established names, this means that Gatorade receives a cross-platform endorsement. 
Hulu
Unlike other companies, Hulu's approach to endorsement deals has been quite unique in every way. In 2019, Damian Lillard became the first player to sign a deal with the popular entertainment and television company. Instead of just endorsing the brand, Hulu wants the target audience to know from the get-go that these athletes are paid to endorse Hulu. While this deal was not made public, many news outlets came to know of the deal when Lillard posted a video on his Twitter account getting a Hulu tattoo. Hulu would use the video during the playoffs and on other major TV networks. The length and value of the endorsement deal is still a mystery to date.