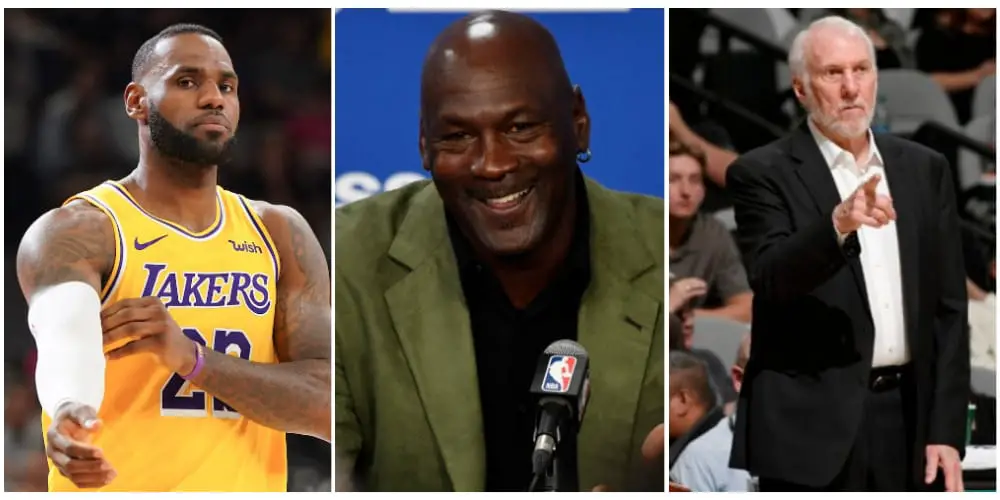 NBA Salary: Highest-Paid Players, Lowest Paid Players, Highest Paid Coach, Referee Salary, Rookie Salary
Last updated on May 8th, 2022 at 11:21 am
Considered to be among the highest-paid pro-athletes in the world, NBA players often rake in millions of dollars every year. As a matter of fact, the minimum wage in the NBA is way higher than that of any professional league in North America, making it one of the most lucrative careers in professional sports.
Pro athletes in the NBA often sign record-breaking deals that players in other leagues could only dream of. This is one of the main reasons why many NBA players tend to make it into Forbes's top 50 highest-paid athletes list in the world.
Over the years, there have been deliberations as to whether the NBA overpays its athletes.
While this continues to be a highly controversial issue, we cannot deny the fact that there has been a notable increase in the annual NBA salary for many players in recent years. For the first time in the league's history, we have seen NBA players surpass the $40 million mark.
Unlike MLB players, NBA players receive more than half of the revenue generated before expenses by the league. In addition, due to the collective bargaining agreement, the mechanisms in place ensure that NBA players receive their fair share of income generated by the league and any other NBA-related activity.
Many experts have also pointed out that the NBA's salary cap is way softer, as many teams have on several occasions exceeded the salary cap without facing any major ramifications. While this may be the case, the individual player salary cap tends to be firmer, with the resulting figures being percentages of the clearly defined salary caps, determined mostly by the player's level of experience.
Veteran players with 10+ years, often sign deals that commence at 35% of the defined salary cap. On the other hand, players under 10 years in the league can only receive deals that do not exceed the 30% mark.
Lastly, players who are signing their first deal in the NBA after fulfilling their rookie contract can only sign deals that do not exceed the 25% mark. However, there are certain circumstances when this rule does not apply.
For instance, if a player managed to make it into the All-NBA team or even became the league's MVP during his rookie year then they will receive a more lucrative deal. All in all, $3 billion must be spent every year, and thus many at times, the remaining amount often goes to lower-tier and middle-tier free agents.
NBA Salaries & Earnings
The 10 Highest Paid NBA Players (Salary)
| | |
| --- | --- |
| Player | Earnings (Yearly) |
| 1. Steph Curry | $43 Million |
| 2. Chris Paul | $41.3 Million |
| 3. Russel Westbrook | $41.3 Million |
| 4. James Harden | $41.25 Million |
| 5. John Wall | $41.24 Million |
| 6. Kevin Durant | $40.1 Million |
| 7. Lebron James | 39.2 Million |
| 8. Blake Griffin | 36.8 Million |
| 9. Paul George | 35.45 Million |
| 10. Klay Thompson | 35.4 Million |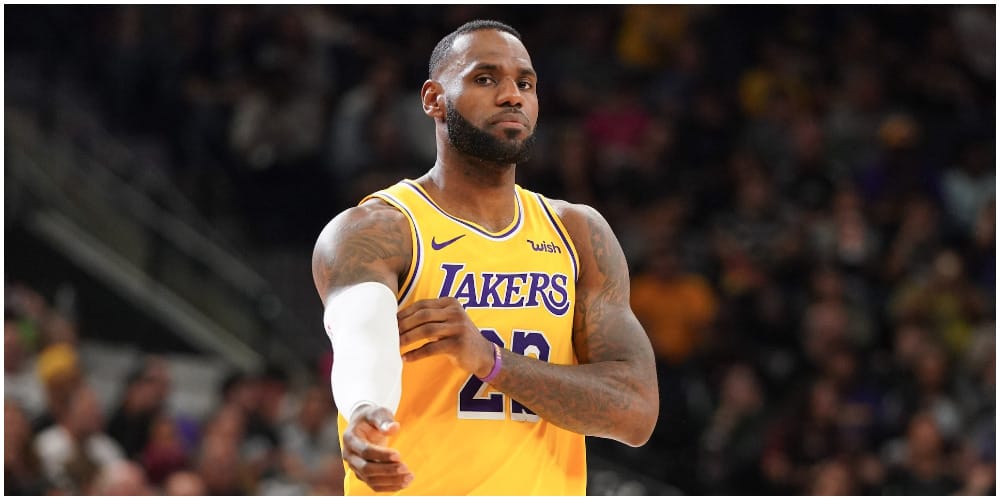 Who is the highest-paid NBA player of all time?
With an annual income of $343.8 million, Lebron James is the highest-paid NBA player. After signing a two-year extension with the LA Lakers late in 2020, his total career earnings are expected to reach a whopping $435 million by the year 2023.
Apart from his NBA salary, Lebron James also generates a sizable amount of money from deals and endorsements with various renowned brands such as Nike.
Lebron James also generates a sizable income from various investments such as European Giants, Liverpool FC where he is a minority shareholder, and Lobos 1707, a tequila manufacturing company. Other NBA players with an impressive annual salary include Kevin Garnett who comes in second with $334 million and the late Kobe Bryant who comes in third on the list with overall career earnings of $323 million.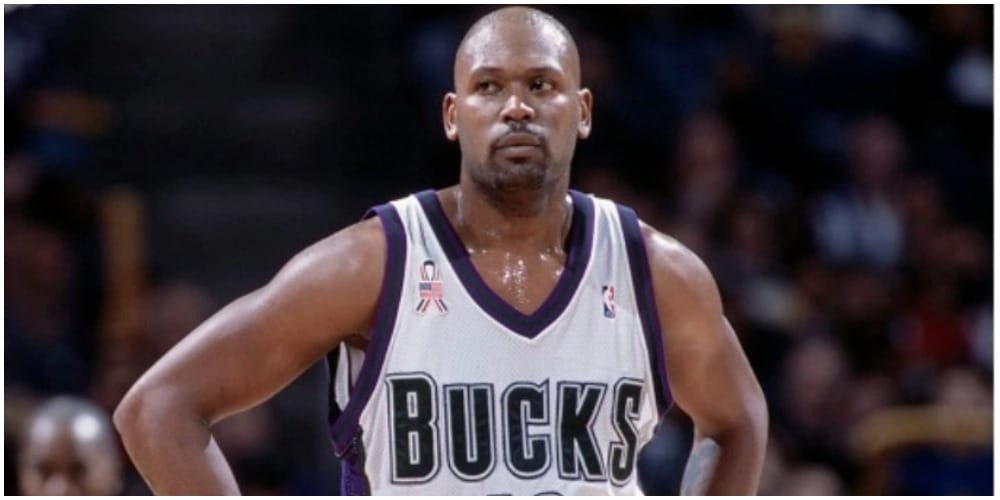 Highest Paid NBA Rookie: Who is the highest-paid rookie
Glenn Robinson is the highest-paid rookie of all time after signing a 10-year deal worth $68 million back in 1994. Robinson's $68 million deal remains the most lucrative deal to be ever presented to a rookie ever in the league's history. In the season that followed, the NBA resolved to introduce a new rookie salary cap and a collective bargaining agreement, after an intense meeting between the team owners.
The contracts for all first-round picks during the annual NBA draft were guaranteed for only the first two years with a max of 4 years. All the teams in the NBA had the option for years 3 and 4. With the new rookie salary scale, teams in the NBA had the option of paying a minimum of 80% of the overall rookie salary and a max of 120%.
The introduction of the new rookie salary scale helped smoothen things out between NBA teams and newly signed rookies.
For quite a long-time, newly selected rookies held off signing NBA contracts with their respective teams until some of their demands were met. Glenn Robinson for instance, who was selected as the number 1 overall pick during the 1994 NBA draft, held off from signing his rookie contract until training began.
This was one of the factors that led to the introduction of the rookie salary cap.
Zion Williamson of the New Orleans Pelicans remains the highest-paid rookie in the NBA in recent years with an annual salary of $20 million. Being the most marketable rookie after Lebron James, Zion Williamson agreed to a deal with Nike under the Jordan brand that is estimated to be about $75 million.
Zion Williamson had a rather impressive college career, winning the Naismith Award and becoming the number 1 overall pick in the NBA draft. Ja Morant and RJ Barrett come in second and third with an annual salary of $17.9 million and $16.1 million respectively.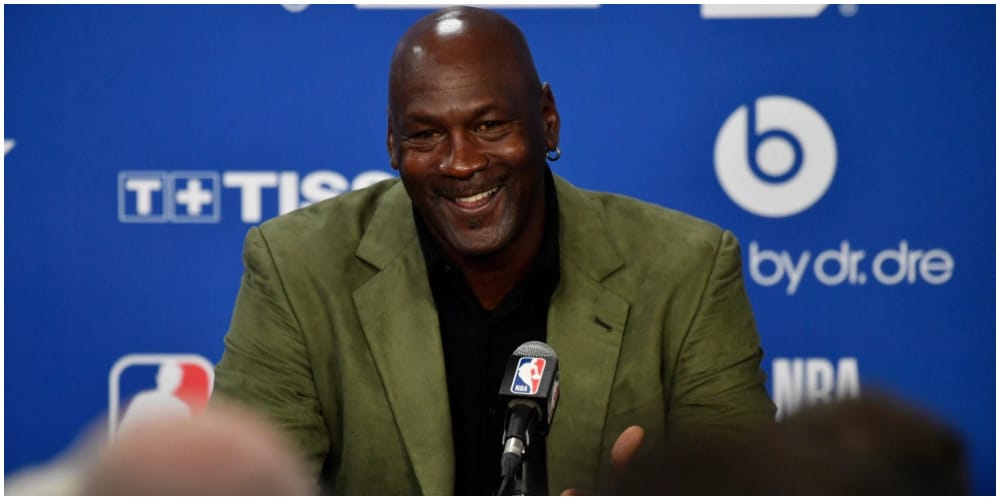 Richest NBA Player: Who is the richest NBA player
With a net worth of $1.5 billion, Michael Jordan is the richest NBA player in the world. While he retired back in the late 1990s, Michael Jordan's entrepreneurial skills saw him create a multi-billion dollar business that has developed a cult following over the years.
During his illustrious basketball career, Michael Jordan earned more than $90 million and $1.8 billion from deals and endorsements.
Apart from his Jordan shoe brand, Michael Jordan is also a majority shareholder of the Charlotte Hornets, currently valued at $175 million. Other brands that Jordan has agreements with include Gatorade, Upper Decks, and Hanes.
A 14-time NBA All-star, Michael Jordan is also a 6 times finals MVP, 5-time league MVP winner, and rookie of the year winner.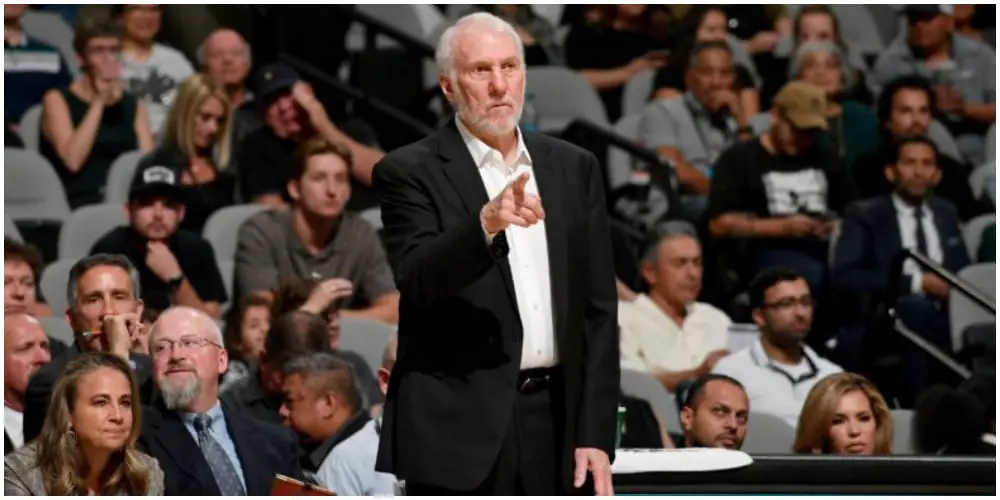 Highest Paid NBA Coach: Who is the highest-paid NBA coach
One of the most successful coaches in the history of the league, Gregg Popovich is the highest-paid NBA coach, raking in an annual salary of $11 million. A 3-time Coach of the year award winner and a 5-time NBA champion with the San Antonio Spurs, Gregg Popovich is undeniably one of the most successful coaches in the history of the league statistically speaking alongside Phil Jackson and Pat Riley.
Apart from his accomplishments, Popovich is also widely known and respected in the NBA for his ability to transform small and often overlooked NBA teams into basketball powerhouses and ultimately NBA champions.
Alongside Eric Spoelstra and Steve Kerr, Gregg Popovich is among the only 3 active NBA coaches with several NBA titles.
One of the longest-tenured coaches in all North America's major pro sports leagues, the world-adoring, sarcasm-loving, and highly opinionated coach is among the few coaches who love being in tune with what is happening around them and does not fear airing his opinions and beliefs. 
How much do NBA players make in a year?
Considered to be the highest-paid sports players in North America, NBA players earn an annual average salary of $7 million. Nonetheless, like any other sports, the amount of money that the player makes in the game always comes down to the type of contract that they have signed.
Inexperienced players and players on a rookie contract earn anywhere between $2million to $5 million.
On the other hand, mid-level players often earn between $5 million to $10 million per year. Players on a maximum salary deal are usually the highest-paid players in the league and will earn anywhere between $26 million to $50 million per year.
In addition, there are several factors that determine the amount of money that a player will earn in the NBA despite being on a similar contract with other players.
For instance, the period when the player signed the contract and the level of experience that he has in the league will determine the amount of money that he earns. Moreover, when a player signs a max contract, he will earn the maximum salary in year one, and then receive small raises in the years that follow.
NBA players could also receive additional earnings from trade bonuses and incentives.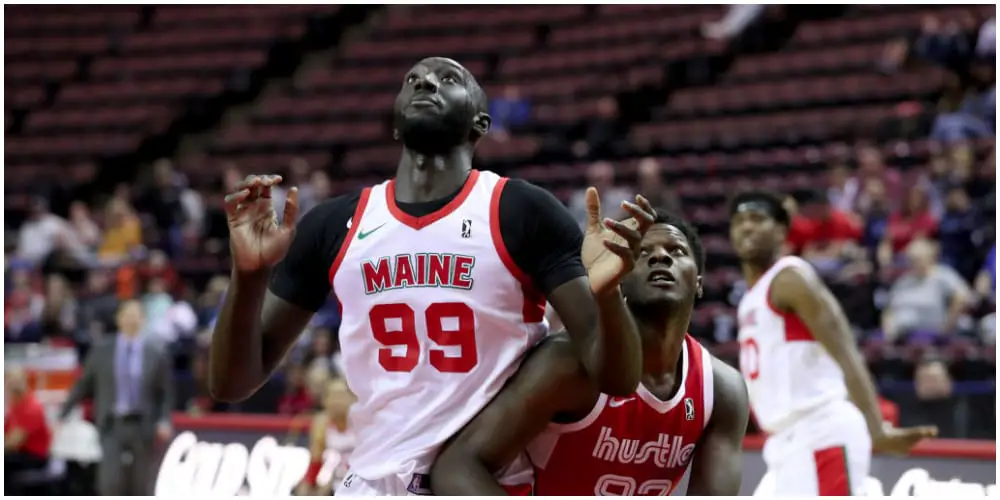 Lowest Paid NBA Player: Who is the lowest-paid NBA player?
While there is no individual player who happens to be the lowest paid, it's players on a 2-way contract with the G-League who are the lowest-paid NBA players earning $77,000 per year. During NBA summer camps and preseasons, NBA teams often invite players from the G-League to play for them.
On average, a G-League player on a 2-way contract will earn $77,000 playing in the G-League and an additional minimum wage rookie-scale pay from the NBA.
On maximum, G-League players will receive a max of 45 days playing for their favorite teams in the NBA.
If the player maxes out, then their project annual salary will be around $400k. G-League players who impress the most, tend to make the cut and since they will not get more playing time, they are often handed a 2-way contract.
The 2-way contract will ensure that they not only get minutes on the bench, but they can also play for their respective G-League teams. There are several players who are on a 2-way contract in the NBA such as Reggie Perry who plays the Brooklyn Nets and the Long Island Nets.
Other players on a two-way contract include Chris Chioza, Tremont Waters, Tacko Fall, Nate Darling, and Grant Riller.
On top of that, there are also other players who are invited to the training camp but do not end up making the cut. Most of these players can earn up to $50,000 however, they do not receive a contract from their respective teams.
Apart from the 2-way contract, the NBA also has a minimum contract which boils down to the level of experience that the player has. For an undrafted rookie, the contract starts at $890,000 and up to $2.5 million for players with 10 years or more of experience.
Do NBA Players get paid per game?
Like most enterprises and companies in the United States, all teams in the NBA do not pay players per game but rather twice a month or after every two weeks. This in turn means that after signing a contract, the entire amount will be paid in batches rather than in full.
For instance, if a player signs a new contract worth $40 million, the annual salary will be divided into 24 batches which will be paid from the moment the season begins to the end of the season.
According to the NBA, all players and teams are required to abide by this rule when it comes to receiving or dispossessing salaries.
However, as expected, there are some exceptions as was the case with Kobe, as he received one lump sum check, termed "balloon payment" that amounted to 80% of his annual salary ($24 million). On special occasions, players can request salary advances, however, they are required to provide valid reasons and proof.
Upon examining the proof and reasons, the team has the right to reject or approve the request.
In Kobe's case, he was worried about the devaluation of his wealth and thus requested an advance of 80%, which is the max that a player can request.
Injury: Do NBA Players get paid when injured
Although NBA players do get paid when injured, the resultant injury must be sports-related and not sustained from activities barred from the player's contract. Many of the contracts that NBA players sign are guaranteed. Thus, if a player gets injured when they are under contract, then they are still going to receive their paycheck.
On the other hand, if the injury the player sustains is not from sports-related activity, then the player will be in violation of their contract and teams may choose not to pay the player.
To ensure that they do not carry the entire weight, all NBA teams do get insurance.
In addition, because most NBA contracts come with trade protection, no team in the NBA is allowed to trade any player who is on the injured list. Nonetheless, players can always request a salary cap extension with the DPE (Disabled Player Extension).
The exception allows NBA teams that happen to be over the salary cap to replace players who are ruled out of the entire season due to injuries. As required, the salary cap will not go towards salary relief but rather towards the acquisition of another player.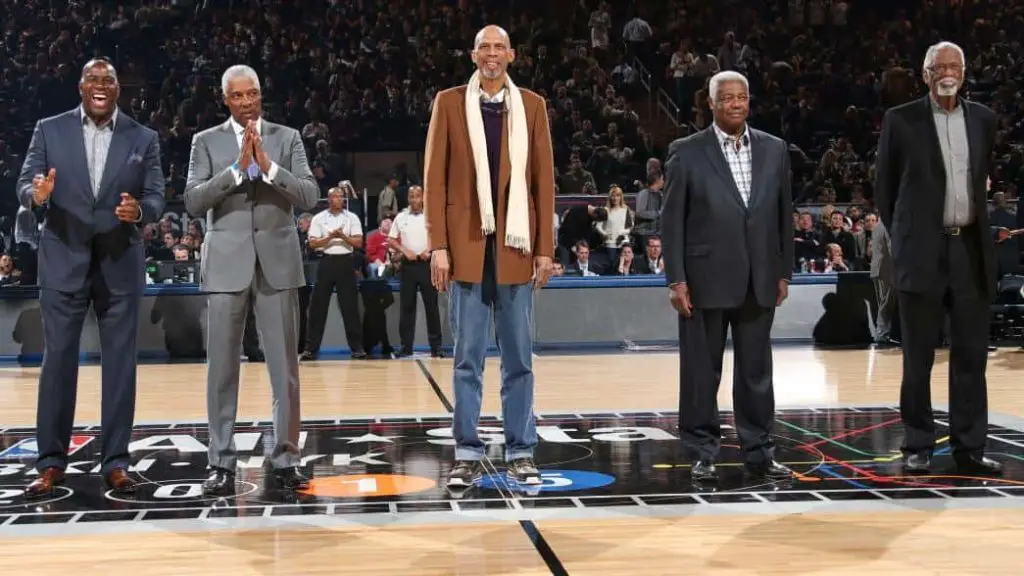 NBA Pension: Do NBA Players get a pension
Like other employees in the US, players in the NBA are entitled to receive a pension. Ever since 1965, NBA players have been receiving pensions, although it can not be compared to what they receive today. Due to the role of many modern players like Lebron James, Chris Paul, and James Jones, the NBA pension plan has improved significantly.
Players who have served at least three years in the NBA are entitled to receive a monthly pension and a variety of other benefits like tuition reimbursement and healthcare service.
To accrue a year of play in the NBA, players should be under contract for at least one game in a season. While NBA players are required to be under contract, it does not matter whether they were active or not. NBA players entitled to receive monthly pensions will begin receiving the payout once they turn 45 years of age.
However, they will be receiving reduced payments because they will be receiving the payments over a long duration.
Prior to the introduction of the new pension plan, retired players were earning between $300 to $400. However, after the pension plan was revised, veteran players are now earning an additional $300. Moreover, while 45 remains the eligible age, the NBA has been encouraging players to hold off receiving the payment, until they turn 62 so that they can receive the largest payout possible.
NBA Referee Salary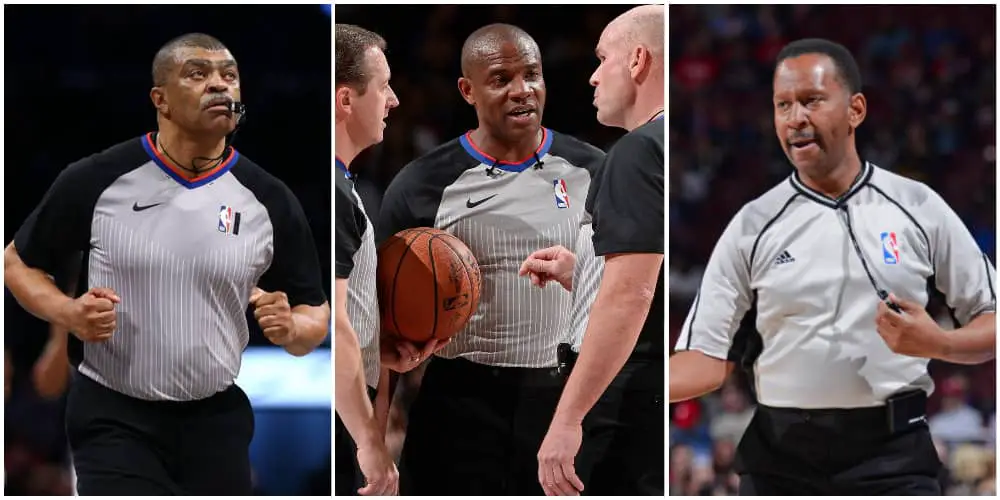 NBA Referees are an integral part of the game of basketball, as they not only enforce the rules but also uphold the integrity of the NBA as the world's elite basketball organization. Referees oversee matches between 10 players in real-time, making important calls with more than 95% accuracy.
Because of their integral role in the game of basketball, NBA referees are among the highest-paid referees in the world, with the less experienced referees earning a minimum salary of $180,000 while the most experience earning up to $550,000.
Entry-level tier consisting of referees who are just starting out to happen to be the lowest-paid earning about $150,000.
Basically, these are the rookies or referees who are just getting acquitted with the NBA. After three years of service, NBA referees will not only be entitled to higher pay but will also have access to a variety of perks and benefits.
Some of the perks and benefits include pensions, travel allowances, and insurance.
On the other hand, senior referees are the highest-paid referees in the league due to their level of experience. Technically, senior referees earn an annual salary of $550,000 ($3,500 per game) which makes them one of the highest-paid referees in the world.
Unlike their male counterparts who earn a sizable income, senior WNBA referees make about $500 per game and $16,000 per year. Apart from earning less per game, WNBA also tends to have a rather shorter season, with 10 teams playing about 34 games in an entire season.
| | |
| --- | --- |
| Tier | Earnings |
| Senior Referees | $550,000 |
| Entry Level Referees | $150,000 |
| WNBA Referees | $16,000 |
NBA referees selected to officiate the playoff games tend to receive a huge lump sum of money for the games. For the first round, referees earn $4500, while for the second round of the playoff's referees earn $10,540 per game. As expected, the playoffs finals happen to be the highest paying games in the league, with referees selected to officiate the finals earning $24,790 per game.
Highest Paid NBA Referees
| | |
| --- | --- |
| Referee | Earnings (Yearly) |
| 1. James Capers | $550,000 |
| 2. Tony Brothers | $550,000 |
| 3. Sean Corbin | $550,000 |
| 4. Rodney Mott | $550,000 |
| 5. Scott Foster | $550,000 |
| 6. Marc Davis | $550,000 |
| 7. Tom Washington | $550,000 |
| 8. Pat Frher | $550,000 |
Do NBA Referees Get Paid Per Game?
Being full-time employees, NBA referees are usually under contract and thus do not get paid on a game basis but rather on a bi-monthly basis. Thus, instead of receiving bulk payments, referee salary is normally dispensed in batches every two weeks.
As mentioned earlier, senior NBA referees earn about $550,000, which is paid out in 24 equal installments, which means that the referee will receive around $22,000 every two weeks.
While we cannot compare the referee earnings to that of NBA players, it's more than enough for anyone to lead a luxurious life. As mentioned earlier, NBA referees are the highest-paid match officials in North America, such that the annual earnings of junior referees are much higher than that of other workers in different professions.
Apart from meeting players regularly, NBA referees are also expected to appear on national television and take four to five months breaks.
Do NBA Referees Get Fired or Fined?
While referees rarely get penalized for every mistake, underperforming referees may end up losing their jobs altogether. Being human beings, referees are not prone to mistakes and thus may end up making a few bad calls and judgments during games.
To keep referees on their toes always and ensure the integrity of the sport is upheld, the league offices normally perform a regular assessment of their performance and issue out grades at the end of every regular season.
Any referee who does not meet the required threshold is normally guided and if necessary, placed under remedial training. Apart from being taken away from the spotlight, underperforming referees are normally given fewer games and in certain instances will also be denied playoff assignments.
This is mainly because the league normally considers referees who have a history of making the right calls when it comes to the playoffs. On the other hand, those whose performances are found unacceptable might be dismissed from the league.
How are NBA Referees Assigned Games?
NBA referees are assigned games based on three different criteria; their ability to make the right calls, good graded rankings, and overall team rankings. At the end of each playoff round, the referees are assessed to determine their advancement in the postseason.
Many of the officials who are shortlisted for the playoff games are usually the most experienced referees, with many of them having officiated for 15 years or more. The league operations staff is usually responsible for deciding officials who are more suitable for the playoffs.