Best 7 Golf Courses in Alaska
Last updated on September 12th, 2022 at 01:10 am
Golf may not be a year-round event in the frigid state of Alaska, but during the warm months, Alaska offers some of the greatest scenic views while playing golf. Another great part about golfing in Alaska is that you can golf much later into the day since the sun is up late. It is worth taking a summer trip to play some of the best golf courses in Alaska. We'll show you a list here of our top courses to play golf in Alaska.
Best Months to Golf in Alaska
Winter is extended in Alaska. Winter snow will be present in Alaska from Mid-October to the beginning of April. You could play golf at any temperature, but the snow will make it impossible to play.
The best months to play are during the summer months, which are mid-June to mid-August. The temperatures may still be on the cool side, but during the month of July, temperatures have gotten up to 90 degrees Fahrenheit. It isn't rare to see temperatures from 70-80 degrees Fahrenheit during the summer.
While the best months are June to August, the golf season runs from May to September.
Top Alaska Golf Courses
With only 22 golf courses in Alaska, the list isn't very long to choose the best. However, Alaska has great options to choose from. Here are the top 7 courses we have found while playing golf in Alaska.
Anchorage Golf Course
Anchorage Golf Course is the top course on our list and even the USGA agrees. This golf course in Alaska is home to the USGA senior women's amateur championship in 2022 as it becomes the last state in the United States to host a USGA tournament.
Playing on this course, you can take in breathtaking views of Anchorage as the course is set up on a hillside that overlooks the city. In the background, you will see the tallest mountain in North America: Denali.
Alaska residents will pay around $50 for a tee time whereas non-residents will pay around $74 for 18 holes.
Check the video below to see some great views of this beautiful course.
Moose Run Golf Course
Moose Run Golf Course is located on the outskirts of Anchorage near the Arctic Valley Overlook. This is a great spot where you have amazing mountainscapes in the background while you play golf.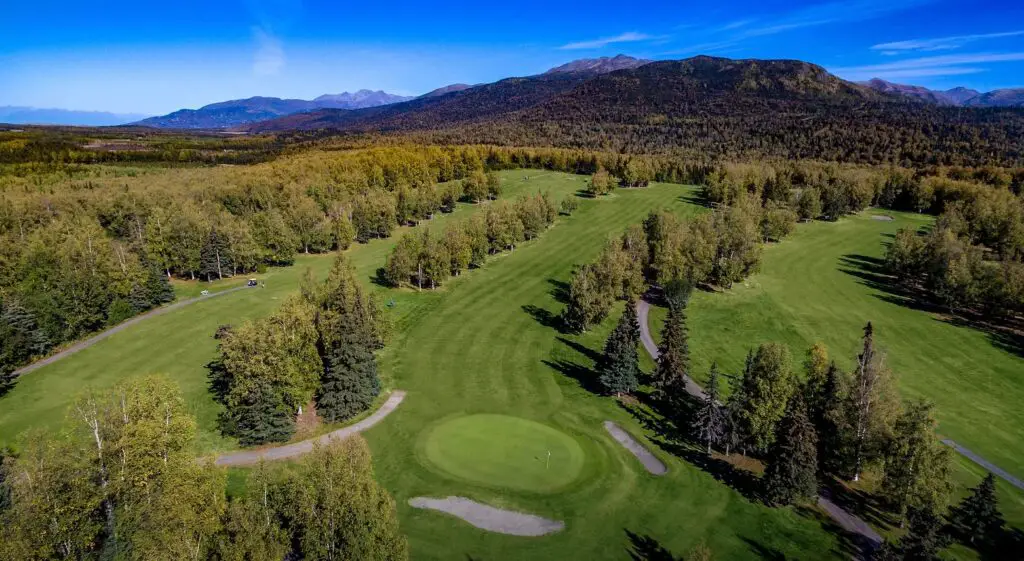 At Moose Run, you get your choice between the Hill Course and the Creek Course. Both are 18 holes and will give you the views you desire. The Hill Course is more amateur-friendly and will probably be the preferred choice for around 80% of golfers. The Creek Course will provide a unique challenge to whoever tries it. It has a total course distance of 7,324 yards and its longest hole is a par 5 at 610 yards.
The video below shows the Hill Course.
The following video shows the Creek Course.
Chena Bend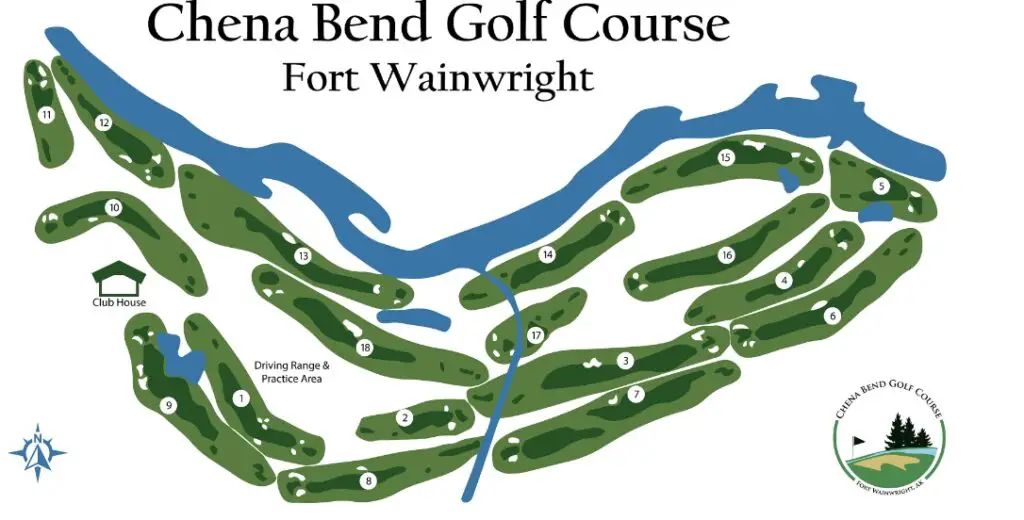 Chena Bend Golf Course is located in central Alaska near Fairbanks in Fort Wainwright. Chena Bend sits upon the edge of the Chena River and many holes use this river as an additional challenge.
The Chena River and the treacherous woods are the most distinguishing factors in this course. Losing your ball in the woods on this course can be detrimental and the fast-flowing waters will take your ball away if you go anywhere near it.
In addition to their golf course, their driving range is open 24 hours so you can go out and hit at any moment. There are also indoor simulators for the winter months in Alaska.
Below is a guide on how much you should expect to pay for your tee time at Chena Bend.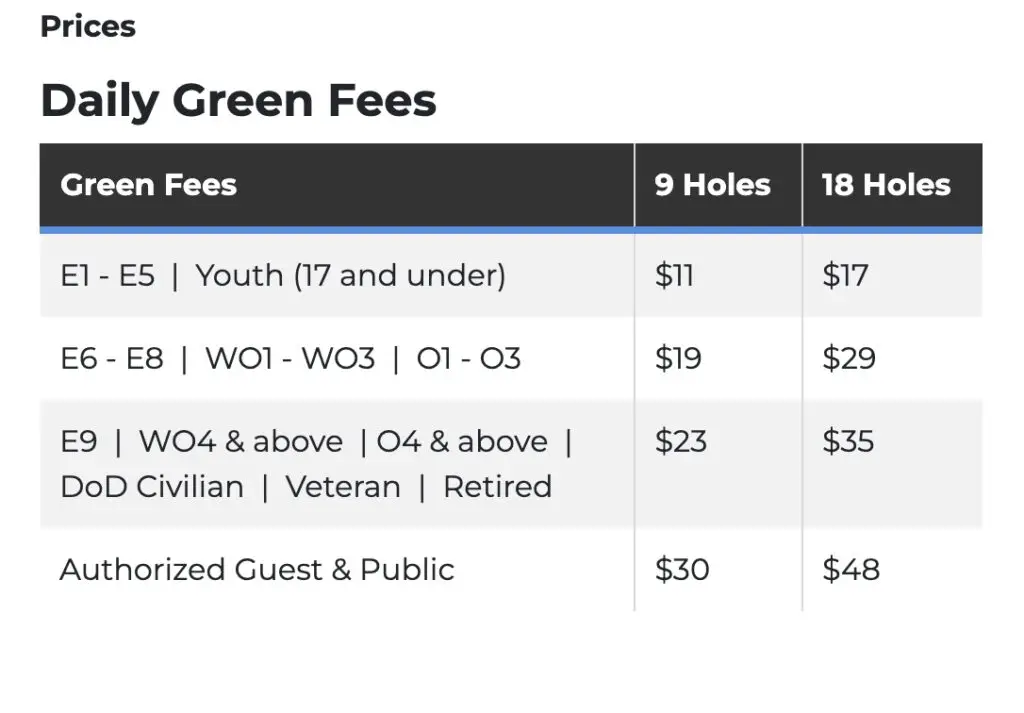 Kenai Golf Course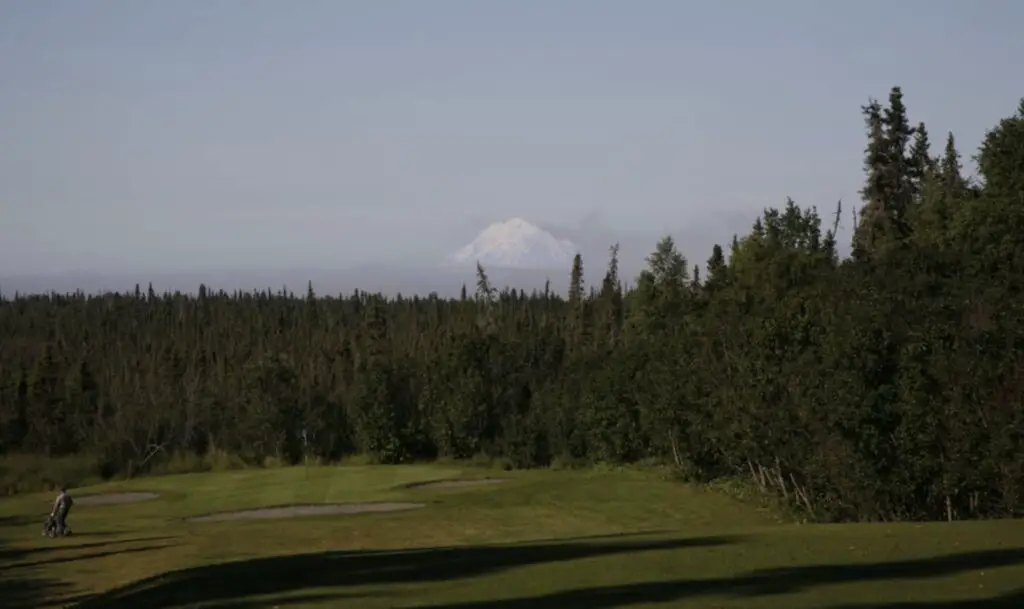 Kenai Golf Course is located on the Kenai peninsula which is located southwest of Anchorage. Playing on this golf course in Alaska, you will see a fair share of Alaskan wildlife. Moose, Caribou, Coyotes, and Eagles are all present around this course.
Here, you get great Alaskan scenery and you aren't too far from the border of the Atlantic Ocean. The greenery, however, is not forgiving if you do not hit a straight shot. It may take some foraging to retrieve your lost ball. Be sure not to come face to face with any dangerous wildlife while you are getting it, though.
Sleepy Hollow Golf Course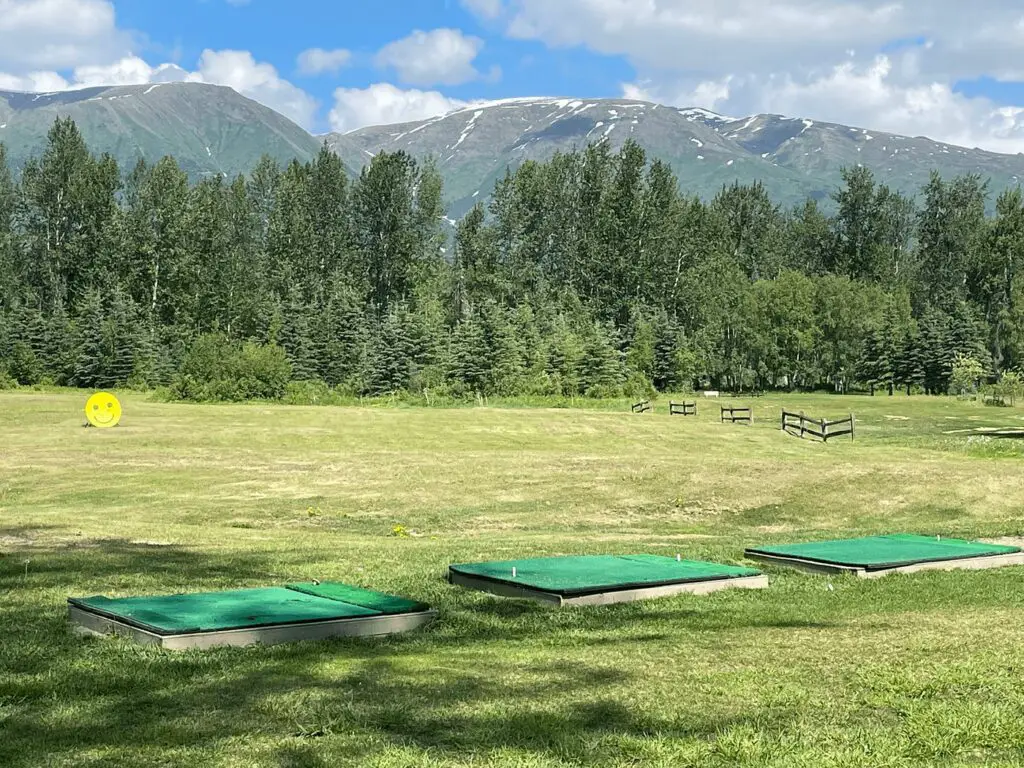 Sleepy Hollow is one of the best golf courses in Alaska with its 9-hole course. It is located in Wasilla, Alaska which is just north of Anchorage.
While the views here are great, this course has many things to offer golfers. In the pro shop, there is a wonderful restaurant called The Hunger Bunker where golfers can grab a delicious bite to eat. The course is also available to rent out for events such as weddings, parties, and more.
The stunning mountainous views make this a must-do for any golfer visiting Anchorage, Alaska.
Birch Ridge Golf Course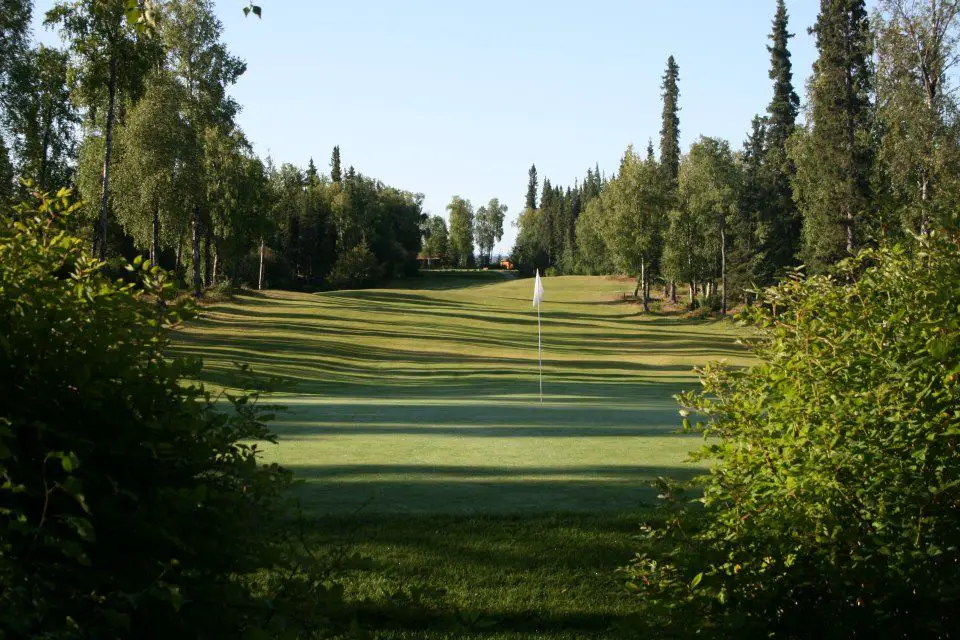 Birch Ridge Golf Course is located in the Kenia Peninsula in Soldotna, Alaska. It has 9 full-length holes to offer locals and visitors to Alaska. This course can be a tough challenge, but that challenge is worth it!
The scenery includes two active volcanoes, so it is very unique as far as any other golf course in the world. The greens are maintained very well as many other golfers have had positive comments to say.
One piece of advice for this course would be to bring snacks because the pro shop may be lacking in the choices of the snacks that you would want to eat on the course.
Sea Mountain Golf Course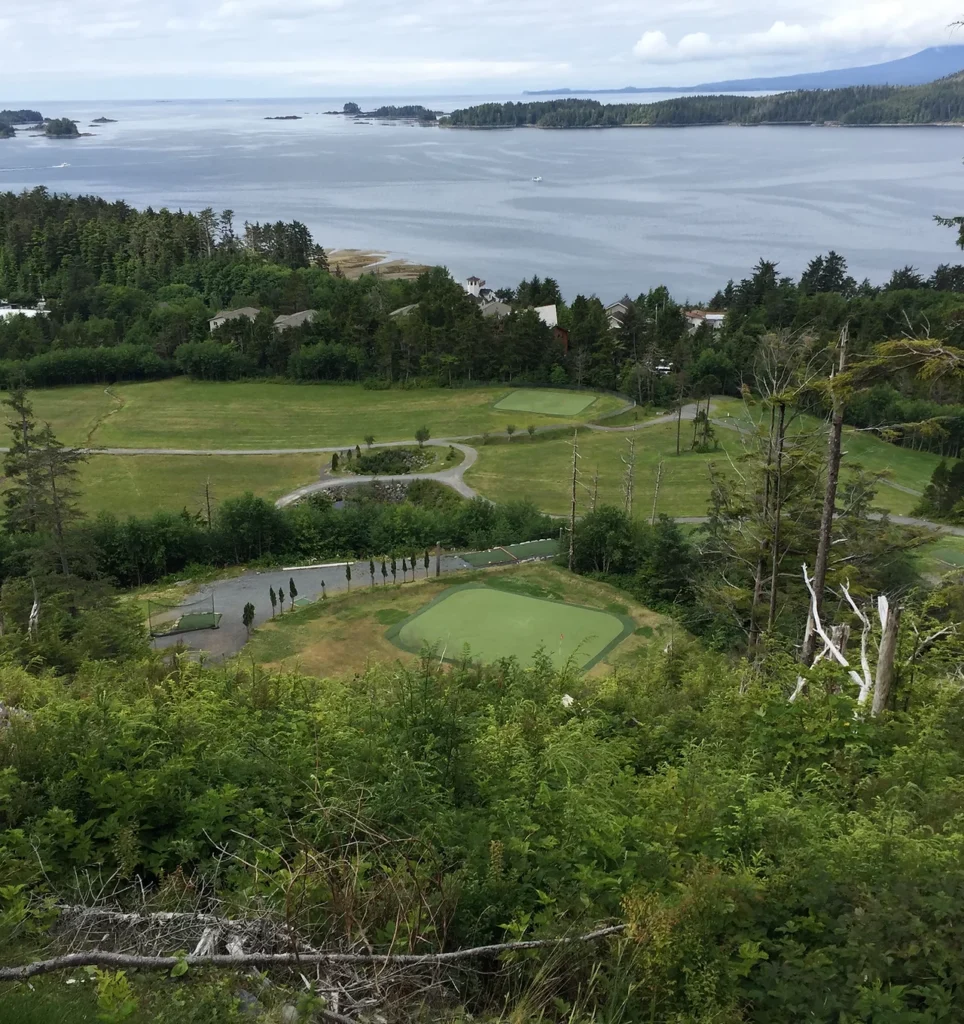 Sea Mountain Golf Course is located in Sitka, Alaska and the course upholds its name by being located near… you guessed it! The sea and the mountain. Make sure to get in all of the great views of this course while you play.
Some of the features here include a covered driving range to protect you from the elements and a well-maintained pro shop. If you are traveling in Alaska, don't worry about having to bring your clubs as they offer all equipment that you need to play your round.
This is my personal favorite on the list, but make sure your shot is straight cause bears are known to be in the area in the woods. It's not a problem but just stay out of their territory. Bring extra balls here just in case! A recommended quantity is 20.
Final Thoughts
While Alaska is not the biggest golfing state, do not discount the quality of the courses here. The golfing season may be short, but playing these courses is so worth it! Hopefully, you are able to try at least one of these courses on the list of the best golf courses in Alaska. If you do, let us know what you think of each one!