Tee Times in Golf | Why They're So Important
Last updated on November 20th, 2022 at 02:22 am
Don't miss it! Your tee time is a very important way that the golf course runs its operations in the most efficient manner. Your tee time in golf is how you reserve your spot on the golf course. That tee time begins your group's round of golf and organizes how efficiently a golf course will operate.
Golf courses have tee times in an attempt to create the best experience for golfers. Have you ever been stuck behind a group for 9 holes or longer waiting for them to tee off? That would be a much more common occurrence if courses didn't stick to the tee time organization structure. Thank the tee time reservation system for the pace of play you experience.
In this article, we will take a closer look at tee times in golf and why they are so important.
Why Golf Tee Time Is Important?
A tee time is a pre-scheduled starting time for a game of golf on a golf course. Tee times are usually arranged so that groups of players can start their game at the same time, but they can also be used to start players individually at particular times.
The main purpose of a tee time is to space out the starting times of groups of golfers so that they do not slow down or get in the way of other groups on the course. This allows golf courses to accommodate a large number of players without having them all start at the same time.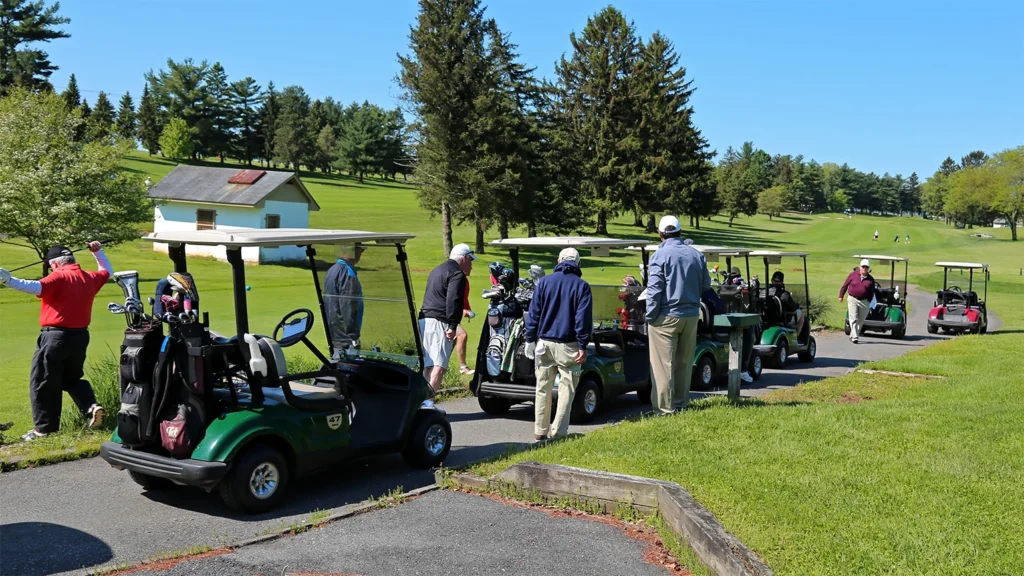 Tee times are also used to ensure that players are able to start their game at the most ideal time, taking into account things like the weather and the time of day.
How Are Golf Tee Times Determine?
Have you ever wondered how golf tee times are determined? It's actually a pretty simple process. Golf courses typically open up tee times a few weeks in advance. Then, golfers can call or go online to reserve a tee time for a specific date and time.
However, there are a few factors that can influence tee times. For example, weekends are usually busier than weekdays, so tee times are often more limited on Saturdays and Sundays. And, tee times can also be affected by events or tournaments that are taking place at the golf course.
So, next time you're trying to book a tee time, keep these factors in mind. And, if you're having trouble getting the tee time you want, don't be afraid to ask the golf course staff for help. They'll be happy to assist you.
What's The Best Time for Tee Time?
The best time for tee time depends on several factors, including the time of day, the season, and the course conditions. In general, the best time for tee time is early in the morning or late in the afternoon, when the sun is not as high in the sky and the temperatures are cooler. during the summer months, the courses are often crowded, so it's best to avoid the peak hours of 10 am to 2 pm. And during the winter months, the courses can be icy and dangerous, so it's best to avoid teeing off early in the morning when the temperatures are at their lowest.
How to Reserve Tee Times?
Are you looking to reserve tee times at your favorite golf course? If so, you'll need to follow a few simple steps to ensure that you get the tee time that you want.
First, you'll need to choose the golf course that you want to play at. Once you've done that, you'll need to check the course's website or call the pro shop to find out when tee times are available. Tee times are typically released a week in advance, so you'll need to plan ahead if you want to snag a specific time.
Once you know when tee times are available, you'll need to decide what time you want to play. Keep in mind that tee times are typically assigned in groups of four, so you'll need to find three other friends or family members who are also interested in playing.
What if You Arrive Late?
If you arrive late to your golf tee time, there are a few things you can do to try and salvage the situation. First, you can try to talk to the golf pro and see if they can fit you in somewhere. If that doesn't work, you can try to find a twosome or threesome that is willing to let you join their game. And if all else fails, you can always try to play by yourself.
While playing by yourself is not ideal, it is still better than not playing at all. So if you find yourself in a situation where you are late to your tee time, don't despair.
What If You Show Up Without A Tee Time?
If you arrive at a golf course without a tee time, you may be able to get a game if there are open slots. The standard fee for walk-ups is usually higher than the fee for those who have made advance tee times, so it is always best to call ahead if possible. You may also be able to find open tee times by checking the course's website or calling the pro shop.
If you show up without a tee time and there are no open slots, you will not be able to play. In this case, you can either wait around and see if someone cancels or leaves early, or you can try to get a tee time for another day. It is also important to note that some courses may require players to have a tee time to guarantee them a spot on the course.
How Much Time Is Between Tee Time?
The amount of time between tee times depends on the number of golfers using the course, the number of holes, and the pace of play. Most golf courses have a tee time interval of 10 minutes, but this can vary depending on the course.
If you're playing with a group of four or more, it's usually best to book a tee time in advance. This will ensure that you get the time slot you want and that there are no delays in your game.
How Many Golfers Are In Tea Time?
This is a difficult question to answer, as many factors can contribute to the answer. For example, the number of golfers at tea time can depend on the time of day, the location, the weather, and the season. Overall, however, it is safe to say that there are typically a moderate number of golfers in tea time.
Pro Vs Amateur Tee Time
Any golfer will tell you that one of the most difficult aspects of the game is securing a tee time. Pros usually have no problem getting a tee time, but amateurs often have to compete with each other for the same time slots. This can often result in frustration, as amateurs may not be able to get the time they want or need to play.
So, what's the difference between a pro and an amateur when it comes to tee time? The main difference is that pros usually have their tee time set in advance, while amateurs have to rely on availability. This often means that pros have an advantage over amateurs when it comes to securing tee time.
Pros have years of experience and know exactly how to position their bodies and swing their clubs. They also have access to the best equipment and training facilities. Amateurs, on the other hand, typically don't have as much experience and may not have access to the same level of equipment.
Conclusion
While having a tee time is not required when playing golf, it is highly recommended. There are many reasons why tee times are so important, the most important being that they help to keep the flow of play moving smoothly. Tee times also help to prevent overcrowding on the golf course, and they give golfers the chance to book a time that is convenient for them. When booking a tee time, be sure to choose a time that is best for you.