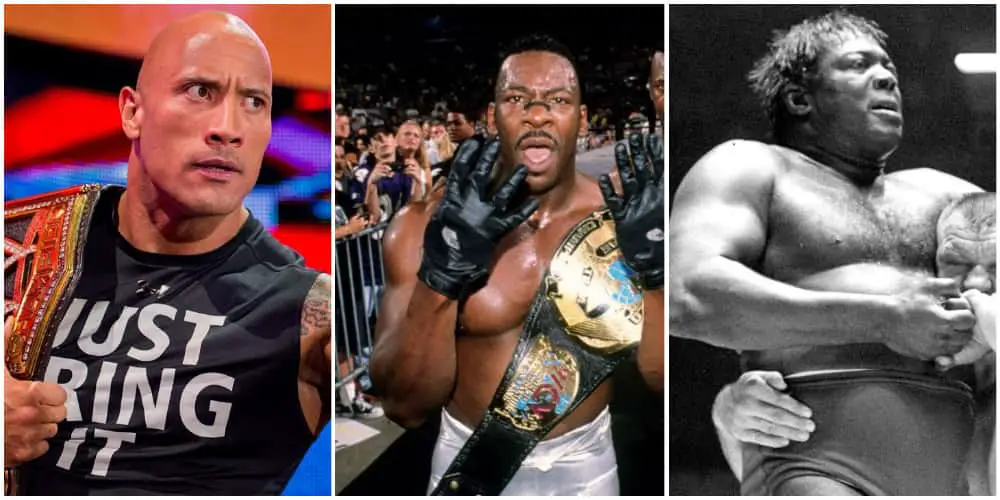 The 10 Greatest African American Wrestlers of All Time
Last updated on May 8th, 2022 at 11:15 am
During the 18th and 19th centuries, segregation was made law on several occasions and thus ended up affecting many sectors including sports. Although it was not openly stated or discussed in sports entertainment, black and white wrestlers were mostly regarded as "different divisions".
Thus, many of the bookings during this period mainly consisted of either black wrestlers going against each other or vice versa.
From the very first African American Wrestler Viro Smalls to the first-ever female African American wrestler, Ethel Johnson, the evolution of professional wrestling has had its fair share of ups and downs. Nonetheless, as time went by, several highly talented African American wrestlers emerged.
Their immense popularity, demand, and skills made many wrestling promoters reconsider the existing structures and the dynamics of professional wrestling.
After all, it was all about filling arenas, generating revenue, and giving fans what they want to see. From Bobo Brazil to Rocky Johnson to Bearcat Wright, all these wrestlers helped lay the foundation for the many black wrestlers who would later come on after them.
Thanks to the influence, hard work, and determination of many of the earliest African American wrestlers, racial barriers were broken in sports entertainment, paving the way for the future generation.
10. Mark Henry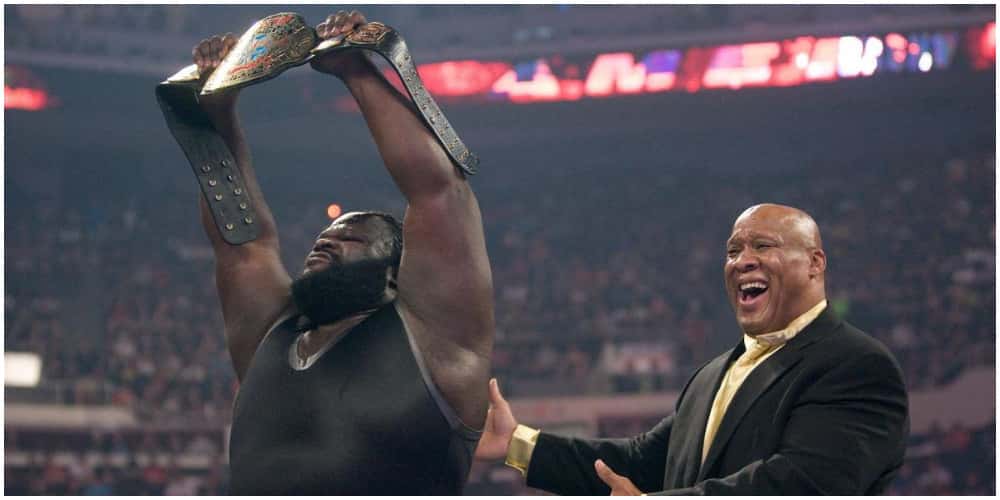 Dubbed the World Strongest Man, Mark Henry's sheer upper body strength saw him become a dominant force in the WWE.
While many people would put other wrestlers such as Ahmed Johnson, Shelton Benjamin, or Bobby Lashley ahead of Mark Henry on their list, Mark Henry makes this list for one simple reason, his accomplishments in the ring.
Unlike these three wrestlers, Mark Henry is more decorated and was in the main event scene for quite a long time. Apart from winning the WWWE World Heavyweight title in 2011, Mark Henry is also a two-time World Champion with ECW and a one-time WWF European champion.
Although Mark Henry had a rather impressive start in the WWF in 1996, feuding with Jerry "The King" Lawler,
Henry's impressive career would ultimately take a hit due to a lack of creativity by WWF's creative team. Henry would ultimately find himself stuck in WWE's developmental territory for about four years. In 2002, Mark Henry returned to the WWE, challenging the then WWE World Champion, Batista for the title.
Although Henry was not able to get the title, he remained this time in the company's upper card, taking on some of the biggest names the time such as Rey Mysterio, Chris Benoit, and The Undertaker. A few years later, the WWE would draft Mark Henry to the ECW brand, where he went on to defeat The Big Show and Kane for the ECW World title.
Despite being a solid wrestler, Mark Henry's wrestling career was always at the mercy of the promotion's creative team. On many occasions, the creative team often placed Mark Henry in some weird storylines and matches which makes you wonder, what were they thinking.
At Wrestlemania XXV, the WWE booked Mark Henry in a Bank in the Money ladder match. Whether it was for comical reasons or for some reasons best known to them, this was a total letdown from the creative team and just one of the many examples of the mediocre bookings that Mark Henry found himself in.
All in all, Mark Henry proved to be a seasoned wrestler, with a wrestling career that has definitively been full of ups and downs.
9. Junkyard Dog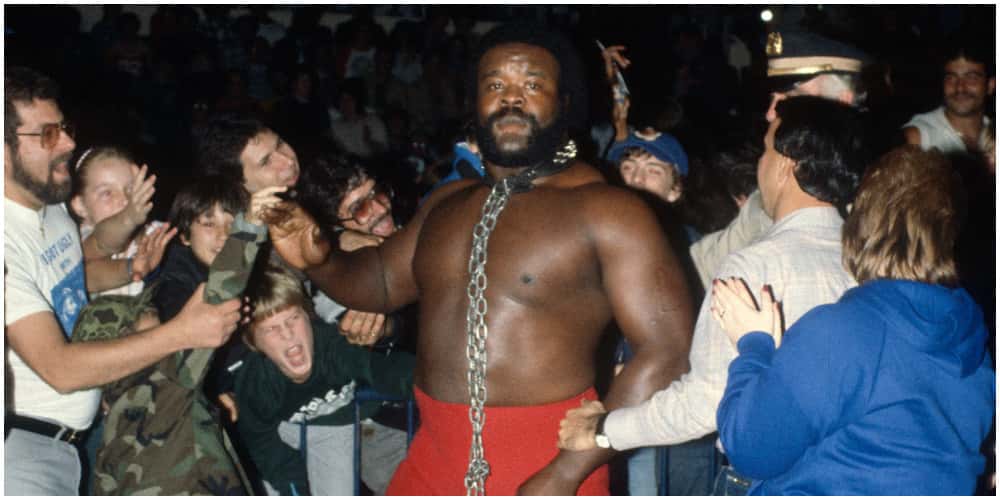 One of the most electrifying wrestlers of the '80s, Junkyard Dog's charisma and wrestling skills saw him become the first-ever undisputed top talent of his promotion. At his peak, Junkyard was a wrestler who pulled crowds, selling out several major venues such as the Louisiana Superdome.
Apart from his wrestling skills, Junkyard Dog was also known for his immersive upper body strength and trademark headbutt.
His upper body strength, saw him power slam various wrestlers such as Kamala, King Kong Bundy, and One-man Gang. While he only worked with the WWE for four years, Junkyard Dog was still able to make his mark in the company registering wins against several seasoned wrestlers such as Randy Savage, Moondog Spot, and Iron Sheikh.
In 1988, Junkyard Dog finally left WWF to join WCW/TNA.
It did not take long for Junkyard Dog to get into the promotion's main event scene. During his run for the World Heavyweight Championship, JYD would get into a feud with the then champion Rick Flair.
While he would ultimately defeat Rick Flair at the 1990 Clash of Champions event, JYD would not receive the title as it was through a DQ. Even though his WWE career was not as successful as his TNA/WCW career, JYD still left an impact on both companies and wrestling in general.
8. Sasha Banks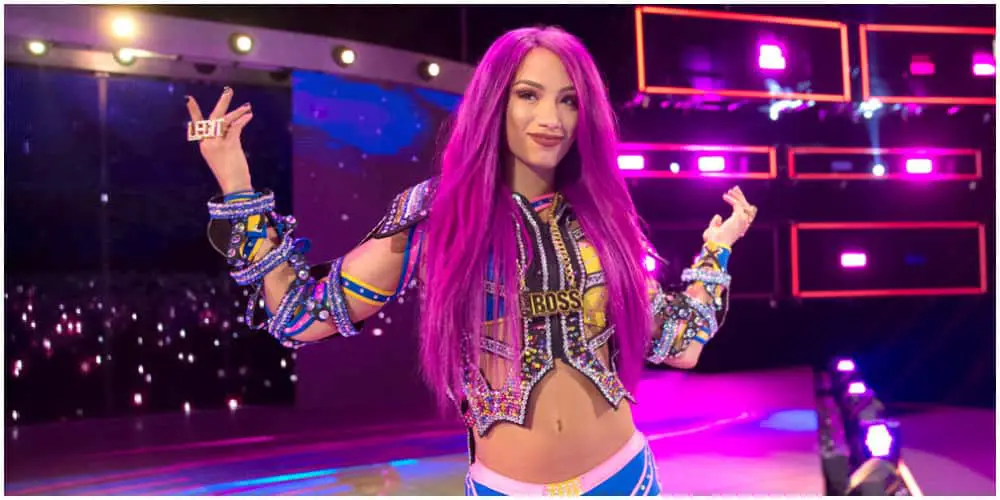 A founding member of the four horsewomen, Sasha Banks is undeniably the most successful African American female wrestler. Her personality, in-ring skills, and ability to sell promos saw her become one of the highest-paid and most successful female wrestlers of all time.
Sasha Banks and fellow Four Horsewomen played a crucial role in reshaping and transforming the women's division into what it is today. For quite a long time, poor bookings and mediocre storylines turned the women's division into just but an afterthought for the WWE. No one was simply interested in watching these matches.
However, the introduction of the four Horsewomen showed that the women's division had so much to give and it was just but a matter of time. Sasha Banks, Bayley, Charlotte Flair, and Becky Lynch took the WWE development program by storm.
As a team, the Women's Evolution helped usher in the first-ever women's Iron match, Hell in a Cell, Elimination Chamber match, and Royal Rumble match.
It was all but a breath of fresh air and reprieve for the women's division and the WWE as an organization. While Sasha Banks's relationship with the company remains somewhat shaky after being forced to relinquish her tag team championship title (with Bayley) 49 days after winning it, her influence, role, and impact still remain unrivaled.
7. Ron Killings/R-Truth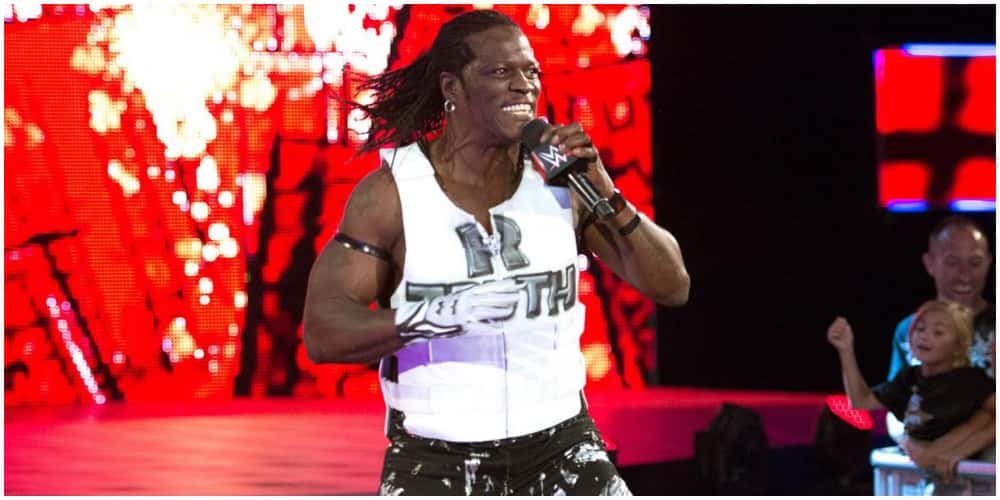 Ron Killings, popularly known as R-Truth in WWE's most decorated wrestler with 67 titles under his name. Like most wrestlers, R-Truth had to put in the work to get where he is today.
As a matter of fact, his first years as a wrestler is not that quite memorable and Rollins was not a solid wrestler. It is only after he left the WWE to join TNA that his career finally got that trajectory.
For quite a long time, R-Truth was stuck in WWE's mid-card, with his role with the company being limited to that of a jobber. His first stint with the company was characterized by mediocre bookings and to say the least his first gimmick K-Kwik was not that impressive.
Although R-Truth had a rather impressive career with TNA, winning the World Heavyweight title, his wrestling career took a dip when he once again returned to the WWE. It is only after he snapped and became a heel that he managed to put the entire WWE roster and fans on the note.
Truth not only turned heel but also in the process demanded some respect.
It is at this point in his career that many wrestling enthusiasts finally came to the realization that R-Truth had undergone a series of metamorphoses and now was a main event caliber wrestler.
Many of the skeptics were now believers.
His first-ever title shot in the WWE would come a few months after his heel turn and it would be against John Cena. This meant that Ron Killings was now among the small elite list of Black American wrestlers to challenge for the World Heavyweight championship.
6. Kofi Kingston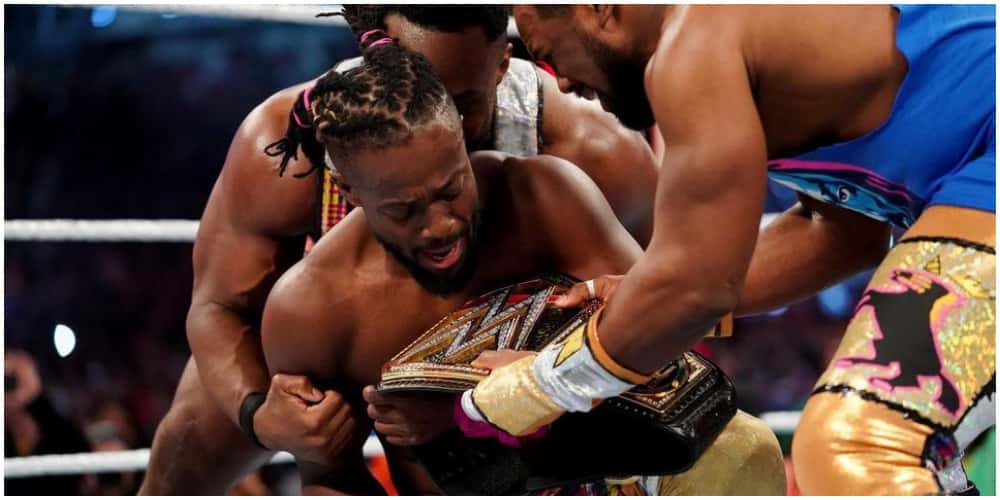 WWE Champion-1 time
WWE Tag Team Champion-14 time
WWE United States Champion-3 time
The king of the tag team division, Kofi Kingston is undeniably one of the most decorated wrestlers in the WWE. With 14 tag team titles under his name, Kofi Kingston currently holds the record for not only the most tag team titles but also the longest tag team reign.
A Ghanaian-American, Kofi Kingston spent most of his wrestling career in the mid-table.
In 2019, Kofi Kingston finally got the individual breakthrough that he rightly deserved when he defeated Daniel Bryan at Wrestlemania 35 to become the new World Heavyweight champion.
For a man who had spent a bigger part of his wrestling career in the mid-card, this was a breath of fresh air and a reprieve for many of his supporters.
Like many wrestlers in the WWE, Kofi's first love was basketball, however, he failed to excel at the sport due to the height and size of his hands. While his brief stint as a WWE champion lasted for several months, Kofi Kingston ultimately reunited with the New Day in 2019.
A seasoned wrestler, Kofi Kingston is a 1-time WWE champion, 4-time Intercontinental champion, and the 3-time United States Champion.
5. Rocky Johnson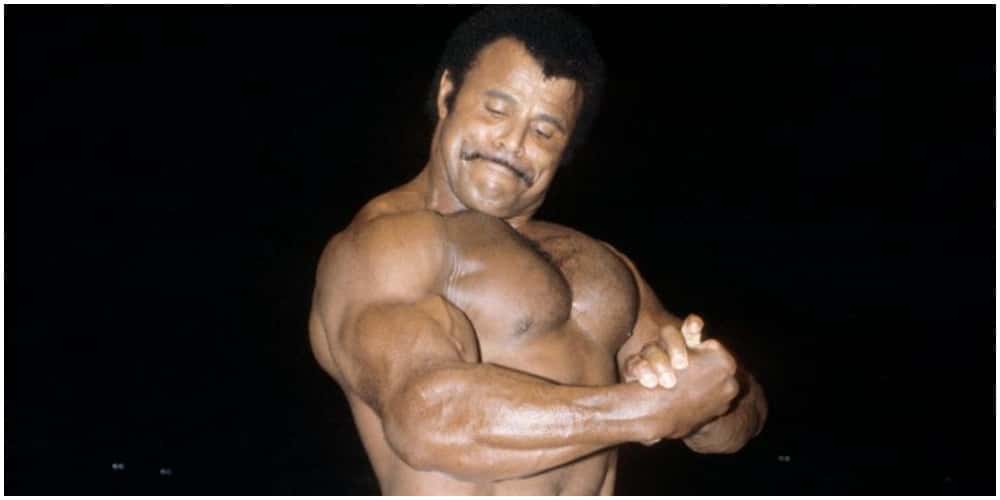 WWF Titles: 1
Hall of Fame Inductee
NWA United States Champion: 1
NWA Tag Team Champion
Rocky Johnson's role in the annals of Canadian wrestling history makes him a pioneer and one of the greatest Canadian wrestlers.
Being among the first black Canadian wrestlers to ever grace the squared circle, many at times Rocky Johnson had no option but to play the race card that many wrestling promotions embraced at the time.
Unlike many second and third-generation superstars, Rocky Johnson had a pretty rough childhood. At the age of 13, he lost his father to lung cancer and his mother remarried a man who would later prove to be quite abusive.
With the odds stacked against him, rocky Johnson defied the odds and first took boxing before turning to professional wrestling.
Brief encounters and sparring sessions with George Foreman and Mohamed Ali would give him the push that he truly deserved. Despite making it into the big stage, wrestling promotions would still present Johnson with weird storylines and angles due to his color and background.
While he ultimately became one of the pro-wrestling true legends, three things would mark Johnson's achievements. The first achievement would be his marriage to Ata, Peter Mavia's daughter.
Johnson's second achievement would be winning the WWF World Heavyweight title while his third would be molding and guiding his son, Dwayne "The Rock" Johnson into one of the greatest wrestlers of all time.
4. Ron Simmons
Considered to be the first-ever African American WWE and WCW World Champion, Ron Simmons is an accomplished pro wrestler widely remembered for his stints with the WWF and WCW.
Although he wrestled using his real names, Simmons in some instances wrestled under the gimmicks of Farooq and Farooq Assad.
In 1986, Ron Simmons signed with WCW, wherein his second month with the promotion managed to register one of the most impressive wins of his wrestling career. After registering his win against Ivan Koloff, Ron Simmons would remain undefeated in singles action for three straight months.
In February the next year, he would go on to lose to none other than Ivan Koloff.
While he had a rather impressive start to his wrestling career, things finally took off for Ron Simmons when he finally turned heel. By turning heel, Ron Simmons ultimately became a top-tier wrestler, rubbing shoulders with many of the promotions seasoned wrestlers like Ricky "The Dragon" Steamboat and Junkyard Dog.
In 1992, Ron Simmons spent a bigger part of the year feuding with Cactus Jack (Mick Foley). Simmons would finally get into the championship conversation, receiving a title shot after winning a raffle to become the number one contender.
With his first title shot, Ron Simmons put forth an impressive fight, winning the match after power slamming the then World Champion, Vin Vader. The win meant that Ron Simmons was now the first-ever African American WCW World champion. A few years later, Ron Simmons would join ECW before finally signing with the WWE.
With the WWE, Ron Simmons was the leader of the Nation of Domination, a faction that consisted of Rocky Mavia (The Rock), Savio Vega, and Crush.
The newly founded faction proved to be a force to reckon with in the WWE, winning two WWF European Championship.
3. Bobo Brazil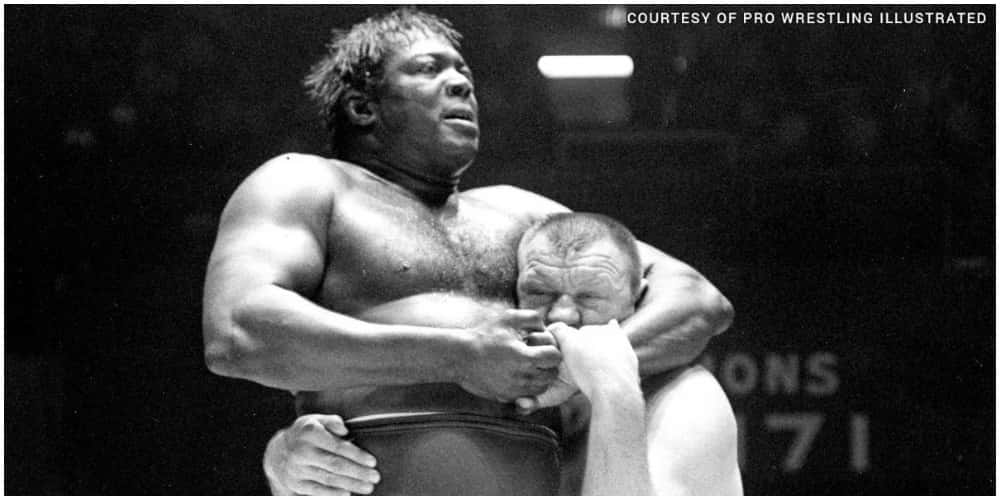 Regarded as the Jackie Robinson of sports entertainment, Bobo Brazil is undeniably the first-ever African American World Wrestling Champion. Bobo Brazil's immense popularity during the '50s and '60s saw him defy the odds by becoming the first wrestler to overcome racial prejudices.
During this period, African American wrestlers could only wrestle against fellow African American wrestlers. However, due to Bobo Brazils' popularity and demand at the time, many promoters could not simply pass the opportunity to make a couple of more dollars.
As a result, Brazil ended up becoming the first-ever person of color to hold the World Heavyweight Championship after he defeated Buddy Rodgers. Nonetheless, Brazil would later hand over the title after Rodgers claimed that he had been injured prior to the match.
Although ECW failed to recognize Bobo Brazil as a world champion, Bobo definitely managed to break the racial barriers and paved the way for other colored wrestlers in the main event scene. His popularity during the 1960s saw him not only as a national icon but also as an international figure.
During his illustrious wrestling career, Bobo Brazil rose to the main event scene, rubbing shoulders with established wrestlers such as Killer Kowalski, The Sheikh, Dick the Bruiser, and Johnny Valentine.
Due to the nature of the wrestling scene at the time, many of Bobo Brazil's matches were quite bloody, with the participating wrestlers using various wrestling weapons to their advantage.
The legacy that Bobo Brazil left behind cannot be matched or forgotten. In 1994, Bobo Brazil also went into the history books by being the first-ever African American wrestler to earn an induction into the WWE Hall of Fame.
2. Booker T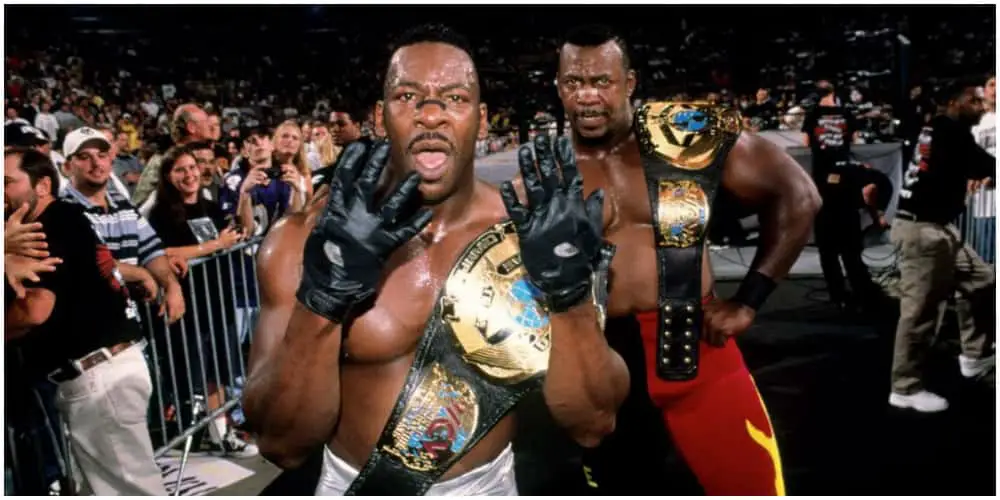 Hall of Fame Inductee: 2013
WWE World Heavyweight Champion: 1 time
WWE Intercontinental Champion: 1 time
WWE United States Champion: 1 time
WWE Tag Team Champion: 3 time
Previously labeled as a tag team specialist, Booker T meteoric rise in the WWE not only proved that he was a decent in-ring worker but also a comedic genius. His partnerships with the likes of Goldust and his reign as King Booker proved that he indeed deserved a spot as one of the company's greats.
Booker T began his pro wrestling career back in 1989, in his hometown of Houston with his brother, Stevie Ray. Initially, they worked for Global Wrestling Federation before securing a contract with WCW.
While working for WCW, Booker T teamed up with his brother forming the stable Harlem Heat. Harlem Heat would take on various tag teams in the division such as the Steiner brothers and Nasty Boys.
Their partnership would prove to be a success as the stable managed to win the tag team titles a record 10 times.
Their impressive reign would ultimately come to an end after the arrival of The Outsiders in 1996. The new duo consisting of Scott Hall and Kevin Nash became a force to reckon with and dominated the tag team division for many years that followed.
Although The Outsiders proved to be a force to reckon with, Booker and Stevie were still the best tag team stable in the company.
However, in 1997, Stevie would suffer an injury that saw Booker go solo.
Despite his massive size, Booker proved to be quite athletic in the ring. It is his stint with the WCW that the world first took note of this highly entertaining star.
However, after joining the WWF a few years later in 2001, Booker T would ultimately become a household name. By the end of his illustrious wrestling career, Booker T had managed to win the world heavyweight championship 6 times and the tag team titles a record 13 times. In 2013, the WWE would induct Booker T into its Hall of Fame.
1. The Rock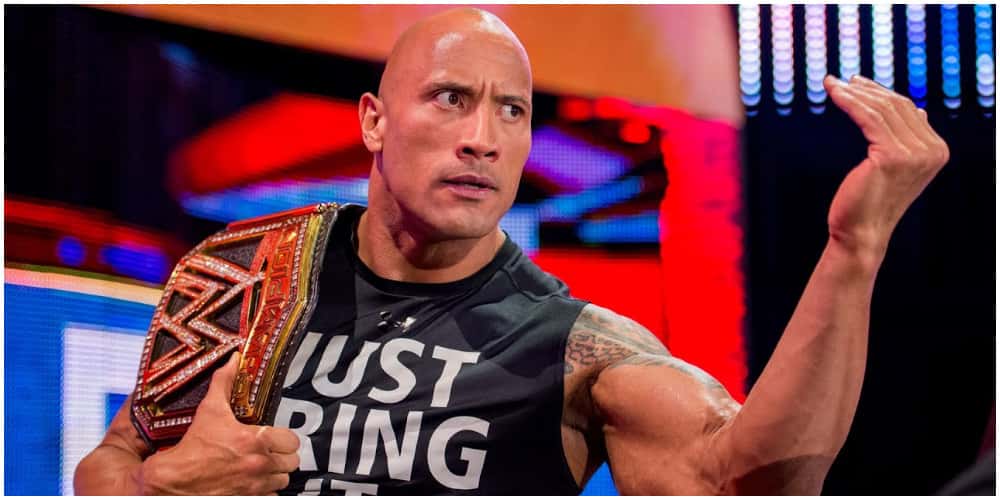 WWE World Heavyweight Champion: 8 times
WCW World Champion: 2 times
WWF Tag Team Champion: 5 times
WWF Intercontinental Champion: 2 times
One of the wrestling truest and brightest stars, The Rock is an iconic figure in sports entertainment and one of the greatest to ever step into the squared circle. A 14-time world champion, The Rock's role and contribution during the Attitude Era helped propel the WWE into what it is today.
Just like his father Dwayne Johnson also faced a series of challenges while growing up. After his football career failed to take off, Dwayne Johnson would spend his early years in the Canadian Football League.
However, after realizing that his football career was over even before it began, he had a lengthy conversation with his father about joining the world of professional wrestling.
The Rock finally made his debut in 1996, wrestling under the moniker "Rocky Mavia", a combination of his father's and grandfather's name. During this period, the WWE hyped him and presented him to the world as the World's first third generational wrestler, an idea that The Rock was reluctant at first to embrace.
However, after the intervention of Jim Ross and Vince McMahon, Dwayne Johnson finally caved in.
By the end of his illustrious wrestling career, Dwayne Johnson had 8 WWE world championship titles, 2 WCW Championship titles, 2 WWF intercontinental championship titles and 5 WWF Tag Team titles.