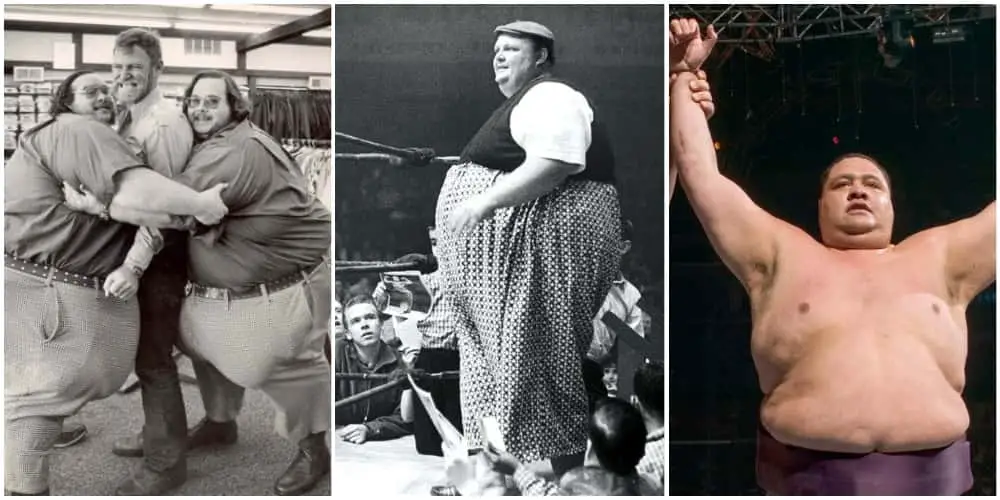 The 10 Heaviest Wrestlers of All Time
Last updated on May 8th, 2022 at 11:15 am
For quite a long time, the size of an athlete has played a significant role in the world of wrestling. During the earlier years, wrestling fans adored towering giants and thus many wrestling promotions went all guns out in an effort to capitalize on this new obsession.
As most promotions were going after 7-foot giants especially during the Transition and Golden Era, a new crop of wrestlers emerged.
Unlike the typical giants that many fans had become accustomed to, this new breed of wrestlers did very little to stay fit and thus ended up weighing more than 600 pounds. While these wrestlers did not look anything like a typical wrestler would, the reception among the wrestling fans back then was great.
There was simply something great about seeing a 600-pound giant in the ring.
From the world's heaviest twins The McGuire Twins to the likes of Happy Humphrey to Giant Haystacks, these wrestlers proved to be quite a hit as thus ended up filling up various stadiums and arenas to the brink. Due to their lack of athleticism, many of these wrestlers often relied on their massive weight and massive strength during wrestling matches.
As a result, many of these wrestlers went unbeaten for a bigger part of their wrestling careers.
Moreover, many of these wrestlers were often placed in battle royals which made it not only entertaining but also quite difficult for average-sized wrestlers to throw them over the top rope. That said, let us look at the 10 heaviest wrestlers to ever step into the squared circle.
10. Akebono Taro: 514 pounds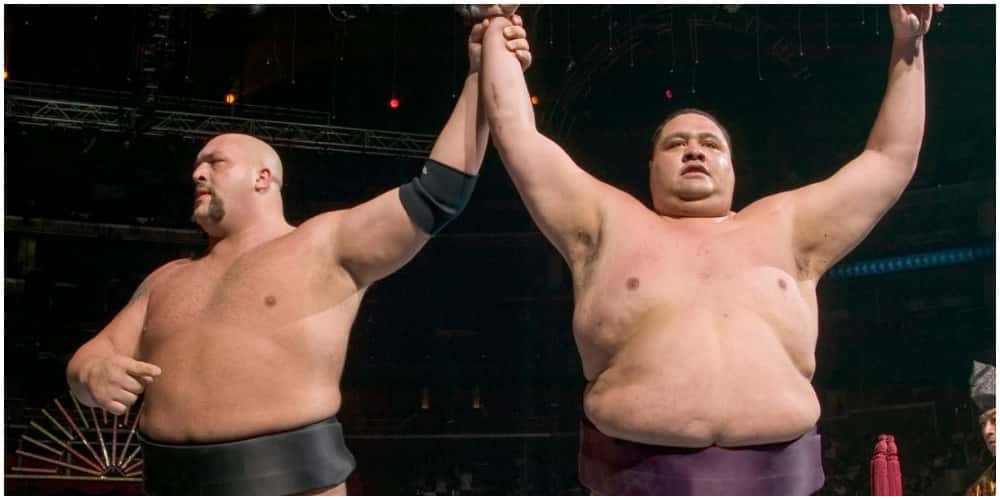 A renowned Japanese-American wrestler, Akebono Taro began his career as a professional Sumo Wrestler in 1988. By the year 1993, Akebono Taro made history, by becoming the first ever non-Japanese born wrestler to attain the title, Yokozuna.
After his sumo wrestling career came to an end, Akebono Taro entered into the world of MMA and kickboxing after a string of financial problems. In 2005, Akebono made his on-screen debut for the WWE, to accept Big Show's challenge for a sumo wrestling match.
During his WWE debut, Akebono managed to defeat Eddie Vegas a renowned jobber. At WrestleMania 21, Taro went head to head against The Big Show in a sumo wrestling match. Akebono Taro would win the match after executing a koshinage.
After his rather short stint with the WWE, Akebono Taro signed with AJPW in 2005, where he took part in a string of singles and tag team matches.
9. Andre the Giant: 525 pounds
One of the biggest and most popular wrestlers of the 1970s, Andre the Giant was a towering behemoth, who unlike most wrestlers his size tried to wrestle. Before signing with the WWWF, Andre the Giant could effortlessly execute drop kicks and several other moves.
His huge size saw him not only pull crowds but also travel across various territories and promotions in North America. Before signing with the WWE, Vince McMahon became his booking agent.
In 1974, his first year in the United States, The Guinness Book of Records claimed that Andre the Giant made a whopping $400,000. Factoring all inflation rate, this figure translates to $2.34 Million in 2021.
However, as time went by, wrestling fans began to get bored mainly because Andre the Giant was simply unbeatable which made most of his bookings easy to predict. In a bid to prevent Andre the Giant's body from breaking down and improve his overall appeal, Vince McMahon came up with a new proposition.
The new proposition entailed Andre the Giant dropping most of his moves and embracing a methodical approach to wrestling. In the 1980's Andre the Giant ultimately signed with the WWE. Although, at this point, his body was already falling apart, Andre the Giant still managed to become a household name, thanks to McMahon's input.
Vince McMahon had just purchased the company from his father the previous year and was keen on expanding the promotion to other territories. Andre the Giant, Hulk Hogan and Big John Studd were just but a few of the wrestlers who played a crucial role in McMahon's expansion plan.
8. Man Mountain Mike: 600 pounds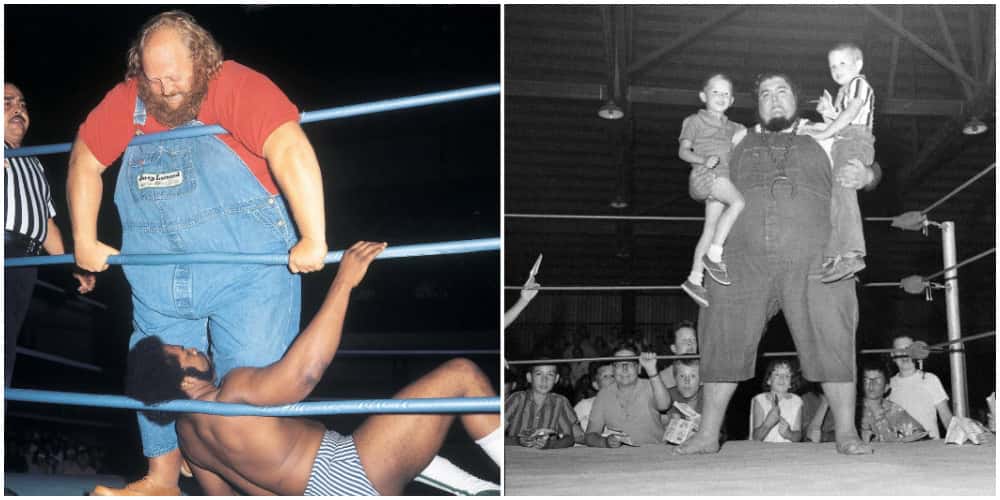 Way before Yokozuna, Rikishi or The Big Show, wrestling fans had Man Mountain Mike and Haystacks Calhoun. Discovered at all you can eat buffet, Man Mountain Mike was a towering behemoth who weighed an approximated 600 pounds.
Despite his immense size, Man Mountain Mike could put forth decent fights. Since he wrestled at a time when many wrestling fans were more invested in size more than wrestling skills, Man Mountain Mike often fought with or against Haystacks Calhoun.
While man Mountain Mike never signed with the WWWF(WWE), he was still a household name back in Los Angeles, Florida and AWA. In the early 1970's Man Mountain Mike signed with Championship Wrestling based in Florida where he took part in many battle royals.
Due to his size many of his opponents were not able to throw the 600-pound giant over the rope and thus Man Mountain Mike ended up winning many of these events effortlessly. Because of his wins, promotions and wrestling analysts named him the "King of Battle Royals".
Later, Man Mountain Mike signed with NWA, where he managed to win the promotions tag team championship title alongside Butcher Branigan. After his brief stint with both NWA and Championship Wrestling, Man Mountain Mike embarked on his tour of Japan.
While in Japan, Man Mountain Mike took on the greatest Japanese wrestler of all time, Antonio Inoki in a string of matches. Due to Inoki's dominance and popularity back in Japan, Man Mountain Mike was unable to win any of these matches.
7. Blimp Levy: 642 pounds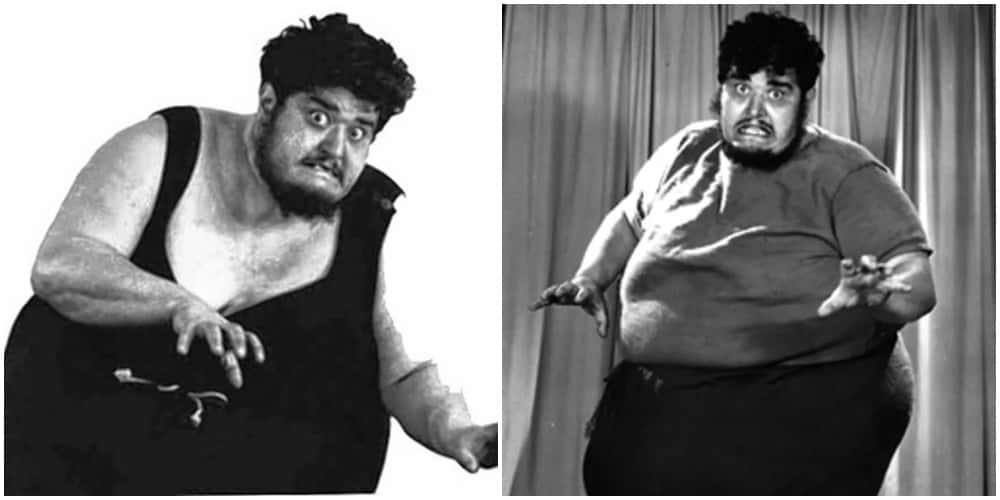 Considered to be the largest wrestler of his time, Blimp Levy was a major wrestling attraction back in the 1930s and 1940s. The New York Times described Levy as "the most meat to ever step into the squared circle, while The Boston Globe stated that "there is no challenging Levy to become the World's biggest.
Prior to becoming a professional wrestler, blimp Levy worked as a fat man in a side show organized at Coney Island. It is while working as a fat man that Jack Pfeffer, a renowned promoter discovered Blimp Levy.
Unlike most similar sized wrestlers, Blimp Levy was quite agile in the ring and at one point managed to kick a metal can that was hanging six feet above the ground. Throughout his illustrious wrestling career, Blimp Levy wrestled across various territories in the United States.
By the end of his wrestling career, Blimp Levy held wins against Buddy Rogers "The Nature Boy", Gorgeous George, and Tor Johnson. In Paul Boesch biographical book, Paul states that Blimp Levy was not only one of the biggest wrestler at the time but also managed to sell out all the arenas he ever wrestled in.
By Mid 1940's, Levy's overall health began deteriorating. As a result, the Athletic Commission of Connecticut revoked Blimp's license to wrestle under the recommendation of doctors who examined Levy. As a result, Levy began to wrestle in other territories such as Singapore and Malaysia.
In 1951, Levy officially retired from professional wrestling.
6. Haystacks Calhoun: 658lbs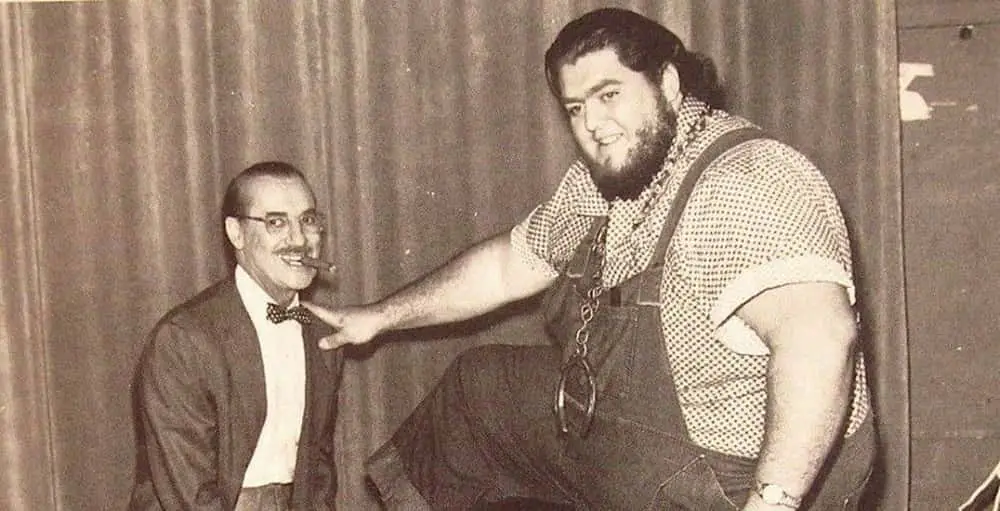 Widely remembered for his hilly-Billy performance, Haystacks Calhoun was one of the most popular wrestlers back in the 1960's and 1970's. His massive size saw him become a fan favorite and was often placed in matches against fellow behemoths.
Although Haystacks was not born in Arkansas, many wrestling promotions often used this angle and to further add more realism to the hilly-billy persona, Haystacks had to don a white T-shirt, bushy beard, a horse shoe around his neck and blue overalls.
Due to his massive size and ability to dominate matches, Haystacks Calhoun hardly lost any of the matches that he took part in. Thus, many wrestling promotions early on in his career often placed him either in battle royals or handicap matches.
During the early 1960s, Haystacks Calhoun teamed up with fellow giant Happy Humphry in a series of sold-out matches at Madison Square Garden. Because Happy Humphry was heavier than Haystacks Calhoun, he was often quite slow and many at times would easily lose a match via count-out since he was not able to get back to the ring on time.
5. Giant Haystacks: 686lbs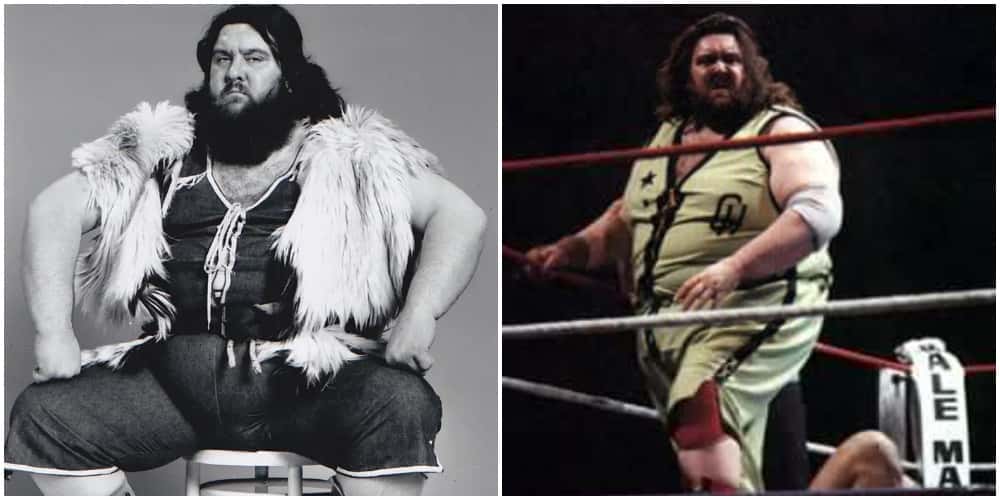 The Loch Ness Monster was undeniably one of the most renowned wrestlers within the British wrestling scene back in the 80's and 90's. Due to his massive size, Giant Haystacks was a fan favorite. Throughout his illustrious wrestling career, Giant Haystacks was able to not only win the British Heavyweight Championship but also the European Heavyweight Championship title.
Often portrayed a superheavyweight heel, Giant Haystacks teamed up with Big Daddy, with one mission in mind; crush all the blue-eyed babyfaces of the company. After two years, the stable ultimately broke up.
The result was a rather long and entertaining feud that brought up ITV's rating as more and more wrestling fans became highly interested in this one of a kind feud.
Although the feud started late in the 70's, it would run for nearly two decades until Big Daddy's ultimate retirement from pro wrestling. Giant haystacks managed to become a household name in his home country, which often drew interest from various promotions across the world.
While wrestling in Canada, Giant Haystacks managed to win the Stampede Tag Team title on two separate occasions with Bret Hart and Dynamite Kid. In 1996, Giant Haystacks ultimately retired from pro wrestling after being diagonized with cancer and returned to his home country, Britain.
4. Yokozuna: 750lbs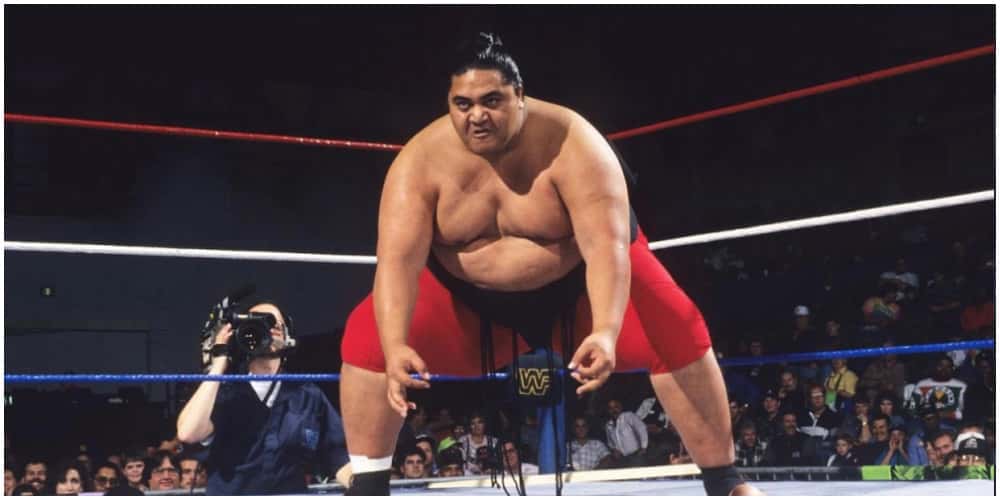 Billed at 750lbs, Yokozuna is the heaviest WWE champion of all time and one of the most dominant wrestlers to ever step into the squared circle. During his meteoric rise to the WWE's upper card division, Yokozuna defeated various seasoned wrestlers such as Bret "The Hitman" Hart, Hulk Hogan and The Undertaker.
While the WWE marketed Yokozuna as a Japanese wrestler, Yokozuna was a Samoan American wrestler and member of the famous, Anoi'a family.
However, Mr. Fiji, Yokozuna's manager and partner in crime was from Japan. Unlike many main event wrestlers, Yokozuna was a heel who could go to extreme lengths to win matches. After making his debut back in 1992 as Kokina, Yokozuna began his undefeated streak by defeating Ron Neal.
In his second match for the promotion, Yokozuna would drop his former gimmick and instead use his new gimmick Yokozuna, a Sumo wrestler. Several months the line, Yokozuna would eliminate Randy Savage to win the 1993 Royal Rumble match.
This win cemented Yokozuna's place in the promotions main event scene and was now one of the top dogs in the company. At Wrestlemania X1, Yokozuna won his first ever WWF World Championship after defeating Bret "The Hitman" Hart thanks to Mr. Fiji's interference.
However, Yokozuna would lose the title on the same night to Hulk Hogan after Mr. Fiji accidentally threw salt into Yokozuna's eyes. Currently, Yokozuna holds the fourth shortest time to win the WWF Championship title after his debut, behind Rick Flair, Sheamus and Brock Lesnar.
3. Billy McGuire: 784lb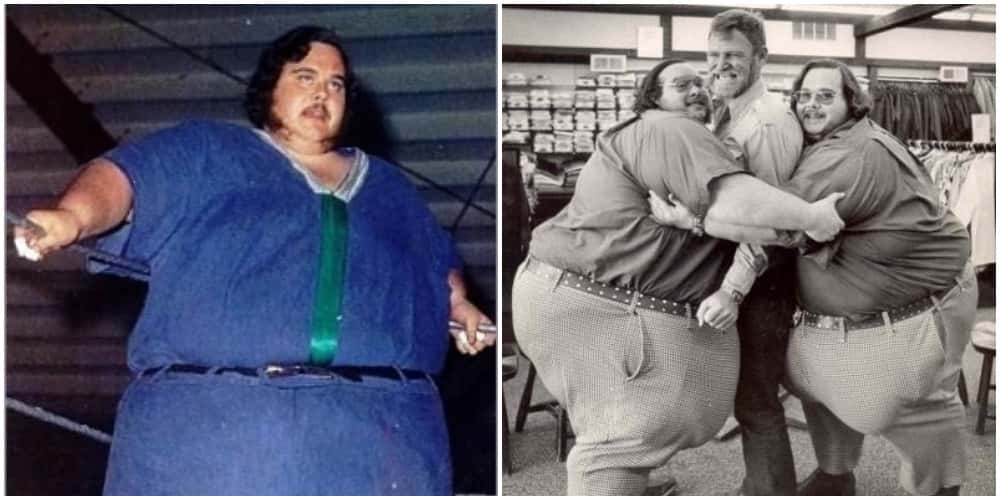 Billy McGuire is the third heaviest wrestler of all time and weighed an average of 784 pounds throughout his wrestling career. Just like his brother Benny McGuire, Billy McGuire also suffered a string of injuries, however, his injuries were mainly caused by his weight and not fans.
While performing the Big Splash, Billy McGuire broke four ribs. Due to their massive size, the McGuire brothers have had rings collapse on them on various occasions.
In a Big Men competition held at Madison Square Garden, all the competing wrestlers were more than 400 pounds. Wrestlers who participated in this match included Andre the Giant and Haystacks Calhoun. Like most giant wrestlers, Billy and Benny were not always large.
As a matter of fact, the two were born prematurely, weighing about 5 pounds each. After a bout of German measle affected their pituitary glands, Billy and Ben began to balloon in size. By the age of 12 years, the two wrestlers weighed about 250 pounds and by 20 years they reached 500 pounds.
2. Benny McGuire 814lbs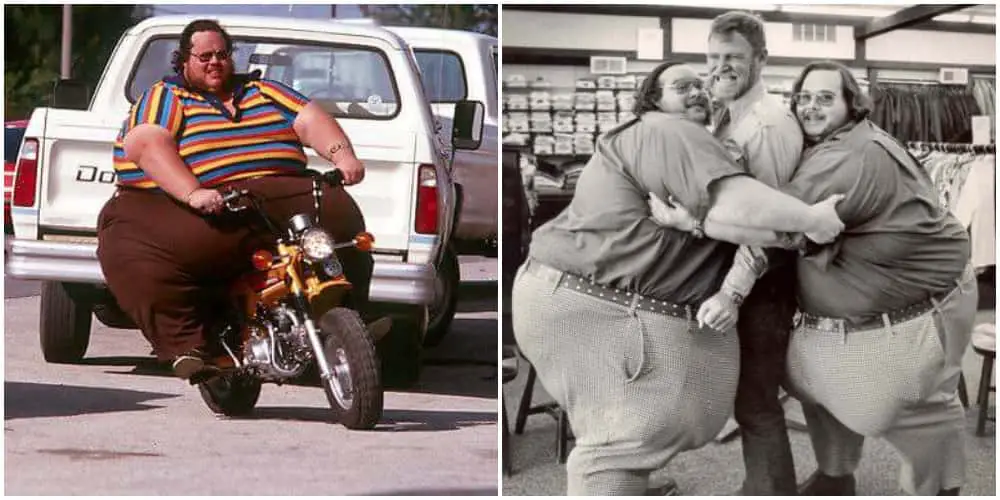 Billed at 814 pounds, Benny McGuire was the heaviest of the McGuire twins. Widely known for their wrestling moves the big splash and the steamroller, the McGuire twins were a sensation hit back in the 1960s.
The twins were quite dominant in the tag team division of any promotion that they got booked in and many at times this did not sit well with many local fans especially those outside the United States.
After annihilating the Japanese tag team champions and local favorites back in Tokyo, an irate fan took upon himself to inflict a 6-inch stab wound on Benny McGuire. According to the twins, Japan was one of the countries where the wrestling fans truly hated them.
This would mark just one of the many instances when the McGuire twins were on the receiving ends from the fans. While on a tour in Kentucky, another wrestling fan decided to throw a bag full of rattlesnakes into the McGuire's twins dressing room.
1. Happy Humphrey: 900lbs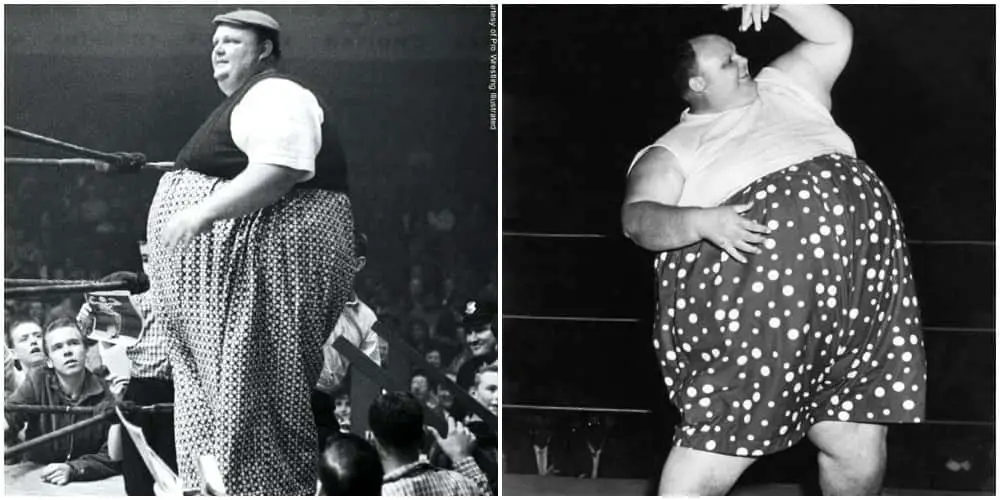 Considered to be the heaviest wrestler of all time, Happy Humphrey was undeniably a powerhouse and one of the most popular wrestlers back in the 1950s and 1960s. While he averaged around 750 pounds for most of his wrestling career, historical records show that Happy Humphrey peaked at 900 pounds.
Due to his massive size, Happy Humphrey often went head to head against fellow giants specifically, Haystacks Calhoun.
While he had a rather promising wrestling career earlier on, Humphrey's most memorable match would come at Madison Square against Calhoun under Vince McMahon's promotion. While Humphrey's massive size proved to be a major selling point for many promoters, there were certain challenges that came along with the weight.
For instance, Humphrey's promoter's Pontiac had to be adjusted by removing the seats and installing extra shocks to ensure that the car was able to support Humphrey's overall weight.
In addition, getting into the shower also proved to be a major challenge and thus Humphrey often had to lie on the floor and have his driver and future wrestler, Harley Race apply liquid soap on him and then scrub him. Race would then proceed to rinse him using a garden horse.
After wrestling for more than a decade, Happy Humphrey developed a heart condition that forced him into early retirement. After following a strict diet, Happy Humphrey managed to lose more than 570 pounds, setting a new Guinness World Record.