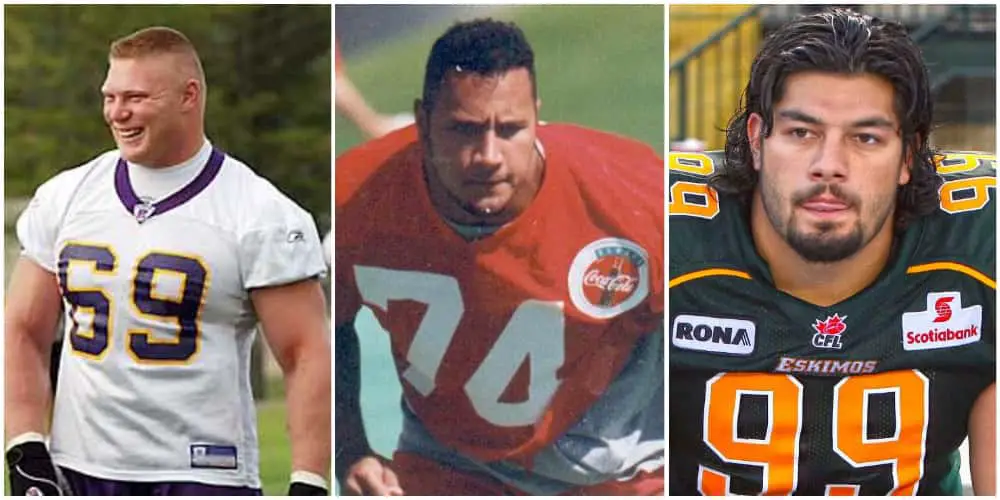 10 Wrestlers Who Played American Football
Last updated on May 8th, 2022 at 11:37 am
Over the years, we've seen many pro-athletes successfully transition to the world of professional wrestling. From the Big Show to Kane to Omos, all these wrestlers were outstanding athletes during their college and high-school years.
On the other hand, we have a group of wrestlers who went pro before ultimately switching over to pro-wrestling. Wrestlers such as Jorge Gonzalez for drafted into the NBA and even made competitive appearances for his home country team, Argentina.
While it's widely known that many wrestlers in the WWE and other wrestling promotions played football, there are those who were actually pretty good. Wrestlers such as Vader actually got a chance to not only play in the NFL but also made an appearance in the Superbowl.
On the other hand, we have wrestlers who were actually good in football but failed to make the cut due to a string of injuries.
That said, this list looks at 10 wrestlers who played American football, whether it was at pro-level or college and high-school levels.
10. Jim "Hacksaw" Duggan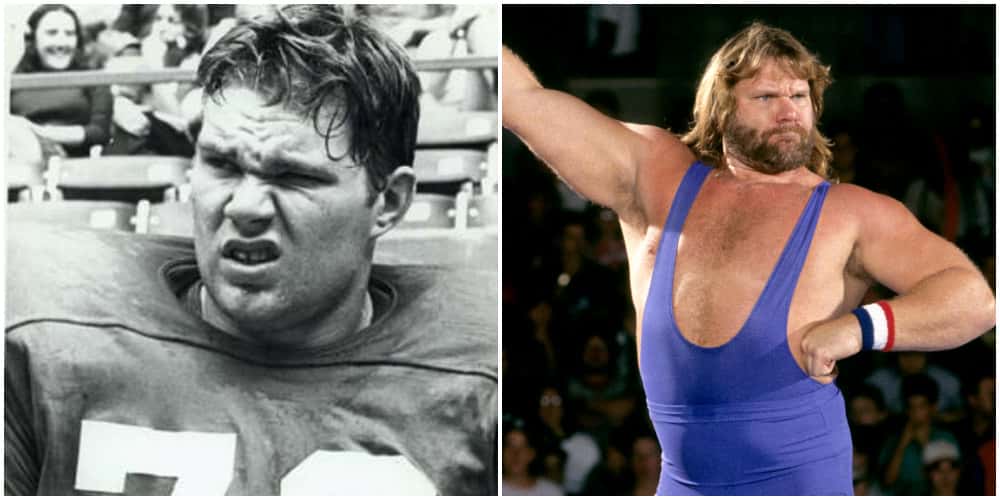 Arguably one of the best 1980s wrestlers, Jim "Hacksaw Duggan, made his WWE debut in 1987, only to win the biggest title in the company two years down the line. While Duggan was a solid wrestler, many wrestling fans will remember Duggan for leading "U-S-A chants and his trademark yell, "Hoo".
In 1988, Duggan made history by winning the 1988 Royal Rumble. After an impressive run with the WWE, Duggan signed with WCW, where he not only became the WCW television champion but also the WCW United States champion.
While growing up in the small town of Glen Falls, New York Duggan fell in love with American Football and ended up becoming a star athlete. Duggan not only excelled in American Football but also basketball and Athletics as well.
Despite being wooed by Ohio State University, Duggan settled for Southern Methodist University. At Southern Western University, Duggan was chosen as the team captain.
After his college career ended, the Atlanta Falcons selected Duggan. However, the team would ultimately release him after a series of knee injuries.
9. Ron Simmons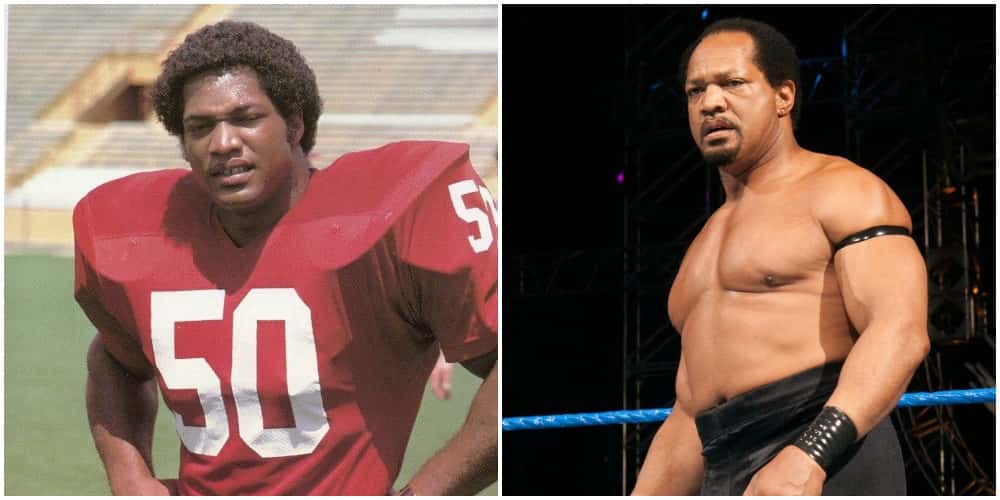 Apart from his impressive wrestling abilities, Ron Simmons was loved for his entertaining personality. As one of the greatest African American wrestlers of all time, Ron Simmons paved the way for many African American professional wrestlers to compete for titles and championships at the highest levels.
Some of the wrestlers that went under the tutelage of Ron Simmons include Mark Henry and Dwayne "The Rock" Johnson. However, before becoming a pro-wrestler, Ron Simmons was a superstar in another profession, American football.
During his college career at the Florida State University, Simmons ended up dropping 44 tackles for loss, 17 forced fumbles and 383 tackles. By the end of his impressive college career, Ron Simmons had received All-American honours twice.
In 1981, the Browns ended up drafting Ron Simmons during the 6th round of 1981's NFL draft. Despite lasting with the team for only two years, Simmons still continued with his football career in the CFL for the Ottawa Rough Riders and the USFL for the Tampa Bay Bandits.
8. Big Van Vader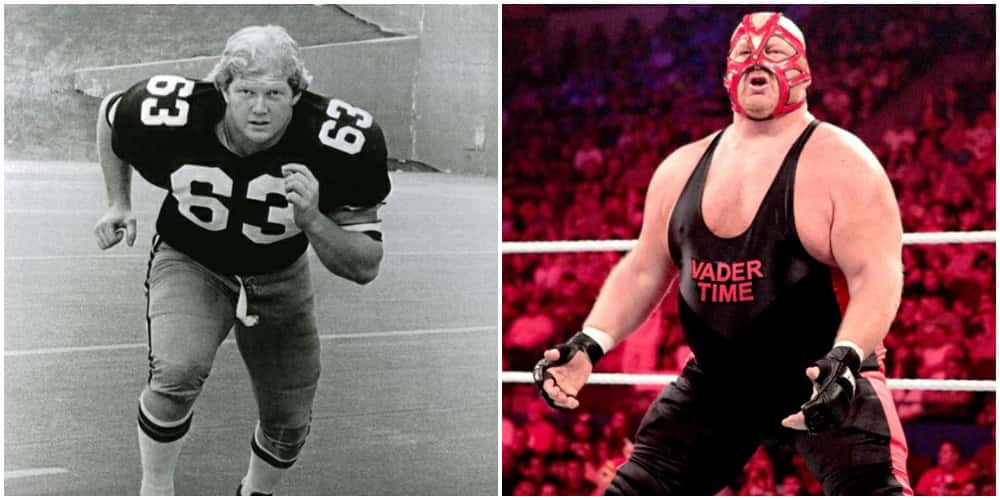 Regarded as one of the greatest 90s wrestlers, Leon White widely known as Vader was one of the biggest draws at WCW. With WCW, Vader ended up winning the WCW World Heavyweight title on three separate occasions.
Like most wrestlers on this list, Vader did not start out as a professional wrestler but as a football player. After being recruited by various Universities, Vader ultimately settled with the University of Colorado.
With the team, Vader ended up receiving two All-American honours. Because of his impressive college career run, the Los Angeles Rams ended up drafting Vader as the 80th overall pick.
While everything seemed set out for Vader, a torn tendon ended up pushing him down two rounds. During his rookie year, Vader was part of the team that went against the Pittsburgh Steelers at the Superbowl XIV.
Everything was going well until his third year when his tendon ended up getting ruptured once more. This would serve as the final blow to a rather promising football career for Vader.
7. Brian Pillman
Just like his son Brian Pillman Jr., Brian Pillman once also played professional American football. After graduating from Norwood-based Norwood High School, Pillman would join Miami University in Ohio, where he would join the Redskins.
With the Redskins, Pillman would assume the role of a defensive tackle. Despite being impressive on the football field, Pillman struggled academically and thus sought help from Bill Minnich, a Miami rugby player.
Even though he made it into the Division 1 second All-American team during his junior year and All-American Division 1 team in his senior year, Pillman remained undrafted during the 1984 NBA draft.
Pillman would later join Cincinnati Bengals, his hometown team as a free agent. In 1986, Pillman would join the Calgary Stampeders in the Canadian Football League.
6. Wahoo McDaniel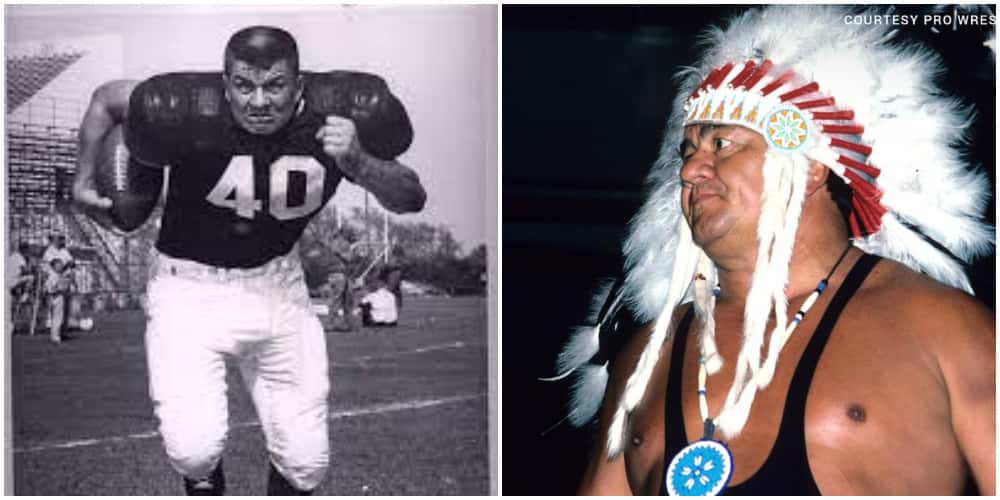 Widely known for his Native American Gimmick, Wahoo McDaniel was undeniably one of the biggest draws at NWA. With NWA, Wahoo McDaniel ended up lifting the NWA United States Championship on five different occasions.
Apart from his stint with the NWA, many wrestling fans might also remember McDaniel for his career with AWA, CWF and GCWA. Before becoming a professional wrestler, McDaniel was a professional football player.
In 1960, McDaniel began his professional football career with the Houston Oilers during their championship-winning season. After his debut season, McDaniel signed with the Denver Broncos in 1961, remaining with the team up to 1963.
In 1964, Wahoo McDaniel signed with the New York Jets, where he began playing a new position as a linebacker. It's during this period that McDaniel began wearing his custom jersey that had his name sewn on the back, just above his jersey number 54.
The name Wahoo ended up becoming a household name with fans such that whenever he performed a tackle, the crowd would begin shouting Wahoo three times after the public announcer asked WHO.
After making two season appearances with the New Jersey Jets, Wahoo ultimately signed with the Miami Dolphins with whom he also played for two seasons before hanging his boots.
5. Lex Luger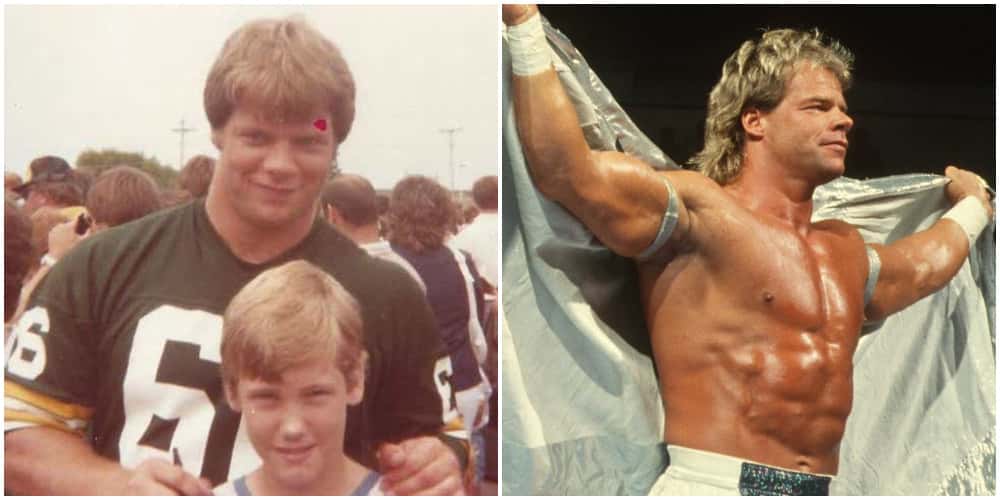 Lex Luger is a wrestler who needs no introduction. Before becoming one of the most renowned professional wrestlers, Lex Luger dreamed of becoming a professional football superstar.
After completing his high-school studies, Luger received a football scholarship from Pennsylvania State University. However, after his freshman year, Luger transferred to the University of Miami after disagreeing with the coaches on his position on the field.
In 1978, Luger officially joined the Miami Hurricanes playing alongside renowned names in the NFL that includes Jim Burt, Jim Kelly, Fred Marion, and Mitch Guittar. The Miami Hurricanes ultimately kicked Luger from the team because of "off-the-field incidents".
Luger ultimately left Miami to play professional football in the Canadian Football League for the Montreal Alouettes. A few years down the life, Luger would sign with NFL's Green Bay Packers. However, Luger ended up not playing for the team as he spent a bigger chunk of the 1982 season on the Packers' injured reserve list.
Even though Luger returned to the team during the 1983 season, the Green Bay Packers would release him before the start of the regular season.
4. Bill Goldberg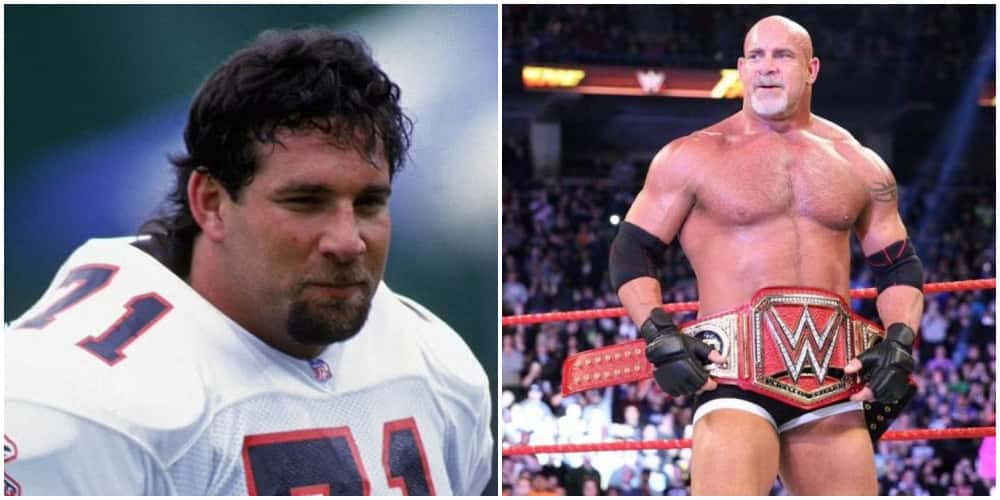 One of the greatest wrestlers of all time, Bill Goldberg is not only known for his dominance in the squared circle but also his massive strength. Like most wrestlers on this list, Lesnar did not picture himself as a professional wrestler earlier on, but as a professional American football player.
While growing up, both his brothers played in Division 1, while his father was a retired American Football player. During the 1990 NFL draft, the LA Rams selected Goldberg during the 11th round.
In his four years in the football league, Lesnar played 14 times with one start for the Atlanta Falcons. However, Goldberg's football career came to a premature end when he tore up the abdomen of his pelvis during a game.
This injury and the long road to recovery ultimately led to his release. In 1995, Goldberg was selected by the Carolina Panthers, a new expansion team. However, Goldberg did not end up appearing for the franchise.
He ultimately became the first player to be cut from the team. While football was all Lesnar dreamed about, he ended up not accomplishing his dream and thus he ended up settling for a Plan B which is wrestling.
3. Brock Lesnar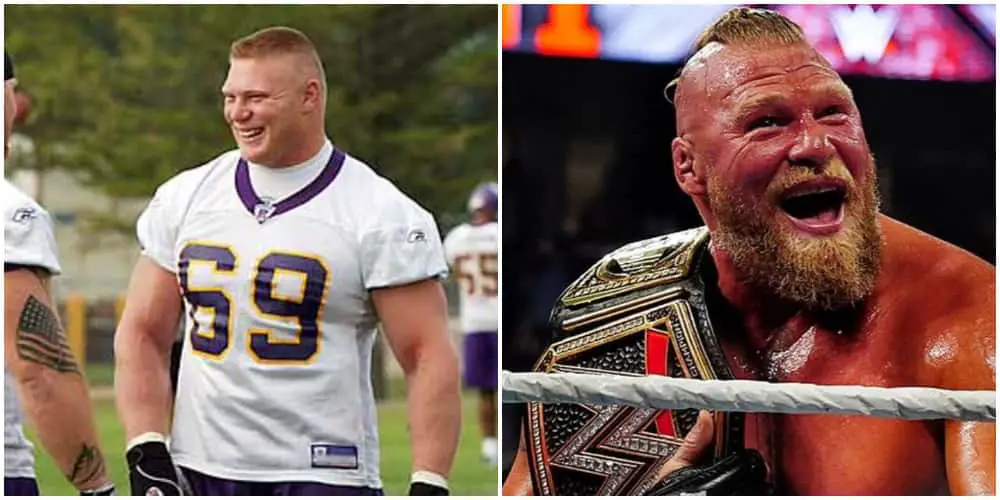 Looking at his massive build and sheer strength, it's clear to see why Brock Lesnar, in his lie, played American football. Prior to his pro-wrestling career, The Beast Incarnate played American Football.
Unlike most wrestlers on this list, Brock Lesnar actually made it into the NFL. It's also important to note that Lesnar did not play football at high school and college levels. 
After making his WWE debut in 2002, Brock Lesnar would ultimately leave the company to pursue a career in American football. Despite working with the Minnesota Vikings for several pre-season games, Brock Lesnar failed to make it into the season.
Despite having a rather solid start, Lesnar was cut off from the team just as the regular season approached. While the main reason for not making it into the regular season remains unknown, multiple sources have stated that it might be injury-related.
During his time with Vikings, Lesnar was involved in a serious motorcycle accident that left him with a pulled groin, broken jaw, broken arm, and bruised pelvis. Chances are that he had not yet fully recovered when he tried out for the regular season.
2. Roman Reigns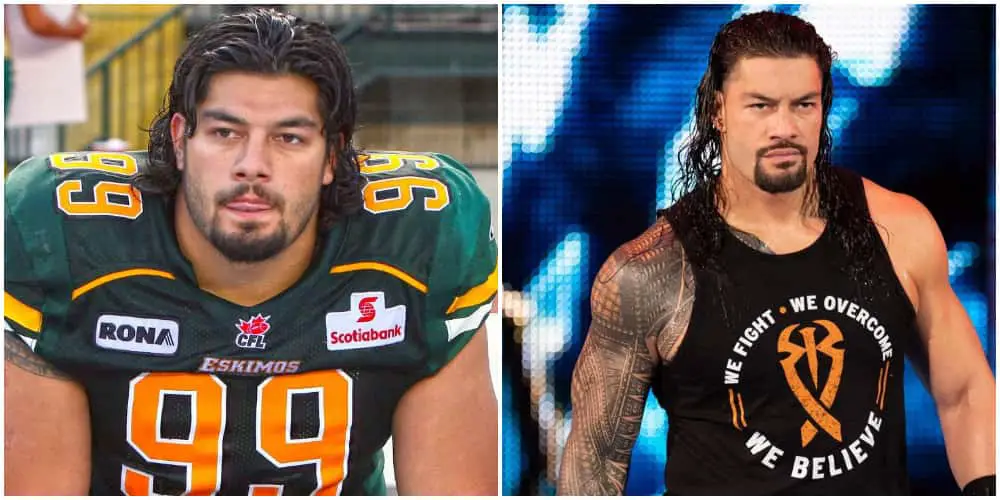 Arguably one of the greatest Samoan wrestlers of all time, Roman Reigns was at one point an American Football player. Reigns massive size and athletic build favoured Roman Reigns during his college years. 
With Georgia Tech, Anoa'i was a promising prospect who played mainly as a defensive lineman. Throughout his college career, Anoa'i climbed through the ranks from a back all the way to the captain of the team.
In 2006, Anoa'i delivered 40 tackles, 4.5 sacks, and two undrafted, recovered fumbles. Because of his impressive run and contribution on the field, Anoa'i would receive ACC first-team honours. 
Despite his family being in the WWE, Anoa'i was more than determined to get into the NFL. However, after a series of scouting reports, Anoa'i ended up undrafted, only making it into the rookie camp. 
In a recent issue, Anoa'i revealed he failed to make it into the NFL mainly because of medical issues which made him fail the physicals. 
1. The Rock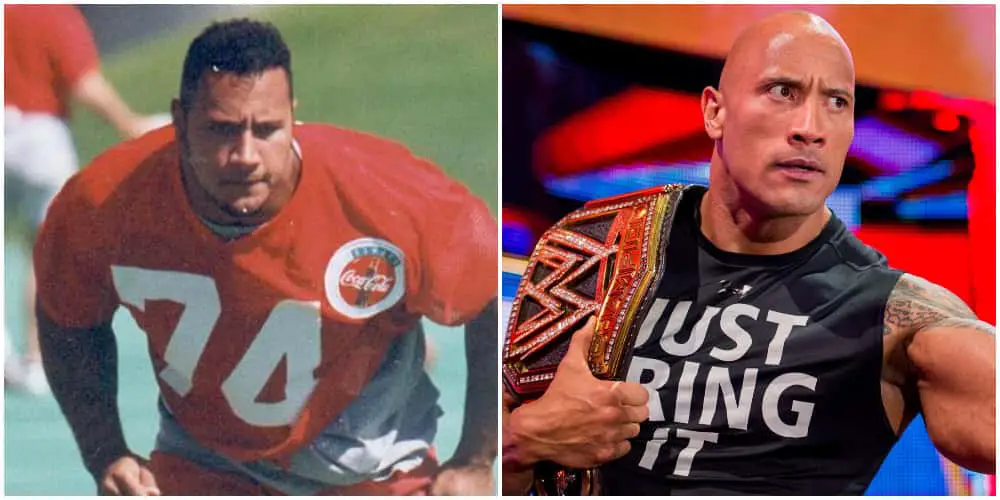 Considered to be one of the highest-paid actor in the world and also one of the greatest wrestlers of all time, it's not that hard to imagine that the Rock was once a professional American Football player. Prior to embarking on his journey to becoming a professional wrestler, The Rock played American Football at both college and professional levels. 
After a rather impressive high school career, Dwayne Johnson would receive offers from various colleges such as Florida State, UCLA, Penn State and many others. In the long run, Johnson settled for the University of Miami. 
However, despite having a rather impressive start in his freshman year, Dwayne Johnson's dream of becoming an All-American was ultimately cut short when he tore his shoulder. Ultimately, Warren Sapp, one of the greatest linemen to ever play the game, ended up taking Johnson's place on the team. 
Despite remaining on the team, Johnson did not see any playing time because of his shoulder injury and Sapp's presence on the team. Because of all this, Dwayne Johnson ended up undrafted.