10 Best Golf Movies of All Time: A Comprehensive List
Last updated on February 21st, 2023 at 01:53 am
Introduction
Golf has been a sport that has grown in popularity since it was introduced centuries ago. With its rise, Hollywood has taken note and has adapted many golf stories to be great golf movies. What are the best golf movies? Many lists will be different, but I've presented the top golf movies that I have seen below.
From inspiring sports dramas to lighthearted comedies, there's a wide range of films that capture the essence of this beloved sport. These all present similar themes of internal conflicts that are present in the midst of a golf career. However, these movies have separated themselves as the best golf movies because of the way they tell the story.
In this blog post, we will take a look at some of the best golf movies of all time, and what makes them so special. So, sit back, relax, and get ready to tee off with some of the most memorable golf films ever made!
Best Golf Movies of All Time
Caddyshack
The Legend of Bagger Vance
Happy Gilmore
Tin Cup
The Greatest Game Ever Played
Seven Days in Utopia
The Squeeze
A Gentlemen's Game
Dead Solid Perfect
Miracle on the 17th Green
1. Caddyshack (1980)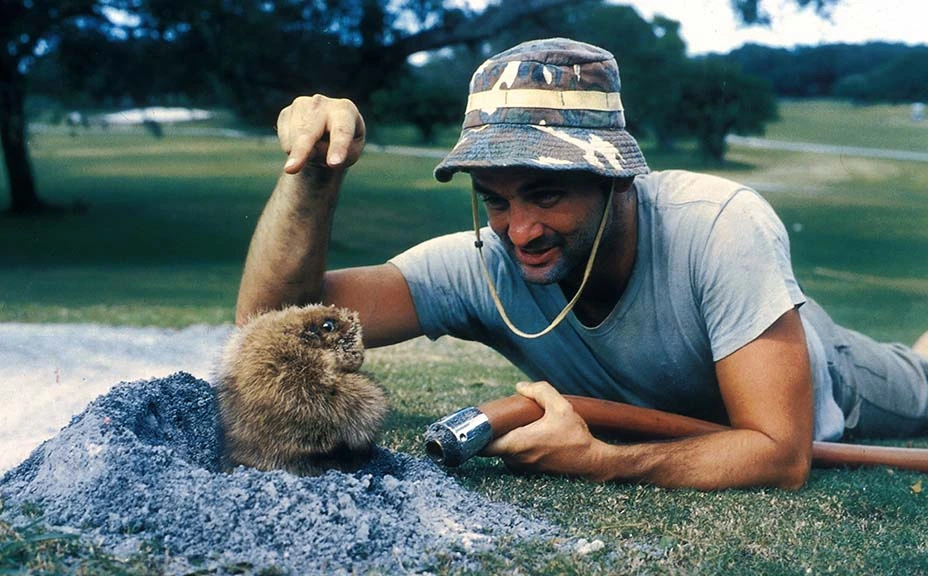 This sports classic comedy stars Bill Murray, Chevy Chase, Rodney Dangerfield, and Ted Knight. In 1980, this film was highly regarded for its story about a young caddy (Michael O'Keefe) who works at a prestigious golf course in order to save money for college. However, the eccentric characters of this movie provide many challenges and great storylines!
Caddyshack is an iconic movie due to its excellent use of comedy and unforgettable scenes and lines (Whoa, did somebody step on a duck?).
This movie also makes the list of the best golf movies due to its soundtrack. The famous "I'm Alright" by Kenny Loggins is a great use of music to keep the audience entertained while assisting the storyline.
Did You Know? Bushwood Country Club is based on a real location! The movie was inspired by the Indian Hill Golf Club. Bill Murray even worked there when he was young.
2. The Legend of Bagger Vance (2000)
This 2000 sports film drama stars Will Smith, Matt Damon, and Charlize Theron. This movie displays more than just a story about golf. It tells of a poignant story of Bagger Vance, who is a caddy for a talented, but disillusioned golfer named Rannulph Junuh.
Bagger Vance introduces themes of redemption, spirituality, and self-belief in order to revitalize the career of Junuh. While these themes are present, there are also stunning visuals of golf that make you want to jump right out onto the course after watching!
"The Legend of Bagger Vance" is a moving and inspirational film that is sure to leave a lasting impression on viewers.
Did You Know? Matt Damon did not have any golf experience before acting in this role and even separated a rib due to the extensive golf activities while filming.
3. Happy Gilmore (1996)
Happy Gilmore was released in 1996 and is an essential film in Adam Sandlers' portfolio. Along with Sandler, the film stars Christopher McDonald and Julie Bowen.
Sandler plays a hockey player who decides to take his powerful hockey shot and try to adapt it into a professional golf swing. This film is a perfect blend of comedy, sports, and heart. The audience views a story that has tons of ethical conflicts as Happy discovers that golf is full of corruption and politics.
This film is famous for introducing the unique swing technique of getting a running head start into your drive. Many have attempted, but many have swung and missed.
Overall, "Happy Gilmore" is a timeless classic that continues to entertain audiences with its unique blend of sports and comedy.
Did You Know? Kevin Costner was the original choice to play Happy, but ultimately decided to pass on this movie in order to star in a DIFFERENT golf movie titled………
4. Tin Cup (1996)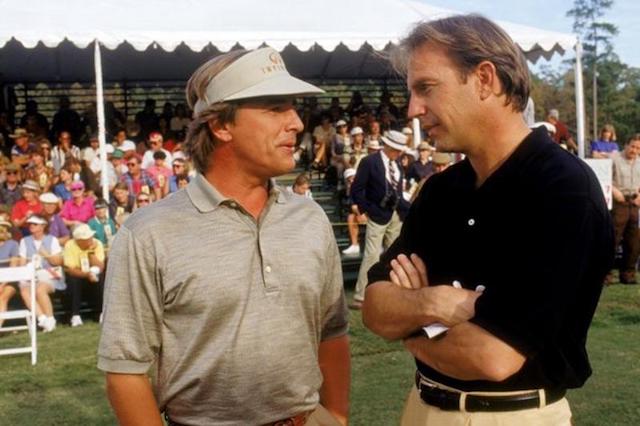 As previously mentioned, Kevin Costner stars in this romantic-comedy sports film. Costner is joined by Rene Russo as "Tin Cup" tells the story of Roy McAvoy (Kevin Costner) who is a talented, yet unstable golfer who works at a poor driving range.
McAvoy is attracted to a woman who he can only impress by beating her current love interest in a golf tournament. Upon preparation for this tournament, McAvoy is presented with a flurry of challenges, both internal and external that add to the quality of this movie.
"Tin Cup" is a classic underdog story that will resonate with viewers who appreciate the power of passion and determination.
Did You Know? Tin Cup was filmed at Tubac Golf Resort where a special golf hazard was built just for this movie. The plot called for one, but there was none present, so one was constructed and is currently named "Tin Cup Lake".
5. The Greatest Game Ever Played (2005)
"The Greatest Game Ever Played" is a Disney movie based on the real amateur golfer Francis Quimet and one of the best golf movies ever produced. Shia LaBeouf stars in this movie from 2005 as Quimet and is joined by Stephen Dillane and Peter Firth.
This movie is another true underdog story of an amateur golfer who takes on the challenge of competing against professional golfers in the 1913 U.S. Open. A younger LaBeouf provides an excellent acting performance as Quimet.
The film's attention to detail and historical accuracy, as well as its outstanding performances and cinematography, make it a must-see for golf enthusiasts and movie lovers alike.
Did You Know? The movie was filmed at the Kanawaki Golf Club which the producers painted yellow from its white color. After the movie, it was never painted back because the members actually preferred the color change.
6. Seven Days in Utopia (2011)
This movie is based on the book "Golf's Sacred Journey: Seven Days at the Links of Utopia" (which is also one I would recommend if you like golf movies). It stars Robert Duvall, Lucas Black, and Melissa Leo.
The film follows the story of a troubled young golfer, Luke Chisholm, who seeks out help from a mentor after suffering a major meltdown at a major tournament. Chisholm learns a great deal about golf and about himself.
"Seven Days in Utopia" is a good golf movie because it details deeper meanings than the game of golf. The cinematography is also superb and perfectly portrays the nature of a Texas golf course. "Seven Days in Utopia" is a feel-good movie that will resonate with viewers who appreciate the transformative power of sports and the importance of personal growth.
Did You Know? PGA Golf Pro Rick Fowler makes an appearance in this movie. In the final tournament, look for a golfer with really long hair and you will find Fowler.
7. The Squeeze (2015)
"The Squeeze" is on this list of the best golf movies because it is a great story that combines golf and gambling in a comedy-drama. It stars Jeremy Sumpter, Christopher McDonald, and Katherine LaNasa.
The story centers around Augie, who is a golf child prodigy who unfortunately ends up in a high-stakes gambling scheme orchestrated by a woman named Jessie. Jessie promises Augie that he will earn al large payout if he can beat her boyfriend, Jimmy.
This movie quickly turns into a thriller as Jimmy shows that he will go to any length in order to win. Augie and his caddie do the same as they deploy cheating strategies to win.
Overall, "The Squeeze" is a unique and entertaining golf movie that is sure to keep viewers engaged from start to finish.
8. A Gentlemen's Game (2002)
This coming-of-age film from 2002 is set in New England where a young Timmy (Mason Gamble) struggles with many life events such as his parent's divorce. Timmy turns to golf, which isn't supported by his father and learns many life lessons.
This makes the list of the best golf movies as it blends elements of a coming-of-age story with a unique and engaging story about golf.
Mentorship, personal growth, and the importance of character are important themes that highlight the film's story. On the surface, it may be a goofy golf movie, but digging deeper, it is also a compelling and inspiring drama.
Did You Know? Timmy's house is actually co-creator Tom Coyne's house and Coyne still lived at this location during filming.
9. Dead Solid Perfect (1988)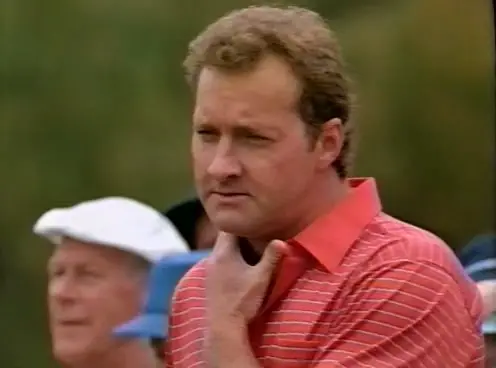 "Dead Solid Perfect" was made in 1988 for television and was adapted from the novel written by Dan Jenkins. The film follows Kenny Lee, who struggles to maintain his personal life while being a professional golfer.
Lee is a married man who never lost his love to party. As his marriage starts to suffer, so does his golf game. The movie is a good golf film because it offers an authentic and honest look at the challenges of professional golf and the sacrifices that athletes make to succeed in the sport.
There are various challenges presented on his road to redemption such as a bitter rival, a golf course that challenges his game, and the internal demons that threaten to derail his career.
Overall, "Dead Solid Perfect" is a must-watch golf movie for golf enthusiasts and fans of sports dramas.
Did You Know? Dan Jenkins makes a brief appearance in this golf movie during Corrine Bohrer's only full-nude film scene in her career.
10. Miracle on the 17th Green (1999)
"Miracle on the 17th Green" is a 1999 made-for-television movie, based on the novel of the same name by James Patterson and Peter de Jonge. This golf film stars Steve Guttenberg. It makes my list of the best golf movies because it is a relatable story about the transformative power of pursuing one's passion.
Travis McKinley is the main character who turns to golf during his middle ages in an attempt to pursue his passion. He quits his job in an attempt to turn golf into a career.
As he builds his own legacy in golf, he learns to define what it means to be successful and that it is not all about winning in golf.
Overall, "Miracle on the 17th Green" is an enjoyable and inspiring movie for golf enthusiasts and fans of uplifting dramas.
Did You Know? "Miracle on the 17th Green" was not originally a golf movie but was adapted from a novel by James Patterson. Patterson is also responsible for well-known books such as: Along Came A Spider, 1st to Die, and The Beach House.
Conclusion on the Best Golf Movies
There you have it, the top ten golf movies of all time. Each of these films offers a unique perspective on the sport of golf, capturing its challenges, triumphs, and personal growth. These movies are perfect for golf enthusiasts looking for inspiration, entertainment, or just a relaxing night in.
From classics like "Caddyshack" to newer films like "The Greatest Game Ever Played," there's something for everyone on this list. We hope you enjoyed our roundup of the best golf movies and that it helps you find your next favorite film.
If you're a golfer, you may love our next post about how many golfers can actually hit 300 yards. Also, check out how you can develop the most effortless golf swing ever in simple terms. Click here to learn how.
Let us know if you agree with our list and if you would have any ranked higher than others.