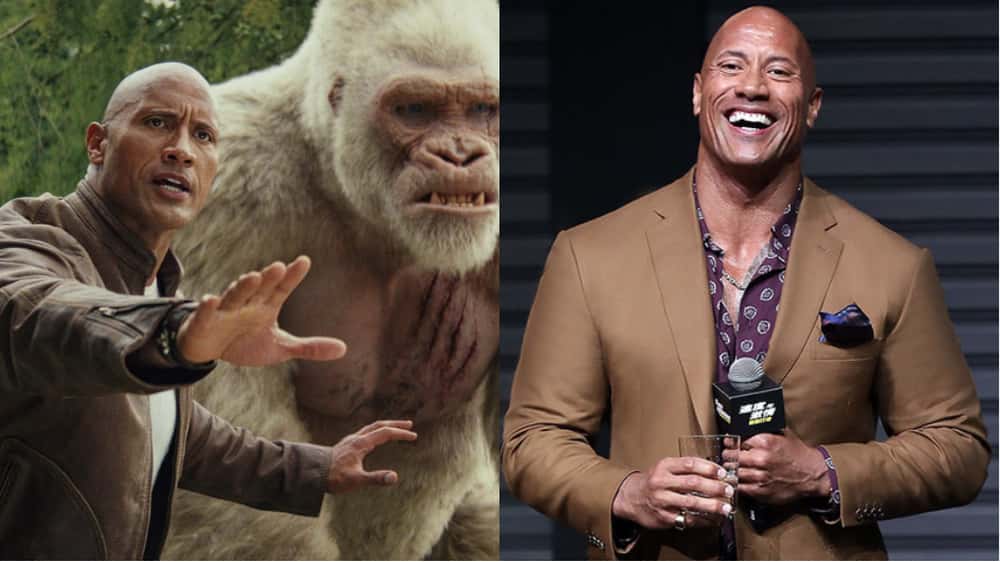 Dwayne "The Rock" Johnson Named Highest-Paid Male Actor 2020
Last updated on April 21st, 2021 at 05:08 pm
2020 has been a disastrous year for the Box Office. With the widespread of Covid-19, the movie industry took a sudden hit with many film-makers postponing film debuts. On the other hand, the streaming industry experienced a spike in the number of people. With the closure of cinemas and entertainment joints, online movies and TV series became the sole form of entertainment for many people. Forbes magazine recently released its annual analysis of the highest-paid male actors.
For the second year in a row former WWE superstar, Dwayne "The Rock" Johnson becomes the highest-paid male actor. The actor generated a whopping $87.5 million dollars. A bigger percentage of this sum came from his role in the upcoming film Red Notice. Red Notice is a project funded entirely by streaming giant Netflix and it's scheduled for release later this year.
Ryan Reynolds Comes in Second
Other actors on the list include Ryan Reynolds, Vin Diesel, Mark Wahlberg, and Ben Affleck. Just like The Rock, a bigger percentage of Ryan Reynolds' earnings came from Netflix for his role in Red Notice and 6 Underground. Referred to as Netflix Golden boy, Ryan Reynolds will feature in yet another Netflix film. This means that the actor will receive another 6 figure payout from the streaming giant.
It will be great to see whether Ryan Reynolds will surpass Dwayne "The Rock" Johnson as the highest-paid male actor for the year 2021. While Vin Diesel earned from various projects, the postponement of his upcoming film F9 to 2021, saw the actor's earnings greatly affected. Fast and Furious 9 was one of the most anticipated films of the year. Nonetheless, Vin Diesel managed to keep the franchise rolling with the animated series Fast & Furious races. In the animated series, Vin Diesel assumes a new role, production.
Affleck's Return Earns Him a Spot on The List
Affleck's eventual return to the screen after a hiatus, saw him generate $55 million dollars. This, in turn, earned him a fourth sport in the highest-paid actor's list. After having a successful career in the WWE, it's truly great to see Dwayne "The Rock" Johnson making his marks in the Film Industry. Dwayne Johnson recently acquired McMahon's XFL for a whopping $15 million dollars in the process expanding his investment portfolio.
Akshay Kumar was the only Bollywood actor in the top 10 coming in 6th. According to the report, Akshay Kumar is earning a whopping $10 million from Amazon for an upcoming television series. Kumar's total earnings amounted to $48.5 million dollars, many of which came from the actor's endorsement deals. Jackie Chan, Adam Sandler and Will Smith completed the list.
Highest-Paid Male Actor Rankings
1. The Rock: $87.5 Million-The former WWE Superstar tops the chats with Netflix paying out a bigger chunk of his total revenue.
2. Ryan Reynolds: $71.5 Million-Netlfix's Golden boy comes in second with Red Notice and 6 Underground being his biggest revenue generator.
3. Mark Whalberg: $58 Million-Mark Whalberg comes in third, with his comedy series, Spencer Confidential making history as the third most-watched series on Netflix.
4. Ben Affleck: $55 Million-After returning to the screens, Ben Affleck comes in fourth.
5. Vin Diesel: $54 Million-The postponement of the franchise film F9, saw Vin Diesel total earnings greatly affected.
6. Akshay Kumar: $48.5 Million-Akshay Kumar becomes the only Bollywood superstar to grace this list.
7. Lin-Manuel Miranda: $ 45.5 Million-First timer, Lin-manuel Miranda earned a collosal amount after Disney purchased the rights to Hamilton for $75 Million.
8. Will Smith: $44.5 Million-Will Smith came in 8th, which is a slight drop from his previous rankings.
9. Adam Sandler: $41 Million-Just like other superstars on this list, a significant portion of the actor's earnings came from Netlflix.
10. Jackie Chan: $40 Million: While he is yet to retire from acting, Jackie Chan managed to make 5 movies last year alone. A bigger portion of the ace's earnings came from licensing and endorsement deals.