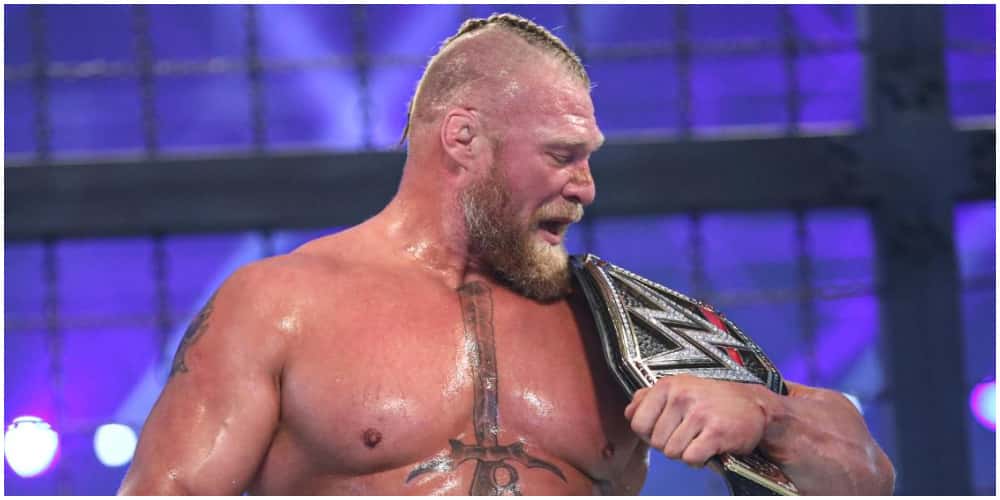 Brock Lesnar Net Worth & WWE Salary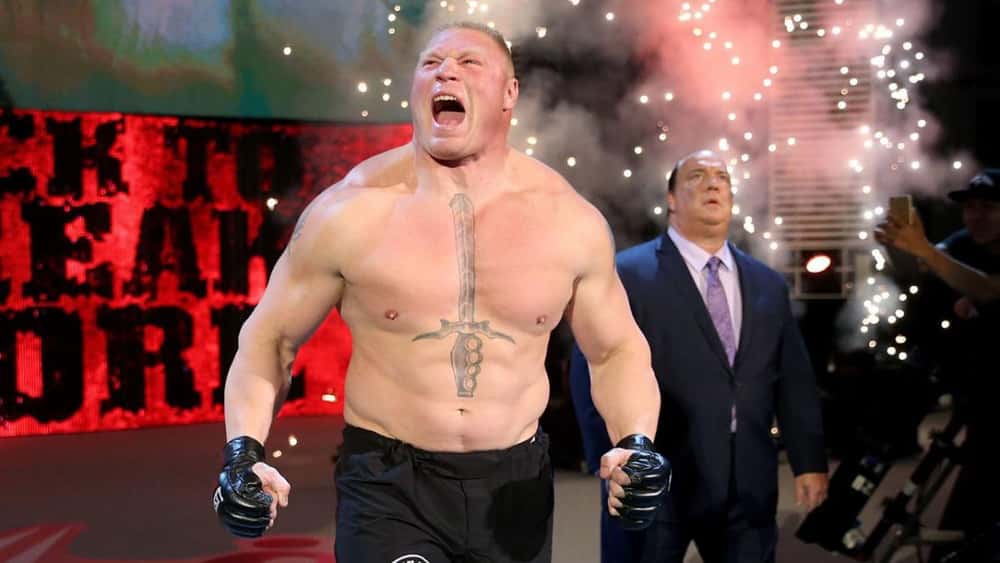 Brock Lesnar Net Worth: $25 Million
Brock Lesnar WWE Salary: $12 Million
Brock Lesnar Net Worth
With a net worth of $25 million, it's clear to see why Brock Lesnar is one of the richest wrestlers in the world. Apart from generating income from the WWE, Brock Lesnar also earned a significant amount of money from his MMA career.
Despite losing his debut match against Frank Mir in 2008, Lesnar transcended into one of the biggest stars in UFC's heavyweight division. In the process, Lesnar attracted massive paychecks as one of UFC's biggest draws.
For instance, at UFC 200 Brock Lesnar earned close to $2 million dollars for his main card fight against Mark Hunt. Lesnar also generates revenue from various in-ring sponsorship deals.
At UFC 200, Lesnar was also paid an estimated $5,000 by Reebok as part of his sponsorship deal.
Brock Lesnar WWE Salary
Regarded as one of the biggest draws in the WWE, Brock Lesnar earns an estimated $12 million annually. Despite being a part-time wrestler, stats show that Brock Lesnar is still a major draw for the WWE and one of the most respected wrestlers in the WWE.
Besides his base salary of $5 million, Brock Lesnar also earns additional revenue from PPV appearances, bonuses, and merch sales. After his brief hiatus back in 2021, Brock Lesnar still returned to the WWE a year later and still claimed the top spot as the highest paid wrestler in the company.
Biography
The Beast Incarnate is undoubtedly one of the most dominant figures in the world of pro-wrestling. Standing at 6'3 and weighing close to 300 lbs, Brock Lesnar is a 7-time world champion and a 3-time Universal champion.
At SummerSlam 2003, a few months after his WWE debut, Brock Lesnar made history by becoming the second youngest WWE champion of all time. Lesnar lifted the title 126 days after making his WWE debut.
Apart from his impressive WWE career, Lesnar also excelled in MMA, becoming one of the most notable names in UFC's heavyweight division. Lesnar would continue juggling between his MMA career and WWE career for a bigger part of 2010s.
Early Life
Born on 12th July 1997 in Webster, South Dakota, Brock Edward Lesnar is the son of Richard and Stephanie Lesnar. For a bigger part of his early years, Lesnar spent most of his time on his family's dairy farm.
After turning 17 years of age, Lesnar joined the Army National Guard. However, after it was established that Lesnar suffered from red-green colorblindness, he was assigned to office.
This was mainly because of the level of risks involved in dealing with explosives and the red-green colorblindness. Lesnar would later be discharged from his position and began working for a construction company.
High School and College Career
After completing his junior high education, Lesnar joined Webster High School. In high school, Lesnar would begin playing football and take part in amateur wrestling.
During his senior year, Lesnar came third during the annual state championships. After a rather impressive college career, Lesnar joined Bismarck College.
In his sophomore year, Lesnar became the NJCAA heavyweight wrestling champion. Ultimately, Lesnar would receive a wrestling scholarship from the University of Minnesota.
At the University of Minnesota, Lesnar became roommates with future WWE Hall of Famer, Shelton Benjamin. Benjamin also doubled up as his assistant coach. In his senior year at the University of Minnesota, Lesnar would once again triumph at the 2000 NCCA, becoming the Division I heavyweight wrestling champion.
By the end of his college career, Lesnar had a record of 106-5 overall.
Early Pro Wrestling Career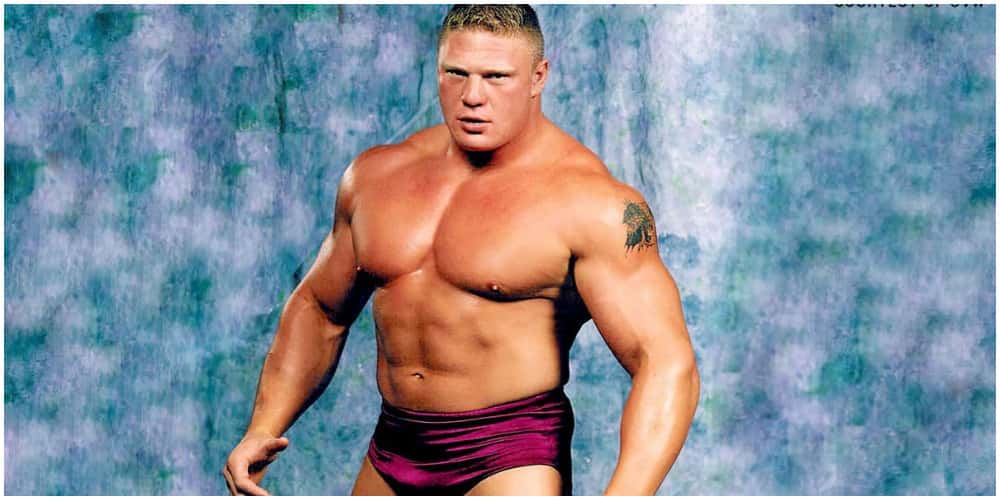 In 2000, the WWE signed Brock Lesnar and immediately placed him in its development territories, Ohio Valley Wrestling. While at OVW, Lesnar would meet for the first time with his future wrestling manager and one of the greatest wrestling commentators of all time.
Lesnar would once again meet with his college roommate, Shelton Benjamin. Benjamin and Shelton would team up to form the Minnesota Stretching Crew.
Because of their impressive chemistry, the duo would end up winning the OVW Southern Tag Team titles on three separate occasions. In 2002, Lesnar would receive a promotion to WWE's main roaster.
The promotion would come alongside John Cena, Randy Orton and Batista, popularly known as the OVW 4.
WWE
On March 2002, Lesnar made his on-screen debut during an episode of Raw, where he launched an attack on Spike Dudley, Maven and Al Snow.
The three wrestlers were battling it out for the WWE Hardcore title. Alongside Lesnar was none other than Paul Heyman, who issued out instructions to Brock Lesnar as he laid to waste everyone who was in the ring.
After the promotion launched a brand extension, the WWE would draft Lesnar to the Raw Brand. A few days later, Lesnar would confirm that Paul Heyman was indeed his agent.
Lesnar's impact on the WWE was almost instantaneously. In no time, Lesnar was already in the WWE Heavyweight title conversation.
After being drafted to the blue brand a few months down the line, Lesnar would earn a title match against one of the greatest wrestlers of all time, The Rock. At SummerSlam, Lesnar would win the match against The Rock impressively, becoming the new World Heavyweight title.
Lesnar would continue with his impressive run, before ultimately leaving the company in 2004.
NJPW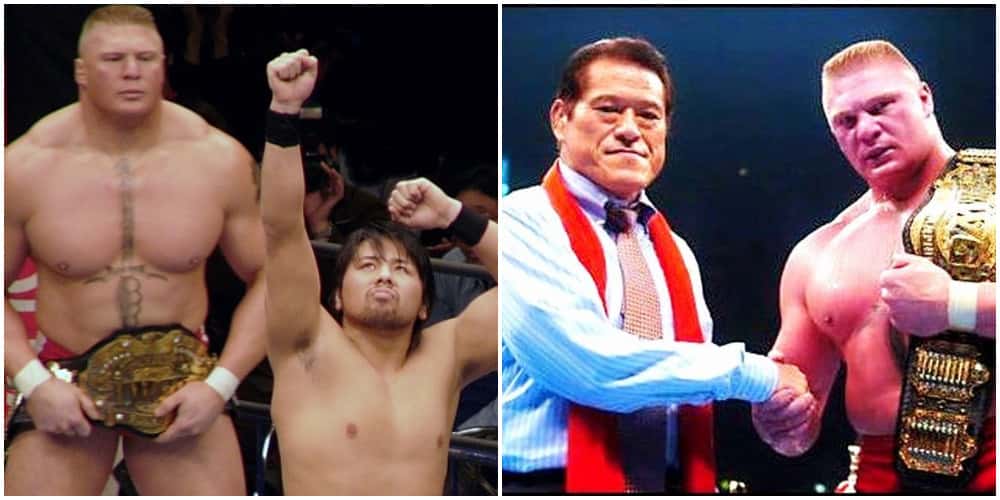 After leaving the WWE, Lesnar joined NJPW, making his debut on October 2005. During his debut, Lesnar would do the unthinkable by emerging the winner in a title match against Masahiro Chono and Kazuyuki Fujita.
By winning the IGPW Heavyweight title, Lesnar became one of the few pro-wrestlers of American descent to ever lift the title.
While Lesnar had already left WWE and work with NJPW, WWE was reluctant to grant Lesnar his release. Thus, Brock Lesnar and the WWE would be involved in a series of legal battles.
Later in the same year, the WWE would file up its first lawsuit to prevent Lesnar from making appearances on NJPW. However, after careful considering, the court would decline to grant a restraining order on Lesnar.
After the loss, the WWE let go of the issue temporarily. With NJPW, Lesnar's career would continue to progress on an upward trajectory.
Lesnar was able to successfully defend the title frequently against various wrestlers such as Akebono and one of the greatest Japanese wrestlers of all time Shinsuke Nakamura.
Just as Lesnar was settling in, the WWE would move to court for the second time. Once again, the court declined to grant the restraining order.
Brock Lesnar continued with his impressive run, competing against various seasoned wrestlers. One match that stood out was against Kurt Angle, the then TNA World Heavyweight Champion.
The Kurt Angle vs Brock Lesnar match was widely promoted as a champion vs champion match. After an one of the most impressive displays in years, Kurt Angle would emerge the winner via submission.
Since this was a title match, Kurt Angle became the new IWGP champion, while retaining his TNA title. The champion vs champion match marked Lesnar's last appearance for the NJPW.
Return to WWE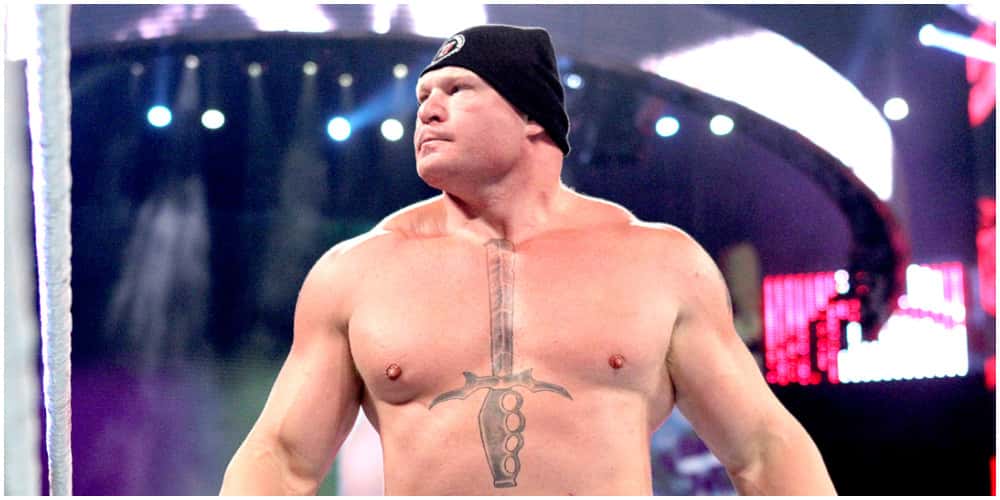 In 2012, Lesnar re-signed with the WWE marking his second return to the promotion. Lesnar would immediately embark in a long-running feud with John Cena, who at the time was at the peak of his pro-wrestling career.
While feuding with John Cena, Lesnar would continue to feud with other wrestlers such as Triple H. When you come to think about it, this was what was expected of Lesnar, who was now a heel.
Unlike his first stint with the WWE, Lesnar's second stint with the promotion was more focused on his heel persona. Apart from launching several attacks on Triple H and even "breaking his arm" (kayfabe) with a Kimura lock, Lesnar would also attack various wrestlers and personnel, including Vince McMahon.
Lesnar was now more aggressive and dominant than before. From the look of things, no one was going to stop Brock Lesnar soon.
A few months after defeating both The Big Show and Mark Henry, Lesnar would receive a match against The Undertaker at Wrestlemania XXX. On 6th April, Lesnar made history by ending The Phenom's undefeated streak at Wrestlemania.
Lesnar's win was not only shocking but also sent shock waves across the entire pro-wrestling world. Many publications, including Sports Illustrated, would term the feat as one of the most shocking result.
After Wrestlemania XXX, Lesnar would continue with his impressive run. At SummerSlam 2014, Lesnar finally defeated John Cena to become the new World Heavyweight champion.