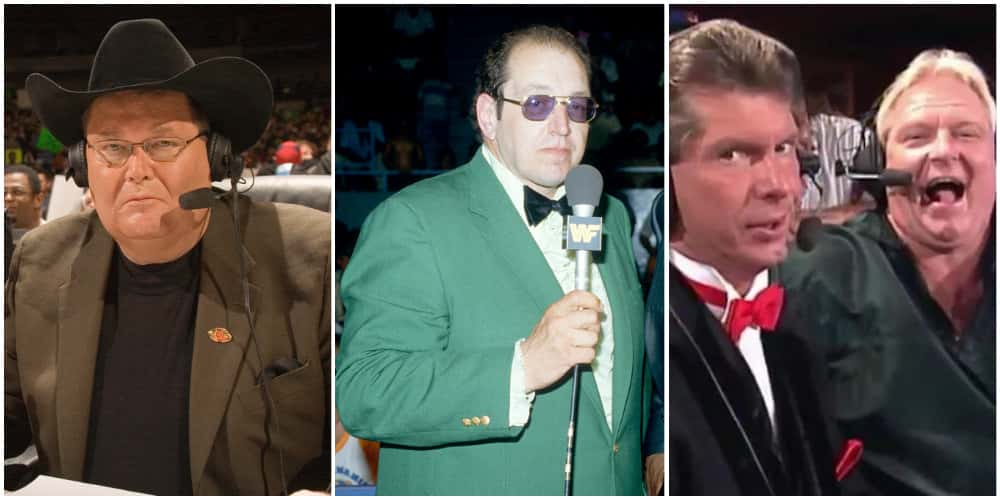 10 Greatest Wrestling Commentators of All Time
Last updated on May 13th, 2022 at 07:47 am
Just like pro wrestlers, wrestling commentators also play a crucial role in ensuring that the audience and listeners are not only captivated but also highly entertained. From what we've seen over the years, wrestling commentators can simply turn a boring match into a highly captivating encounter.
This can be achieved through their choice of words, change in tone and a better understanding of sports entertainment in general.
Time and time again, we've seen many highly talented wrestling commentators call matches with ease. From the Godfather of commentaries Gordon Solie, all the way to heel commentators such as the highly despised Michael Cole. 
While wrestlers might put forth a great match, a bigger chunk of the work often falls onto the hands of the commentary desk. If the commentary team fails to deliver, then the outcome and overall appeal of a wrestling match can greatly be impacted. 
Commentary styles often differ from one commentator to another. There those commentators who love to take a comedic approach and then there are those who often fall for a more serious approach. 
That said, let us look at the 10 greatest wrestling commentators of all time.
10. Michael Cole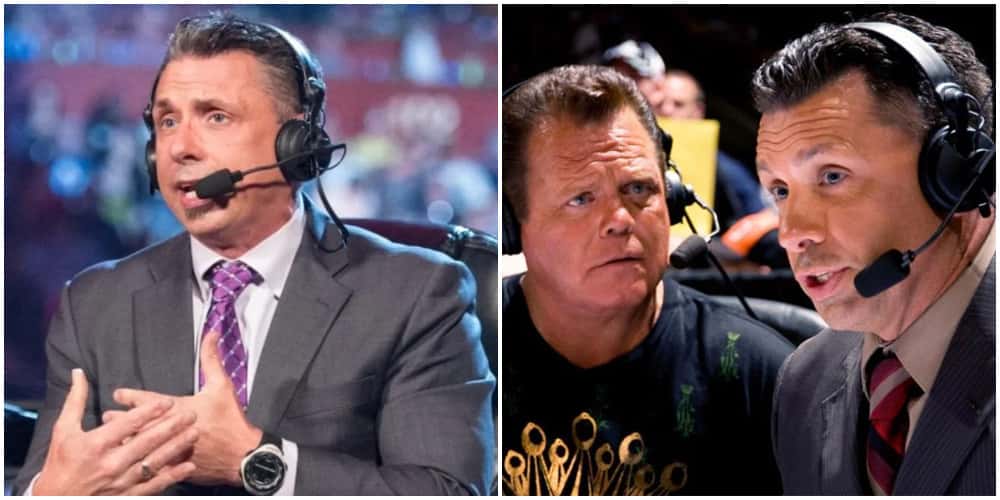 Hate him or love him, one thing remains certain; Michael Cole's role and contribution to pro-wrestling cannot be overlooked. Unlike many other commentators on this list, Michael Cole not only created a gimmick but also stayed true to the gimmick throughout his pro-wrestling career.
Ever since making his debut back in 1987, Michael Cole continues to serve as an illustration of a new age of villains; commentators who make the audience livid while trolling the internet just for fun.
As a play-by-play commentator, Michael Cole shows no mercy to the audience, wrestlers and fellow commentators alike.
A simple slip-up by any of the color commentators, will be subjected to scrutiny and ridicule by the ever attentive Cole. Even though many wrestling fans continue to accuse him of being a corporate puppet, Michael Cole excels at his role as villain.
Nonetheless, when you look at it from a neutral perspective, Michael Cole is responsible for revolutionizing the role of villains in commentary booth. Even though there were other commentators such as Bobby Heenan who excelled at this, none of the villain commentators has been able match Michael Cole's ruthlessness and lack of emotions.
When presented with the opportunity, Michael Cole does not waste any time trolling the fan favorites, while praising wrestlers backed by the management. Apart from being a leader, Michael Cole also takes charge of the commentary and provides guidance when needed.
Even though some fans might be provoked to call for his ejection on the commentary table, there is simply no one who can fit in Michael Cole's shoes now. Ever since making his pro-wrestling debut, Michael Cole's commentary career has remained on an upward trajectory.
From the look of things, there is simply no stopping this seasoned veteran.
9. Jerry "The King" Lawler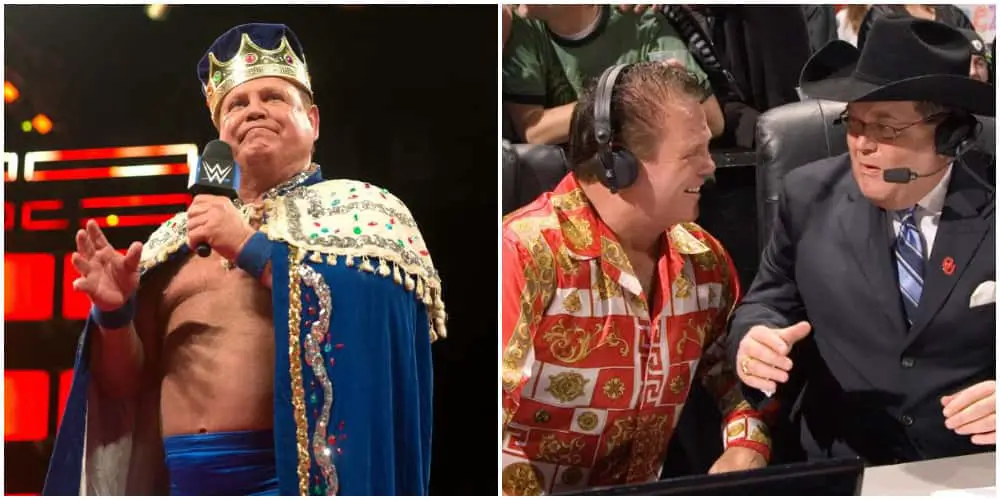 Veteran wrestler and WWE announcer, Jerry "The King" Lawler is arguably the best talkers and greatest wrestling commentator in the history of sports entertainment. While we've had various wrestlers such as The Rock, John Cena, Stone Cold Steve Austin and even Vince McMahon who are considered to be some of the best mic workers, none of these wrestlers could match Lawler's prowess and all-roundness.
The King's impeccable speech and verbal skills put him way above anyone else in the company. Unlike most wrestlers who often rely on one-liners, Jerry Lawler can do everything when it comes to talking.
It's these impressive skills that saw him transition into the commentary desk where he teamed up with JR to form one of the best commentary teams of all time. Throughout the entire attitude era and the years that followed, Jerry "The King" Lawler would remain an essential to WWE's programming.
Whether it's selling a feud to the masses, explaining a story-line, or calling moves, Lawler can do all these things effortlessly. However, in the early 2000s, Lawler would abruptly part ways with the company despite being in his prime.
According to Lawler, he felt that his wife at the time Stacy Carter/The Kat had been unfairly dismissed by the promotion. The WWE on the other hand argued that The Kat was simply not getting along well with everyone in the promotion.
Lawler would ultimately return a few months later after reaching a consensus with the WWE.
8. Joey Styles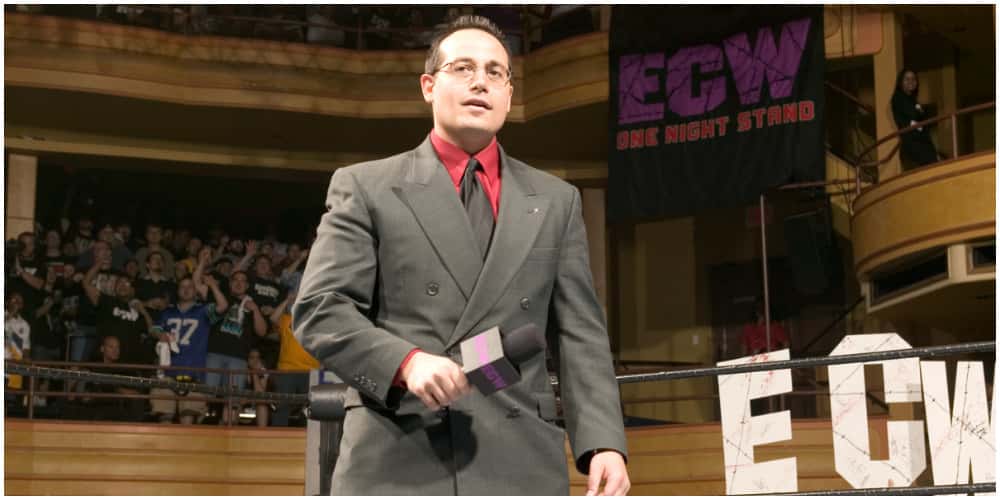 Widely known as the voice of the ECW, Joey Styles is a man who needs no introduction. His impressive commentaries at ECW saw him bring some calmness in the rather wild and chaotic world of ECW.
Unlike other wrestling promotions at the time, ECW was carnal and hardly suitable for TV. Thus, when Joey Styles signed with ECW, he did not seem likee an ideal fit for the promotion.
Apart from being well-groomed, Joey Styles was also quite eloquent. All these things played against Joey Styles, with many people believing that he would not survive it in the vicious world of ECW.
As the matches began and the crowd went wild, Styles brought something fresh to the table. While wrestlers used various types of weapons in the ring, Joey Style voice and play by play commentary often brought some sort of sanity into the room.
As an announcer, Styles took keen interest in the moves and even got to study each wrestler on the roaster including their backgrounds, preferences, and wrestling maneuvers. Thus, when two wrestlers from totally different backgrounds stepped into the squared circle, Joey Styles called each move with some level of accuracy never seen before in ECW.
For many wrestling purists, writers, and analysts, this was not only a sign of respect to the art from Joey, but also a display of showmanship and an undying love for the craft. Styles would remain the voice of ECW all the way up to its sudden demise.
In 2005, Styles signed a 5 year deal with the wrestling juggernaut WWE and was assigned to RAW. This would mark Joey Styles first time as a full-time in-ring announcer.
With the WWE, Styles would pick up things from where he left off, becoming one of the best wrestling commentators in the world mainly due to his enthusiasm.
7. Paul Heyman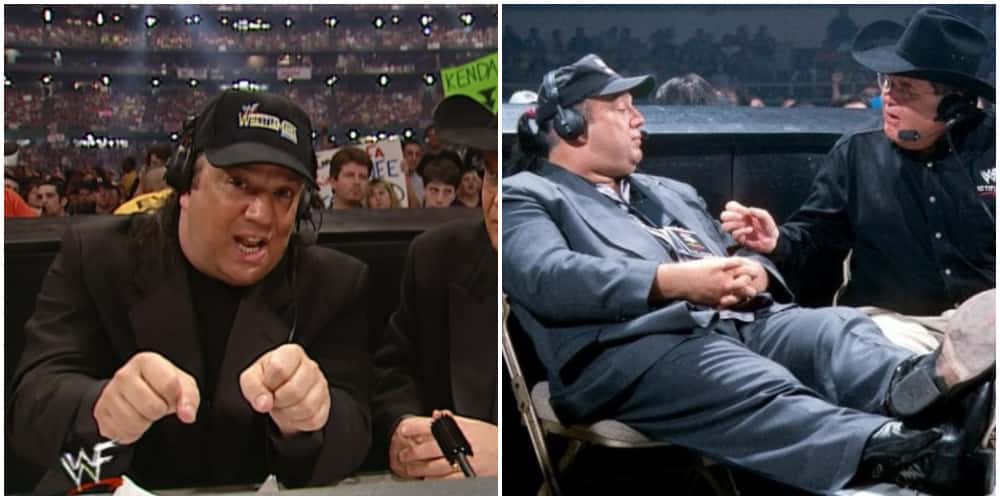 Arguably one of the greatest wrestling managers and WWE commentator of all time, Paul Heyman's ability to cut promo saw him become a pro-wrestling icon. Moreover, his roles behind the scenes at ECW gave the now defunct promotion a breath of fresh air and a much larger market share than before.
While his work as a manager and advisor are what he is mostly known about, Paul Heyman's role as a commentator needs to be recognized. Back in the 2001, the WWE brought Paul Heyman onboard as a direct replacement to Jerry The King Lawler who suddenly left the company after the WWE fired his wife.
Although Heyman's run as a color commentator was short-lived, he shocked the entire wrestling universe with his insane commentary. Unlike Jerry Lawler who loves taking a comical approach, Paul Heyman on the other hand employed a more serious approach.
Alongside Jim Ross, Paul Heyman would bring some of the best commentaries. The chemistry between Paul Heyman and Jim Ross was instantaneous as the two had previously worked together at ECW.
Even though Heyman had to leave the commentary desk once Lawler and the WWE reached an understanding, Paul Heyman poured his heart out at the commentary desk. Heyman's understanding of pro-wrestling is deep, which is the main reason why he tends to talk about pro-wrestling better than anybody else.
6. Tony Schiavone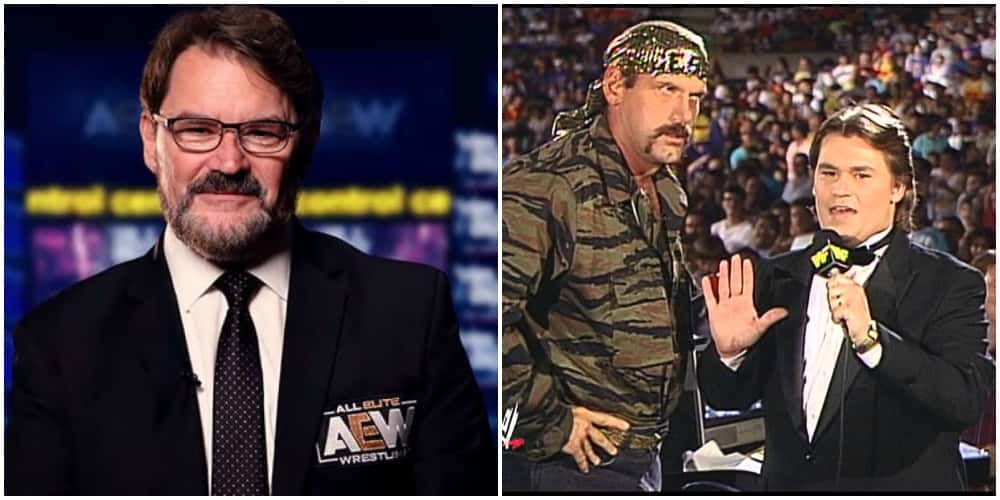 With a pro-wrestling career that spans out over four decades, Tony Schiavone's second stint has proved that he is still one of the greatest commentators in the world. Prior to signing with AEW, Tony Schiavone had rose to fame during his stint with WCW.
With Jim Crockett promotions, Tony Schiavone was part of the broadcast team alongside David Crockett. The duo would host numerous live World Championship Wrestling events in Atlanta in-front of a small studio audience.
Jim Crockett promotions used this live show to not only promote their arena events but also introduce it's team of stars to a national/worldwide audience. In 1989, Styles signed a one-year contract with the WWE where he partnered with other commentators such as Jesse Ventura, Bobby "The Brain" Heenan, Gorilla Monsoon and many others.
After his short stint with the WWE came to an end, Tony Schiavone returned to WCW, which was now under the ownership of Ted Turner. Despite leaving the WWE, Schiavone remained in good books with the McMahon family.
In 2001, WCW closed shop and instead of jumping ship and joining the WWE, Schiavone made the decision to leave pro-wrestling altogether. 16 years down the line, Tony Schiavone would sign with Major League Wrestling before ultimately joining the newly formed AEW.
With AEW, Tony Schiavone took up things from where he had left off as a play-by-play commentator. Unlike all his previous stints, Tony Schiavone is now a jack of all trades with AEW.
Apart from being part of the commentary team, Schiavone also doubles up as the promotion's main in-ring interviewer.
5. Vince McMahon
A great salesman by nature, Vince McMahon's ability to sell the viewers lots of stuff came quite easily. Prior to transitioning to his new role as the WWE chair and owner, Vince McMahon's served as one of the company's earliest color commentators.
In the 1970s, Vince McMahon was regarded as one of the best commentators in the world of pro-wrestling. Even after he purchased the promotion from his father, Vince McMahon still retained his role as a commentator mainly due to kayfabe reasons.
During this period, Vince McMahon's behind the scenes involvement was kept off-screen. As a color commentator, McMahon's enthusiasm often brought excitement to the WWE.
Vince was also able to provide emotion to matches, name all the maneuvers and in a slick way, put most of the talent over.
From all the announcer's we've seen over the years, no one was able to introduce RAW the way Vince McMahon did.
4. Gordon Solie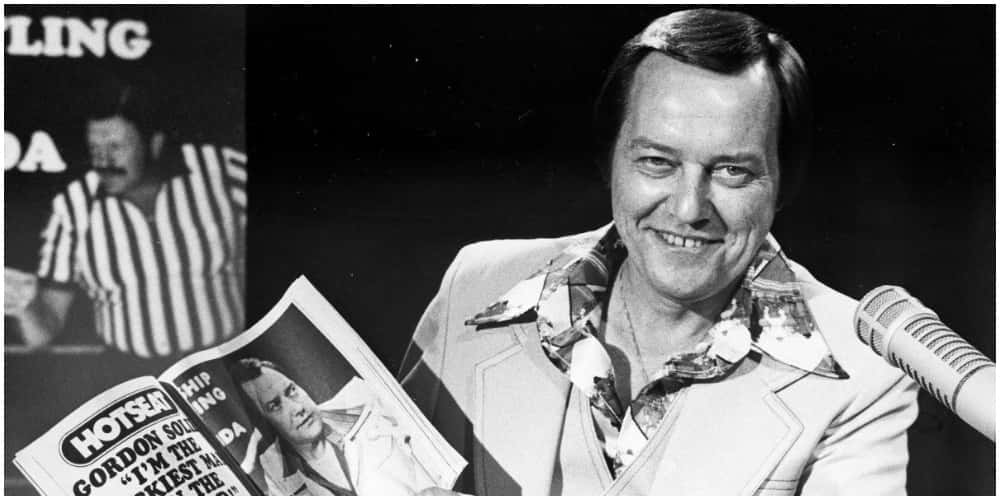 Widely regarded as the voice of wrestling, Gordon Solie's unique lingo and attention to details made him one of the most memorable and greatest wrestling commentator. Like any other great in-ring announcer, The Dean made an extra effort of learning each of the wrestling moves a wrestler had in his arsenal and would often carefully describe the impact that each maneuver had on the opponent.
Gordon's Solie influence was so great that he ended up affecting many commentators who came after him, such as Jim Ross. Arguably the greatest play-by-play announcer, Solie began his pro-wrestling career back in the 1950s, emceeing weekly shows in Tampa.
Although Gordon Solie would only make a meager $5 a night, he still got to learn more about pro-wrestling from Don Curtis, Eddie Graham and John Heath.
In the 1960s, Gordon Solie aligned himself with Championship Wrestling. With the promotion, Solie would become a lead announcer for the promotion's Saturday morning shows.
While working with CWF, Solie got the chance of commentating on various high-stakes matches. Some of these matches featured various all-time greats, such as Dusty Rhodes, Dory Funk Jr., and The Brisco Brothers.
Solie would work for various promotions in Alabama, Puerto Rico and Georgia. Although Gordon Solie's commentary style differs from many commentators on this list, he still did a great job being one of the earliest commentators.
According to many wrestling tales, Gordon Solie would often ask wrestlers to put in on holds so that he could not only get to understand them but also call these moves more convincingly. Solie's impressive work would see him fall on the radar of the now rising WWF.
Despite receiving an offer from the promotion, Solie had no option but to turn it down, mainly because he was not willing to put on a tuxedo throughout the day. In 1987, Gordon Solie returned to Georgia to work with NWA, after Championship Wrestling folded.
3. Gorilla Monsoon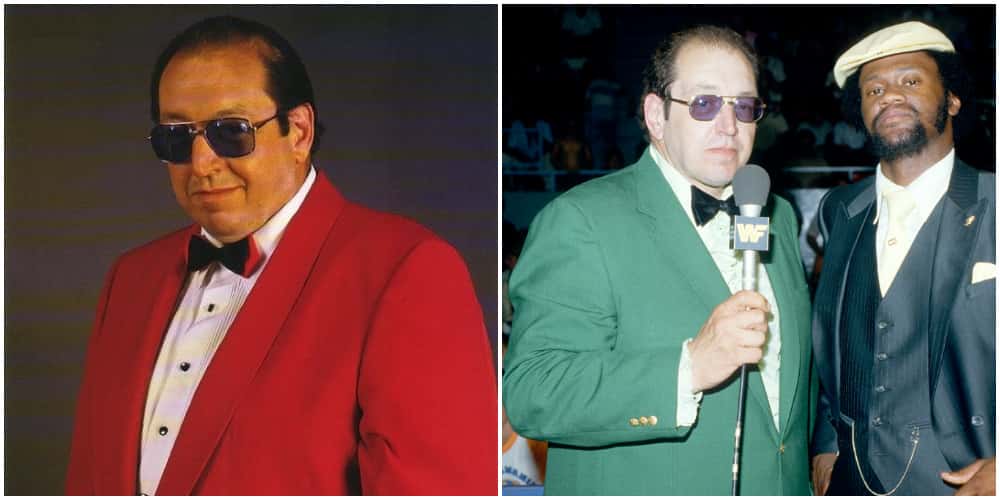 Just like Jerry "The King" Lawler and Bobby Heenan, The Manchurian Giant first started out as a pro-wrestler before he slowly transitioned into the commentary desk. Widely known for his legendary catch phrases and unique choice of words, Gorilla Monsoon was not only highly entertaining but also knew exactly how to captivate the audience.
A great mic worker, Gorilla Monsoon, knew exactly what to say and when to say. Irrespective of the quality of the match, whether the match was subpar or not, Gorilla Monsoon always made everything seem interesting.
Many at times, it was Monsoon's enthusiasm that always carried the day. Monsoon was also responsible for bringing to life various phrases which he used constantly in his commentaries.
For a bigger part of his career as a commentator, Gorilla Monsoon worked with various commentators such as Jesse "The Body" Ventura and Bobby "The Brain" Heenan.
The two teams would be effective and are currently considered by many to be the greatest commentary teams of all time. After a rather impressive career as a wrestler and as a commentator, The Manchurian Giant was finally inducted into WWE's Hall of Fame in 1994.
In 1995, Gorilla Monsoon stepped aside from the commentary team and was succeeded by none other than Jim Ross, who became the voice of the WWE. The WWE would promote Gorilla Monsoon to the role of President.
A role that he held for two years, before stepping aside due to health issues. After he stepped aside from the role, Monsoon would settle for a less demanding role, serving as a backstage coordinator.
2. Bobby Heenan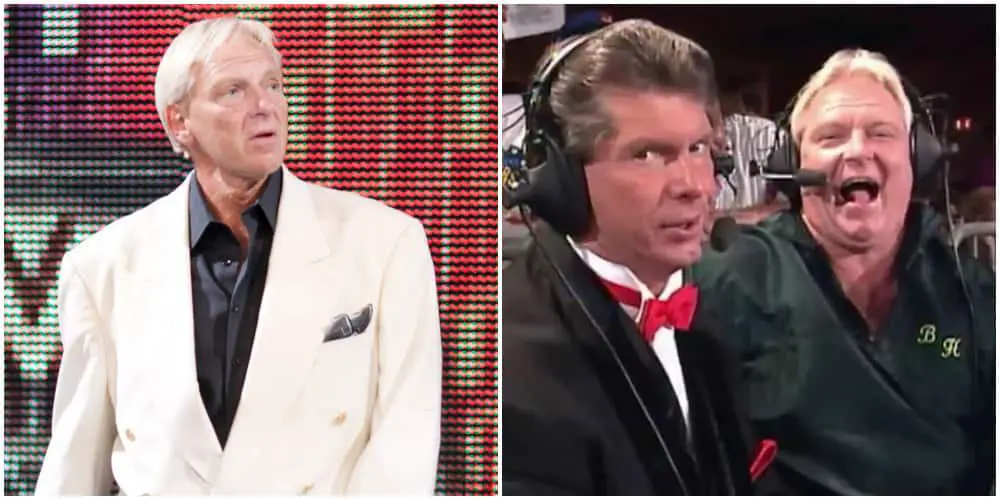 Irrespective of his role in the world of pro-wrestling, Bobby Heenan's delivery was second to none. A master of his craft, Bobby Heenan excelled in all the verticals that he dared settle for.
Whether it was his role as a pro-wrestler, manager or as a commentator, Bobby Heenan understood the assignment. As a pro-wrestler, Bobby Heenan "The Brain" is considered to be one of the greatest performers of all time.
In his final role as a commentator, Heenan was equally entertaining. Heenan was not only smart but also knew how to read the audience, hence the moniker "The Brain".
Throughout his illustrious 40-year career, Heenan worked for various promotions, such as the WWE, WCW and AWA. As a manager, Bobby Heenan provided some much-needed guidance to various wrestlers who are now considered to be the greatest pro-wrestlers of all time.
Some of these wrestlers include Ric Flair, Harley Race, Andre the Giant, and Mr. Perfect. In 1987, Bobby Heenan rode alongside Andre the Giant to the ring for Andre's match against the Hulkster in front of a capacity 93,000 crowd.
Heading over into the next decade, Heenan would continue with his managerial duties. He would work with various wrestlers such as The Brooklyn Brawler, Mr. Perfect and the Islanders. It's also around this time that Bobby Heenan would begin working alongside another all-time great Gorilla Monsoon as the hosts of prime-time wrestling.
Bobby Heenan's greatest moment as a commentator would ultimately come at the 1992 Royal Rumble event. Heenan would watch the man that he had debuted a few months earlier step into the ring at number 3. About an hour later, the man would win the Royal Rumble.
Even though Bobby Heenan would ultimately leave the WWE commentary desk when Eric Bischoff came calling, his time with the WWE was more than enough to cement his legacy as one of the greatest wrestling commentator of all time.
1. Jim Ross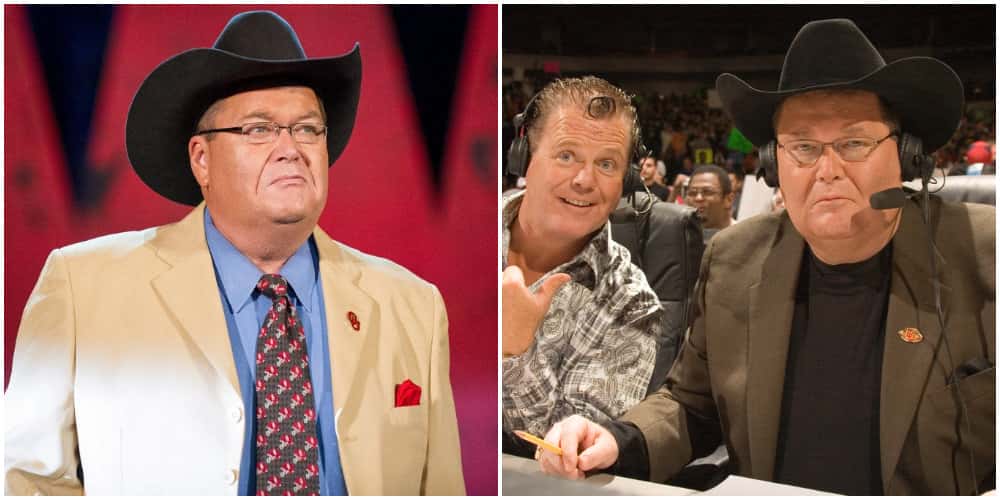 Widely known as the voice of wrestling or the voice of the attitude era, Jim Ross is arguably the greatest wrestling commentator of all time. For over four decades, Jim Ross was not only at the pinnacle of pro-wrestling but was also part of some of the most memorable moments and most famous matches.
Some of the most memorable moments that Jim Ross was part of include CM Punk's return to the WWE. During his stint with the WWE, Jim Ross also doubled up as the Head of Talent Relations. In his second role, Jim Ross is widely acknowledged for the role that he played in helping the promotion sign various wrestlers such as Mick Foley, John Cena and The Rock.
Apart from just calling matches, JR knows exactly how to bring the passion and emotion out. Despite being way past his prime, Jim Ross continues to deliver many years down the line at AEW, serving as both an announcer and as the promotion's Senior Advisor.  
Prior to becoming a pro-wrestling announcer, Jim Ross first worked as a pro-wrestling referee at Mid-South Wrestling. Ross would slowly transition to the role of a play-by-play announcer at the same promotion, where he also served as the vice president of marketing.
When Jim Crocket promotion purchased UWF, JR would keep his role as an announcer. JR continued to work his way up the ranks, ultimately becoming the promotions, Head of Broadcasting.
Jim Ross ultimately left the promotion in 1993 after the Eric Bischoff got promoted to the role of Executive Producer. Jim Ross ultimately signed with the WWE, where he would cement his legacy as the greatest commentator of all time.